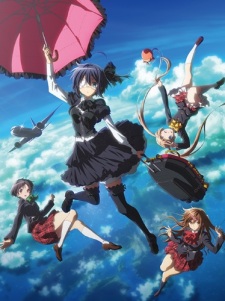 The official website for
Chuunibyou demo Koi ga Shitai!
TV anime series has updated and announced that the series will receive a new movie. Titled
Chuunibyou demo Koi ga Shitai!: Take On Me
, the movie will premiere on January 6, 2018. The main staff and cast members will reprise, and
ZAQ
will perform the theme song.
The movie will feature a new story where Yuuta and Rikka are on their third year of high school. One day in Spring, Touka declares that she will take Rikka to Italy with her, as her job has stabilized there and thinks they should migrate together as a family. Touka is also worried about Rikka not being competent enough to advance to universities in Japan. The gangs from the club suggested Yuuta, who doesn't want to be separated, to elope with Rikka!! A runaway drama throughout Japan begins.
Chuunibyou demo Koi ga Shitai!
is a
light novel
written by
Torako
and illustrated by
Nozomi Ousaka
, and has been publishing under Kyoto Animation's KA Esuma Bunko imprint since May 2011. The light novel inspired two TV anime adaptations in
Fall 2012
and
Winter 2014
, as well as a
movie
summarizing the first season in September 2013.
Teaser
Source:
Moca News
Chuunibyou demo Koi ga Shitai! Movie: Take On Me
on MAL

RSS Feed