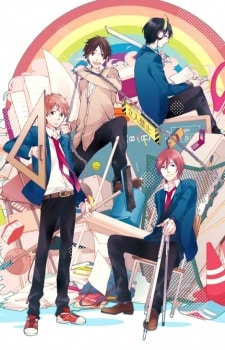 A TV anime adaptation of shoujo manga
Nijiiro Days
(
Rainbow Days
) has been green-lit, according to this year's September issue of Shueisha's Bessatsu Margaret. The series is both written and illustrated by
Minami Mizuno
and began publishing on January 13, 2012. According to the announcement, the cast will be the same as the drama CD adaptation. Some information related to the staff has also been revealed, and an official site will be opened next week.
Cast
Tomoya Matsunaga:
Takuya Eguchi
(
Ore Monogatari!!
)
Keiichi Katakura:
Nobunaga Shimazaki
(
Aquarion Logos
)
Tsuyoshi Naoe:
Kouki Uchiyama
(
Amagi Brilliant Park
)
Natsuki Hashiba:
Yoshitsugu Matsuoka
(
Aoharu x Kikanjuu
)
Anna Kobayakawa:
Minami Tsuda
(
Guilty Crown
)
Mari Tsutsui:
Yumi Uchiyama
(
Kimi to Boku
)
Nozomi Matsunaga:
Ai Kayano
(
Ano Hi Mita Hana no Namae wo Bokutachi wa Mada Shiranai.
)
Yukiko Asai:
Shizuka Ishigami
(
Shimoneta to Iu Gainen ga Sonzai Shinai Taikutsu na Sekai
)
Staff
Chief Director:
Tetsuro Amino
(
Break Blade (TV)
)
Director:
Tomihiko Ookubo
(
Final Fantasy
)
Series Composition: Aki Itami
Studio:
Production Reed
Synopsis
The series details the lives of four main characters named Natsuki, Tomoya, Keiichi, and Tsuyoshi. They spend their days trying to have fun by finishing their studies and debating about romance. Natsuki, one of the main characters, has a crush on a girl named Anna at school, while others often get involved in their relationship.
Source:
Yusaani
Nijiiro Days
on MAL

RSS Feed