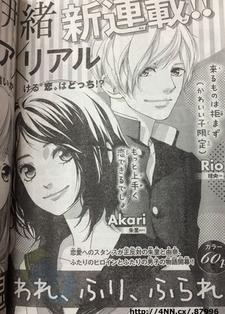 Io Sakisaka
, mangaka of series
Ao Haru Ride
and
Strobe Edge
, is starting a new manga series titled
Omoi, Omoware, Furi, Furare
. The first chapter will be serialized in July's issue of shoujo magazine
Bessatsu Margaret
on June 13. The upcoming issue of the magazine, to be released on May 13, will include information on the premise of the new manga.
The tagline reads
Which is the love you will chase?
Synopsis
The story centers around Yuna and Akari who have two very different views of love: Yuna is someone who sees love as a dream and Akari is someone who is very realistic about her romance choices. Meanwhile, there are two boys, Kazuomi and Rio, who also have different views of love: Kazuomi's an airhead and doesn't understand the concept of love, while Rio grabs the opportunity when confessed to as long as the girl looks cute.
Sakisaka has been publishing manga under Shueisha's
Margaret Comics
label since 2001, with her single-volume
Call My Name
. Her most notable works are
Strobe Edge
, which ran from June 2007 to August 2010, and
Ao Haru Ride
, which ran from Jan 2011 to Feb 2015.
Ao Haru Ride
was adapted to a
TV anime series
in Summer 2014. After, all eight released volumes ranked 5th or higher on Oricon's Weekly Manga charts. Sakisaka also drew the original character designs for the Summer 2013 movie
Hal
.
Source:
Scan 1
,
Scan 2
via ANN

RSS Feed