According to a scan of the cover from the upcoming issue of
GFantasy
magazine, it will be announced that a new
Kuroshitsuji
(
Black Butler
) anime series has been green-lit. No other information on the series has been given at this time.
Two anime seasons have aired thus far. The
first season
aired in October 2008 and adapted the manga. The
second season
aired in July 2010 and was anime-original, introducing
a new butler and master
. It is currently unknown if the new anime will follow the manga or be an anime-original story.
Source:
Scan via IEEE802.11 blog
,
Natalie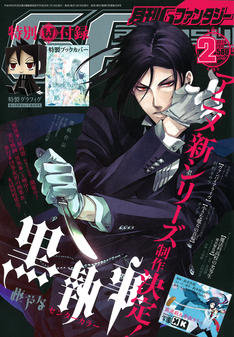 Update March 22
It was announced that the new
Kuroshitsuji
anime will be both a TV series and an OVA series.
The TV series is subtitled
Book of Circus
and will air July 2014 in the Animeism block. It will adapt the Noah's Ark Circus Arc, picking the manga story back up from the point at which they diverged. This arc immediately follows the Curry Contest Arc in the manga, which ended at episode 15 in the
first season
of the anime.
The OVA is subtitled
Book of Murder
and will pre-screen in theaters Fall 2014. It will adapt the Phantomhive Manor Murder Case Arc, which follows the circus arc in the manga.
Book of Circus
Additional Cast
Joker:
Mamoru Miyano
Doll:
Ayahi Takagaki
Beast:
Yuko Kaida
Dagger:
Nobuhiko Okamoto
Snake:
Takuma Terashima
PV:
http://youtu.be/wWwHYbmLPk0
(region blocked)
Source:
Official site
Kuroshitsuji: Book of Circus
&
Kuroshitsuji: Book of Murder
on MAL
Discussion continues from here.

RSS Feed