< Fall 2019 | Spring 2020 (Premieres) >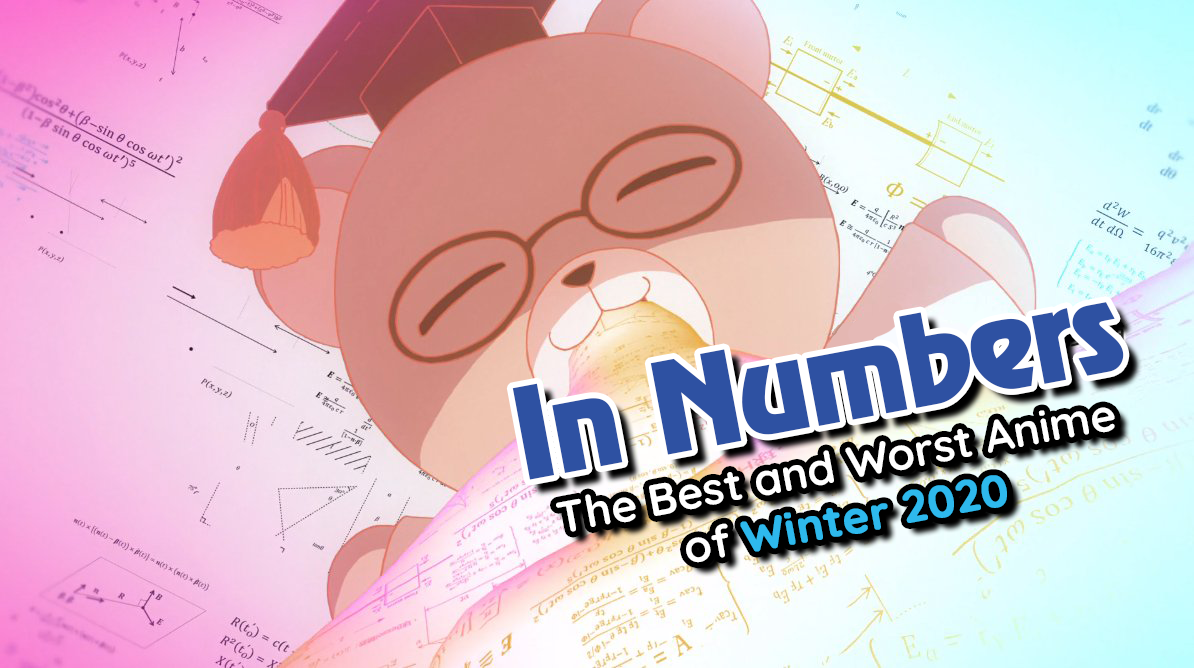 What makes a seasonal anime the best? Having the highest score? The highest number of watchers? Consistency? Or rising up as an underdog?
What makes a seasonal anime the worst? Having the lowest score at the end? Having the least amount of people watching? The most drops? Or perhaps taking the greatest fall?
In fact, all of these things are important. There are many kinds of criteria available on MAL that can be used to assess the winners and losers of each season, so I've gathered them all in one place for nearly every new show that debuted in Winter 2020 (35 in total) so you can see for yourself. Everyone has different opinions, but the numbers don't lie.
Data courtesy of anime-stats.net, metamal.pro, and myanimelist.net (self-collected), all of which is public info.


Some Important Notes
---

Unlike previous editions, there aren't any major changes or additions to the format... is what I wrote before I added something new halfway through the article. For each show's Best and Worst Ep., I've picked out a summative quote from their respective discussion threads to provide a general picture of the highs and lows. If you'd like to see your username in future editions, comment your thoughts (and vote) in the forums each week!
We're also largely error-free; only Somali to Mori no Kamisama's 1W Comp. number is unavailable due to an irregular release schedule. There are a few instances where data collection was slightly delayed, thereby resulting in early drops in Watching members at the end. These data points are thereby removed from Watching Gain graphs.
Before the season began, I was looking forward to how Ishuzoku Reviewers would perform more than any other series. But of course, since it was heavily brigaded, it can no longer be equitably analysed. Believe me, I'm just as disappointed as you. However, I think Ishuzoku Reviewers deserves at least some recognition, so I've still included independent episode data to cover what hasn't been largely corrupted.
In that time period, an anti-troll rating amendment was made to the scoring algorithm (cough MALgorithm) on February 12th. This affected a few series by a few points, more significantly in the case of smaller shows, which you'll see throughout. I just can't catch a break, huh.
Lastly, very mild spoiler warning, there will be mentions of specific events in some series in order to discuss datapoints in more depth, but they will be kept as vague as possible. Though to be fair, the numbers and graphs are honestly spoilers in themselves.


---
Glossary
Weekly/final datapoints are taken a week after the episode aired.
Score
Rank
Ranking for the highest final score out of the 39 listed shows + how it ranked after its first episode.
(#1 = highest final score, #39 = lowest final score)
Change
Change in score between the first and last recorded episodes.
(#1 = best positive score change, #39 = worst negative score change)
Streak
Score Increase = +1, Score Decrease = -1, No Change = 0. Since there are a lot of ties in this category, secondary ranking is based on Score Change.
(#1 = best positive streak, #39 = worst negative streak)
Faves %
Percentage of users who added the show to their Favorites list out of Watching and Completed members.
(#1 = highest percentage, #39 lowest percentage)


Popularity
Rank
Ranking for the most Watching and Completed members upon conclusion + how it ranked in Watching members after its first episode.
(#1 = highest member count, #39 lowest member count)
10W Gain
Percentage increase in Watching members over the first ten weeks.
(#1 = highest gain, #39 = lowest gain)
1W Comp.
Percentage of Watching users who Completed the show in the week after it finished airing. Only includes shows that have Completed member data.
(#1 = highest percentage, #24 = lowest percentage)
Drop %
Percentage of users who dropped the show out of all Watching, Completed, and Dropped members.
(#1 = least dropped, #39 = most dropped)


Episode
Rank
Ranking for the highest average score from episode discussion threads across all recorded episodes.
(#1 = highest score, #39 = lowest score)
Best Ep.
The episode with the highest average score + how it ranked compared to other Best Episodes.
(#1 = highest score, #39 = lowest score)
Worst Ep.
The episode with the highest average score + how it ranked compared to other Worst Episodes.
(#1 = highest score, #39 = lowest score)
Avg. Replies
Average number of replies from episode discussion threads across all recorded episodes.
(#1 = highest number, #39 = lowest number)


Graphs
For Watching and Dropped, the graph on the left shows the total members and the graph on the right shows the number of new members each week.
Episode Score denotes an average out of 5 taken from episode discussion thread polls, next to the number of replies in said threads.
Since the focus is on internal comparison rather than external (and the disparity in numbers would make some parts impossible to read), all graphs are set to their own scale, Episode Score aside.


---
Overview
---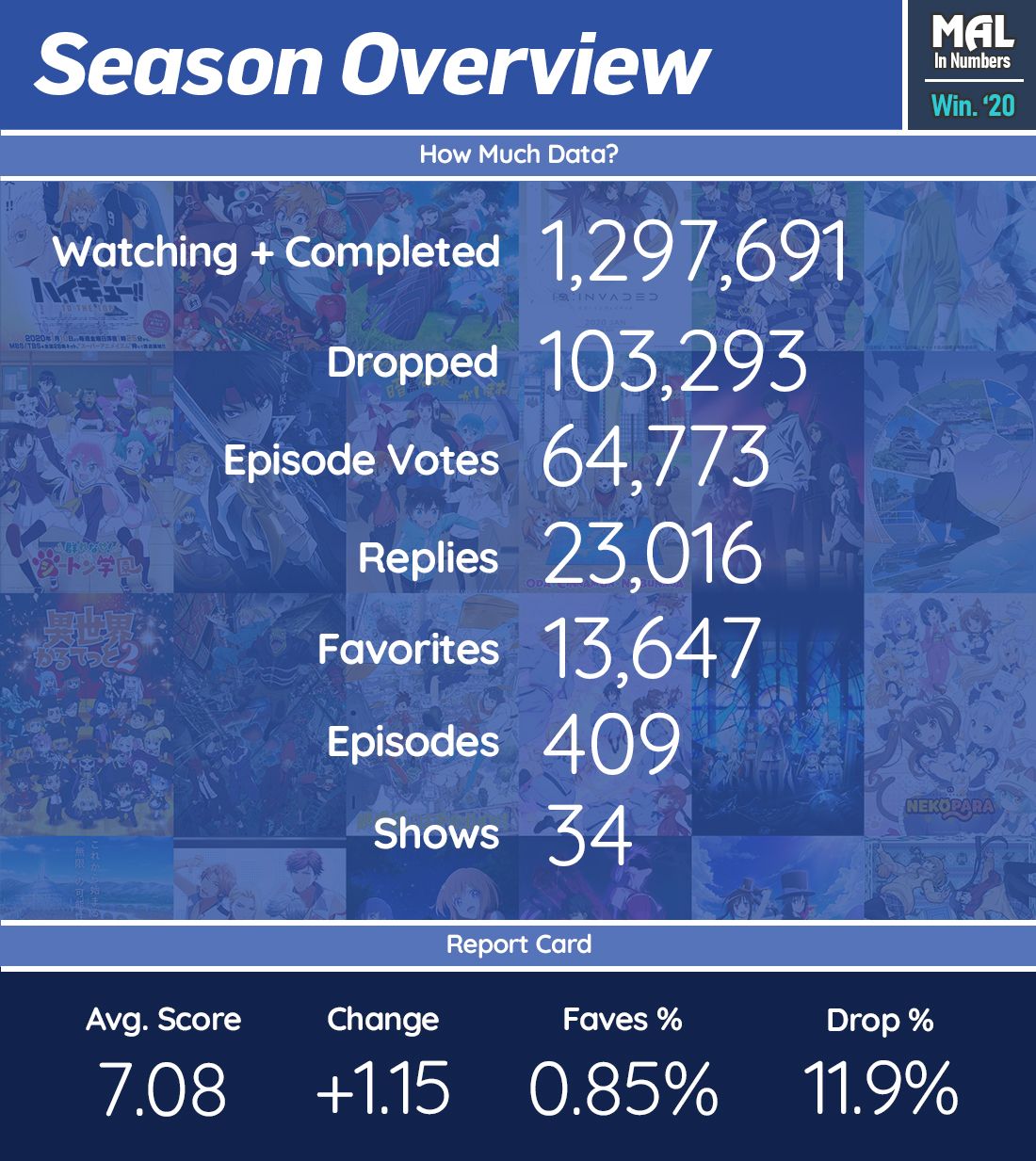 There's no way for me to know just how many individual users are taken into account in this article, but since the most popular show of Winter 2020 reached 124,328 Watching and Dropped members by the end of its recorded run, it could very well be in the hundreds of thousands. All those users total up to over one and a half million members across 34 shows; MAL isn't the be all end all of the anime community's opinion, but it provides a scale of statistical detail you won't find anywhere else.
There's a remarkably stark contrast to last season's overview data—when I'm double- or triple-checking the numbers, you know it's interesting. Winter 2020 had just over 300,000 fewer Watching + Completed members than Fall 2019, yet far outstripped it in total Dropped with an additional 5,460 members. It was clearly a far less popular season since the number of favorites is more than halved from the previous season; I had to switch Replies and Favorites around to maintain descending numerical order.
That being said, Winter 2020's Report Card comes out on top for everything except Drop %, for which it loses heavily. In stunning fashion, Winter 2020 flipped Fall 2019's heavily negative overall Score Change into one with a solid surplus.
But now, let's get into the real nuts and bolts of all 35 shows!


---
22/7
---

Well, there's a "#22" and "ep. 07" in there, so I'm satisfied.
It's not a real season of anime if there isn't a handful of idol anime filling out the bottom tiers of Score and Popularity, but compared to the insta-delayed A3! Season Spring & Summer and #1 in Drop % ARP Backstage, 22/7 comes out higher than most. 22/7's starring achievement is its Best Ep. score from one of its darker (yes, this isn't your typical idol anime), more emotional episodes—Best and Worst Eps. that aren't the premiere or finale are always an interesting case. Here, it even gave the show a small, rare spurt in new Watching members. But since the rest is largely below average or downright poor, 22/7 features the largest disparity in rank between Best Ep. and Worst Ep. by a wide margin.
Even so, a dedicated audience showed up each week throughout the season to boost 22/7's Avg. Replies rank above its Popularity and give a top 10 finish for 1W Comp.
---
Best Ep.
"Definitely one of the darker episodes of the series, Jun has really had it rough, just like most of the other characters, and it's because of the chance that she was given that she's radiant now."
-- Clubby
Worst Ep.
"All in all pretty disappointing how lame and cookie cutter this was. I know their music is good but this story is just a poor attempt to get more money. 22/7's animated shorts characterized the girls better in one minute than this."
-- mewberrys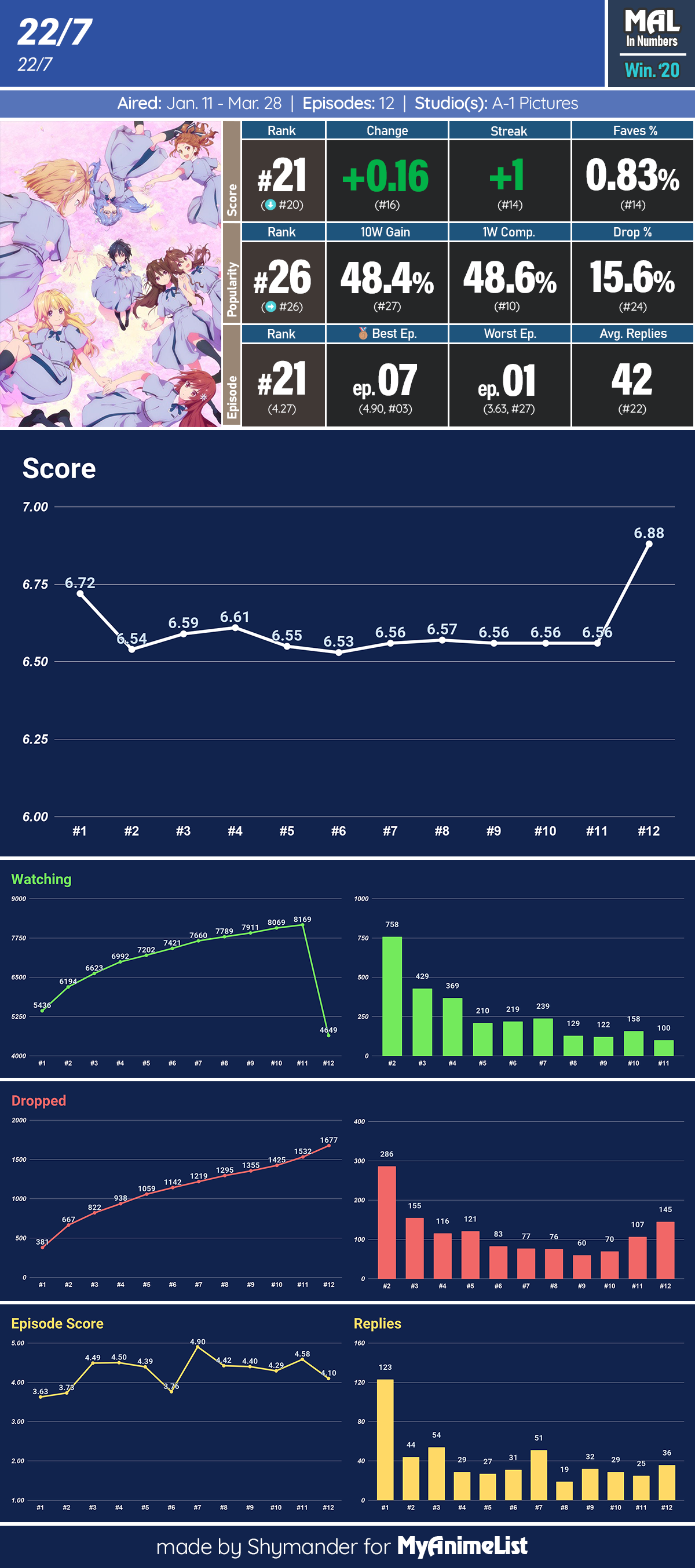 ---
ARP Backstage Pass
---

A good ol' kick from the score algorithm booted ARP Backstage Pass over Hatena☆Illusion in last place, but that didn't save it from bottoming out in Popularity, Drop %, and Avg. Replies. That being said, it still had a higher 10W Growth than Pet (Popularity rank #20) and Hatena☆Illusion (Popularity rank #27).
Fall 2019 and Summer 2019 both featured three shows with a final score below 6.00; ARP Backstage Pass is one of four in Winter 2020, which we'll get to see more of later.
---
Best Ep.
"I surprisingly really loved this episode. And aaahh the goodbye song was SO GREAT! I really love it."
-- CallMeAi
Worst Ep.
"At first I was gonna suggest this show to go full 3D animation because the 2D part is just average to bad, but the after credit scene make me think twice."
-- phantomfandom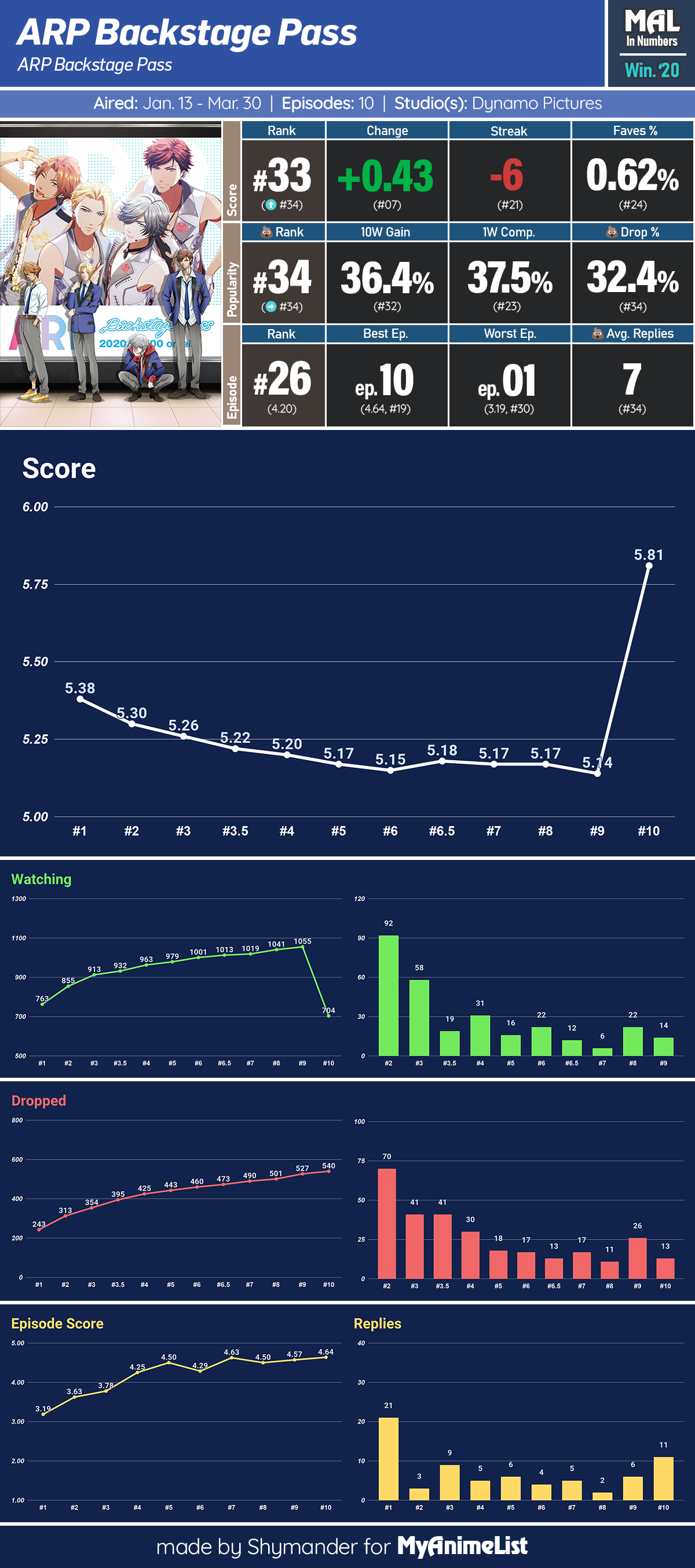 ---
A Destructive God Sits Next to Me
---

As far as final score boosts go, Boku no Tonari ni Ankoku Hakaishin ga Imasu. comes in second behind ARP Backstage Pass. Yet unlike many others of its kind, Bokuhaka's score was already beginning to recover beforehand, resulting in last-minute positive Streak that puts it in the top half of the season. However, over on the Popularity and Episode side of things, all other metrics place below that line.
Interestingly, even though episode 5 resulted in a dip in score, Watching member gain showed a rare increase before returning to a standard rate of growth.
---
Best Ep.
"Mogami is so adorable. I'm so glad Koyuki was able to actually talk to Sumiso. And we get to see that Tsukimiya cares about Koyuki. This episode was so funny and wholesome, I loved it."
-- Jayfax
Worst Ep.
"Another Chuubyou Gekihatsu Boy type chunnibyou anime, only that this failed to make any basic impression and washes it out as soon as anything does."
-- KANLen09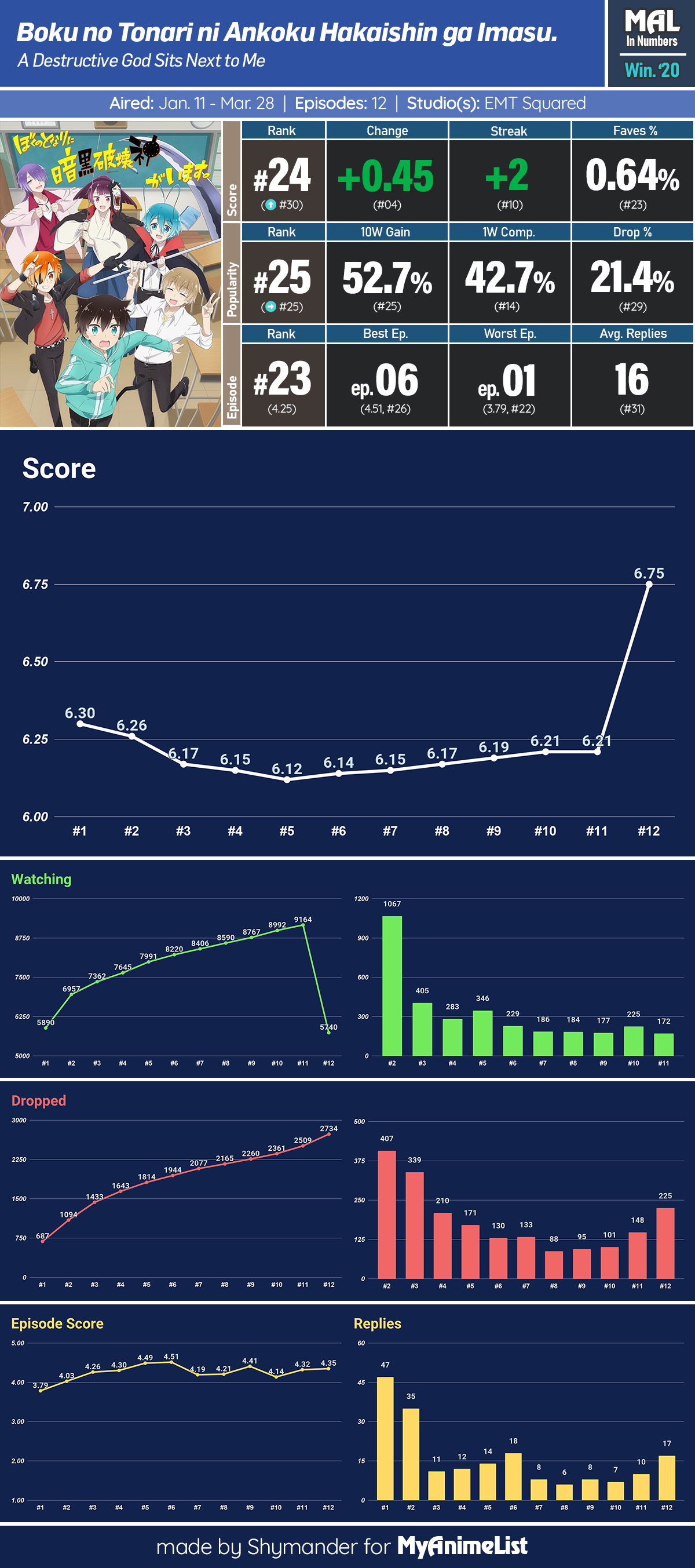 ---
Darwin's Game
---

It may be called Darwin's Game, but it's not winning any Darwin Awards for shooting itself in the foot.
Every season or so, there's an enjoy-don't-think schlock of a show that flocks of folks tune into. In Winter 2020, the classic mobile death game returned to fill the gap in a season strangely devoid of isekai, winning a silver medal in Popularity and Bronze in 10W Gain. It also managed a respectable rank in Faves % and Drop %, but didn't quite match up to the peaks of most other shows last season.
---
Best Ep.
"I have read ahead in the manga, but this part looks a lot better in the anime. Now I feel like I kind of spoiled the anime by knowing what lies ahead. But the boxing-club fight and the car chase, so awesome in anime form."
-- Hegar
Worst Ep.
"It was fun and games until the "impregnate me daddy" at the end. That's when I knew I'm not gonna like it."
-- jungsae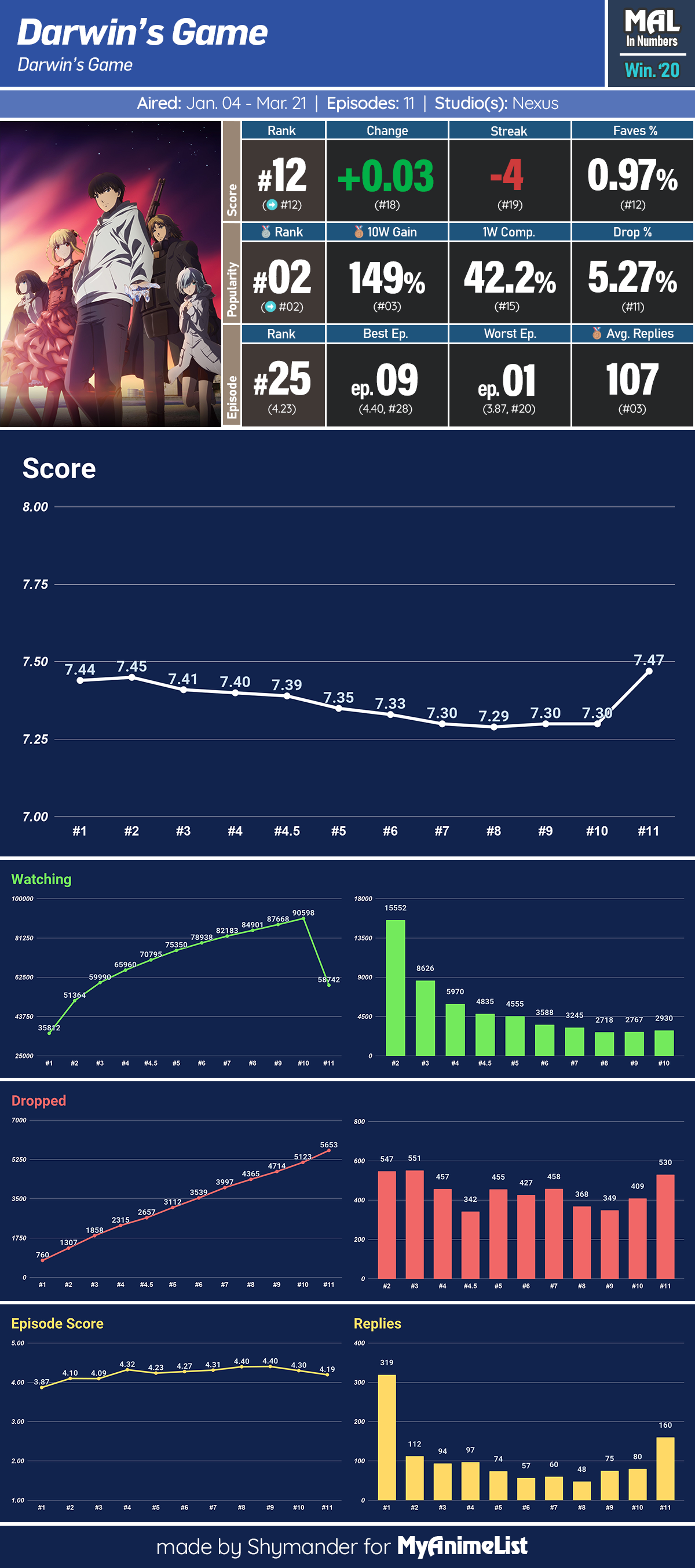 ---
Dorohedoro
---

Netflix has made an unfortunate habit of snagging shows that perform remarkably well, which has only continued into 2020 with last season's Dorohedoro and this season's BNA, which currently has a score of 7.61. That being said, the latter's irregular release schedule would disqualify it from a full progression analysis, much to my disappointment.
Sadly, it may very well be that Netflix Jail factor which prevented Dorohedoro from taking a top 10 spot in every category, only missing out on Popularity. Even so, Avg. Replies still ranked high above it, and Dorohedoro pulled that slot machine lever to get three #7s in a row and win Winter 2020. A +0.11 increase after episode 5 also takes the crown for highest mid-season score change, two whole points above Id:Invaded's episode 3-9-10 triple threat.
At the very end, Replies spiked to the second-most discussed episode following a short slump. The reason? Nearly half of all replies mention a desire for a second season.
---
Best Ep.
"Did this episode offer anything new to the main storyline? Barely, just the last two or three minutes. Did it was my favorite episode so far? Absolutely. Gotta love how random a baseball match sounds at this point in the series."
-- SouthRzVa
Worst Ep.
"I really thought they did an excellent job on this -- obviously no way any production could get the detail of the manga just right, but I thought the character designs were perfectly fine and the backgrounds were fantastic. It's not my dream adaptation but I'm thoroughly satisfied so far."
-- delta5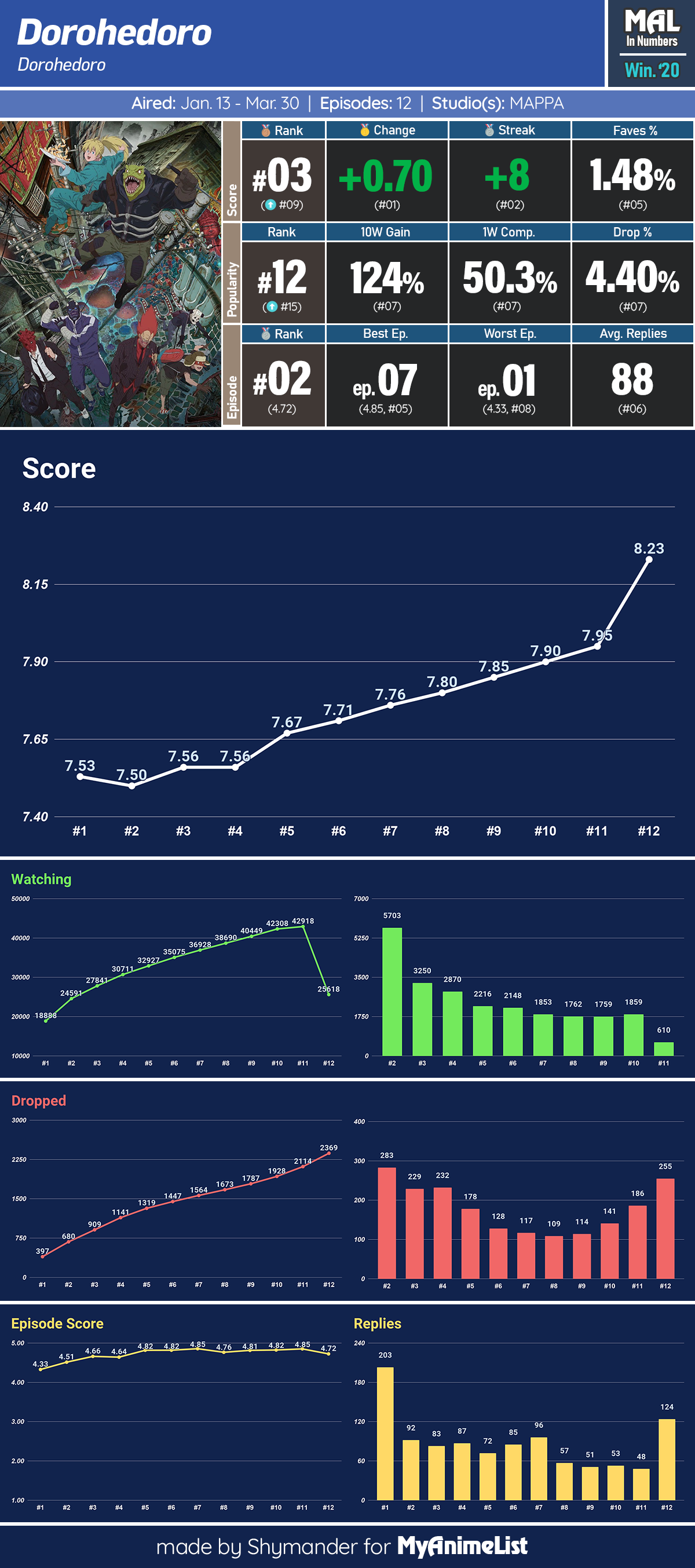 ---
Keep Your Hands Off Eizouken!
---

"There is nothing fun about social media!"
It's an understatement to say that Eizouken was the surprise darling of Winter 2020. Though it was high up at #7 for Watching members after episode 1, Eizouken was actually way down at #19 for Plan to Watch members before the season commenced—that's just how much impact a compelling premiere can have. And the good times just continue: extraordinarily consistent scores, #3 in raw favorites, the second-lowest Drop % for a non-sequel, and so forth. The only major drawback is 1W Comp., which surprisingly finished near the bottom.
If Masaaki Yuasa wasn't a household name before, he surely should be now.
---
Best Ep.
"This has now become my favorite episode thus far! There were just so many things that culminated here in a satisfactory manner. From the video they were preparing for the cultural festival being completed for the most part, to the robot club helping in promoting the anime to everyone, to seeing the anime in motion and then finally Mizusaki's parents witnessing their daughter doing the thing she's so passionate about and then them meeting her "comrades". I loved all of it!"
-- BlackCicero
Worst Ep.
"I loved this series!! Even though the lack of a proper storyline was a turn-off to some, I didn't have time to be bothered by it amidst of being super invested in every single episode. The characters are very realistic and well-written, this last episode portrays that really well when you see them all react differently to the setback for example."
-- Varjosoturi


---
Haikyuu!!: To the Top
---

In anticipation of the new season, I'd made a post featuring every Haikyuu!! score with the caption "Every season of Haikyuu!! has been better than the last, so the next one is definitely going 'To the Top' ✊." Little did I know that the complete reverse would occur. For what one would fairly call Winter 2020's Hype™ show, it didn't deliver as expected—20,000 Watching members above #2 in Popularity, yet #8 in Avg. Replies. Favorites also took a sharp dip comapred to the third season's (2.11%) rare increase over season two (2.02%).
Still, 8.56 is plenty to top the overall score chart for Winter 2020, even with one of the worst Score Changes of the season. It took some waiting, but once the series got into actual matches, everything from episode scores to Watching members flew high. As such, I expect much better results from the second cour later this year.
---
Best Ep.
"Even if the outcomes are predictable or expected, it's the process of getting there that I love watching when I watch this anime. It's fun to see the kinds of skills and strategies that Karasuno uses in order to propel their way to victory. The momentum from this match will be great for them going forward."
-- thebrentinator24
Worst Ep.
"I feel like they baited us with a Kageyama-Nishinoya conflict last episode that kinda turned out to be nothing, but otherwise no complaints! I think there was a new piece of BGM this episode, and the series is at its best when the team is interacting."
-- Dolabella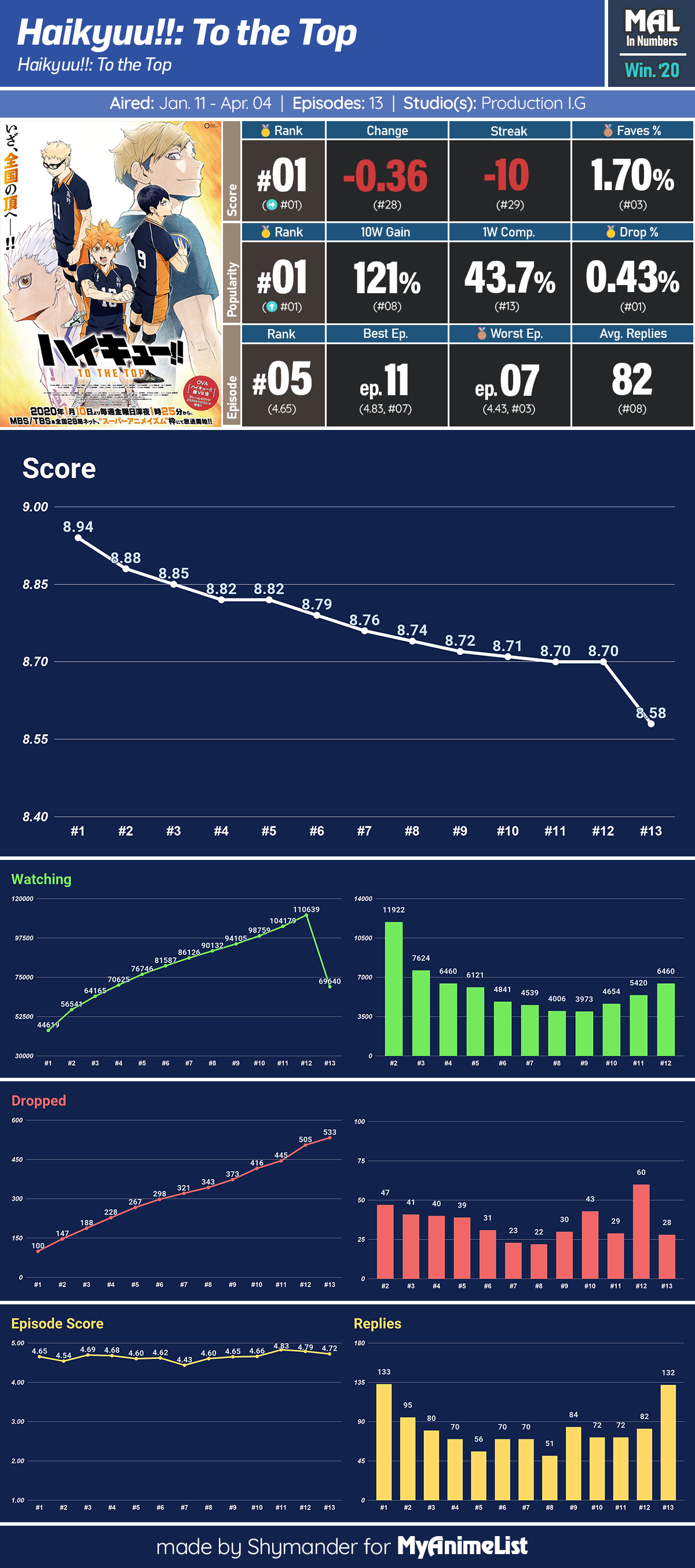 ---
Hatena☆Illusion
---

And now for my next trick, I will make the viewers... disappear!
Our streak of high-performing shows comes to end with a strong contender for Worst Debut of Winter 2020. A high Drop % and lack of new interest results in my favourite statistic that pops up at least once every season: negative Watching members. The only shows that finished lower in Faves % were a series of simplistic shorts and a mildly obscure sequel, and a single show just saved it in Episode Scores, so you could say it wasn't entirely doomed. That being said, episode two and three were the worst mid-season score changes of Winter 2020.
---
Best Ep.
"Seeing most of the episodes taking place at the mansion, nice to see them in a totally different location."
-- Reapermask
Worst Ep.
"The plot is all over the place, the animation is awful, especially when it comes to the faces. The shower/bath scene, for example, had Hatena's mouth moving when it was Yumemi talking. I could create an entire list of errors just for this episode alone."
-- KingKrab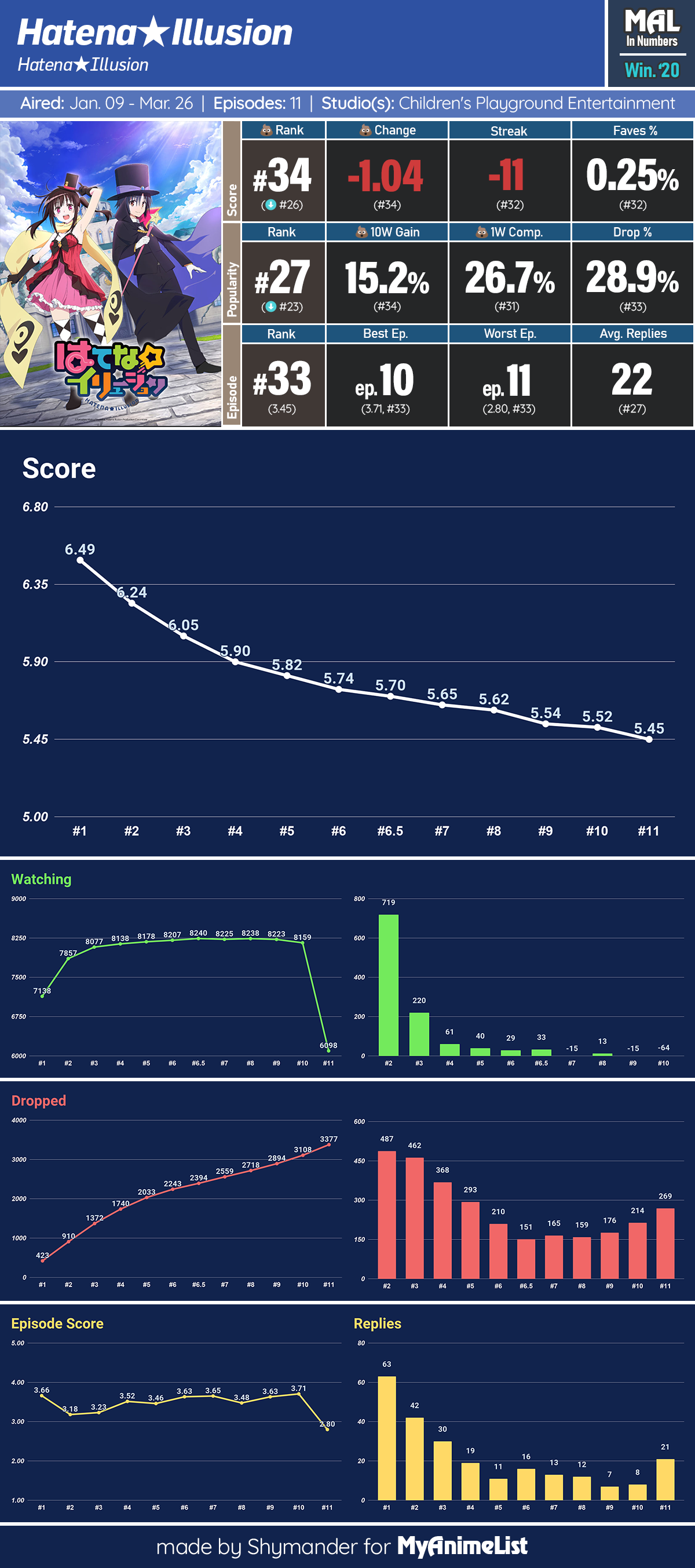 ---
Room Camp
---

Between the #5 show of Winter 2018 and its much-anticipated sequel in Winter 2021, Heya Camp△ offered a pleasant field trip to lightly scratch the moe camping itch. As is the case with short anime, all stats aside from 1W Comp. and Drop % take a notable hit compared to full-length counterparts. Simple and enjoyable, Heya Camp△ otherwise coasted through Winter 2020 without much trouble.
---
Best Ep.
"Great episode. The gang is finally reunited! Hope they stay together for these last two eps."
-- SouthRzVa
Worst Ep.
"Cute episode. That's all I want from these in all honesty, as we wait for season 2 and/or the movie to arrive."
-- Atavistic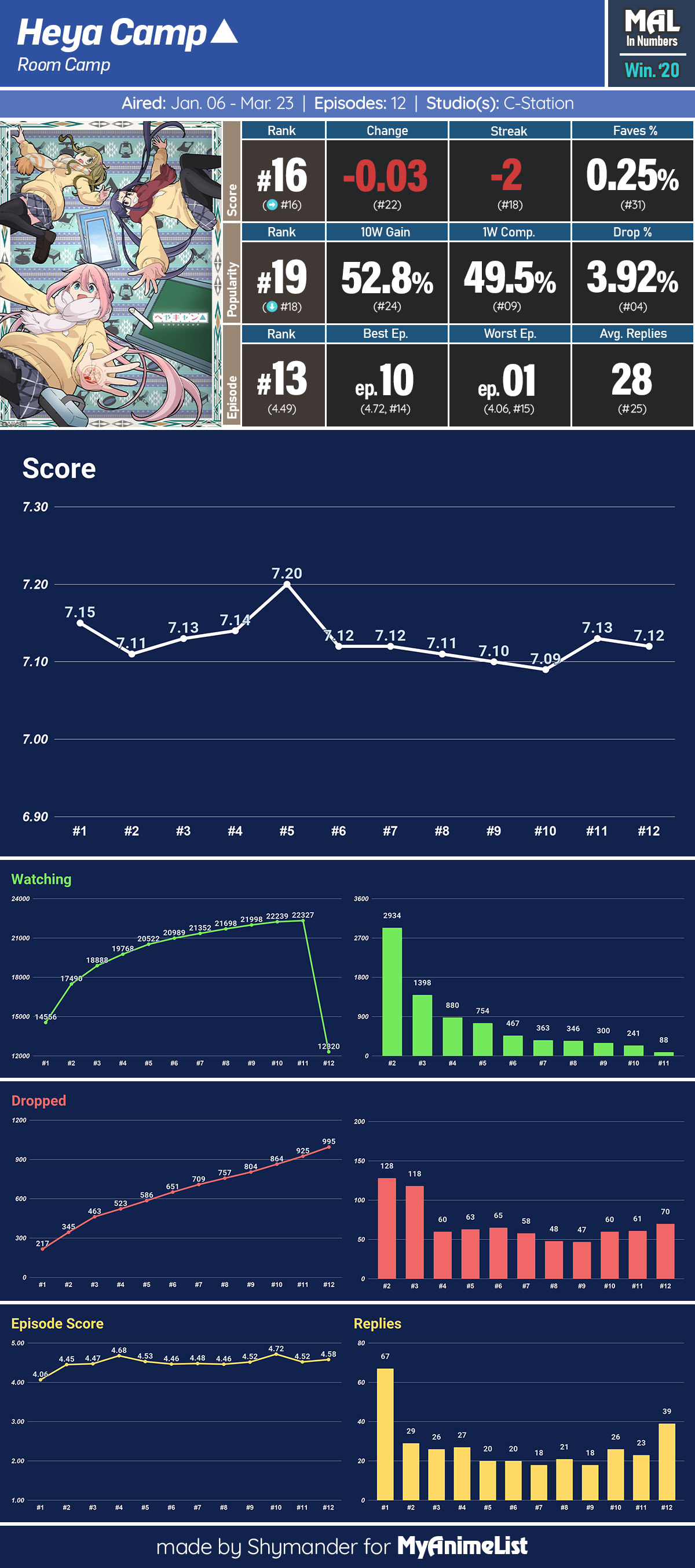 ---
The Case Files of Jeweler Richard
---

Housekishou Richard-shi no Nazo Kantei's shining gem is its emerald Score Change and Streak, buried beneath a pile of dull statistical rocks—aside from a particularly low Best Ep. score, it did pretty okay and that's... all I've got.
---
Best Ep.
"People really sleeping on this show. And I had no idea the life of a jeweler was so exciting. Makes me want to be one now."
-- Mormegil
Worst Ep.
"It feels like one of those "it-may-as-well-be-a-live-action-J-drama-but-we-don't-have-the-money-so-we've-made-a-low-budget-anime" show. Nothing in it utilises the medium as animation. The story is fine (better than I expected) but it could've been presented in a much better way if only the whole thing was not handled so matter-of-fact-ish."
-- CHC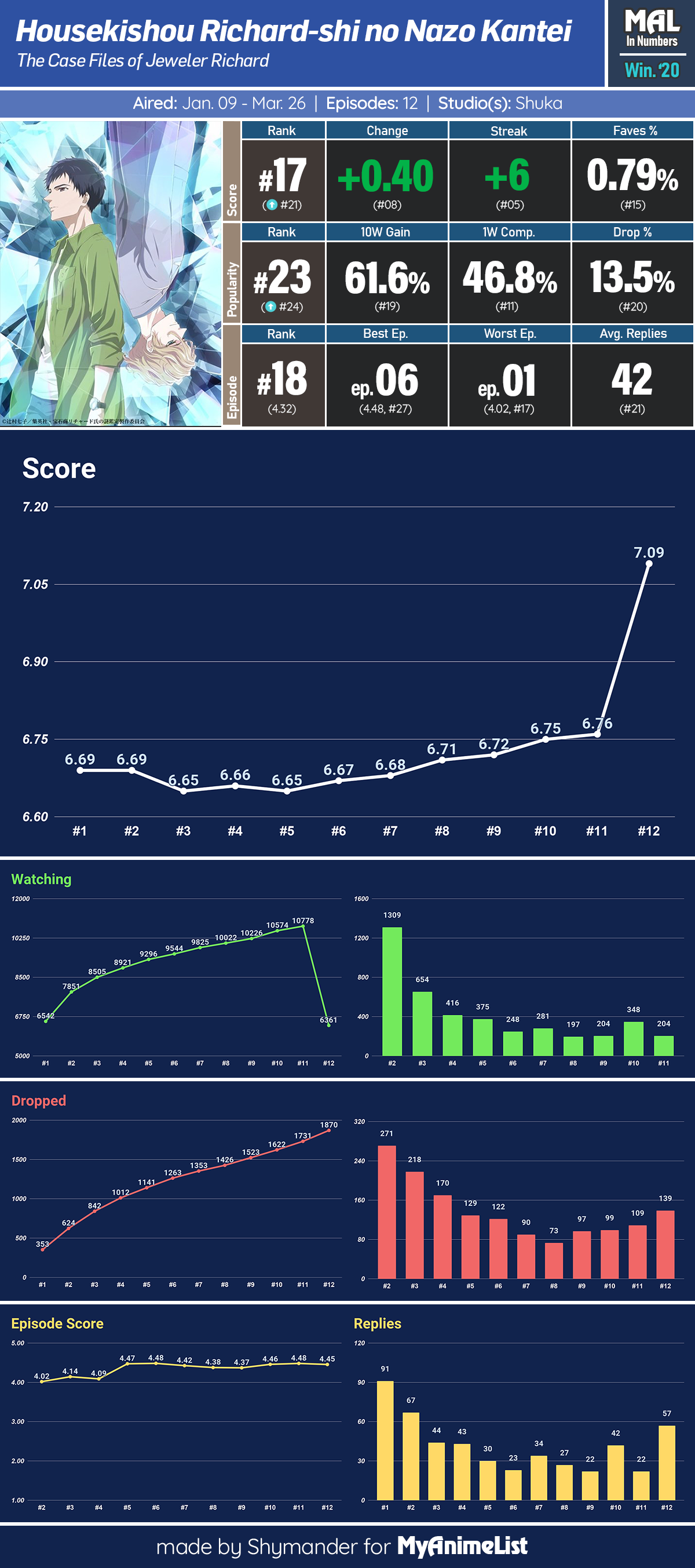 ---
ID: INVADED
---

Id:Invaded: occupying minds in more ways than one.
This Christopher Nolan-esque sci-fi banger joins Honzuki no Gekokujou and Beastars as the only anime in a full year's worth of "In Numbers" to go up in score every single week. While the former started from high-6s and the latter started from high-7s, Id:Invaded rose from the middle to break through the coveted 8.00 ceiling. A truly monumental achievement.
In that same pre-finale period of high score gains, Watching member gain remained steady and even went up in places along with Avg. Replies, which goes to show how much explosive twists can carry a show.
---
Best Ep.
"Top tier episode. This show was already amazing, but this is the equivalent of that Demon Slayer episode from last season --- the one who pushed it to the top. Whenever happiness is destroyed, it is always a tragedy."
-- FrozenSheep
Worst Ep.
"This is def one of the freshest series/concepts I've ever seen and a great way to start the decade with something unique and original. Feels like I'm watching a Nolan film and it's just as confusing as one too, hopefully that changes as the season goes on."
-- Marinate1016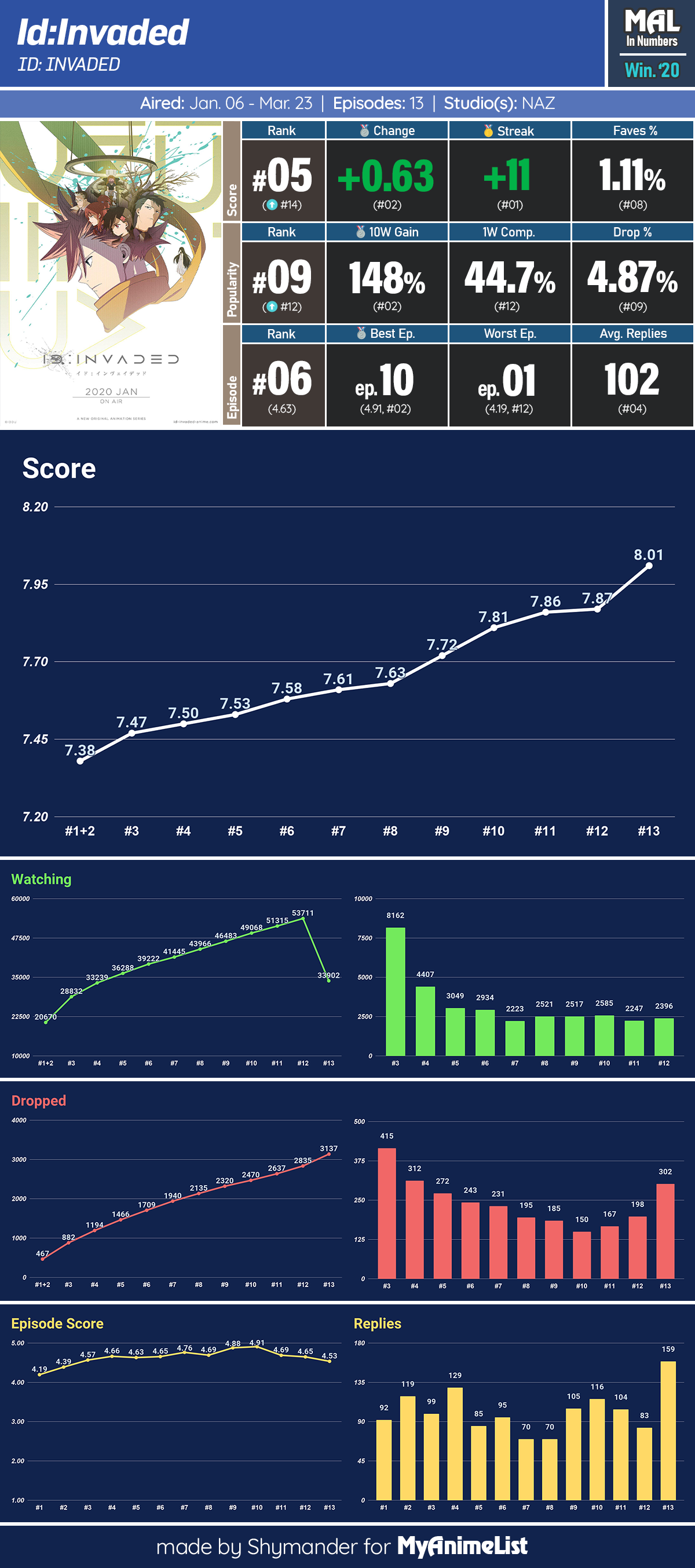 ---
Infinite Dendrogram
---

Two different I's filled the inconceivable isekai gap in Winter 2020—VRMMO anime Itai no wa Iya nano de Bougyoryoku ni Kyokufuri Shitai to Omoimasu. and Infinite Dendrogram, and the contrast in statistical performance couldn't be more stark.
A double dose of pre-pandemic delays is never a good sign. A brief respite in the final score calculation and Magia Record's abysmal -0.85 meant it only just avoided last place in any category. Yet despite negative marks across Score and Episode, Popularity (particularly 10W Gain) somewhat held up what was an otherwise disappointing adaptation.
---
Best Ep.
"So glad we got a legit fight instead of a one shot and done."
-- Ellenwitch
Worst Ep.
"Infinite Dendrogram is not really a trash show, its very very average. Characters are generic but not annoying. Plot was over the place during some arcs and the comedy is not good but at least it's tolerable."
-- Nurguburu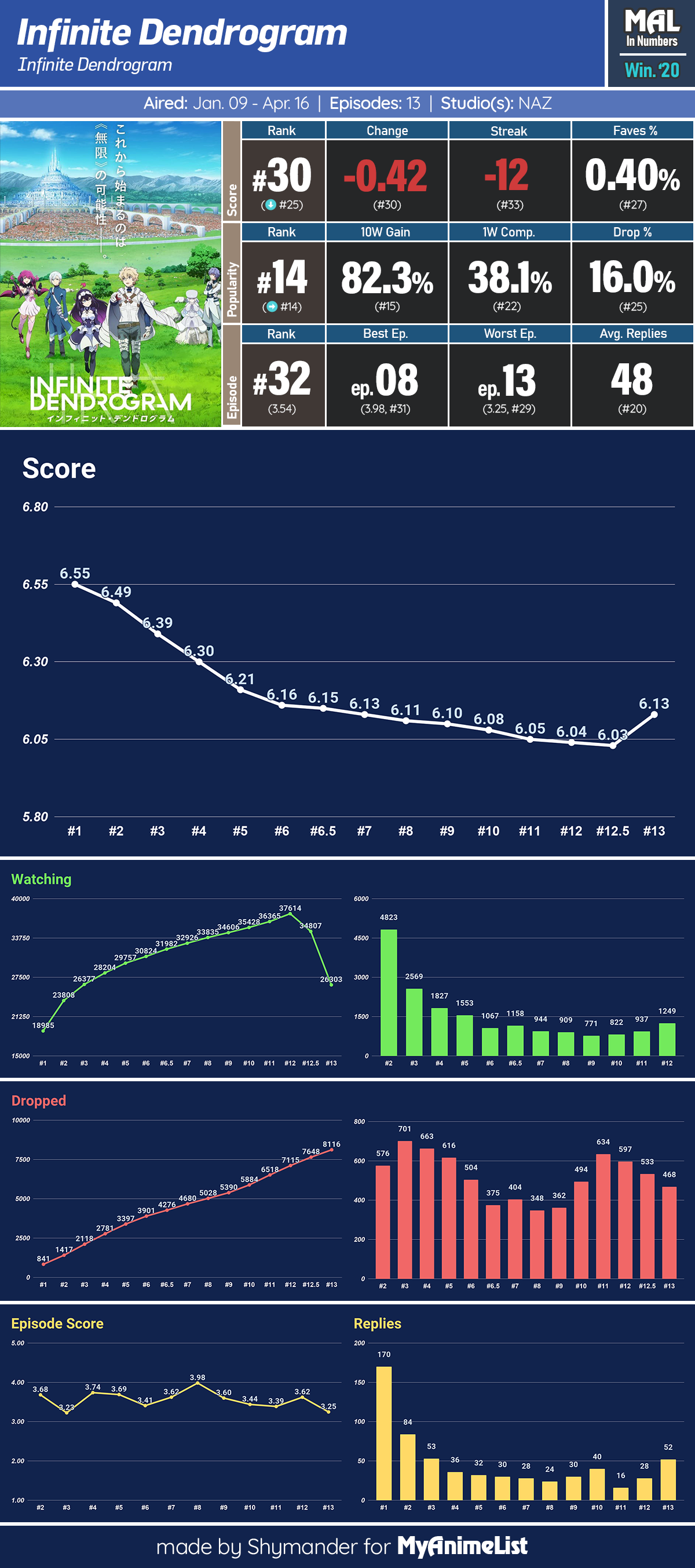 ---
Isekai Quartet 2
---

Mo' isekai, mo' problems.
The addition of Tate no Yuusha no Nariagari to the Isekai Quartet Quintet pedastal had great promise but eventually fizzled out with a sharp dip in Score Rank, even finishing below its predecessor—it's a pretty strong case for quality over quantity. Though it was #2 for Episode Score, it was praise and hunger for chocolate (nearly 10% contain the phrase "Give me... choco!") that pushed episode 5's Replies column above the rest.
"The more the merrier" still has some merit though, since the hidden cameo and subsequent full appearance of Shinchou Yuusha's Seiya and Ristarte were the statistical highlights of the season. So two questions now remain for the upcoming third season: who will they add next, and will they only drag the franchise down further?
---
Best Ep.
"Holy heck was this a terrific episode! Had lots of laughs but the best part was getting surprised by the 10 seconds cameo of Seiya and Ristarte."
-- trenchantbaka
Worst Ep.
"Sometimes I wonder what was even the point in adding the TnY cast since they never give them any screentime. This was nice to see Firo this episode, but that's really been the highlight of the season other than their baseball episode.."
-- Marinate1016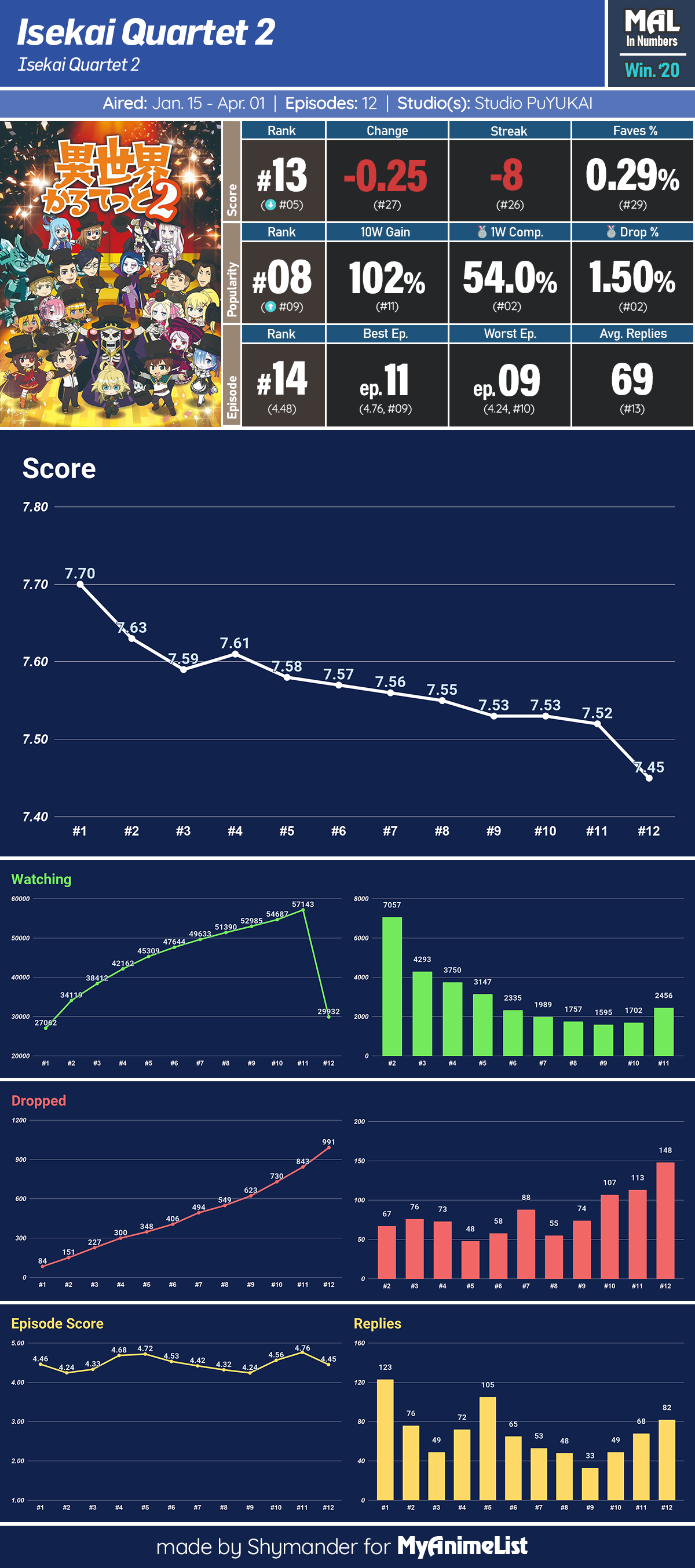 ---
Interspecies Reviewers
---

Thanks to Ishuzoku Reviewers' Fetish of the Week format, we can pick out which deviant acts viewers were into and which went too far to disgust even the most degenerate by looking at Episode Scores. Egg-laying and drunk sex were flatly rejected, while a heartwarming three-day stay with a living doll and gender-swapping got their rocks right off.
Ishuzoku Reviewers finished its eventful run with a final score of 7.81, which would've otherwise placed it at #7 for the season (and certainly nowhere near #1 overall).
---
Best Ep.
"This episode was something else. Something for the heart, something for the uhh... lower regions, and something for the brain. "
-- ChaoticHaru
Worst Ep.
"I'm gonna be blunt, most of this episode was gross. Who the heck wants to see some lizards lay eggs, seriously that was disgusting. Thou Meidri's part was hot."
-- MegamiRem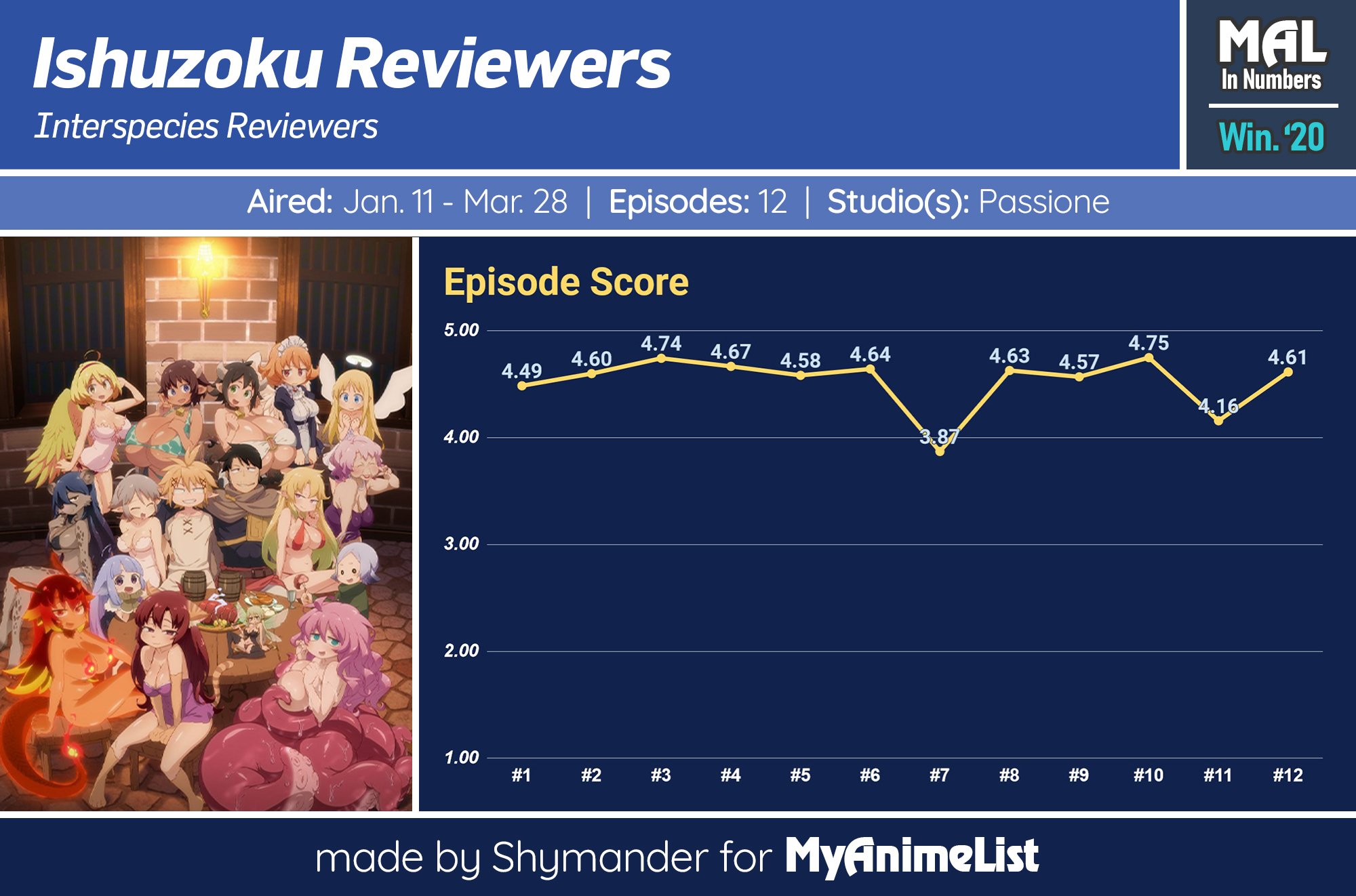 ---
BOFURI: I Don't Want to Get Hurt, so I'll Max Out My Defense.
---

Elongated titles that have to go across two lines are a pain in the ass, but at least it's just the one for the DB page title unlike this monstrosity.
Like Eizouken, BOFURI was hardly on anyone's radar until the first episode premiered—it went from #17 in Plan to Watch members to #6 in Watching in a single week, and that ludicrous growth continued all the way to #1. As far as surprise hits go, BOFURI also trumped Eizouken in Drop %, 1W Comp., Score Change, and most notably Avg. Replies. Though its audience didn't quite follow through with favorites, the elementary success of BOFURI is plain to see.
With a swift second season announcement for BOFURI and Hamefura, studio Silver Link. is on a roll this year.
---
Best Ep.
"Maple going all-in in the mii fight was epic to see and mii's reaction was funny and cute at the same time! Final battle shaping up to be a big finale for the series. Excited to see how the season ends and time to hope for a chance of a season 2 (no matter how unlikely it is)"
-- A_Lena
Worst Ep.
"Definitely another cute and wholesome episode. I didn't enjoy it as much as the first two episodes as they they were a bit more interesting but this was still a fun episode."
-- Monochrosanity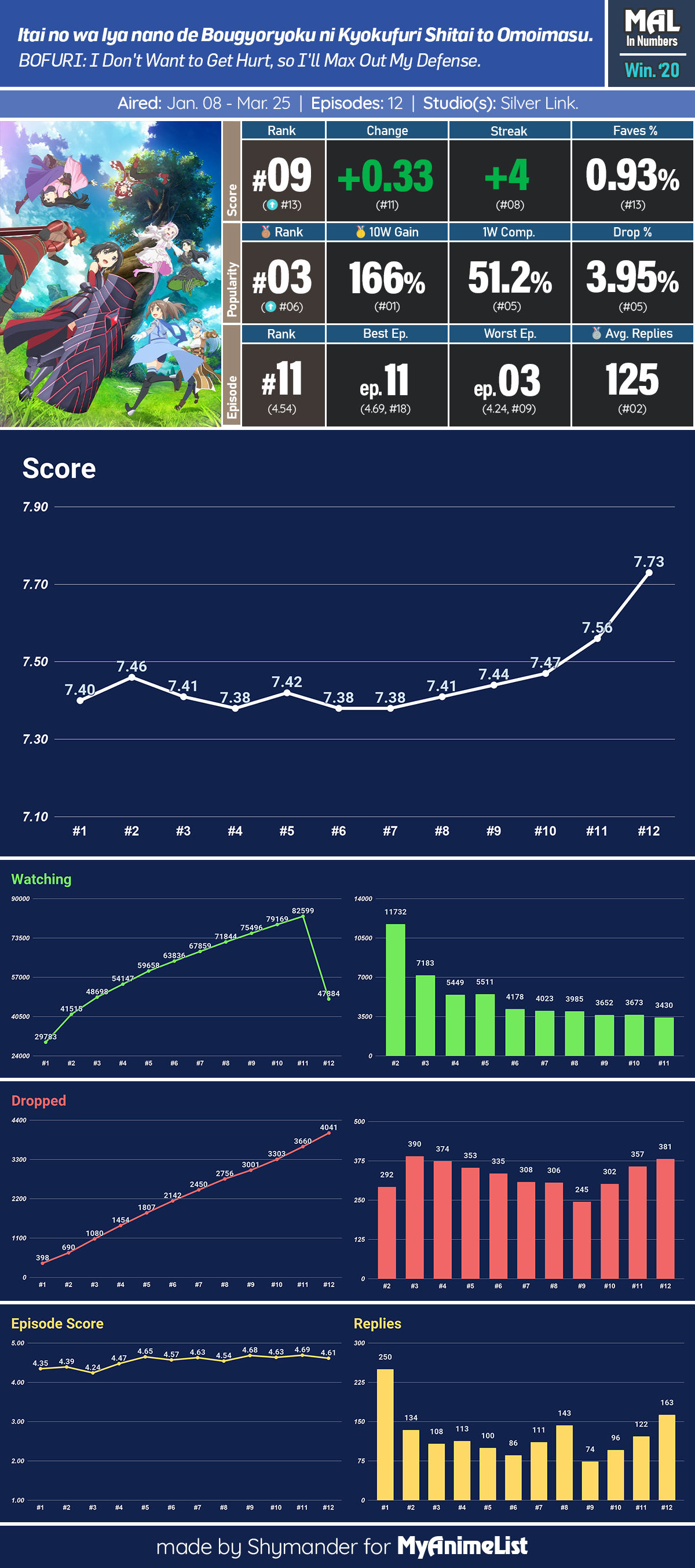 ---
Toilet-bound Hanako-kun
---

Hey, have you heard? This anime has several wonders...
Well, I was going to use the original line of "seven wonders," but there's "only" six top 10's, so... grumbles
Stunningly stable and beloved by its audience, Jibaku Shounen Hanako-kun is a show for which many are asking "where is season 2?" 2.77% in Faves is far from record-breaking, but it clears #2 by more than an entire point. As for raw favorites numbers, it even comes close to beating Haikyuu!!: To the Top with nearly half the members.
The brigade of Ishuzoku Reviewers trolls also spammed character favorites, yet like the anime itself, they still failed to snatch the top spot—with over 2,500 new favorites (650 more than the next highest), Hanako-kun was Winter 2020's golden boy.
---
Best Ep.
"Wow, that was emotional. I love how this anime balances silly and sad, on the thinnest edge imaginable. Blink and you miss the change. And how deep it can get in a moment, too. Never expected such a story from this particular episode......"
-- yellowheartren
Worst Ep.
"Not a big fan of Mitsuba but I really liked this episode. There is only one more episode left and let's hope we get a second season because the things that are happening in the manga are amazing and need to be adapted too!"
-- Bibimbapski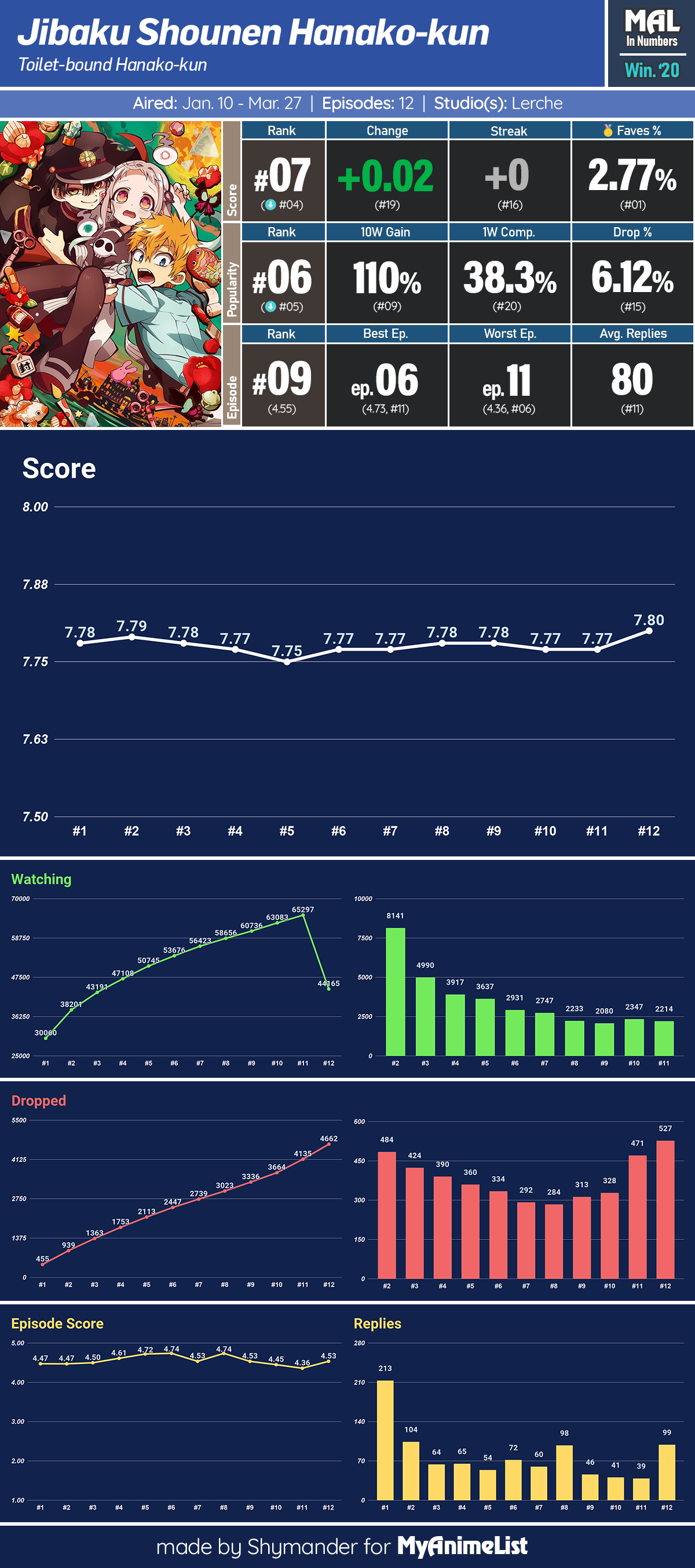 ---
Asteroid in Love
---

From Dumbell Nan Kilo Moteru? to Sewayaki Kitsune Senko-san, Doga Kobo has done fairly well for itself over the past year or so, a trend that is only continuing with the currently airing Yesterday wo Utatte (Note: This has, uh, greatly changed since I wrote it...). Koisuru Asteroid (or as I like to call it, Moe-teor in Love), however, is a significant step down—below average in every category but particularly abysmal in 10W Gain, even with a premiere headstart.
---
Best Ep.
"Great episode! It was really theoretic and had to pause it a few times to process what they were saying. I'm learning a lot though unfortunately I've already forgotten it by now.. But nonetheless great to see Mira and Ao so determined, I'm really rooting for them this last episode"
-- 024
Worst Ep.
"Not gonna lie, I was a bit bored when they started talking about constellations and stuff but I admit the interactions between characters gave certain charm to those scenes. The second half with the Onsen segment was more entertaining tho."
-- SouthRzVa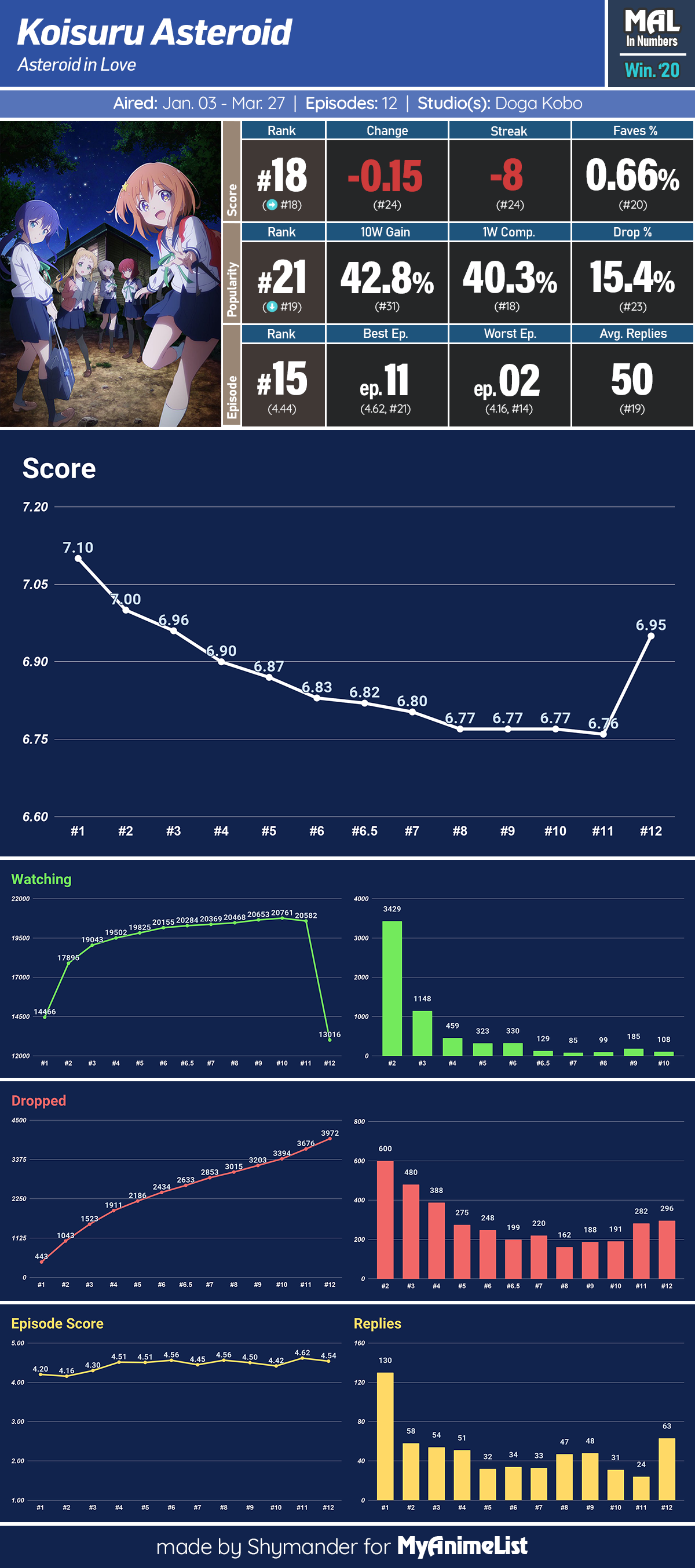 ---
In/Spectre
---

The Replies got marching two by two, hurrah, hurrah.
Kyokou Suiri's fall from grace is even worse than it initially seems—it was the least dropped premiere of the entire season before plummeting to #12, and honestly, I've never seen a Dropped gain graph quite like this before. The final two episodes managed claw back some goodwill, but the overall score never stopped falling. At the time of writing, it's inching closer and closer to the ill-fated 7.00 line.
Its conspicuous low points at episode 2 and episode 10, judging by their respective episode discussion threads can be attributed to "sitting and storytelling," as one user put it. Some dug the Monogatari-esque style at times, but it also seemed to drag the series down.
Still, it was always a hot topic throughout the season at #5 for 10W Gain and Avg. Replies, a decent success for the first "Crunchyroll Original" of many to come.
---
Best Ep.
"The conclusion about the case with the snake god felt satisfying. The whole story about the lady in question felt dark and tragic, but it did a good job in introducing the show's concept of mystery as well as the interesting dialogue between both Kotoko and the snake god."
-- Meta_Yoshi
Worst Ep.
"Allowing for this discussion to go on for more than one episode was a horrible idea. I'm so bored I don't care about the story any more. At this point I root for the specter since it has a nice body. And doesn't talk..."
-- Antanaru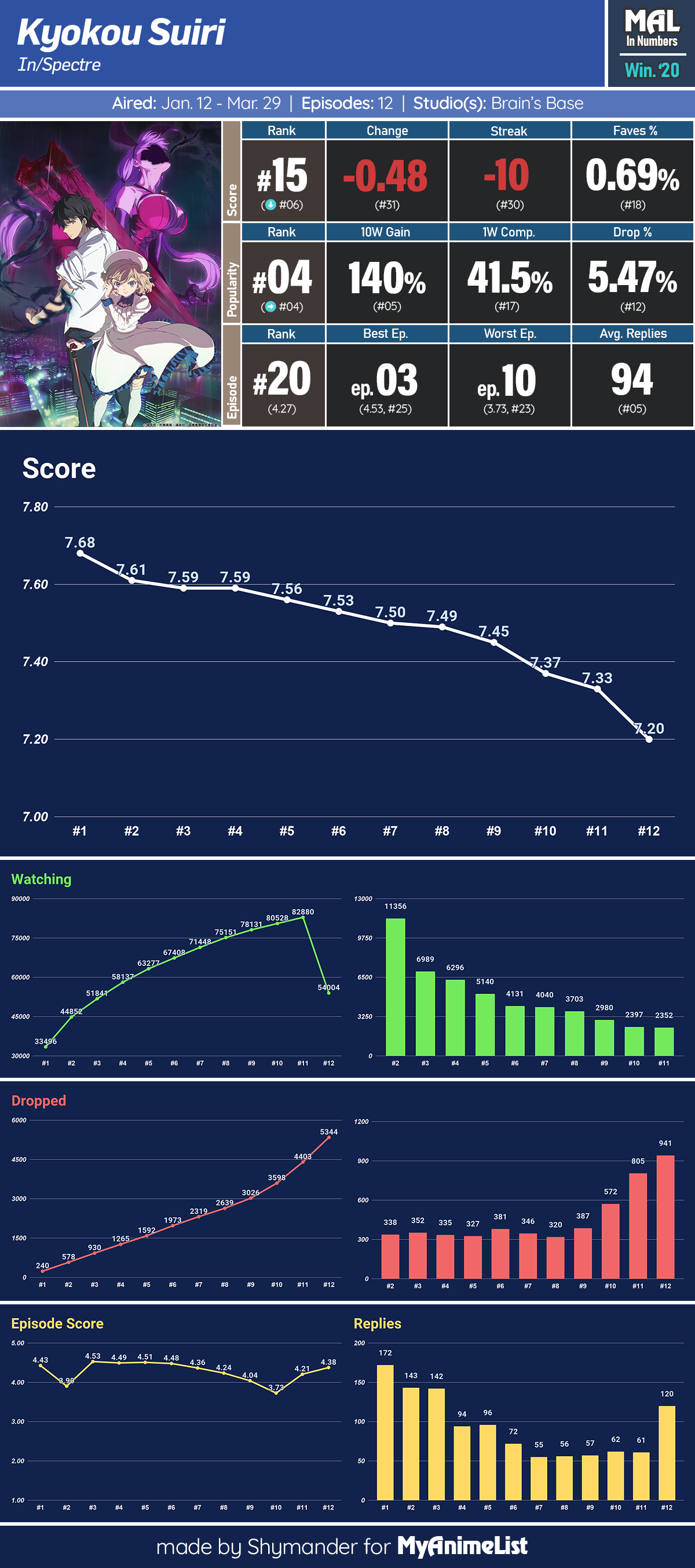 ---
Magia Record: Puella Magi Madoka Magica Side Story
---

The eminent Mahou Shoujo Madoka★Magica currently sits at rank #150 in score and #61 in popularity, an iconic series that continues to influence the medium to this day. There's no denying that it's nigh impossible for Magia Record to measure up to it, and even if it's based off a mobile game, one could still trust studio Shaft to still give their all. But alas, despite their best efforts, Magia Record kicked off strong but was swiftly severed in two kinda like Mami. It managed to dodge the bottom in Score Change, but it easily suffered the most when it came to Score Rank.
Magia Record was more enigmatic than eminent like its predecessor. A harsh decline in overall score is contrasted by a remarkable Faves %, and an underwhelming performance across the entire Popularity category is contrasted by a gold medal in Avg. Replies. It'll be interesting to see how many return when the second season rolls around.
---
Best Ep.
"Really cool episode! Seeing Mami was great and the aftercredits scene was confusing. but now im SUPER INTERESTED since yall said it was never part of the game."
-- rubybestgirl
Worst Ep.
"Episode 10 and not going to lie, not a whole lot has happened and somehow almost everything turns out fine and all the girls are unharmed at all times... cute watch but i'm not feeling any darkness or urgency"
-- Aqacia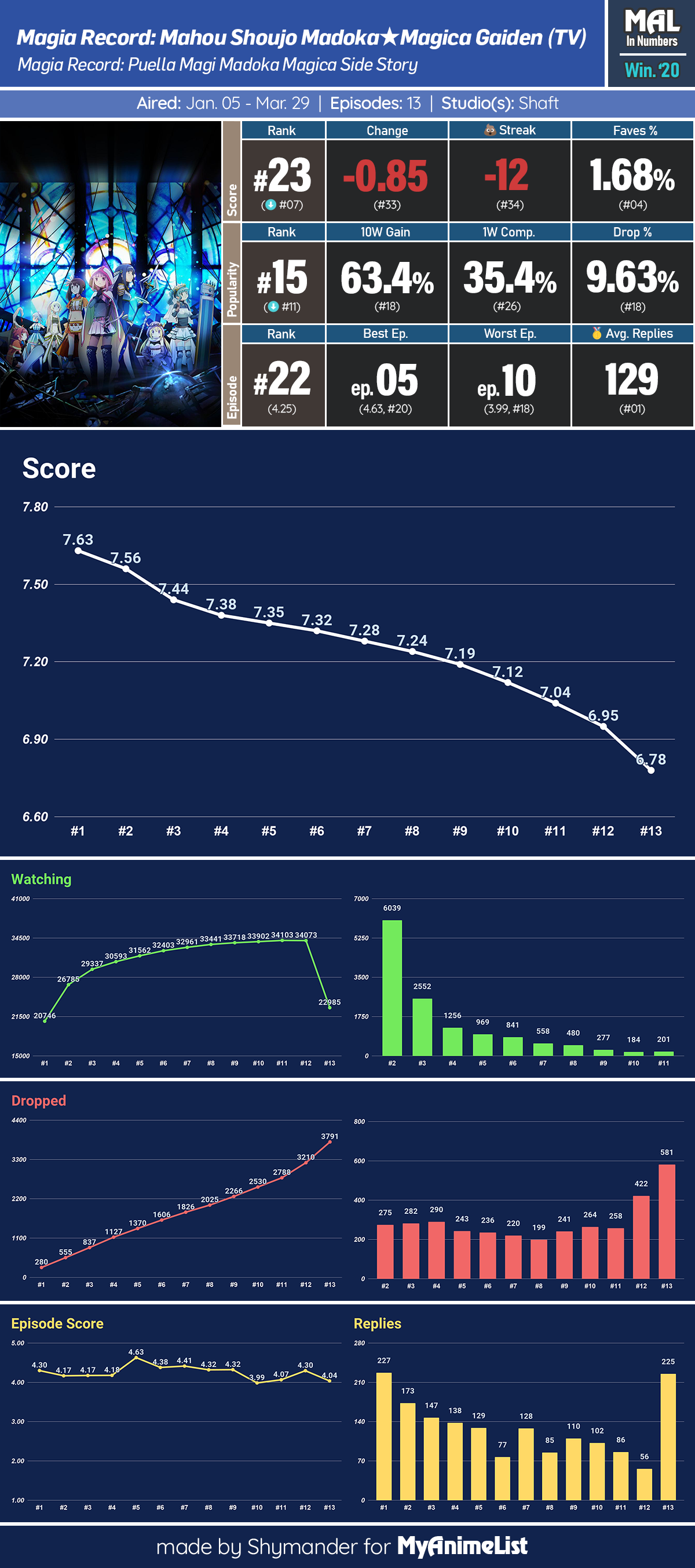 ---
Sorcerous Stabber Orphen
---

Studio Deen's had a rough couple of years since KonoSuba was wrapped up and passed onto J.C.Staff (who ended up producing the highest-rated entry in the franchise to date). None of their recent works have scored above 7.00, and Nanatsu no Taizai: Kamigami no Gekirin was its whole spectacular disaster. Despite the recent success of many reboots and remakes, Majutsushi Orphen Hagure Tabi drags Deen's recent average down even further with a sub-6.00 score and no redeeming categories across the board.
---
Best Ep.
"Better episode than the last few, this uoar dude is bad news. Cleo is really the only reason I keep watching the show"
-- Marinate1016
Worst Ep.
"I feel like this was a wasted episode or that it should have been episode 3. With only 13 episodes I don't think a flashback of Azalie's and Orphen's past was necessary"
-- prrgangsta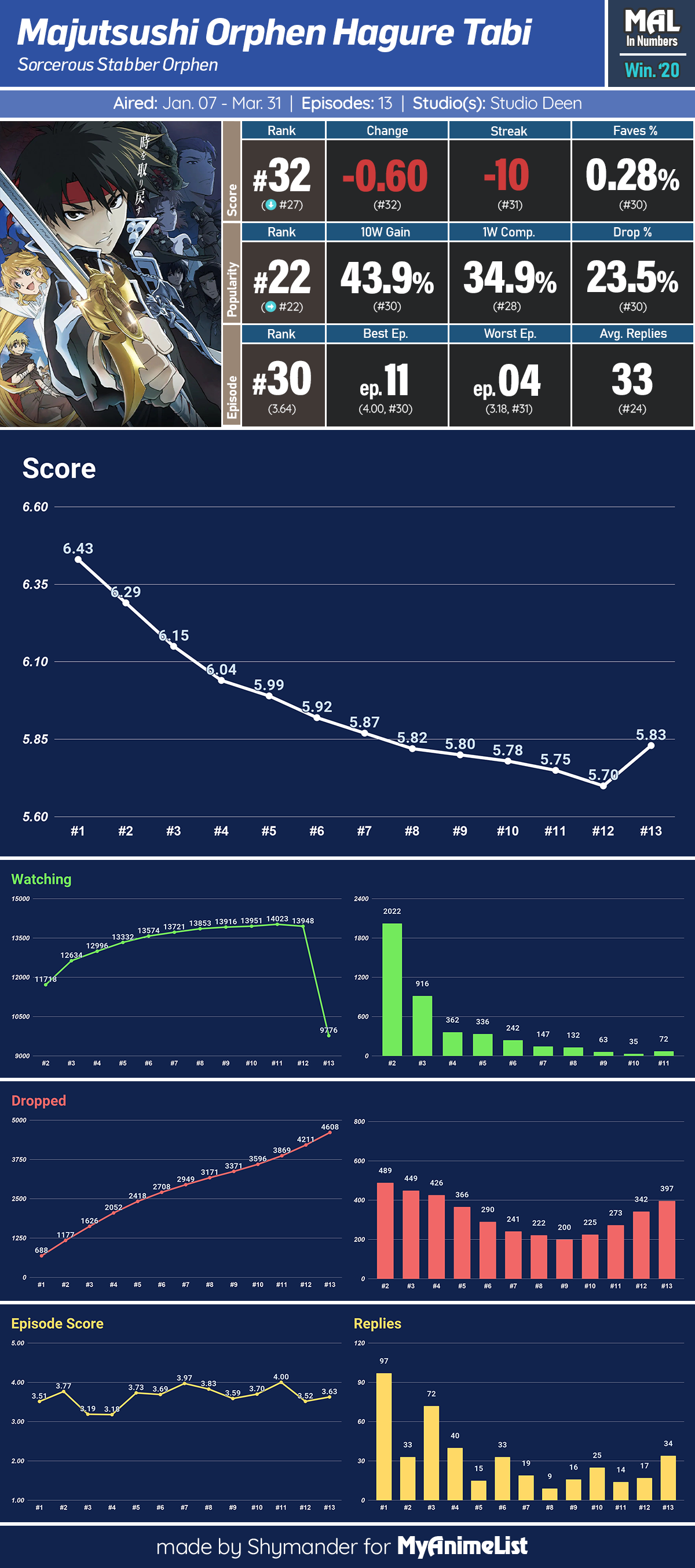 ---
Seton Academy: Join the Pack!
---

Murenase presents an unexpected menagerie of favourable statistics, especially when compared to its ruffled counterpart, Nekopara.
An initial 16,310 Watching members at rank #17 may seem low, but that's up from a miniscule 6,573 Plan to Watch members at rank #27 just prior to airing—Murenase's popularity took off like a cheetah, propelling itself to #4 in 10W Gain and #5 in 1W Comp. Aside from the usual premiere dip, Episode Score remained consistently high to finish in the overall top 10. A surprise to be sure, but a welcome one.
---
Best Ep.
"Nice and glad Meimei got to join the club! Really enjoying how the characters interact with eachother in the show and I hope that meimei learned now to be less selfish."
-- MetanoiaMe
Worst Ep.
"These characters are pretty goofy even with animal traits. I've read the manga for this before so I kinda lowered my expectations for this. The comedy is still out there and isn't shy to show animal behaviors. They even throw in some butt jokes."
-- Stark700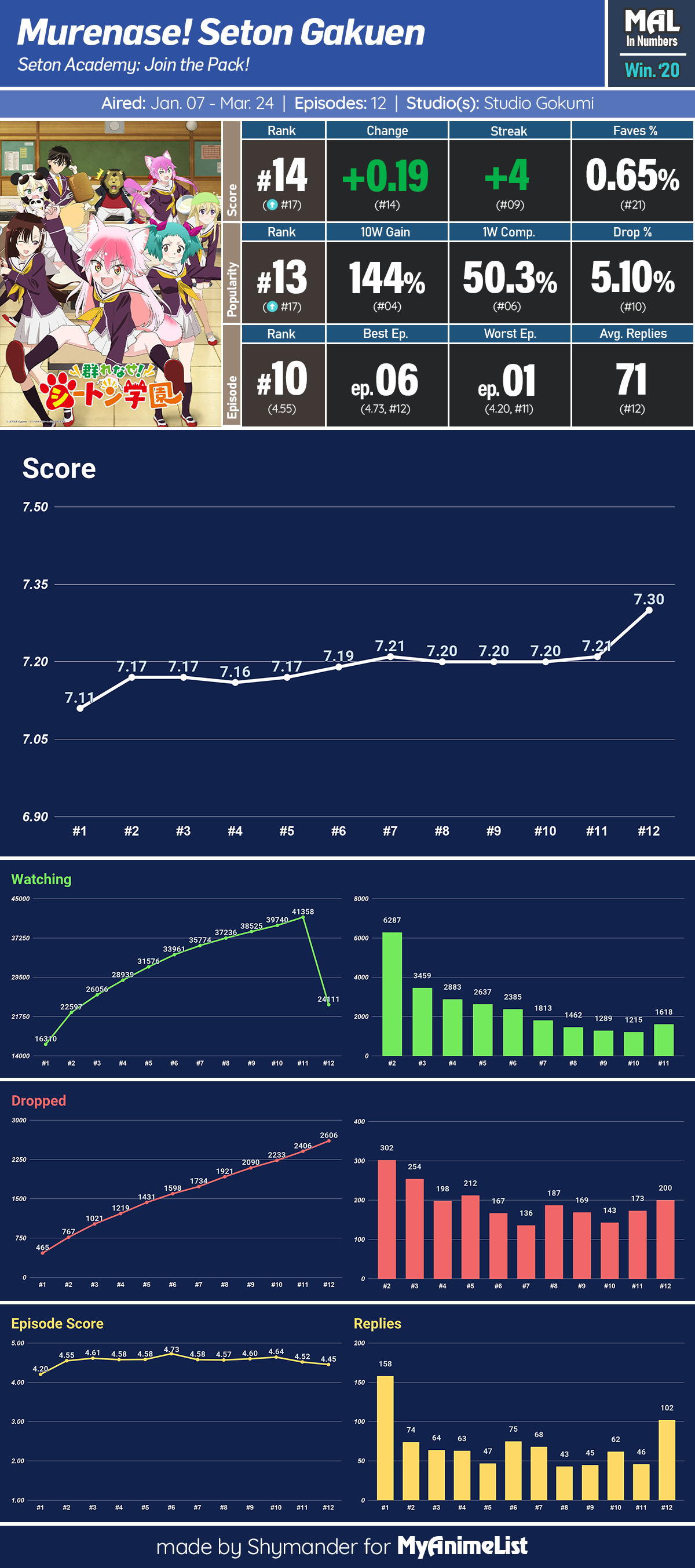 ---
Natsunagu!
---

Natsunag-who?
In the race to snatch up seasonal licenses, a few shows still manage to fall through the cracks. Some found a way to view this series of cosy shorts, but it seemingly wasn't worth the time for 16% of users who still dropped it.
---
Best Ep.
"Well the story isn't the most fleshed out but for a short theres a red thread you can follow. I loved the ending song, easily on par with endings songs of full-feature anime movies."
-- KamisamaHatatan
Worst Ep.
"Um, no. The drama was way to notched up. I mean, sure Natusna, may have felt so close to her goal but I don't see why she would be crying just so quickly. "
-- modboy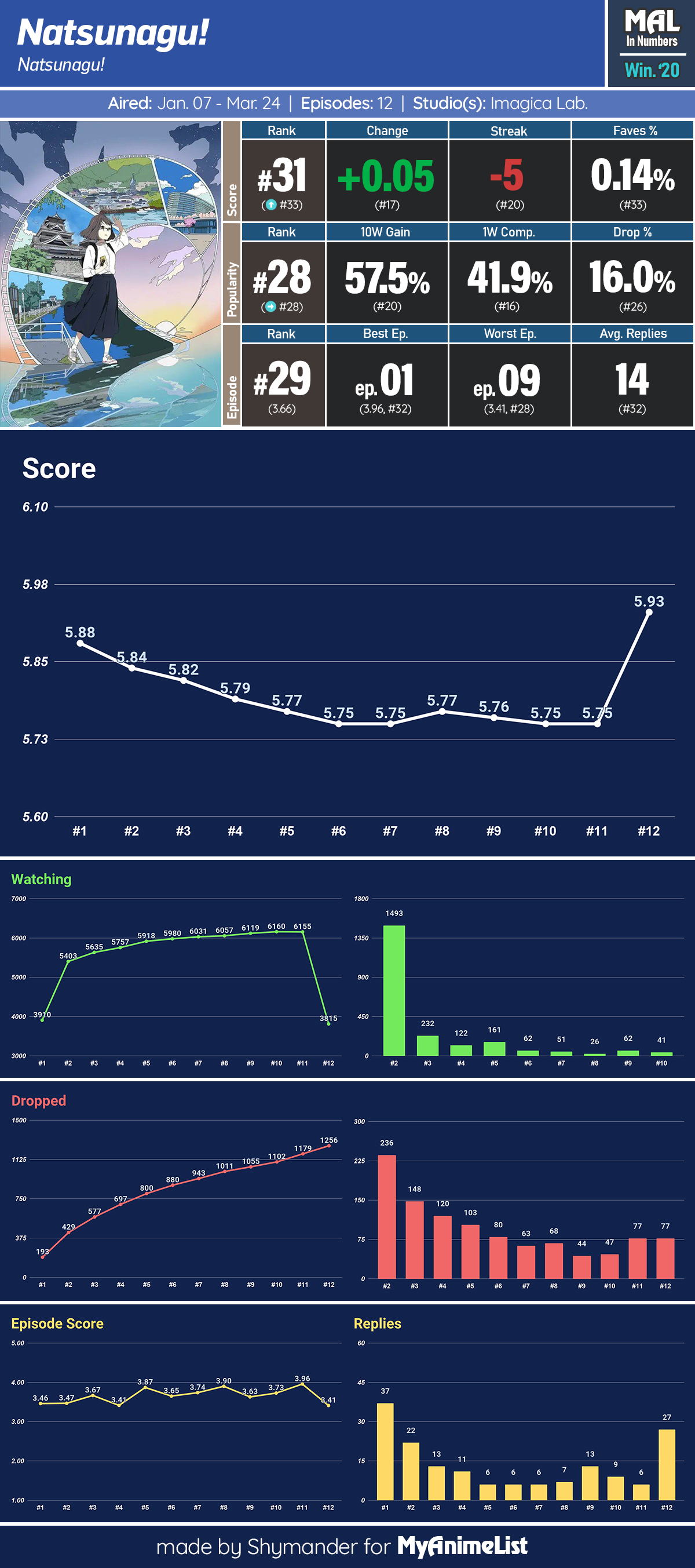 ---
NekoparA
---

Users with Nekopara on their list fit into one of two categories: people who played the original visual novels and people who didn't. Both sides of the aisle clasped hands in disappointment over the watered-down adaptation of H-filled material, pervading every episode discussion thread until all Episode Score stats struck the bottom. However, it was still a pleasant enough show to earn a top 10 spot in Faves %, even if everything else went down the toilet (if you know, you know).
---
Best Ep.
"Good start and it's very cute but I just can't get rid of all the 18+ scenes from the game in my head so it's kinda killing the mood lol"
-- Ashhk
Worst Ep.
"Uh... I mean, if they really wanted to take Vol. 3's main plot and condense it in one single episode in the most unsatisfying way possible, they as well could have added some of the yuri action scenes to compensate a bit. Just saying..."
-- SouthRzVa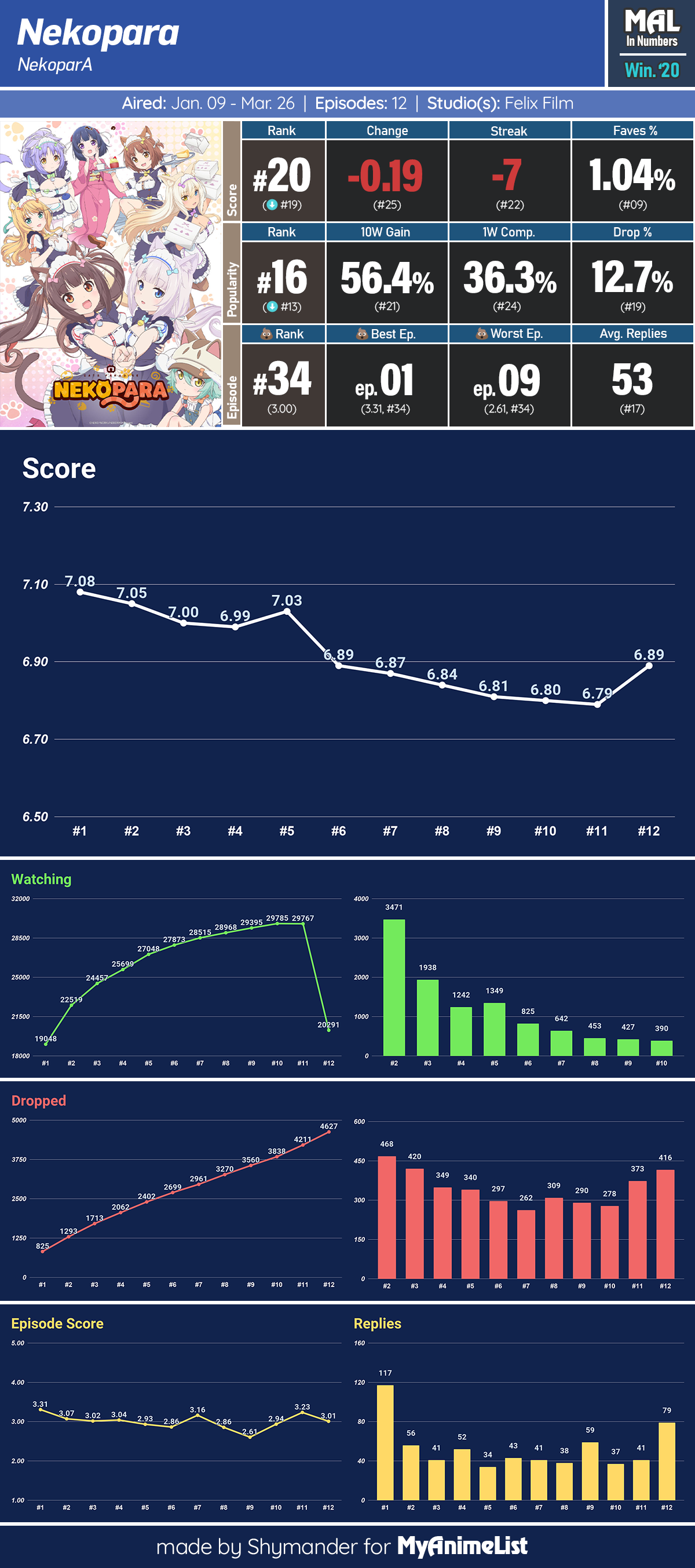 ---
number24
---

Episode 11: Throws the ball to episode 12 across the field
Episode Score Graph: Ducks and weaves
Okay, never mind, I have no idea how rugby works. number24 snagged #24 in a category alongside 24 average replies, so I am once again incredibly satisfied. A three-week delay previously killed Bem's growth in Summer 2019, but number24 weathered it with an acceptable level of growth even at a later stage of its broadcast.
---
Best Ep.
"I almost die, I screamed so badly when their song started, omg, I do not screamed like this since YOI kiss (LOL I just relase that was 4 years ago) "
-- Sasha_AT
Worst Ep.
"Overall I think it was a good start. Not amazing, but not mediocre. It gives me hopes that it'll be pretty good in the end. We've got just a wee bit of sexy man skin, a wee bit of Sei x Natsusa, and every character we've really seen so far is pretty different from the others. Really loved the ending, both the song and the visuals."
-- kyoudai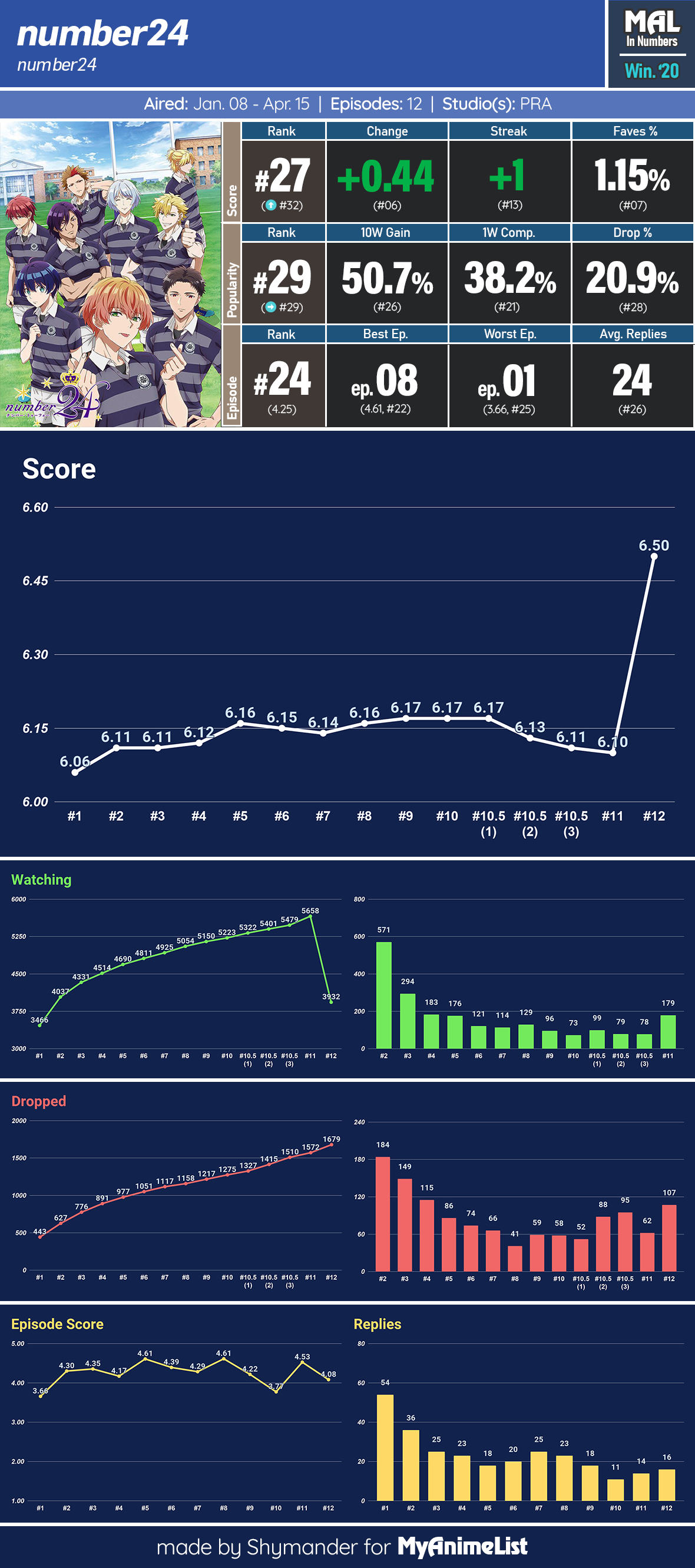 ---
Oda Cinnamon Nobunaga
---

It was just raining cats and dogs last season, huh?
Among the many exhibitions in Winter 2020's menagerie, Oda Cinnamon Nobunaga largely kept to itself in the back with low numbers across the board aside from an above average Episode Rank and Score Change.
---
Best Ep.
"Nobunaga reflecting back to a time when he was a puppy was a good way to end the series. While this series was nothing special, I did like the fact that they tried to take a comedic spin on the knowledge from the Warring States era. The dogs were cute too."
-- AddaeAkono
Worst Ep.
"Shingen and Kenshin starring each other down at the Kawanakajima sign was the funniest part of the episode."
-- AddaeAkono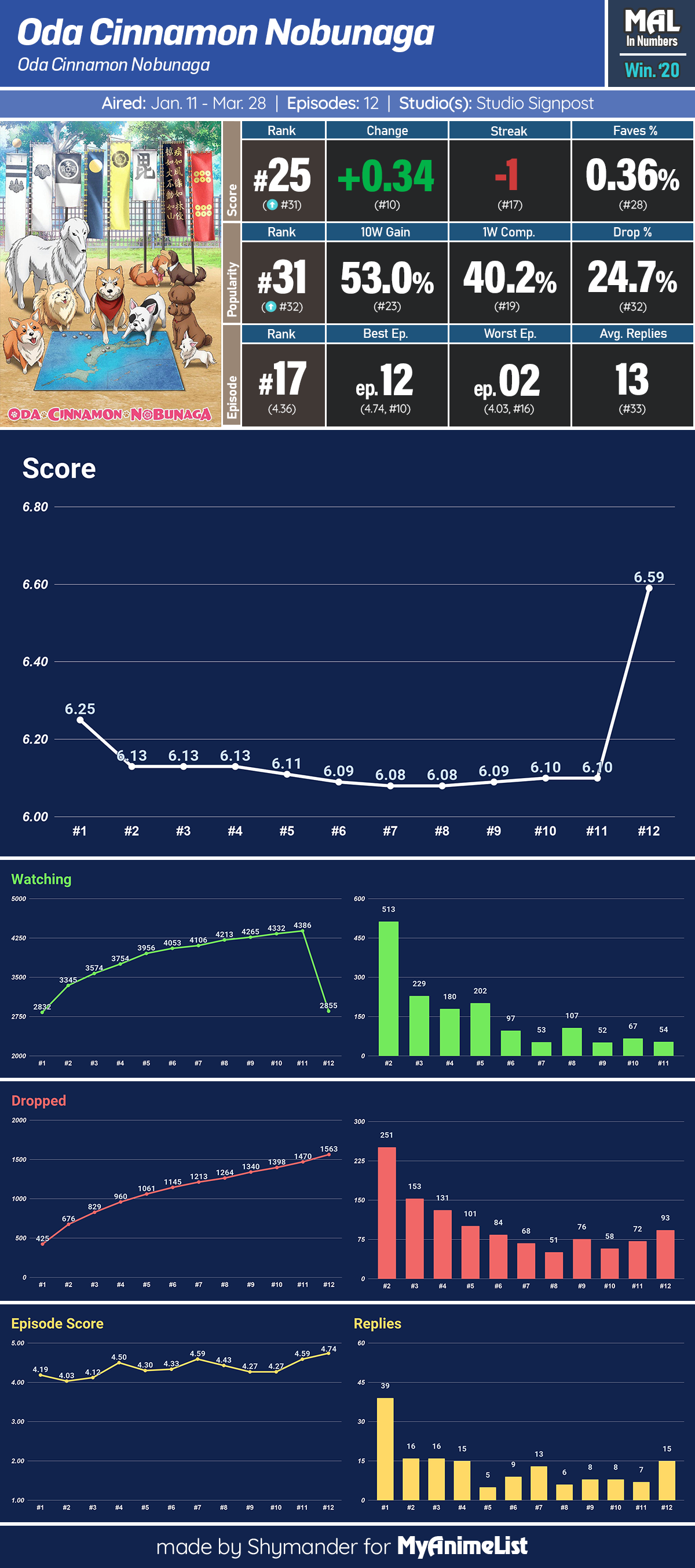 ---
If My Favorite Pop Idol Made It to the Budokan, I Would Die
---

If there was any Winter 2020 show to label as the most underappreciated of the season with statistics, it would be Oshi ga Budoukan Ittekuretara Shinu, which has the largest disparity between score and popularity (in favour of the former). It ties with Uchi Tama?! Uchi no Tama Shirimasen ka? in that regard, but the heavy score difference sets them apart. Add on a top 10 finish in Episode Rank, 1W Comp., and Faves %, this idol show is one for the Plan to Watch list.
---
Best Ep.
"This continues to be fantastic, I love the interactions between Maina and Eripyo. It's wholesome, cute and sweet but at the same time depressing because of what happened last episode."
-- Lelouch0202
Worst Ep.
"This was surprisingly fun, had some laughs here and there too, mostly about Maina's color and such being salmon related. The dance routines weren't particularly notable but at least they weren't hideous CGI."
-- Paul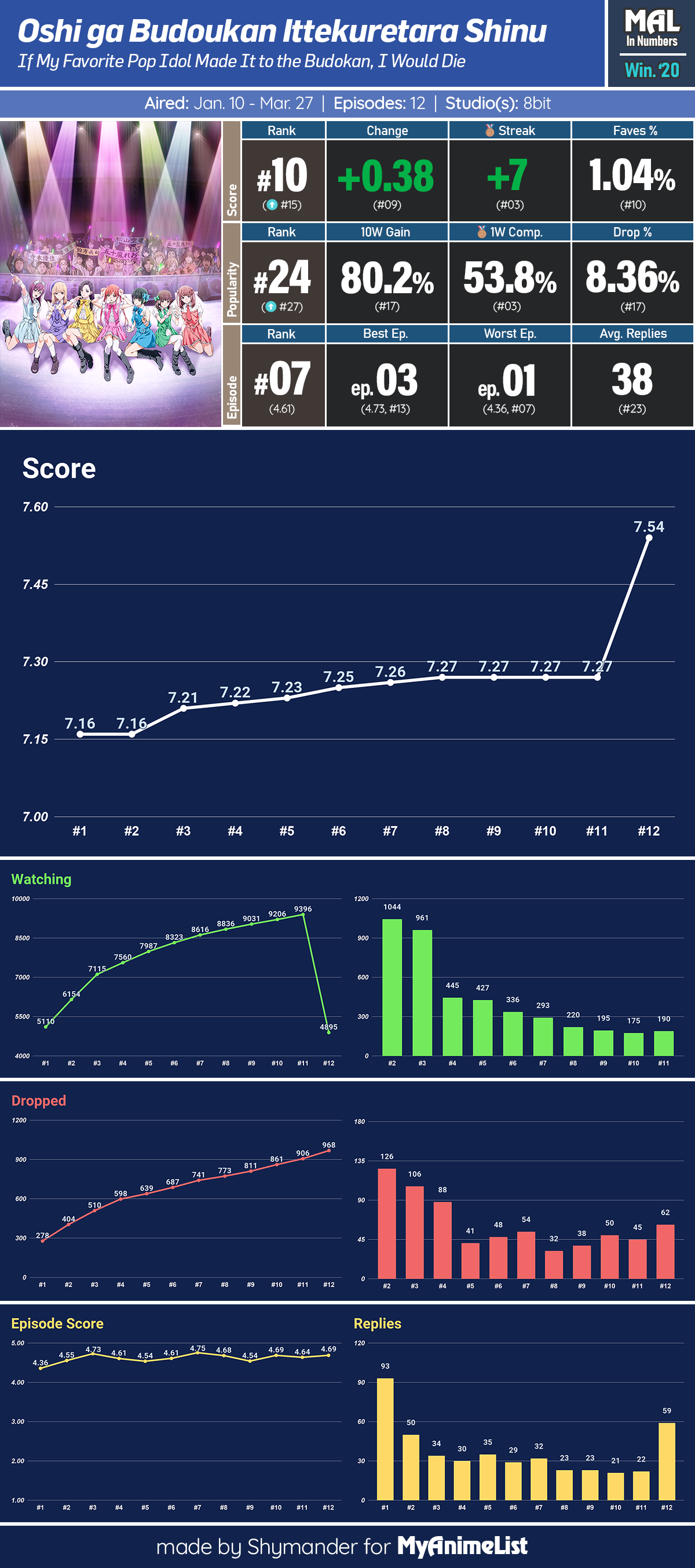 ---
Pet
---

Amazon Prime Video struck gold early with Dororo and Vinland Saga but only dug up dirt with Mugen no Juunin: Immortal and now Pet.
Before seasonal delays were cool, Pet's broadcast moved from Fall 2019 at the last minute, granting a headstart in Plan to Watch members on its Winter counterparts. Except that didn't translate to actual viewers—Pet went from #9 in popularity before airing right down to #22 and just kept on falling after dreadful growth and drop rates from the get-go. Where Id:Invaded got in your head, Pet went through one ear and out the other.
---
Best Ep.
"Well, it was what I expected although it had some good twists at the end. I felt the ending unfinished for some reason. Will Satoru and Hiroki keep escaping of the Company for the rest of their lives? Will they be killed? We will never know since the manga has the same ending."
-- Nurguburu
Worst Ep.
"Didn't really enjoy it, just felt okay from start to end of this episode. I'm quite confused with the plot, I will probably understand it more when more episodes have been released. Good OP and ED."
-- Zaro_1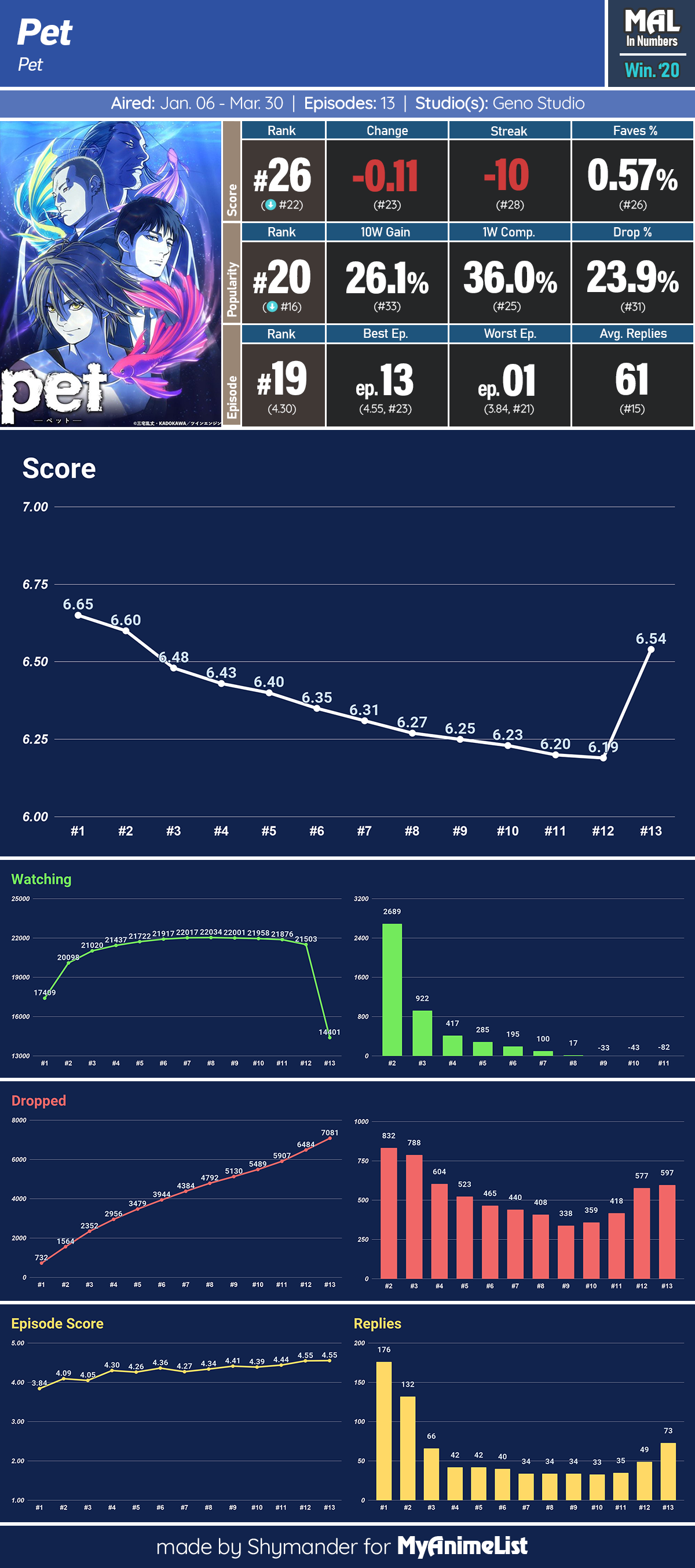 ---
Plunderer
---

To get personal for a bit, across the many years I've watched anime, I've only ever dropped four anime for being too unbearable to finish. Plunderer was the latest addition, and the wider audience largely agrees with that sentiment, considering Drop % and high negative Score Change from an already low score. Even the first cour's statistical peak only ranked at #29 for the season, though it did result in a small increase in new viewership—Plunderer demonstrates with its 10W Gain that enough people will see past the visible faults and still pick up a low-rated show with bad reviews if it interests them.
---
Best Ep.
"Wow, 9 episodes in and I finally feel an ever so slight amount of interest in what's happening. I would love if this anime could do a 180 because man has it been an excruciating drag to get to this point where I finally felt something other than brain dead boredom."
-- Nuggey
Worst Ep.
"Well that cook-off felt completely pointless. Why do we need that kind of filler content now all of a sudden? Not that the show was particularly great anyway but come on"
-- HaXXspetten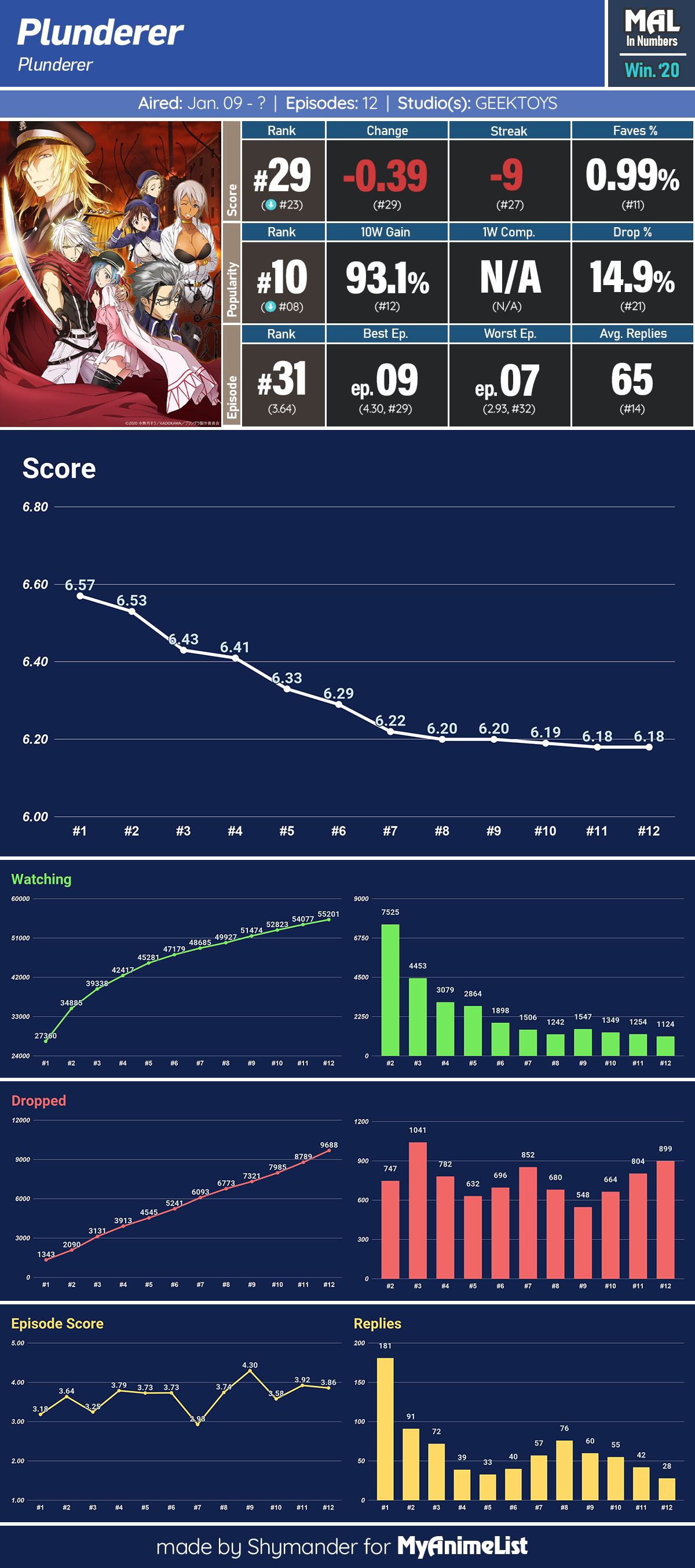 ---
Science Fell in Love, So I Tried to Prove It
---

I've done this for a full year now, and every season has brought a show I can pull a nerdy-looking screenshot from: [Bokutachi wa Benkyou ga Dekinai](https://myanimelist.net/anime/38186/Bokutachi_wa_Benkyou_ga_Dekinai, [Dr. Stone](https://myanimelist.net/anime/38691/Dr_Stone, Honzuki no Gekokujou: Shisho ni Naru Tame ni wa Shudan wo Erandeiraremasen, and now Rikei ga Koi ni Ochita no de Shoumei shitemita.
RikeKoi sets itself in the middle of past thumbnail series with very respectable ranks in the major categories, albeit less so in more specific metrics. Although you could watch the whole series from the full set of episodes that were dropped on Amazon Japan, you couldn't set the entry as completed until the last episode aired on TV. Though I'd assumed that would grant the show an advantage in 1W Comp., it greatly underperformed in that regard.
My obsession and frustration with statistic-based puns continues, as I wish I could've made a joke about binary with RikeKoi's primary ranks. Bu to quote my favourite American anime, "1s and 0s everywhere... and I thought I saw a 2."
"It was just a dream, Bender. There's no such thing as 2."
---
Best Ep.
"I really love this show, will be one of the most underrated of the year for sure. If you're a grad student like myself, the shit hits deep. Himuro best waifu of the season so far."
-- Marinate1016
Worst Ep.
"I like me some dry comedy and it's somewhat amusing, but simply because the nature of this series is so unusual, this will probably get really stale once the novelty has worn off."
-- FMmatron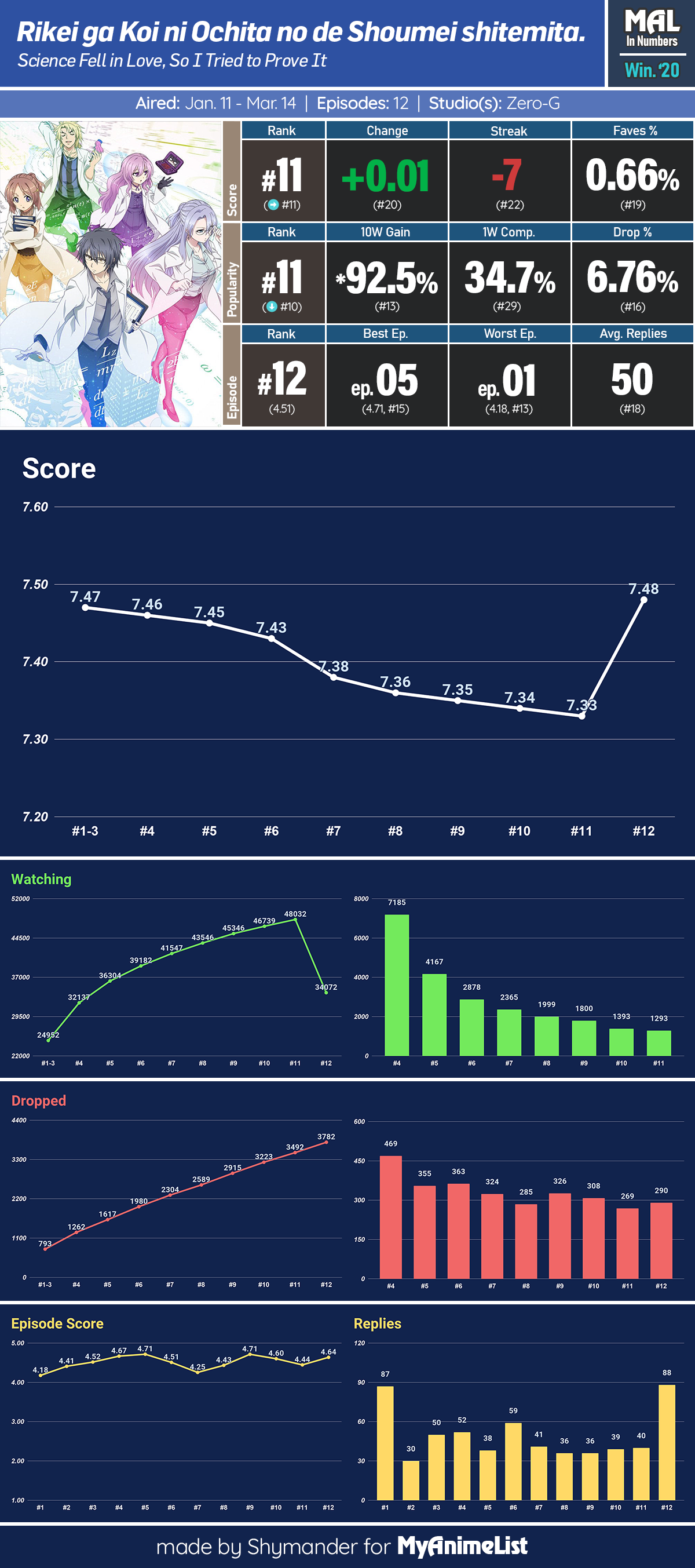 ---
Smile Down the Runway
---

Ahh, a smooth walk down the runway and a powerful flourish to finish it off.
Though not quite to the same extreme as Oshi ga Budoukan Ittekuretara Shinu, Runway de Waratte is another Winter 2020 show statistically classified as underwatched. Both actually had the same Streak value, but Oshibudou got to take the bronze medal with a higher Score Change. Amusingly, Runway de Waratte also just lost out to Oshibudou in 1W Comp.
---
Best Ep.
"Reflecting all the events up to this episode, I think this anime did a fairly decent job at building the moment emotionally. Fashion industry isn't easy so they managed to make this feel real as possible. The walks were interesting with the judge's reactions."
-- Stark700
Worst Ep.
"I'm still hyped for the show as I love the manga, I will admit I'm a little disappointed since it felt a little rushed, but I'm really into the animation it looks stunning at moments."
-- BaconChips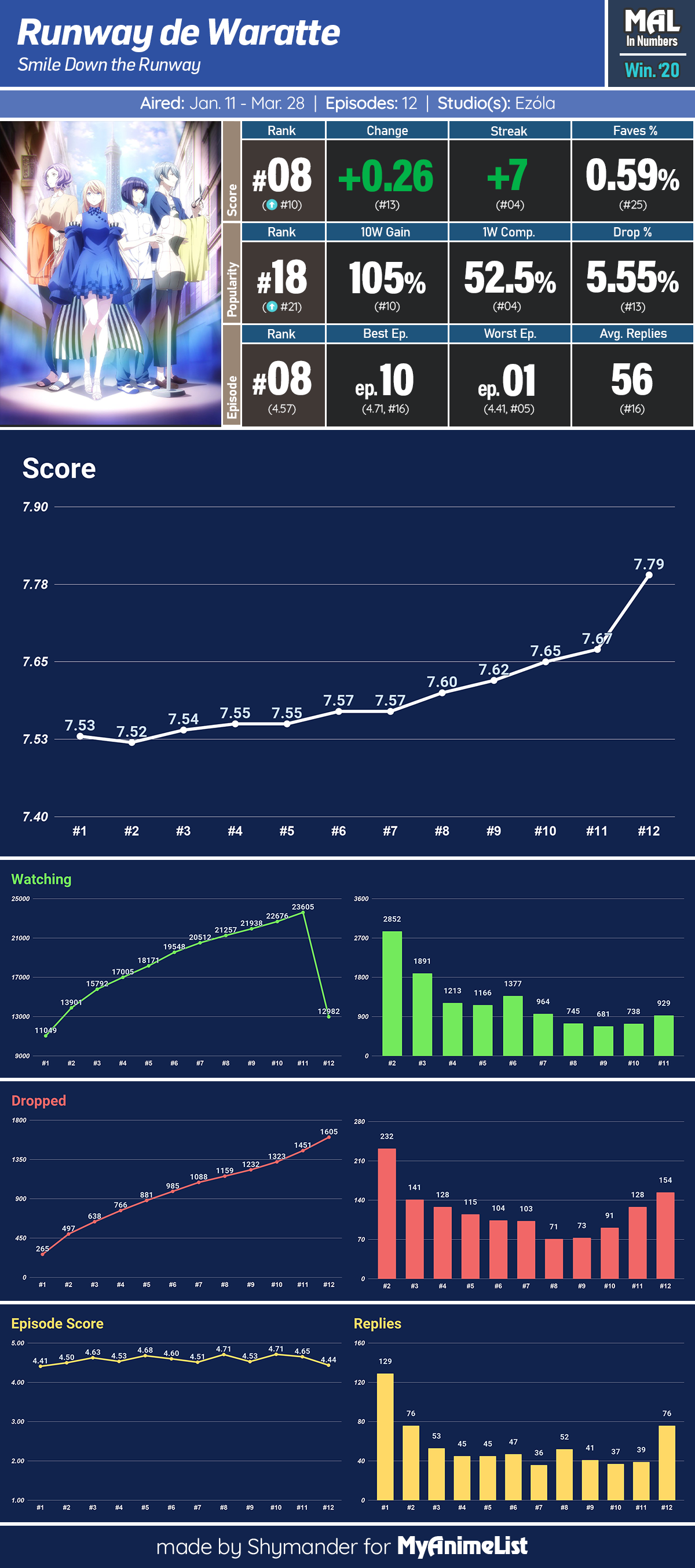 ---
SHOW BY ROCK!! Mashumairesh!!
---

In between a new [Made in Abyss](https://myanimelist.net/anime/34599/Made_in_Abyss and Tate no Yuusha no Nariagari, Kinema Citrus introduced a new band to the niche Show By Rock!! universe. Mashumairesh!! certainly didn't sell out, but it's the core fans that matter.
---
Best Ep.
"It's about time that Howan joined the band for real. Reijin's song was catchy and i like Uiui and her engrish."
-- MrAwesome2018
Worst Ep.
"Honestly, I thought this episode was pretty dull. Way too much focus on Mashimahimeko and the band together. I mean, I'm glad they are united together with the same ambition and performing out there but they could of done more for this episode."
-- Stark700


---
Somali and the Forest Spirit
---

In an unprecedented move, Crunchyroll released the first episode of Somali to Mori no Kamisama a week before the official premiere date. This unfortunately messed with data collection for the season (resulting in an invalid result for 1W Comp.), but statistics show that releasing it out of nowhere before every other new show was stunningly effective—total members increased by 62% in a single day from 27,662 to 44,859. As a result, its initial popularity was somewhat bloated before taking a sizeable hit once the season commenced, even with a decent 10W Gain. From there, Somali to Mori no Kamisama was consistently in the top half for every category.
Sharp increases in score after the finale rarely happen with shows that already have an high score, so Somali to Mori no Kamisama was clearly a success even if we can't see 1W Comp.
---
Best Ep.
"That cute and warm first half tried to trick but now my eyes are leaking and it won't stop. Even though Somali was in so much danger, still all she cared about was Golem being hurt. Poor little Shizuno... he tried so hard to protect Somali too."
-- kater_tot
Worst Ep.
"I love the fantasy setting, it's really pretty. The only thing slightly negative thing for me would be that Somali isn't voiced by a child (like Barakamon or Seirei no Moribito), thus, it feels slightly less genuine and takes me out of immersion at times. But I can get used to it after a few episodes, just like Udon no Kuni."
-- tingy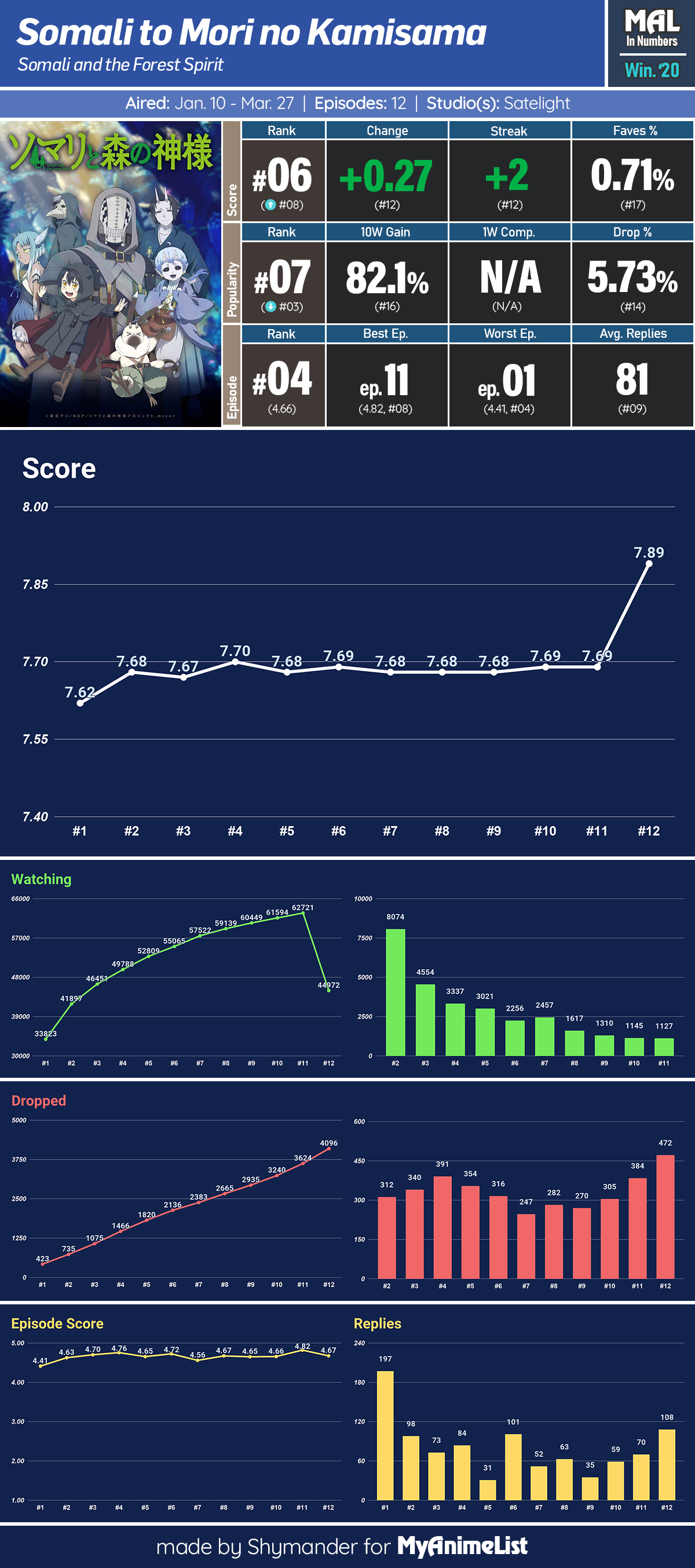 ---
A Certain Scientific Railgun T
---

I don't need to write a long-winded statistical deep dive of Toaru Majutsu no Index III to tell you that people would rather index it out of their memory. Throw in the quickly-forgotten Toaru Kagaku no Accelerator and it's easy to say that the Toaru Project franchise has fallen on hard times... but no longer! (ish)
Toaru Kagaku no Railgun T is a resounding success, sweeping up gold medals across the Episode category and remaining at a franchise-high score throughout, paired with a silver medal in Faves % despite being an ongoing show. Episodes 10 and 11 jointly topped the show and the season as a whole. Unfortunately, this glorious return has since been marred by more broadcast delays than I've ever seen for one anime, so maybe the franchise really is cursed.
---
Best Ep.
"Absolutely amazing episode, this was full of hype. Sogita and Touma fighting side by side was something I was looking forward to see since the start of this season and glad to finally see it has started. Thou lol I never thought it would be against Misaka. The animation and visuals were really great too."
-- MegamiRem
Worst Ep.
"At this point I can't be objective with this anime. It feels like I'm 15 and I never watched another anime before. I'm literally fanboying from start to finish 2 eps in a row. I don't remember how many years ago I rated something 10/10 while airing. (I'm not even sure If I ever did that)."
-- Cloudy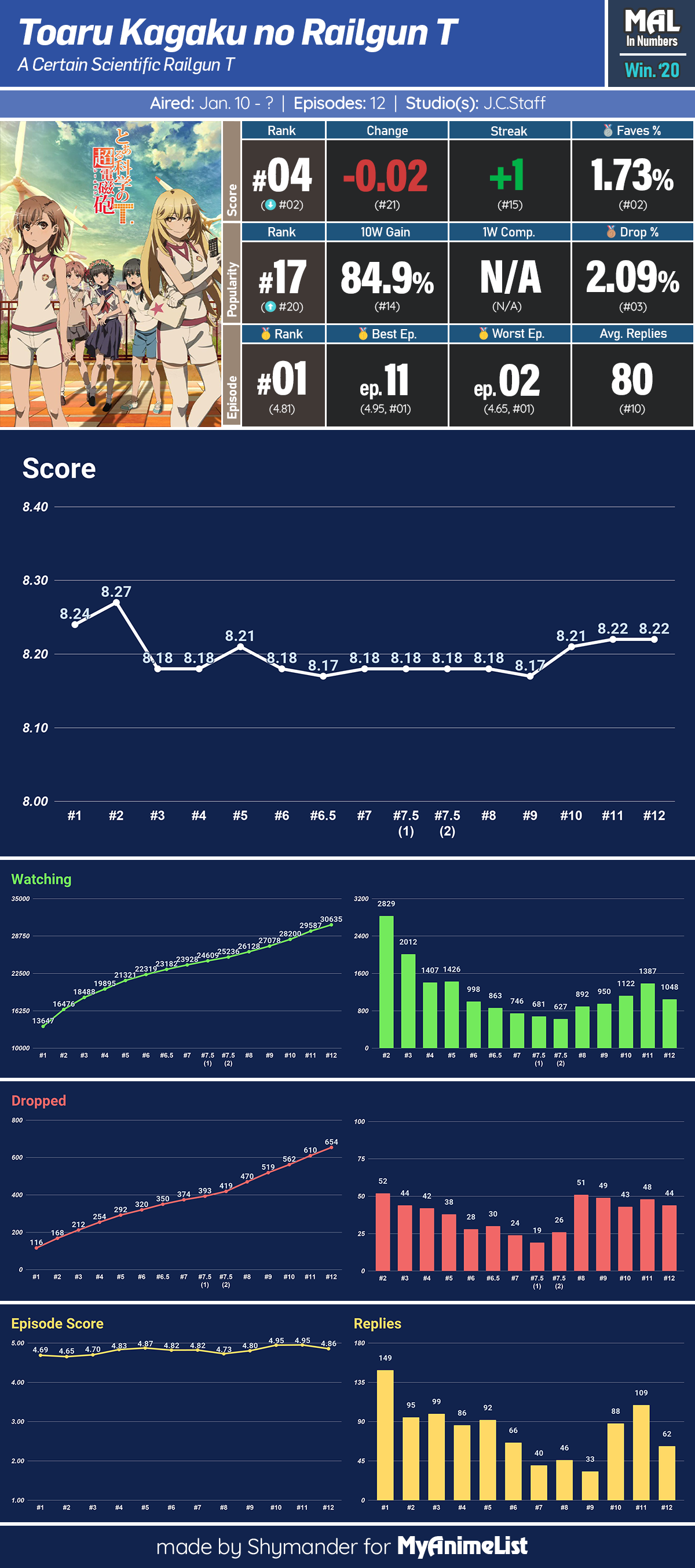 ---
Uchitama?! Have you seen my Tama?
---

From the iconic programming block that brought you Psycho-Pass, Boku dake ga Inai Machi, Ping Pong the Animation, and more of MAL's top hits comes... an okay show about mischievous kemonomimi. On top of Score Rank and Popularity Rank, Uchitama also features the largest disparity between Best Ep. and Worst Ep. ranks for Winter 2020. As other entries have shown, it's always interesting to see how a rare high-scored episode affects Dropped and Watching members.
---
Best Ep.
"This episode had Nora's backstory from his previous owner. All I can say is... tragedies are my greatest weakness. Emotions were experienced."
-- Diapolo10
Worst Ep.
"Ok, well I was a bit confused watching the first episode, but I also liked it. It seems cute and rather easy to watch, a feel-good anime. And the cast is soooo good."
-- Larjus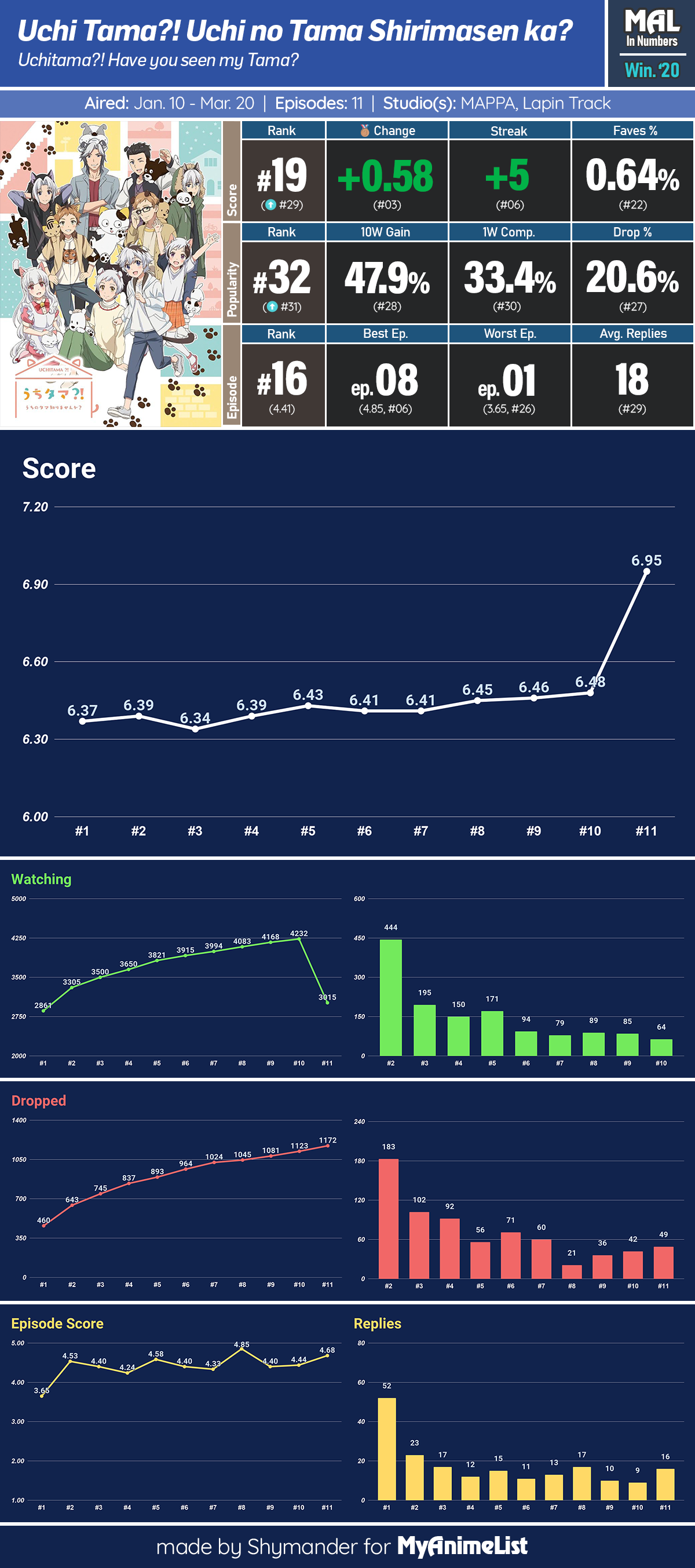 ---
Yatogame-chan Kansatsu Nikki 2
---

Well, 0.06% of a mere 5,246 Watching/Completed members adds up to a grand total of... 3 favorites. In contrast to that abysmal statistic, a niche audience plus three-minute-long episodes gave Yatogame-chan Kansatsu Nikki Nisatsume the crown for 1W Comp.
---
Best Ep.
"Ah the geography arguments. This is fun as usual. "
-- Noy_Telinu
Worst Ep.
"Kaito sure doesn't like to be startled. Either way, it's cool to see Lala return to the series."
-- Stark700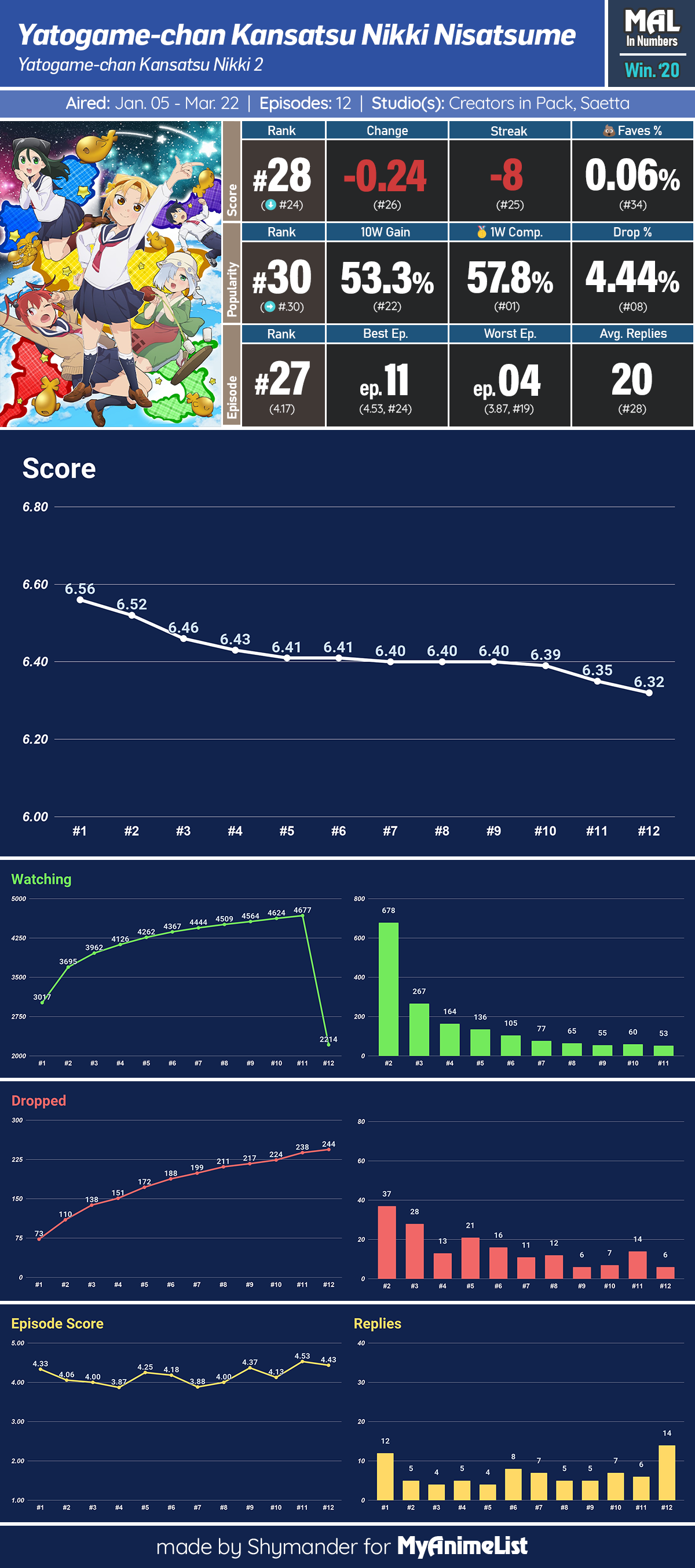 That's it, a whopping 35 shows wrapped up with insurmountable detail. But there's still one more important thing we need to discuss.
---
So... what's Anime of the Season?
---

With so many statistical categories for so many anime being taken into account, not to mention the literal title of "The Best and Worst Anime," it seems only right to make a definitive judgment on the overall best and worst of each season, as decided by hundreds and thousands of MAL users. These will balance all datapoints, with a particular emphasis on a show's progression (i.e. Score Change, 10W Gain, other changes). Since sequels have different trends and points of comparison, I've given them their own separate accreditation.




Beastars was the easy, stand-out choice for Best Debut in Fall 2019, but I had to place two infographics side-by-side and stare at them for several minutes to decide this time around. Between the pure surprise of Eizouken ni wa Te wo Dasu na!'s ascension from humble beginnings and Dorohedoro deftly adapting the unadaptable, the latter just squeaks over the line with a superior line of statistical progression and surpassing community expectations (even if I have to grit my teeth over picking another Netflix prisoner).


Winter 2020 featured shows about magic and shows that were magic, which Hatena☆Illusion and Magia Record made mutually exclusive. As the winner of this season's Crap Count, it's a no-brainer for Worst Debut.


Though its overall score line isn't the prettiest, the long-awaited return of Railgun and the revivement of a struggling anime franchise deserves extra praise. That being said, compared to Haikyuu!!: To the Top and Isekai Quartet 2 in a season light on sequels, every other contender gets zippity-zapped by Misaka in most categories.


There's something delightfully metaphorical about Magia Record: Mahou Shoujo Madoka☆Magica Gaiden (TV)'s empty star compared to the likes of the aforementioned Mahou Shoujo Madoka★Magica. It's not strictly a sequel by database definition, but as a new entry in an existing anime franchise, nothing else compared to collapsing in score for 12 weeks straight and abysmal growth. Expectations and precedent is an integrel factor to consider for sequels, and it's hard to look past an austere difference of 1.70 in score at the time of writing.


It came down to marvellous ascension of Id:Invaded and the tragic decline of Kyokou Suiri (which I experienced both of in my seasonal viewing), but since I went with the former category last season, I decided to sit and talk about Kyokou Suiri for an episode or three. The overall score is one thing, but to kick off with a sub-1.00% drop rate and then plummet to #12 overall is astounding, especially when contrasted with other Popularity numbers. For that, it's my choice for the most provocative anime of Winter 2020, statistically speaking.
Which anime's statistics do you find the most fascinating? Feel free to drop me a profile comment with your opinion~


---
Full Ranking Lists
---
Medal Count
Crap Count
Score
Initial Score Rank
Final Score Rank
Score Change
Streak
Favorites %
Popularity
Initial Popularity Rank
Final Popularity Rank
10-Week Gain
First-Week Completion
Drop %
Episode
Episode Rank
Best Episode Score
Worst Episode Score
Average Discussion Thread Replies
---
Stay tuned for the next edition of "In Numbers" in Spring 2020! If you have feedback or anything else you'd like to see, don't hesitate to leave me a comment or PM.