What makes a seasonal anime the best? Having the highest score? The highest number of watchers? Consistency? Or rising up as an underdog?
What makes a seasonal anime the worst? Having the lowest score at the end? Having the least amount of people watching? The most drops? Or perhaps taking the greatest fall?
In fact, all of these things are important. There are many kinds of criteria available on MAL that can be used to assess the winners and losers of each season, so I've gathered them all in one place for nearly every new show that debuted in Fall 2019 (39 in total) so you can see for yourself. Everyone has different opinions, but the numbers don't lie.
Data courtesy of anime-stats.net and myanimelist.net (self-collected), all of which is public info.


Some Important Notes
---

G'day, and welcome back to Shymander's Statistical Adventure Part 4. Yes, this edition is a teeny bit late, especially in the quick-to-move-on nature of anime fandom nowadays, but I made the call to wait on the heavily-delayed Babylon to finish. And as you'll see later on, I am glad I chose to do so.
Just when I thought Summer 2019 was the worst of it, Fall 2019 proved me wrong with even more disharmony-causing delays and recaps. Despite my best efforts, this once again resulted in an error in final data collection for a few entries: Kandagawa Jet Girls, Keishichou Tokumubu Tokushu Kyouakuhan Taisakushitsu Dainanaka: Tokunana, Ore wo Suki nano wa Omae dake ka yo, Rifle Is Beautiful, and Shinchou Yuusha: Kono Yuusha ga Ore Tueee Kuse ni Shinchou Sugiru. But thanks to the wide array of data in use, this only mildly affects a few areas. For Score, I've used the MAL Score Progressions Club's data, which records after two days (the result is roughly the same). For member-related statistics, I've only graphed up to the previous episode. I will try to be more diligent in the future so this doesn't occur again. As for which shows are included and which aren't, I set a total member threshold so that there is sufficient data for every entry; I have done my best to include as many series as possible.
Aside from a sweet visual upgrade and some new metrics, I've made three major changes/additions:
Weeks in which there was a delay or recap episode are now graphed but marked separately. Some shows aired two episodes simultaneously or within the same week, so they've been combined into one where relevant.
As such, 10W Gain is now set to weeks rather than episodes to make it more equal across the board.
At the end of the article, I have a new section for declaring the best and worst anime of the season, as determined by a few hundred thousand individual anime watchers on MAL. You're perfectly welcome to skip ahead to it if you're not as interested in all the nitty-gritty details. You'll find the full ranking lists down there as well.

Further tweaks are laid out in the Glossary right below, so be sure to read it over!
And, of course, the elephant in the room: Chihayafuru 3. I was originally going to include it out of genuine interest despite the wave of rating troll accounts, but since that also affects members, other statistics, and related rankings, it felt unfair to include. The same will happen with Ishuzoku Reviewers in Winter 2020, which should hopefully be the last of it with the new anti-troll system now in place.
Lastly, very mild spoiler warning, there will be mentions of specific events in some series in order to discuss datapoints in more depth, but they will be kept as vague as possible. Though to be fair, the numbers and graphs are honestly spoilers in themselves.


---
Glossary
Weekly/final datapoints are taken a week after the episode aired.
Score
Rank
Ranking for the highest final score out of the 39 listed shows + how it ranked after its first episode.
(#1 = highest final score, #39 = lowest final score)
Change
Change in score between the first and last recorded episodes.
(#1 = best positive score change, #39 = worst negative score change)
Streak
Score Increase = +1, Score Decrease = -1, No Change = 0. Since there are a lot of ties in this category, secondary ranking is based on Score Change.
(#1 = best positive streak, #39 = worst negative streak)
Faves %
Percentage of users who added the show to their Favorites list out of Watching and Completed members.
(#1 = highest percentage, #39 lowest percentage)


Popularity
Rank
Ranking for the most Watching and Completed members upon conclusion + how it ranked in Watching members after its first episode.
(#1 = highest member count, #39 lowest member count)
10W Gain
Percentage increase in Watching members over the first ten weeks.
(#1 = highest gain, #39 = lowest gain)
1W Comp.
Percentage of Watching users who Completed the show in the week after it finished airing. Only includes shows that have Completed member data.
(#1 = highest percentage, #24 = lowest percentage)
Drop %
Percentage of users who dropped the show out of all Watching, Completed, and Dropped members.
(#01 = least dropped, #39 = most dropped)


Episode
Rank
Ranking for the highest average score from episode discussion threads across all recorded episodes.
(#1 = highest score, #39 = lowest score)
Best Ep.
The episode with the highest average score + how it ranked compared to other Best Episodes.
(#1 = highest score, #39 = lowest score)
Worst Ep.
The episode with the highest average score + how it ranked compared to other Worst Episodes.
(#1 = highest score, #39 = lowest score)
Avg. Replies
Average number of replies from episode discussion threads across all recorded episodes.
(#1 = highest number, #39 = lowest number)


Graphs
For Watching and Dropped, the graph on the left shows the total members and the graph on the right shows the number of new members each week.
Episode Score denotes an average out of 5 taken from episode discussion thread polls, next to the number of replies in said threads.
Since the focus is on internal comparison rather than external (and the disparity in numbers would make some parts impossible to read), all graphs are set to their own scale, Episode Score aside.


---
Overview
---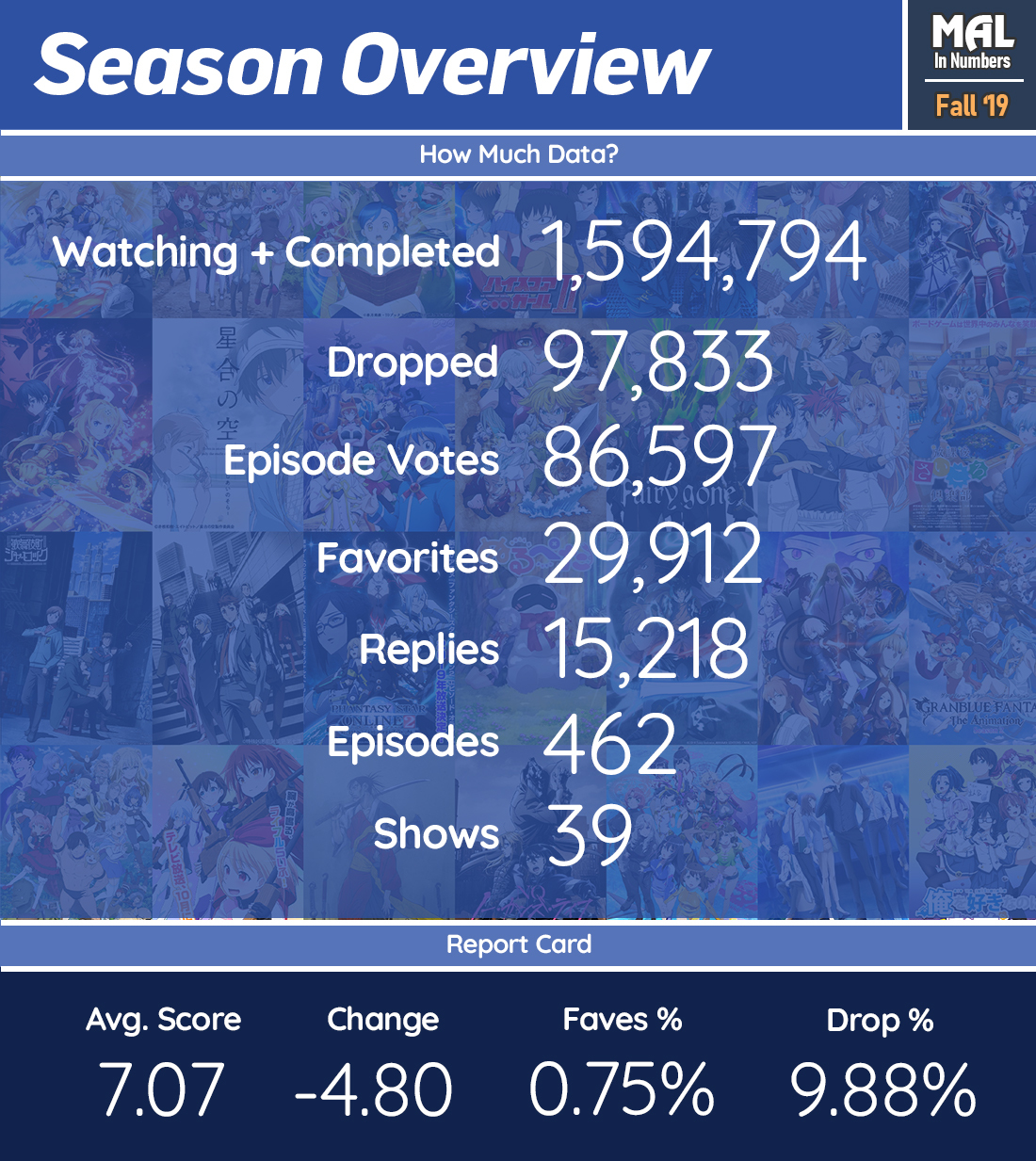 There's no way for me to know just how many individual users are taken into account in this article, but since the most popular show of Fall 2019 reached 231,129 Watching and Dropped members by the end of its recorded run, it's at least several hundred thousand. All those users total up to over one and a half million members across 39 shows; MAL isn't the be all end all of the anime community's opinion, but it provides a scale of statistical detail you won't find anywhere else.
Unfortunately, I can only compare this overview to Summer 2019 since that's when I began extensively covering almost every new show. With seven fewer shows overall, Summer 2019's average score was only a single point lower, at 7.06. Meanwhile, the total number for Score Change is drastically different, at just -2.43, nearly half Fall 2019's. Faves % follows suit with 1.35% in Summer 2019, but the average Drop % was much higher, at 11.09%. Once more seasons and editions of "In Numbers" roll out, I'll be able to provide a better picture of which seasons were better or worse.
Now, let's get into the real nuts and bolts.


---
Africa Salaryman
---

♫ There's nothing that a hundred members more could ever do
I bless the gains down in Africa ♫
Africa no Salaryman (TV) has quite the bombastic opening episode. Morphing visual styles, Zenitsu from a parallel universe, a lizard man's tail getting ripped off more than once... it's certainly a far throw from sister show Aggressive Retsuko. While some jived with its eccentricity from the get-go, 15.84% of users decided to nope out immediately, roaring to 27.7% by the end. I wouldn't put too much weight on 1W Comp. since it's one of the weakest metrics I use, but snatching last place in any category, on top of coming close to it in nearly everything else, isn't too desirable.
Still, it was one of only 12 shows in Fall 2019 with a positive score change. That's two fewer than Summer 2019 despite having seven more shows taken into account, which doesn't bode well for the rest of the season this early on.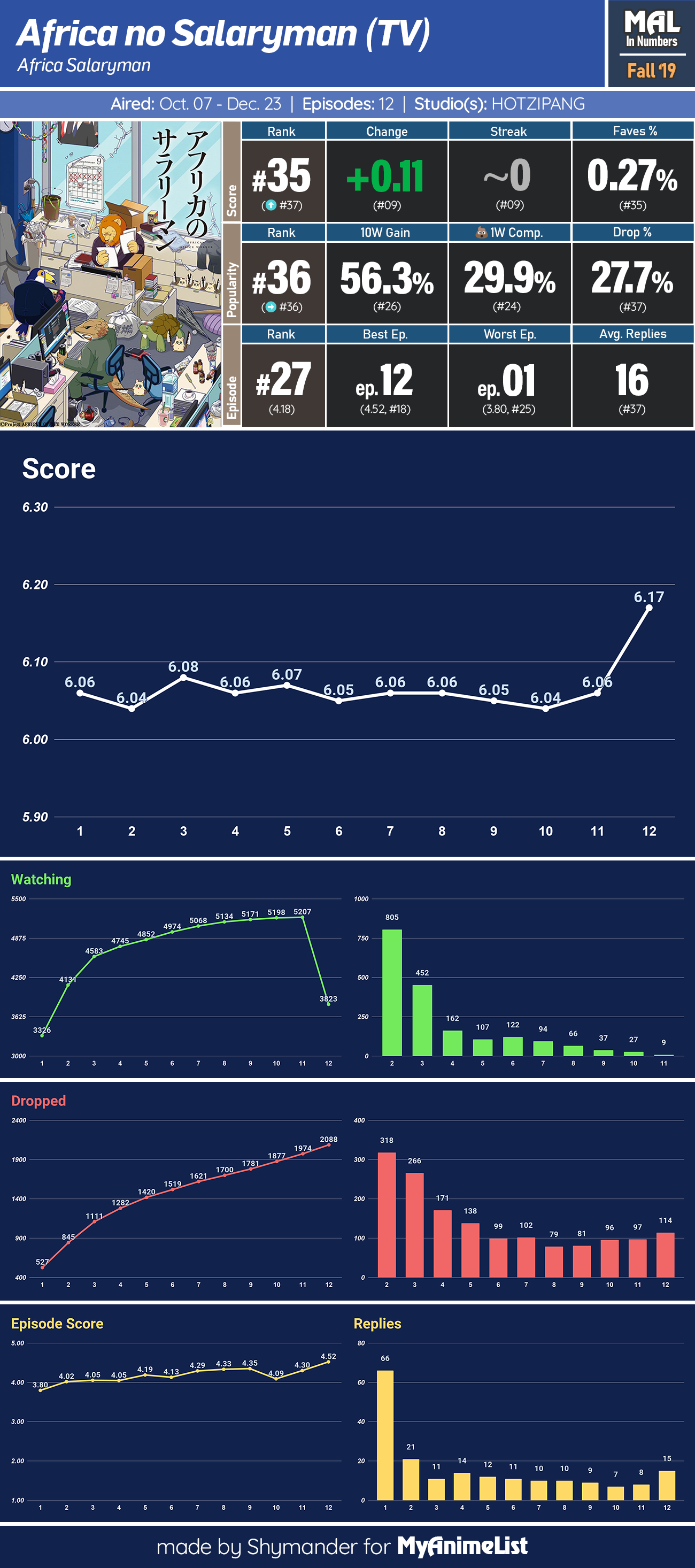 ---
Ahiru no Sora
---

I was going to open this with a basketball team analogy, but as an Australian without much interest in sports that isn't expertly animated, I am poorly equipped to do so. The best I can say is Ahiru no Sora is like a team that just misses out on the finals. It's actually done quite well for itself, but it's quickly forgotten about.
Getting to the numbers, Ahiru no Sora broke even in their winning percentage with a neutral Score Change and Streak, the only Fall 2019 show to do so. Although it only moved up one rank in Popularity (past Fate/Grand Order: Zettai Majuu Sensen Babylonia and Azur Lane but behind Mairimashita! Iruma-kun), Ahiru no Sora scored a top 10 finish in 10W Gain. It landed a three-pointer for its highest episode score, but got dunked on for its lowest with one of the largest disparities in rank between the two, despite a decent Episode Rank.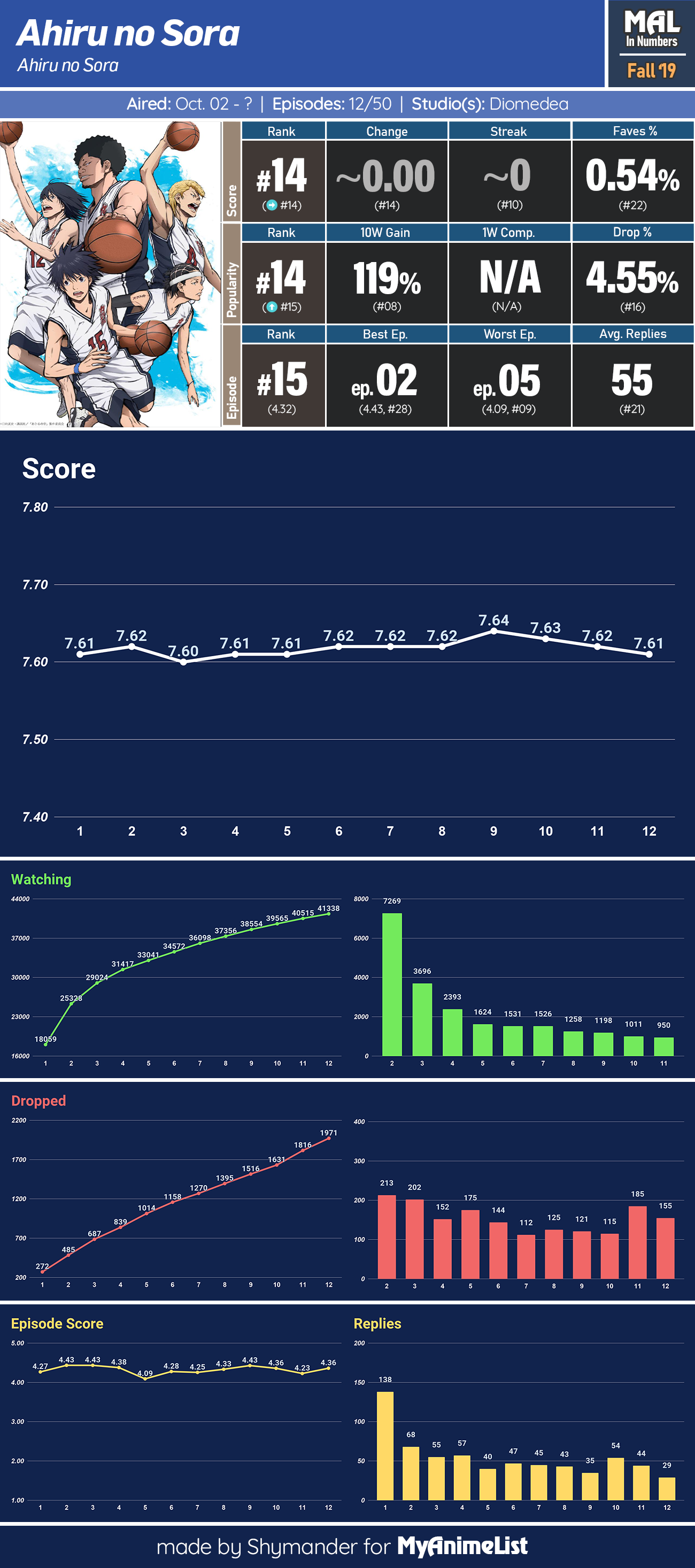 ---
Please Take My Brother Away 3
---

For the third installment in a mostly obscure short anime series with no legal streaming, Ani ni Tsukeru Kusuri wa Nai! 3 did quite well for itself. A consistently strong performance in score may have helped boost Popularity Rank up two spots from the bottom past Phantasy Star Online 2: Episode Oracle and Stand My Heroes: Piece of Truth, with more than double the 10W Gain. But alas, it still came in last for Avg. Replies.
Since short anime and sequels tend to be favorited far less than other shows, Ani ni Tsukeru Kusuri wa Nai! 3 has the lowest Faves % of all Fall 2019 sequels. Still, it's a good way up from the absolute bottom.


---
Assassins Pride
---

We haven't even left the A's and we already have the prime plummeter for last season. At the very least, Assassins Pride is well above the bottom two of Summer 2019 in Score Change, Tsuujou Kougeki ga Zentai Kougeki de Ni-kai Kougeki no Okaasan wa Suki Desu ka? (-1.03) and Try Knights (-1.24), as well as Gunjou no Magmell (-1.11) from Spring. Fall 2019 may have had a lower average Score Change overall (-0.12 vs. -0.08), but it was (mostly) free of any super disastrous downfalls—not to mention having a record-breaking positive Score Change we'll see later on. With a difference of 26 ranks, Assassins Pride has the biggest gap between Score and Popularity for a highly-watched show.
Aside from the notable dip in the first half, seemingly due to the combo of a disappointing climax and follow-up filler, Assassins Pride was mostly steady in Episode Score compared to many of its bottom-tier neighbours (see Choujin Koukousei-tachi wa Isekai demo Yoyuu de Ikinuku you desu!). It managed to find its stride in the second half, even breaking 4.00 once in episode 8, but it quickly tipped over for a fatal conclusion.
You might be thinking to yourself, "Huh? Why did so many people drop it with one episode left to go?" Looking at stats for ongoing series, there tends to be an uptick in Watching members at the final datapoint, that is, at the season's conclusion. So that's likely the case here. Dropped members also face an increase as more users check it out, but that might not always be the case for completed shows, as you'll see in later entries.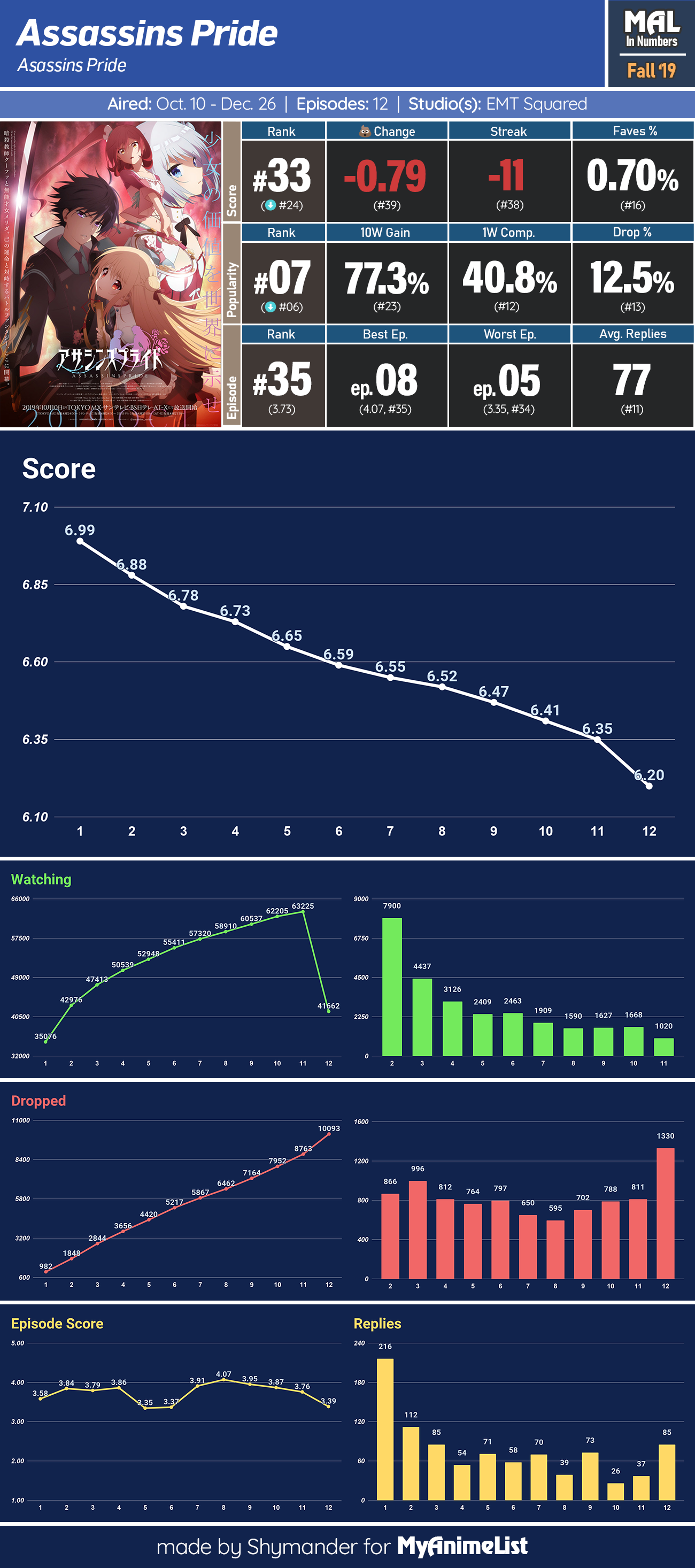 ---
Azur Lane
---

Welcome to part two of this ultra-negative Score Change trilogy, The (Sakura) Empire Strikes Back. It's been just over two months since episode 10 aired, and the score has only fallen further to 6.34. Many users don't rate a show until it's finished airing, so it'll be interesting to see how it changes after March 20th.
Azur Lane's member growth was already slowing beforehand, ending with a bottom-10 finish in 10W Gain, but it found itself beached on the shore after the unfortunate delay of its final two episodes. Even if we rank Popularity evenly at the 10-week mark, Azur Lane still falls to #17 overall. Nevertheless, it had a very dedicated viewerbase, no doubt made up of mostly existing fans of the games (or just all the doujins), as indicated by an Avg. Replies rank far above the show's Popularity Rank and a silver medal in Faves %. With 355 replies, Azur Lane had the most discussed first episode by a mile.
The conspicuous dips in Episode Score for episode 6 and episode 8 were due to separate reasons: the former for censored fanservice and the latter for dodgy animation, going by their respective discussion threads.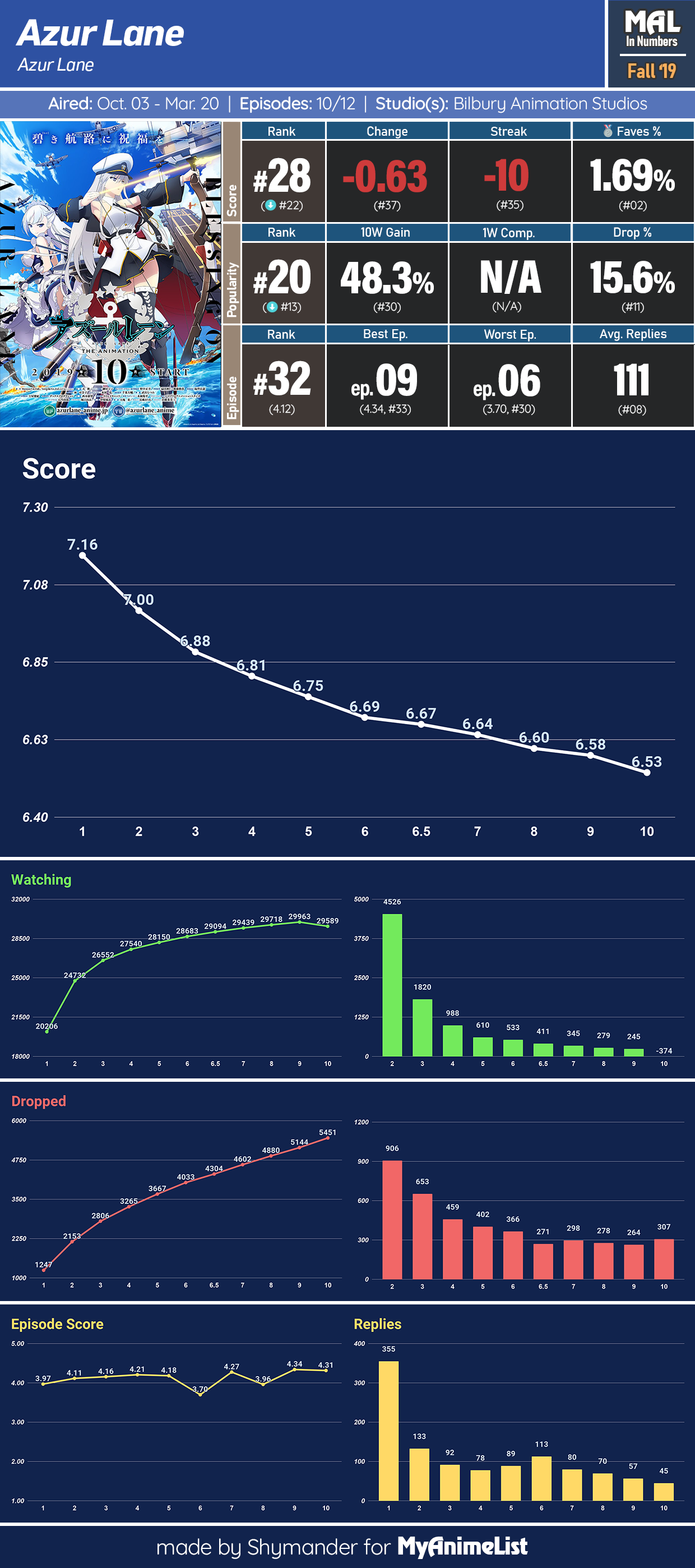 ---
Babylon
---

It seems only fitting that Babylon's end would mirror the fabled Tower of Babel—"God, observing their city and tower, confounds their speech so that they can no longer understand each other, and scatters them around the world." Perhaps it would've had more luck if Gilgamesh was the ruler of this Babylon(ia) as well.
Babylon was a high-impact political thriller that left viewers with a brutal cliffhanger before pausing for a month and a half, which likely helped it escape the same momentum death that Bem faced in Summer 2019 after its early long-term delay—Watching member gains still diminished, thereby negatively affecting its 10W Gain, but the spike after episode 7 helped sustain it, not to mention one of the best single-episode score gains last season. As is the case with shows with thriller aspects, such as Kanata no Astra in Summer 2019, Avg. Replies far outranks overall popularity.
But it wasn't destined to last. Babylon's score turned downwards once more before getting slapped with the biggest drop in score from any single episode in Fall 2019... by a whopping margin of 0.24 over Hoshiai no Sora episode 12 and Nanatsu no Taizai: Kamigami no Gekirin episode 12. There's a strong split of superlative opinion in the finale's discussion thread, the impact of which can be seen in the Replies chart, but the numbers bring it to one of the lowest-scoring worst episodes of Fall 2019.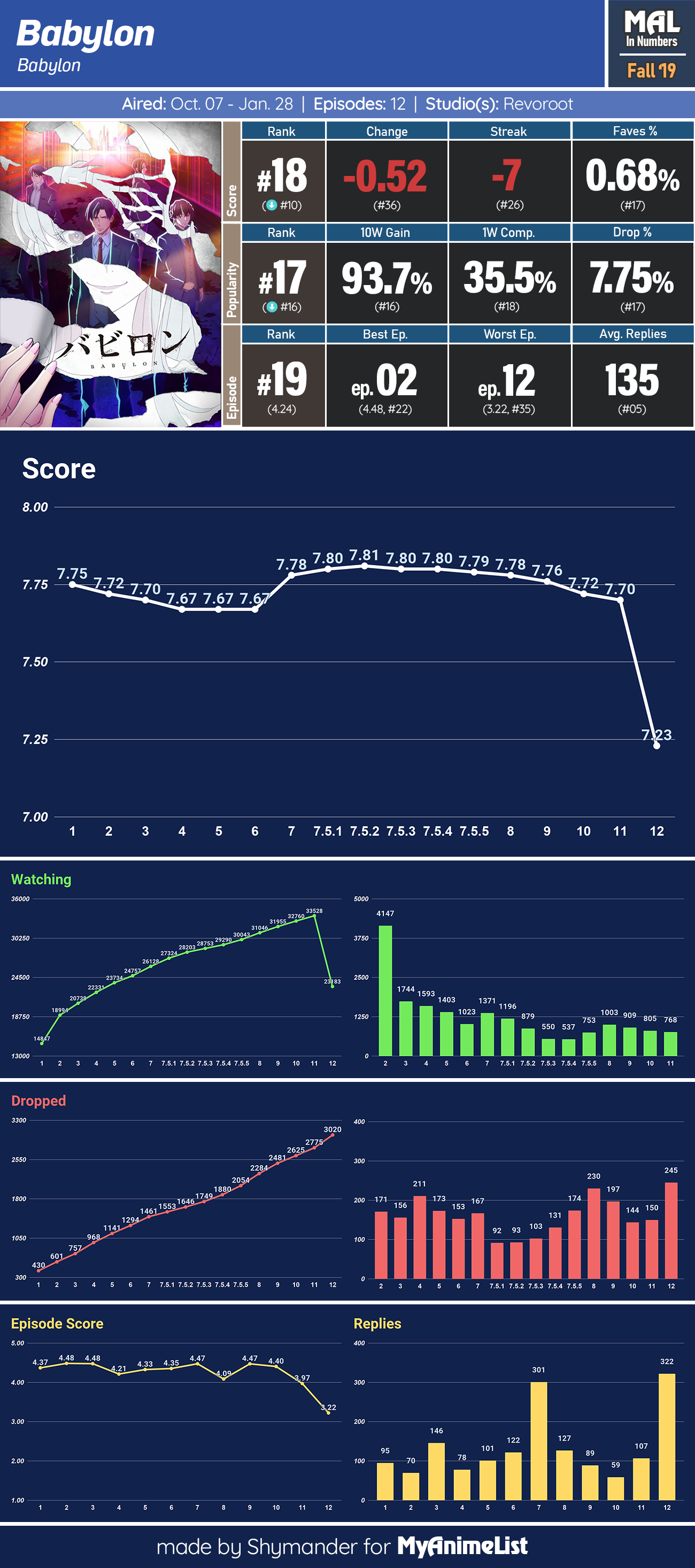 ---
Beastars
---

After a short streak of bad or mediocre shows, we've finally reached one of the best shows of Fall 2019 across all categories: the 3DCG psychological drama Beastars. As we've already seen with Carole & Tuesday in Spring 2019, Netflix Jail isn't much of a stopping force for the anime community. I'm admittedly guilty of the same impatience, but I'm excited to rewatch the show for the English dub when it does officially release.
Beastars gobbled up the competition with top 10 finishes across the board except for a near-miss in 1W Comp. I find it very amusing that a show with a humanoid wolf as the main character picked up so many silver medals. It did strike gold in one category though, but that achievement is partially overshadowed by Fall 2019's relatively weak performance in favorites overall. If Beastars' first-place 1.92% had been earned in Summer 2019, it would only be rank #5, behind Senki Zesshou Symphogear XV, Ensemble Stars!, Dumbbell Nan Kilo Moteru?, and Given by a wide margin of 1.52%. That being said, Beastars' 182% second-place 10W Gain blitzes Araburu Kisetsu no Otomo-domo yo.'s first-place finish with 161%.
Aside from the teeniest of dips in episode 10, just before the show's climax, Beastars was consistently exceptional, taking the bronze medal in average episode score and silver in Score Change. And that small exception at episode 10 was the second-highest Worst Ep. score of the entire season behind just episode 1 of High Score Girl II. Though it wasn't the highest-rated or most discussed episode, the largest single change in Beastars' happened after episode 4 when Legoshi had his big moment on stage.


---
My Hero Academia 4
---

The numbers only back up what many have said about the fourth installment of Boku no Hero Academia: it's the most underwhelming season so far. 8.26 and rank #4 for the season is nothing to scoff at, but it's the lowest overall score across all seasons, and stagnancy only dragged it below Kono Oto Tomare! 2nd Season, Beastars, and High Score Girl II. Even with the climax of the first arc occurring outside of the first half recorded here, the score has only changed by +0.03 since. But knowing the source material, Boku no Hero Academia 4th Season still has a shot at redeeming itself in the second half.
That being said, this doesn't stop the franchise from continuing to be a popularity juggernaut. The first episode alone pulled in 100,000 Watching members, which was easily the biggest debut of 2019, beating out the long-awaited One Punch Man 2nd Season in Spring (94,295). At ten weeks into Fall 2019, it had more than double the next highest in Watching members, Sword Art Online: Alicization - War of Underworld (212,352 vs. 104,518). Sword Art Online: Alicization - War of Underworld was also #2, behind Boku no Hero Academia 4th Season, in Avg. Replies, but only by 19.
Boku no Hero Academia 4th Season had the usual entertaining but arguably unnecessary recap episode for its first episode, so it's no surprise that that was the lowest-rated by far. Episode 11, where Mirio has his big moment (I cry), was the most outstanding episode of the first cour, with the highest episode score (albeit not that high compared to other shows) and a 213% increase in replies from the previous episode. It likely would've been rated even higher if it wasn't for what many in the discussion thread called "slideshow animation."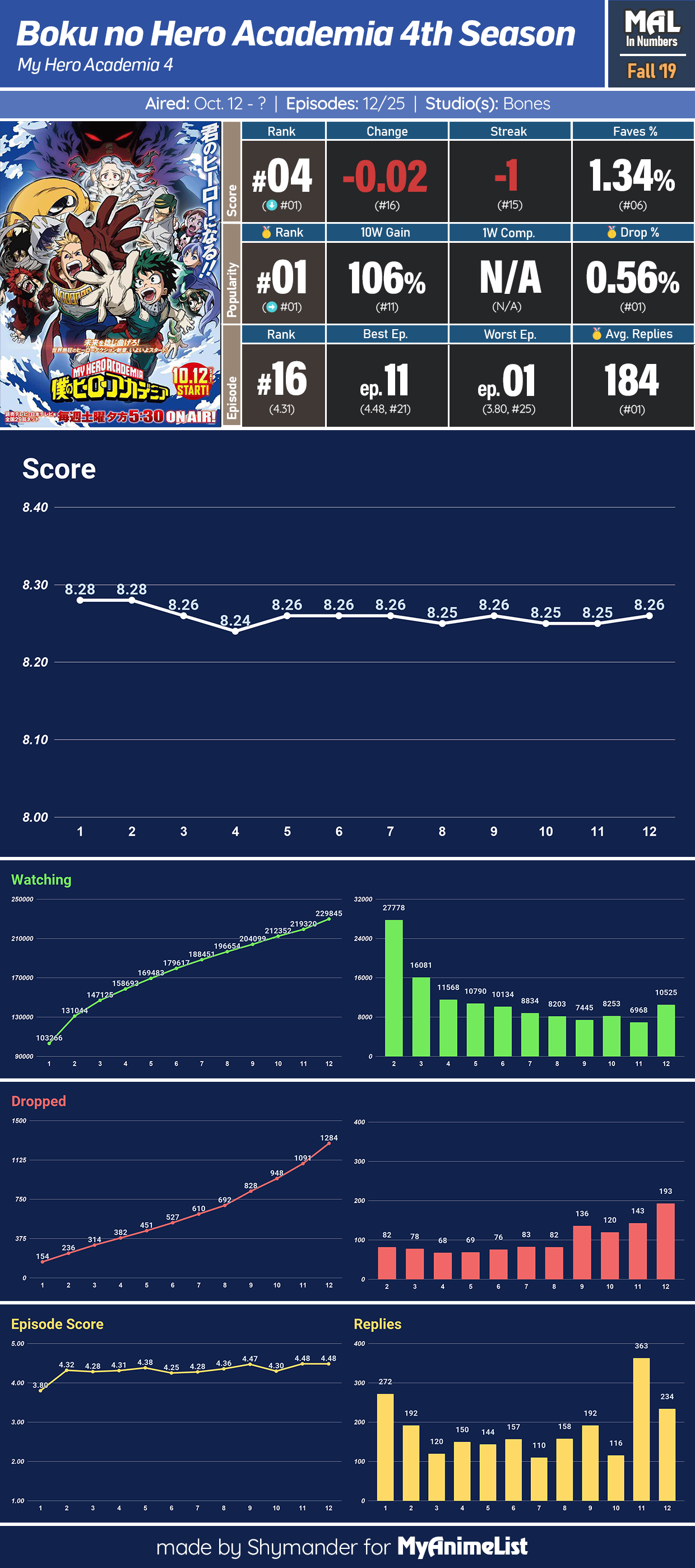 ---
We Never Learn!: Bokuben
---

The first season of Bokutachi wa Benkyou ga Dekinai was, technically speaking, the first anime to be analysed for "In Numbers" back in Spring 2019, so the show holds a small special place in my heart. I don't have as many stats to compare since this series has greatly evolved since then, but there's one difference that sticks out like a sore thumb: Bokutachi wa Benkyou ga Dekinai in Fall opened with great promise but went the opposite way of its predecessor in overall score—the first season slid down and shot up (+0.14 Score Change); the second season slid down and shot down (-0.28 Score Change).
Episode 10 temporarily saved Bokutachi wa Benkyou ga Dekinai's ever-declining score, thanks to a feels-ridden Fumino moment, but alas... that big dip in score, Replies skyscraper, and Worst Ep. rank for the final episode just screams "this episode was controversial." I hesitate to cite 1W Comp. with any certainty, but the loud negative reaction of the finale may very well have contributed to Bokutachi wa Benkyou ga Dekinai!'s silver medal in that category—the "what's all this about" attitude. Anime-original endings are typically met with disgruntlement, and that only continued here.
Aside from that, every other category rests in the upper-middle, so it's not all bad.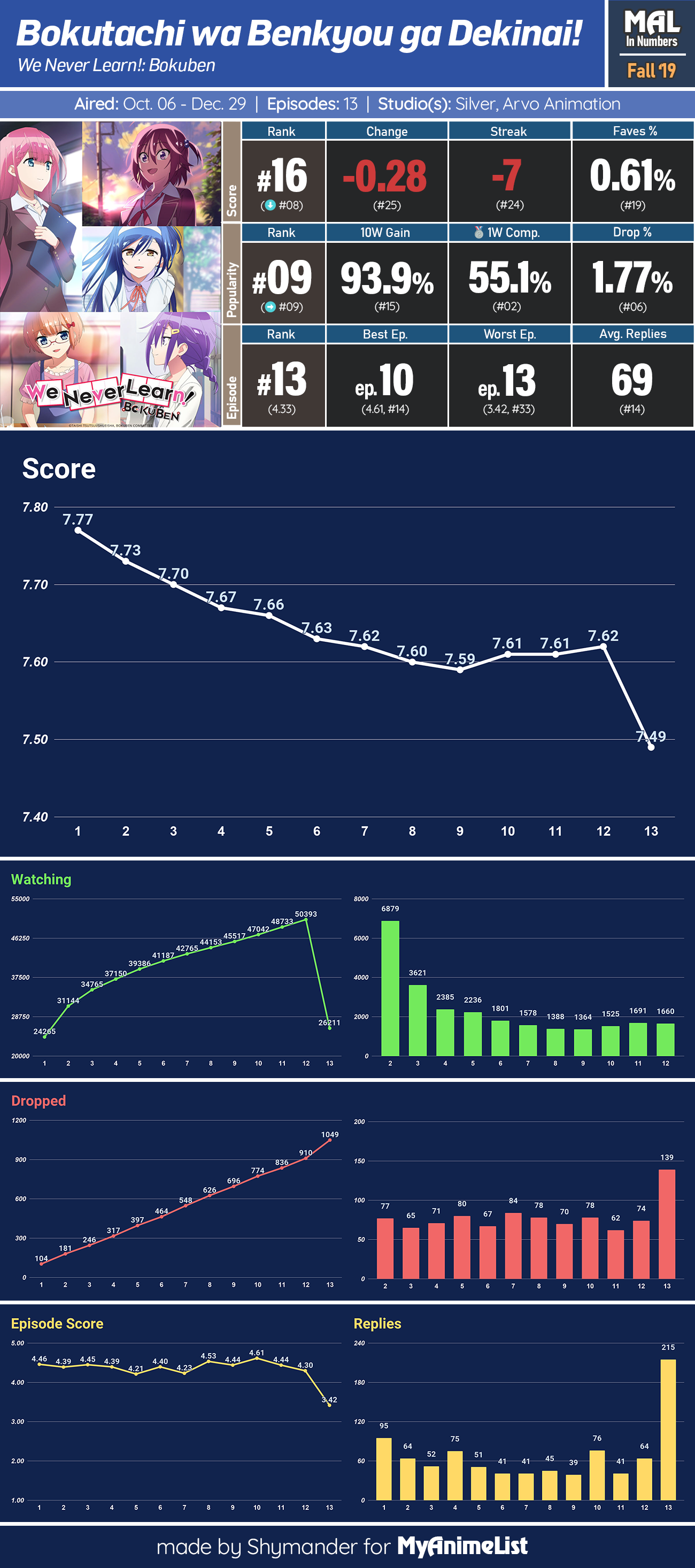 ---
CHOYOYU!: High School Prodigies Have It Easy Even in Another World!
---

Fall 2019 wasn't universally egregious like Summer 2019 in its isekai offerings, but rather, it had the most disparate range of results, from hopeful to woeful. Choujin Koukousei-tachi wa Isekai demo Yoyuu de Ikinuku you desu! is, as you might've guessed, on the lowest end of that. A rough start was followed by a small amount of hope after episode 2, but it was only downhill from there. In all fairness, that second episode was still right near the bottom in Best Ep. score for the season.
Episode 8's sub-3.00 episode score is a stand-out as the third-lowest Worst Ep. score of the entire season; it's an over-the-top show with overpowered prodigy protagonists, but even episode 8 was just too much, judging by the discussion thread.
Compared to its main four isekai counterparts, Choujin Koukousei-tachi wa Isekai demo Yoyuu de Ikinuku you desu! is more of a dunce than a prodigy—last place in Score Rank, Change, Streak, Drop %, and Episode Rank. Despite ranking high at #12 for 10W Gain, it still comes out at the bottom, meaning Fall 2019 isekai make up more than a third of all shows above 100% in 10W Gain (13 in total). Perhaps things will change in the new decade, as Winter 2020 is shockingly lacking in isekai compared to last year.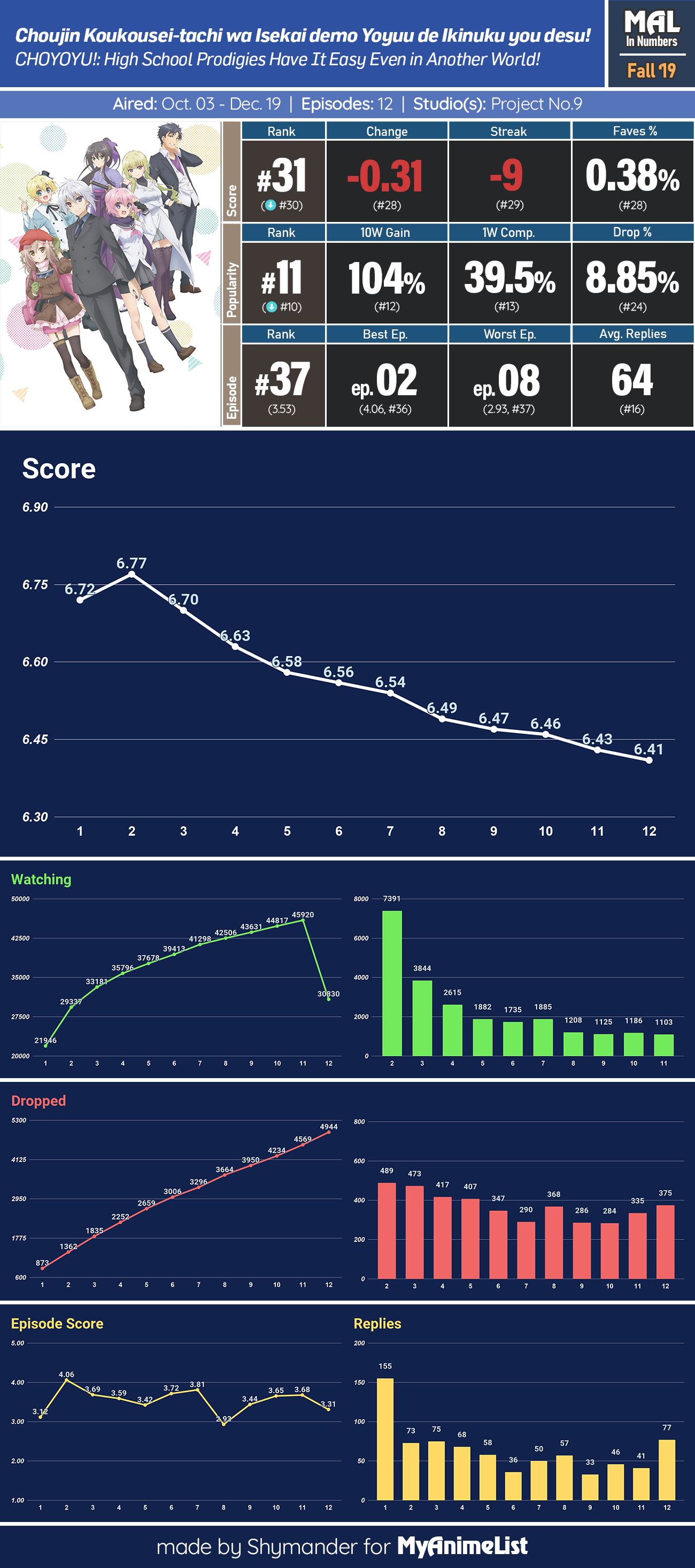 ---
Outburst Dreamer Boys
---

It says a lot that an anime with only +0.08 in Score Change can go up by eight whole ranks—the eight shows that fell below it have unfortunate score changes ranging from -0.17 to -0.79. A weak 10W Gain let High Score Girl II overtake it in Popularity, while it finished in the bottom three for 1W Comp. and bottom ten for Drop %.
I feel bad when I write only 100 words for one show and then 400 words for another, but some are just entirely unremarkable from a statistical perspective. Despite these unfavourable statistics, it wasn't Studio Deen's worst show in Fall 2019 for some categories...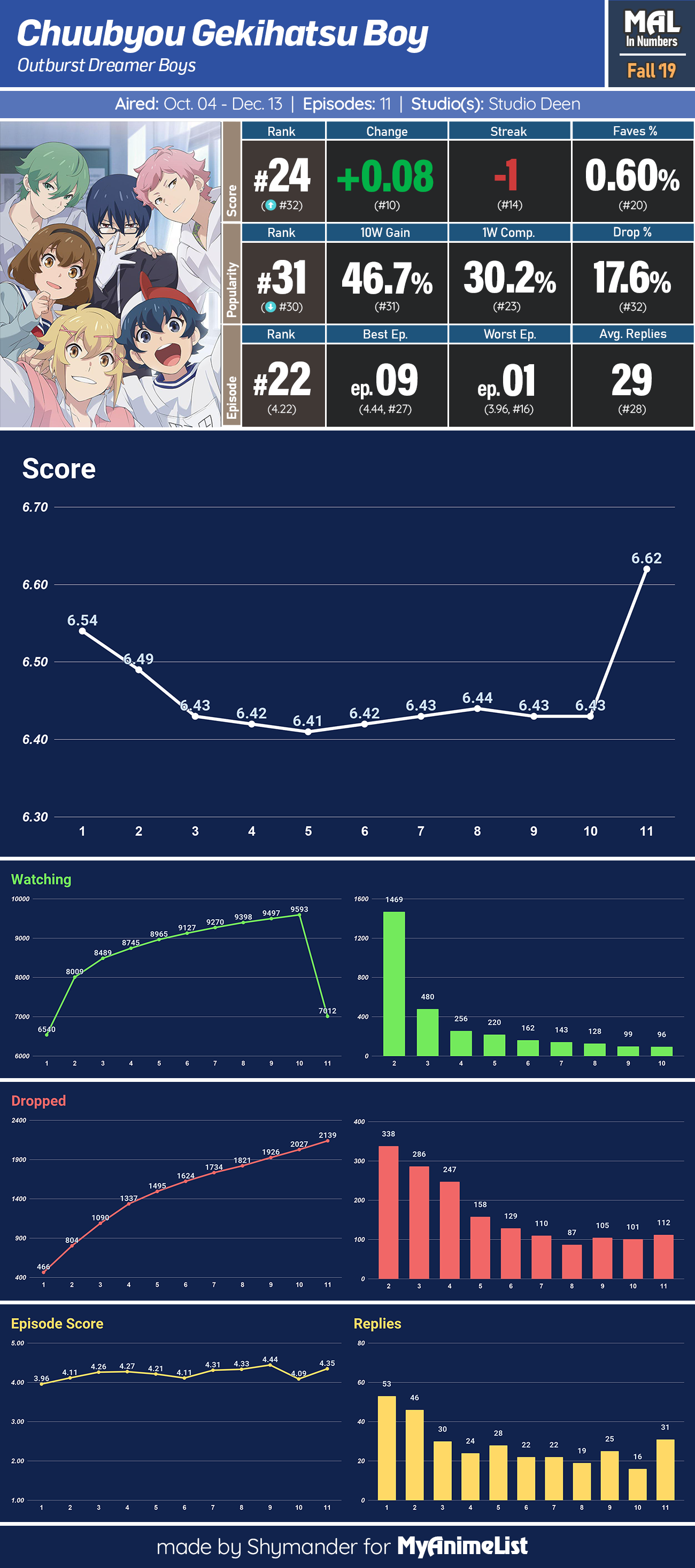 ---
Fairy gone Season 1 Part 2
---

The first season of Fairy Gone was the statistical punching bag of Spring 2019, with the second-worst Score Change and Drop % and the worst-recorded 1W Comp. so far. It also had a negative trend of Watching members before the show was even halfway through (seriously). A week prior to Fairy Gone 2nd Season's premiere, more users had dropped the first season than Completed it (20,818 vs. 18,542). Like Bokutachi wa Benkyou ga Dekinai!, I can't do a full-fledged cour comparison since "In Numbers" has greatly evolved since the first edition, but I can at least say that the second season didn't do much to improve, even when you take sequel status into account.
Fairy Gone 2nd Season almost achieved a perfectly straight downward line for overall score in its first half before holding steady until its biggest drop at the end. Despite the disastrously negative reception of the first season and the droves of users who dropped it, season two still fell prey to a high drop rate of 6.21%—the highest of any sequel in Fall 2019 by a margin of 0.32%.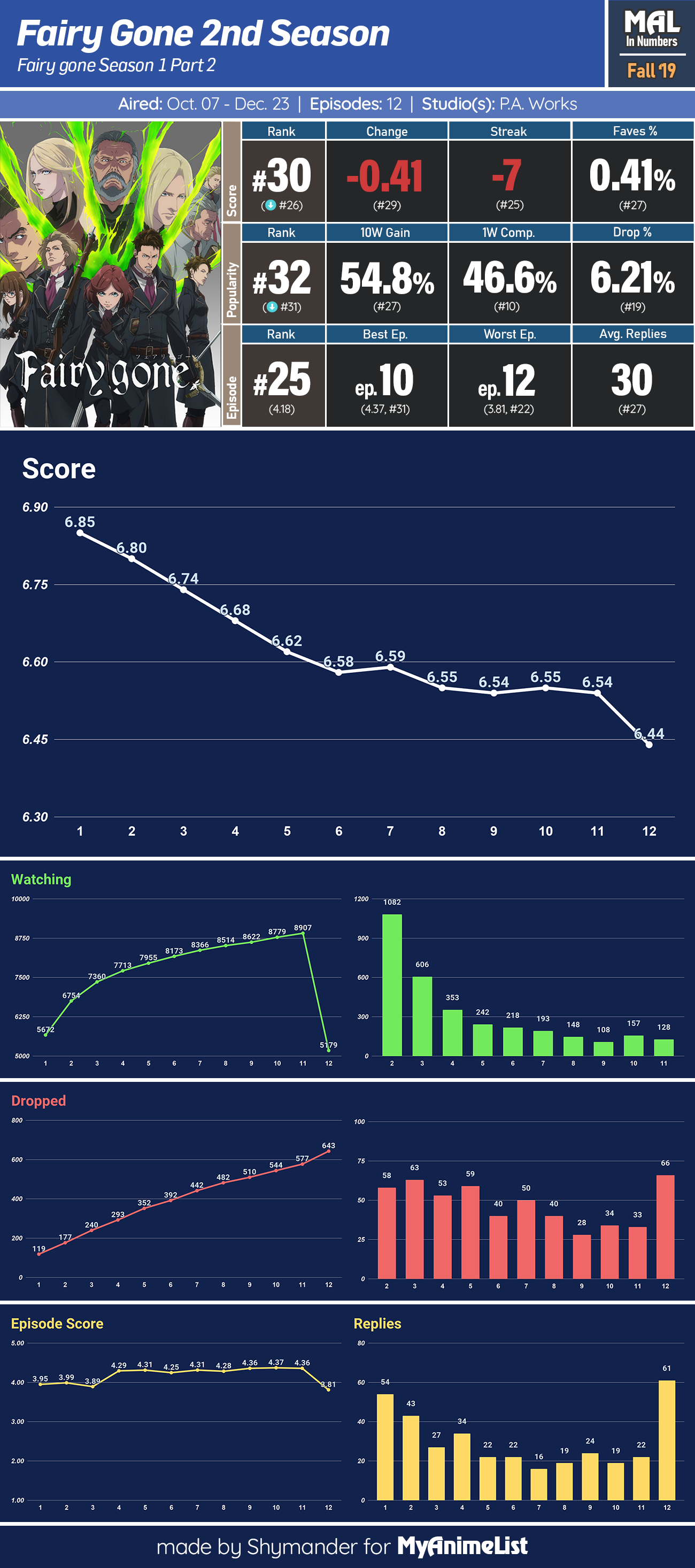 ---
Fate/Grand Order: Absolute Demonic Front - Babylonia
---

The double showing of red text and the downward score curve give off a bad first impression, but Babylonia actually did quite well for itself, with some intriguing datapoints on the side. A mere 0.0005 points separated #1 and #2 for Episode Rank, but it was Babylonia that edged out High Score Girl II for the crown—to put how close it was in perspective, just one extra 1/5 rating on episode 11 of Babylonia would've pushed the average below High Score Girl II's.
For a show so well-received across all episodes, it's interesting to see the score going down almost every week. Even the first episode, which wasn't even in the top 10 for Fall 2019 premieres, was the third-highest Worst Ep. score for the entire season. Episode 8, with a small but noticeable spike in episode score and replies, was rated as the best of the series, but it only made a single point of difference on the overall score.
Despite a strong showing in score and discussion, Babylonia just hasn't had the same popular impact on MAL as other Fate anime—even the much-bemoaned Fate/Apocrypha had more Watching members in three weeks than Babylonia had in its entire first half, though it does easily beat Fate/Extra: Last Encore.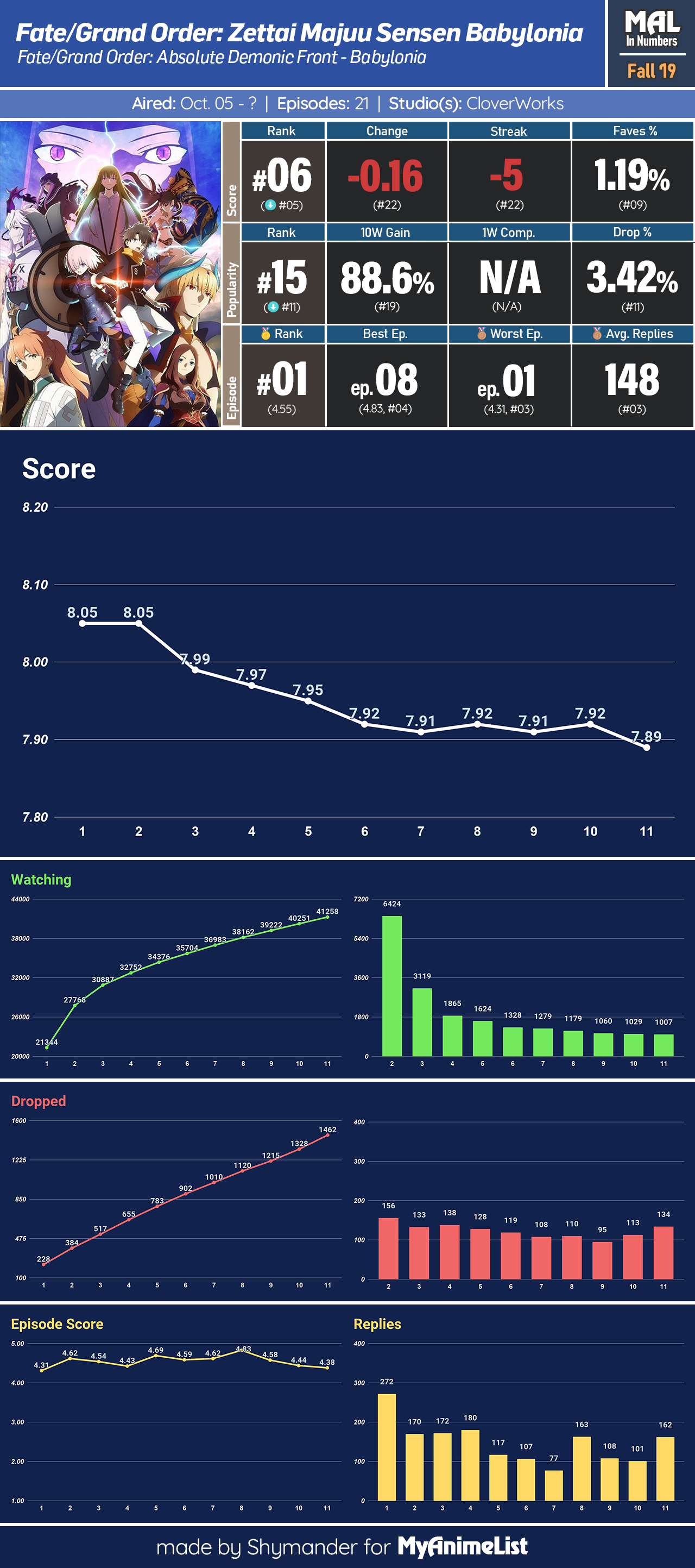 ---
GRANBLUE FANTASY The Animation Season2
---

Assassins Pride and No Guns Life both fell in score every week, but Granblue Fantasy The Animation Season 2's extra week from a delay sealed its last-place finish in Streak. Even with a tepid 10W Gain, the show managed to maintain its #29 spot in Popularity.
As is the case with some minor shows, a smaller dedicated audience can rate a lot higher in discussion thread polling, putting Granblue Fantasy The Animation Season 2 in the top 10 for Episode Rank despite a slipping overall score. With a Worst Ep. score of 4.00, it just manages to slip by as one of 13 shows with all episode scores above 4.00.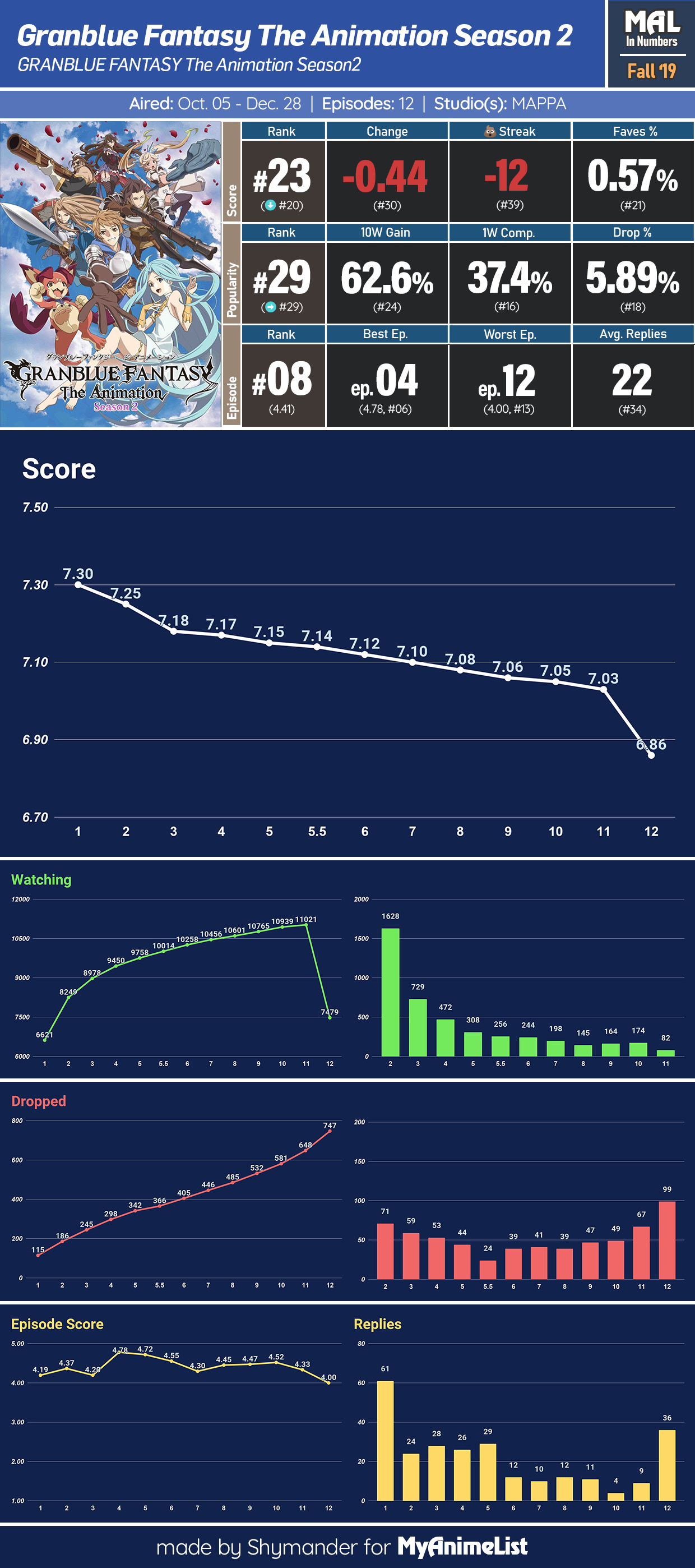 ---
Kemono Michi: Rise Up
---

Hataage! Kemono Michi has an awfully similar score graph to its isekai predecessor on this list—strong positivity right after the first episode before careening off a cliff. In broader comparison, incredibly, Hataage! Kemono Michi comes in second or second-last in almost every single category, taking a solid last place in Faves % way down in the bottom five overall. It trailed Shinchou Yuusha for the highest 10W Gain and Popularity Rank—pushing it up past No Guns Life, Choujin Koukousei-tachi wa Isekai demo Yoyuu de Ikinuku you desu!, and Fate/Grand Order: Zettai Majuu Sensen Babylonia—but it was barely above the bottom for everything else in Score and Episode.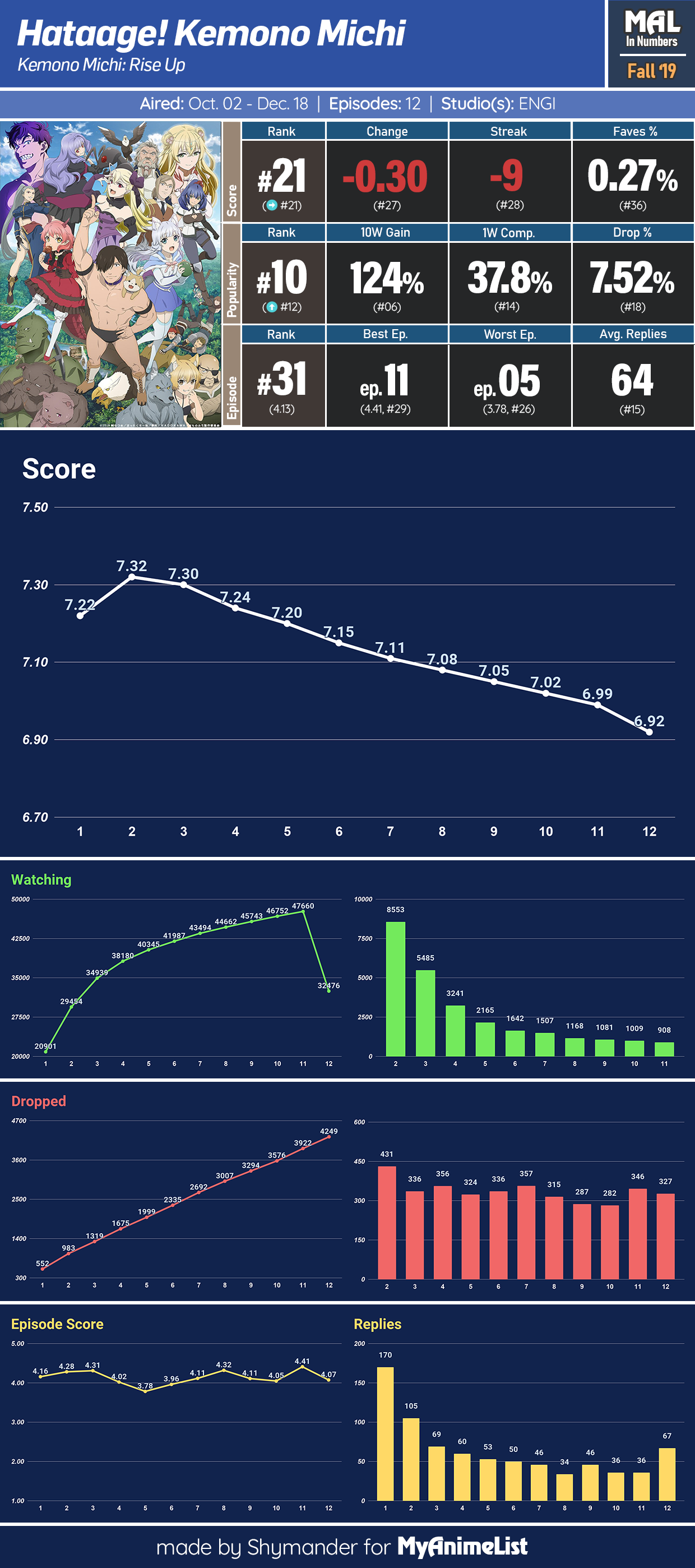 ---
High Score Girl II
---

High Score Girl II, with a shorter run of just nine episodes, was late to the Fall 2019 party but brought its A-game to outscore the first season—8.27 certainly puts it in the high score list for the season. And with a difference of 24 ranks, High Score Girl II has the biggest gap between Score and Popularity for a highly rated show.
I set the Watching member gain statistic to ten weeks so that it can be measured evenly for every anime, whether they're 11, 12, 13, or more episodes. Fall 2019 threw a small wrench into that with this and Psycho-Pass 3's eight-episode duration, but I've still included them with a footnote because their stats are remarkable even with a shorter growth period, both doubling their Watching member count by the end. That being said, Psycho-Pass 3 went down in Popularity Rank by one while High Score Girl II went up by five with only an 11% difference.
High Score Girl II only just missed out on the gold medal for Episode Rank, but it did take the top spot for the highest Worst Ep. Score, which was better than the Best Ep. score for nine shows last season.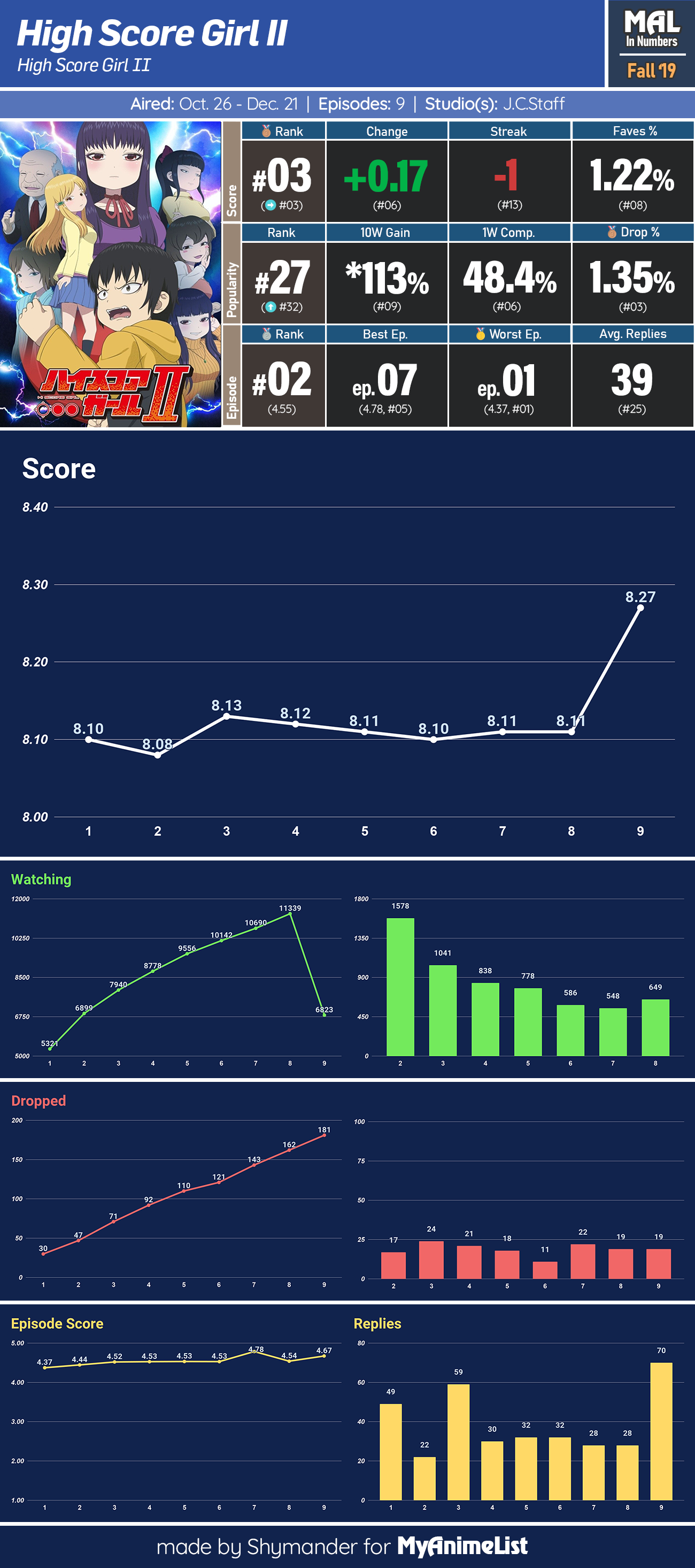 ---
Ascendance of a Bookworm
---

Behold, a record-breaking positive Score Change (the first above 1.00), completely shattering the previous In Numbers record that was Senki Zesshou Symphogear XV's +0.68 in Summer 2019. It goes without saying that the +23 change in Score Rank to finish in the top 5 is unparalleled and unprecedented. Though it shares a perfect positive score change record with Beastars, Honzuki no Gekokujou's extra week helped it take home the first-ever gold medal in Streak. Though it has since crossed 8.00 at the time of writing, there's a sizeable rift between shows above and below that mark—Honzuki no Gekokujou sits at the highest point beneath, at 7.92; the lowest point above is Boku no Hero Academia 4th Season, with 8.26.
For the usual isekai comparison, Honzuki no Gekokujou dominated in Faves % by 12 ranks over the next highest and six ranks in overall score by the end (both over Shinchou Yuusha), but it was a little too slow in its late-game member boost to topple others in Popularity or 10W Gain. It did, however, achieve something absolutely remarkable in that late period: it was the only show in Fall 2019 with a declining Drop % week after week, going from 6.18% at episode 8 to 5.28% upon its conclusion. Hilariously, Honzuki no Gekokujou was the most dropped isekai after the first episode before dropping to the second-least dropped at the end of the season; its Drop % rose by ten ranks from episode one, the best of any show. So I think it's safe to say that Honzuki no Gekokujou is the grandest comeback story in this article series so far.
Like the top spot in Episode Rank, Best Ep. was a narrow tie with two other shows, at 4.86, but Honzuki no Gekokujou was, believe it or not, also 0.0005 points short.
Oh, and it's #1 for Longest Title by a mile, even compared to its isekai counterparts.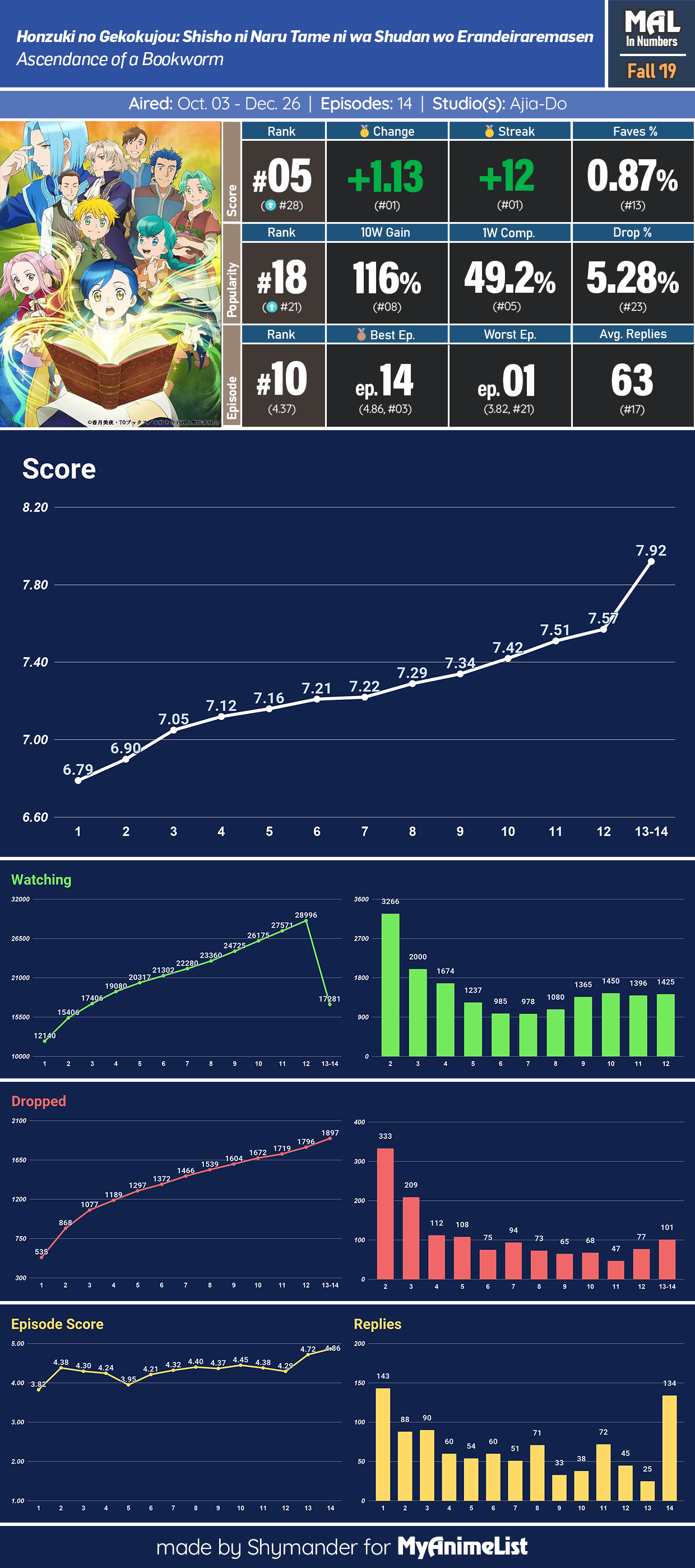 ---
Stars Align
---

Hoshiai no Sora started out as, and was for most of its run, that new hidden gem that started from humble beginnings. Like Araburu Kisetsu no Otome-domo yo. in the preceding season, it sported a crescendoing score and top-tier member growth. The show's subversive first episode, rated as the best of the whole series, was the second highest-rated premiere of the entire season, behind only Kono Oto Tomare! 2nd Season. But Hoshiai no Sora followed the same formula a little too closely, ending with a sharp dip in opinion.
If I fill in the area underneath Hoshiai no Sora's score graph, it'd look an awful lot like Uluru. But unlike Uluru, the series may be open for climbing in the future. It came out after the finale that the show was originally meant to be two-cour, and director Kazuki Akane promised a sequel of some kind, but the damage was already done. Even with a neutral Score Change, Hoshiai no Sora managed to go up one rank as four shows above it at the beginning fell down and three below rose up. Dropping below 4.00 in episode score for the first time at the end is unfortunate, but it's quite a minimal change compared to the likes of Bokutachi wa Benkyou ga Dekinai! and Nanatsu no Taizai: Kamigami no Gekirin's.
This is purely my conjecture, but judging by the sheer scale of it, the startling increase in Dropped members after episode 12 may very well be in-progress viewers deciding to drop the show after hearing about the ending.
Considering all the sensitive topics Hoshiai no Sora tackled across all 12 episodes, it's not surprising to see an Avg. Replies rank far above overall popularity. The benefit of having a wide array of statistical categories is the ability to observe notable moments even when they don't have much impact elsewhere, like how episode 8 was the second-most discussed episode behind only the controversial finale. Much of the discussion thread was high praise for how it handled LGBT issues—that also showed in new favorites, which tripled any other episode excluding the finale.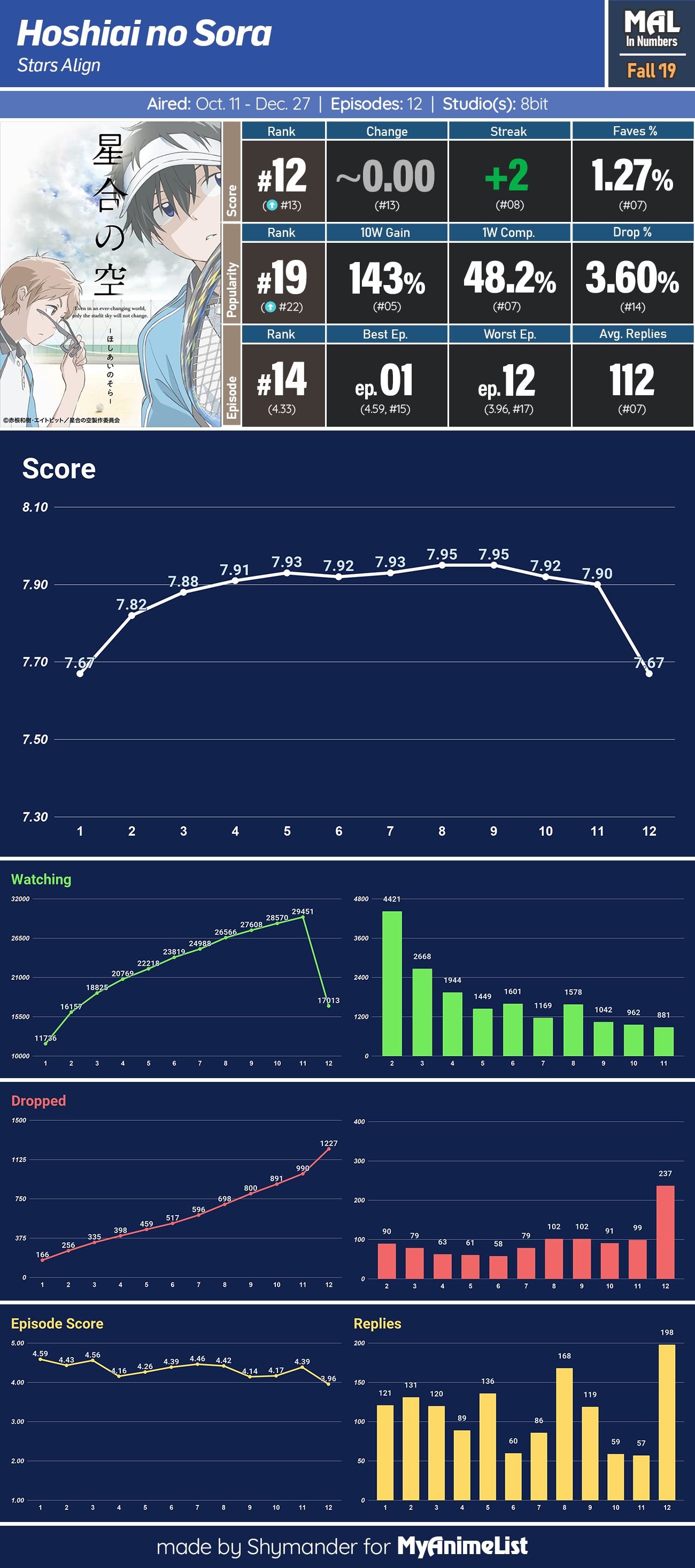 ---
Afterschool Dice Club
---

Houkago Saikoro Club made no enemies, but it didn't make many friends either. Most of its stats fell into the bottom 10 overall, with a particularly underwhelming Faves % that only placed above Null Peta (a short anime). If the series had gone on for one or two more episodes, it may very well have slipped into negative Watching members like a certain show. It is, once again, rather amusing to see a stark shift in Score Rank with only a mild increase in Score, but that's just how the cookie crumbles.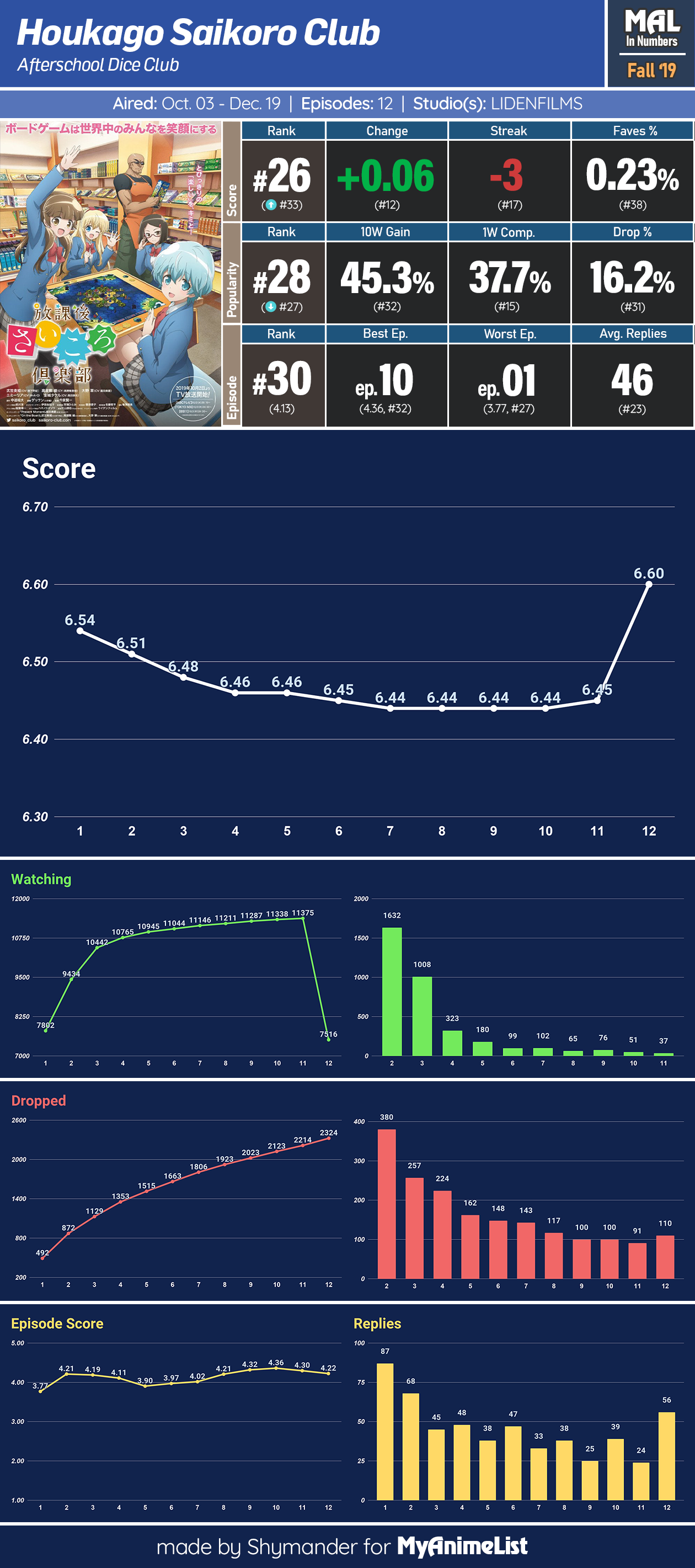 ---
Case File nº221: Kabukicho
---

Fall 2019 was a startlingly weaker season for new multi-cour shows. Spring 2019 had the likes of Kimetsu no Yaiba, Carole & Tuesday, and Fruits Basket (2019), while Summer 2019 took an even heavier swing with Dr. Stone, Vinland Saga, and Enen no Shouboutai. Even new installments from high-profile franchises, Boku no Hero Academia 4th Season and Nanatsu no Taizai: Kamigami no Gekirin, paled in comparison to their predecessors. With the exception of what Chihayafuru 3 would've been, almost every other ongoing show from last season ranges from average to outright bad. I would love to analyse later cours of such shows (especially when there are moments like Kimetsu no Yaiba episode 19), but I very much have my hands full as it is.
Getting back to the actual topic at hand, Kabukichou Sherlock fits into the former area of mediocrity, though it is not without its outright weaknesses. It had the lowest percentage gain for total members after its first episode for a non-sequel at just 20.1%. For comparison, the highest in that regard was Hataage! Kemono Michi, with 151%, a rare case of having more Watching members post-premiere than Plan to Watch members pre-premiere. Episode 11's above average performance pushed Kabukichou Sherlock up by one Score Rank right at the end and just saved the show from dipping into negative Watching members due to a reverse-podium finish in 10W Gain.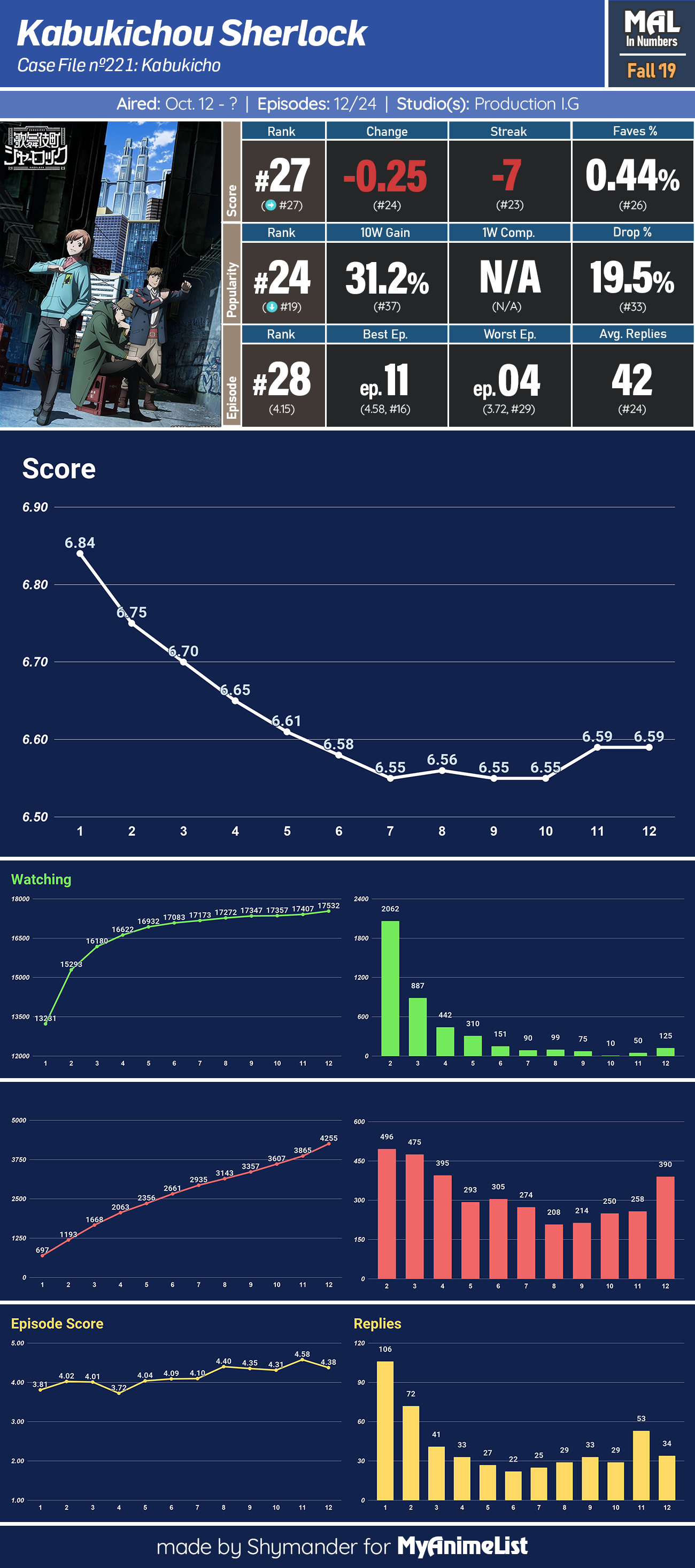 ---
Kandagawa Jet Girls
---

Trashy ecchi is as trashy ecchi does. Despite starting out with an already low score at rank #37, Kandagawa Jet Girls had the worst opening Score Change after its second episode, a whopping -0.19. Like many shows before it, the score fell every single week before being uplifted at the end by the wave of users who wait upon completion to rate shows. Every other category, from Episode to Popularity, also remained consistently low.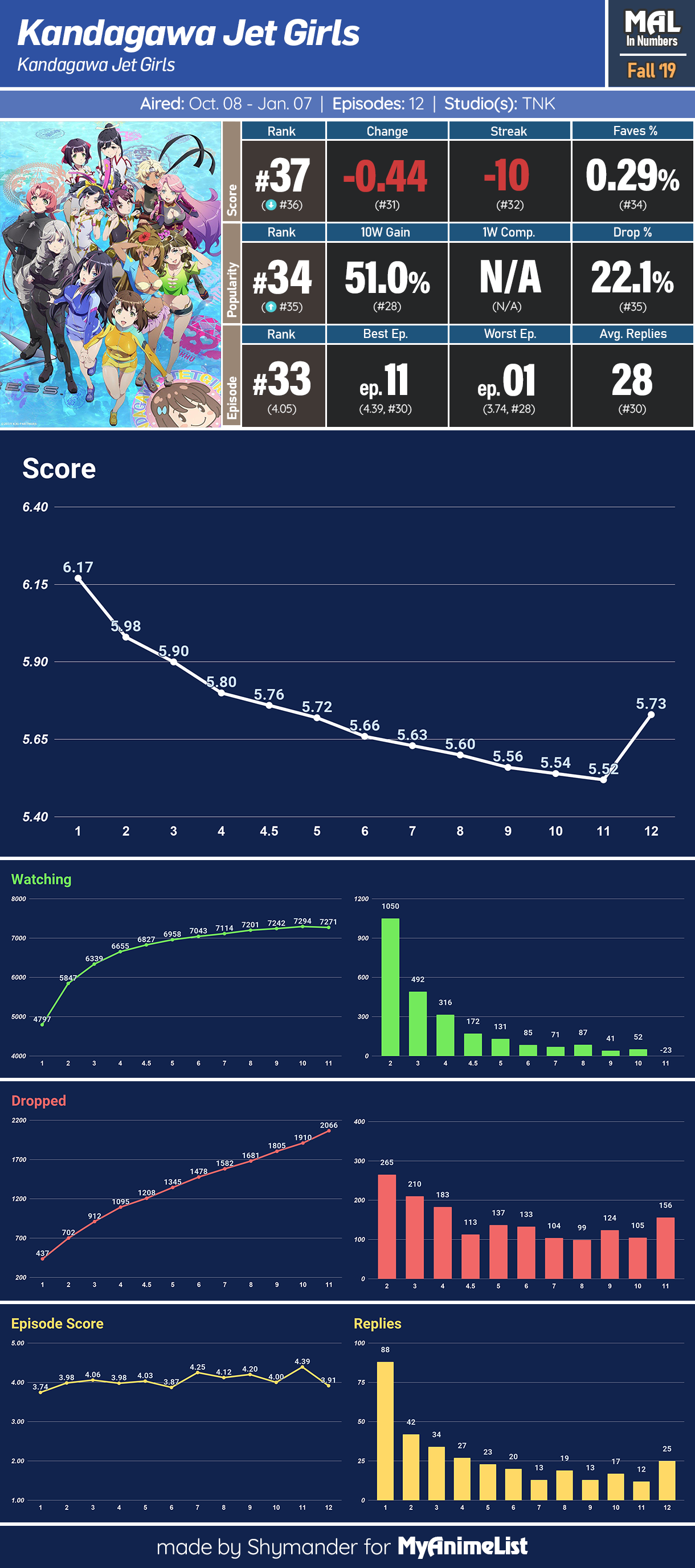 ---
Special Crime Investigation Unit - Special 7
---

I hereby present Keishichou Tokumubu Tokushu Kyouakuhan Taisakushitsu Dainanaka: Tokunana, the only Fall 2019 show with every single category ranked below #30—not even Stand My Heroes: Piece of Truth has that. Though I frustratingly don't have the numbers for 1W Comp., I'm sure Tokunana would've come out near the bottom as well. Tokunana's abysmal 10W Gain, which resulted in losing Watching members for nearly half of its run, isn't as bad as previous titleholders—the "In Numbers" record belongs to Spring 2019's Shoumetsu Toshi, with an astonishing 1.46%, a mere 199-member increase after ten whole weeks.
Combined with Kabukichou Sherlock, Fairy Gone 2nd Season, Kandagawa Jet Girls, and inevitably Hoshiai no Sora, Fall 2019 was a largely unfortunate season for Original anime. It seems like Spring stole all the good ones last year.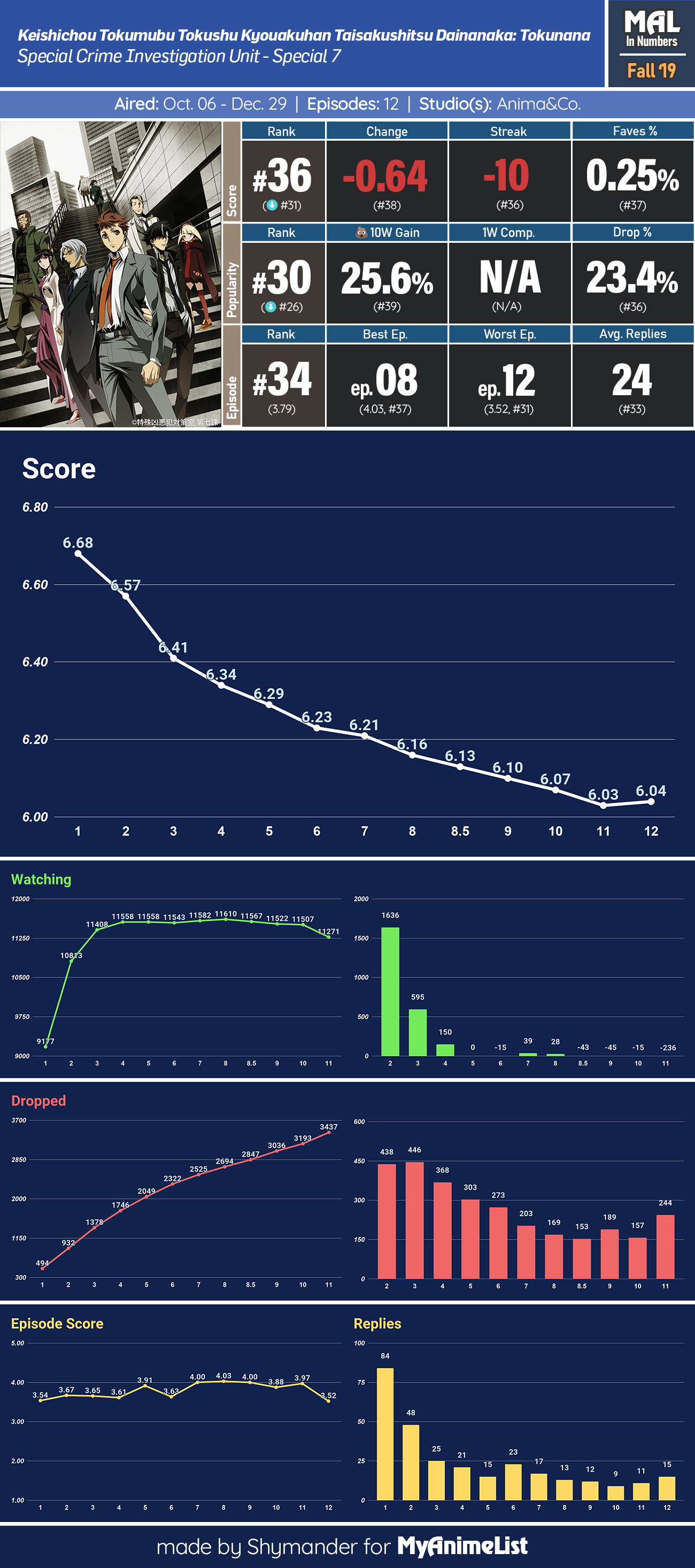 ---
Kono Oto Tomare!: Sounds of Life Season 2
---

And now for something completely different. Beastars may have picked up the most medals overall, but Kono Oto Tomare! 2nd Season tied Boku no Hero Academia 4th Season for the most gold, one for all three areas. If it had just done the tiniest bit better in the three categories it managed to barely miss the podium in, Kono Oto Tomare! 2nd Season would've been the champion in that regard as well. With its score now restored to 8.64, Chihayafuru 3 would've taken #1 for the season and #6 for the entire year in TV anime.
The second season greatly outperformed the first that aired in Spring 2019, even in Faves %, where sequels are at a disadvantage. Both seasons had a similar positive Score Change; the first was #1 with +0.32 while the second was #3 with +0.37, demonstrating the greater amount of positive change in Fall.
With a sharp increase in score, episode score, and replies, episode 12 was poised to be the best of the series, but the finale pushed just that little bit more. As a result, Kono Oto Tomare! 2nd Season episode 13 was scored the best finale and best overall episode in a very close contest. It even picked up a last-minute upward swing in Watching member gain, and clearly, it incentivised viewers to finish it quickly. However, if it was placed in Summer 2019 (when I started recording episode scores in full), it would only be #4, behind three separate episodes of Senki Zesshou Symphogear XV.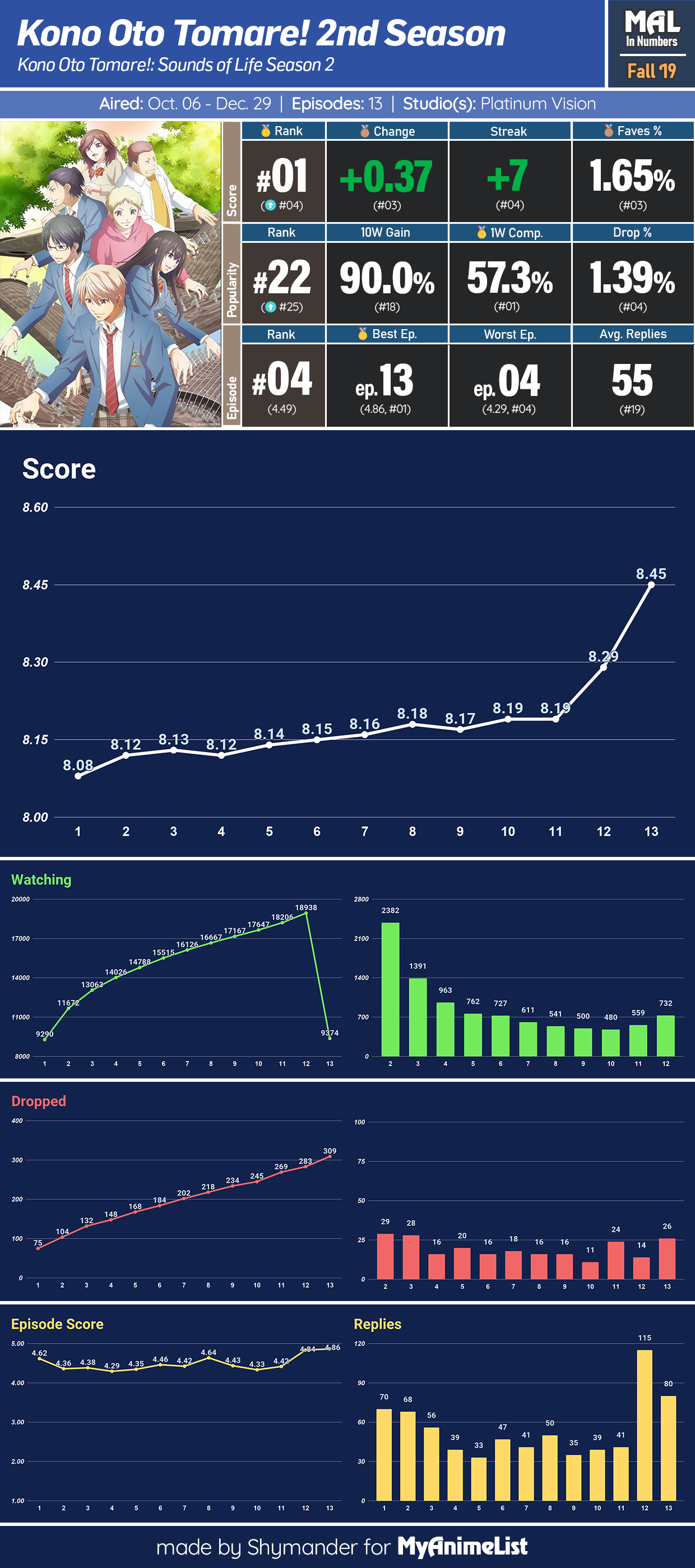 ---
Welcome to Demon School! Iruma-kun
---

This is still a new article series with categories being added in every edition—I won't add any more if I have any damn sense—so the awarding of new records will no doubt be a frequent occurrence. But as it stands, Mairimashita! Iruma-kun (plus Beastars close behind it) smashed the previous 10W Gain record set by Araburu Kisetsu no Otomo-domo yo. in Summer 2019 (161%), which was a stunning number at the time. Most shows decline, aside from the irregular small spikes, but Mairimashita! Iruma-kun managed to stay level for an applaudable amount of time from episode 4 to episode 8.
If it wasn't for the unfortunate single point loss after episode 12, Iruma-kun would've also joined Beastars in being one of only three shows with a perfect Streak. Still, it was incredibly consistent across its entire run, featuring perhaps the straightest Episode Score chart in this article. It placed rather low for its Best Ep. Score but certainly made up for it with a top-five finish in Worst Ep., demonstrating clean consistency even if it wasn't outstanding.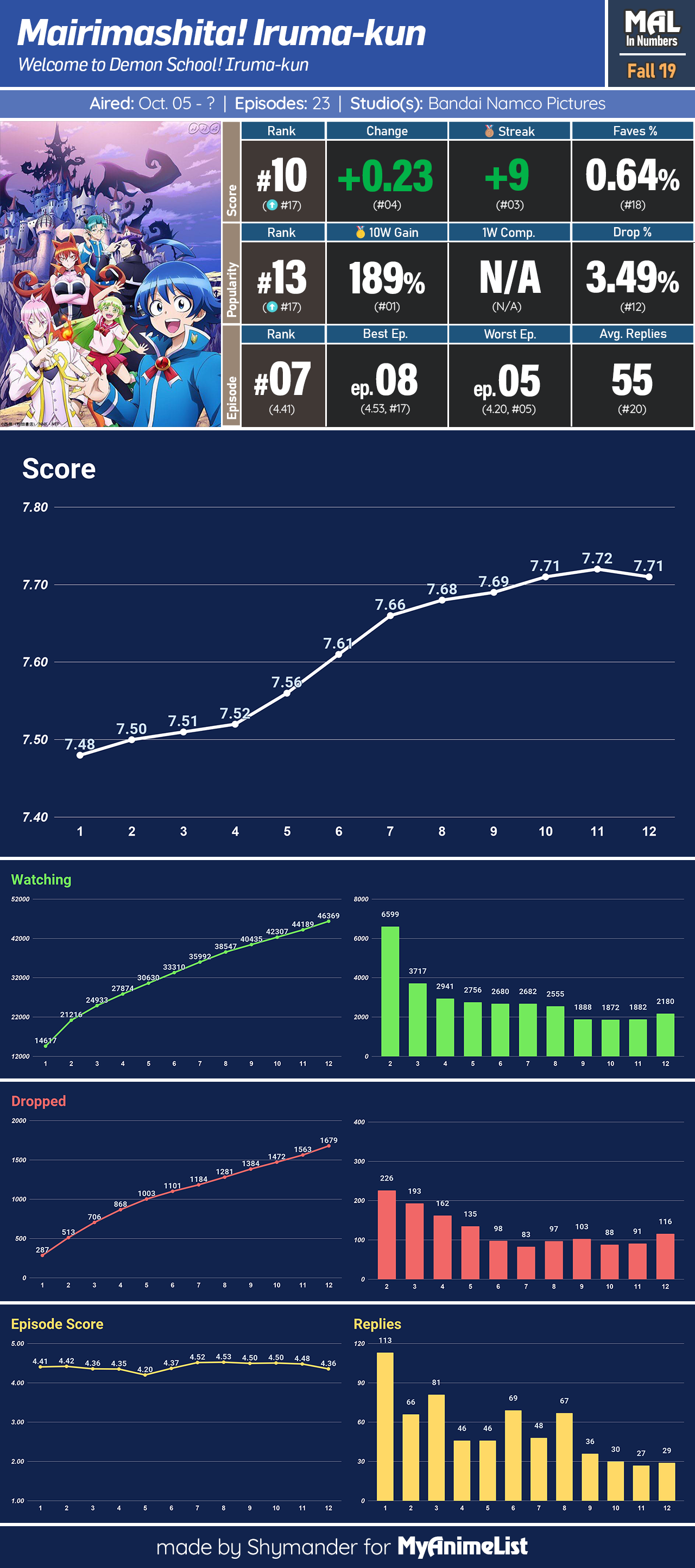 ---
Blade of the Immortal
---

Amazon Prime Video struck gold with Dororo in Winter 2019, but couldn't quite emulate the same success with Mugen no Juunin: Immortal, another samurai manga remake. It is, at the very least, better than its predecessor so far, though it's too old for me to get my hands on detailed data. Despite losing 0.50 in score, Mugen no Juunin: Immortal still has a higher score than the 2008 anime adaptation (6.83), but both fall way, way under the manga's hefty 8.45. Judging by complaints in numerous discussion threads, the art struggled to make the transition.
That being said, Mugen no Juunin: Immortal's Worst Ep. score is considerably high even if it didn't reach any great heights. In fact, it had the smallest margin between Best Ep. and Worst Ep., with a difference of only 0.33, tied with Mairimashita! Iruma-kun.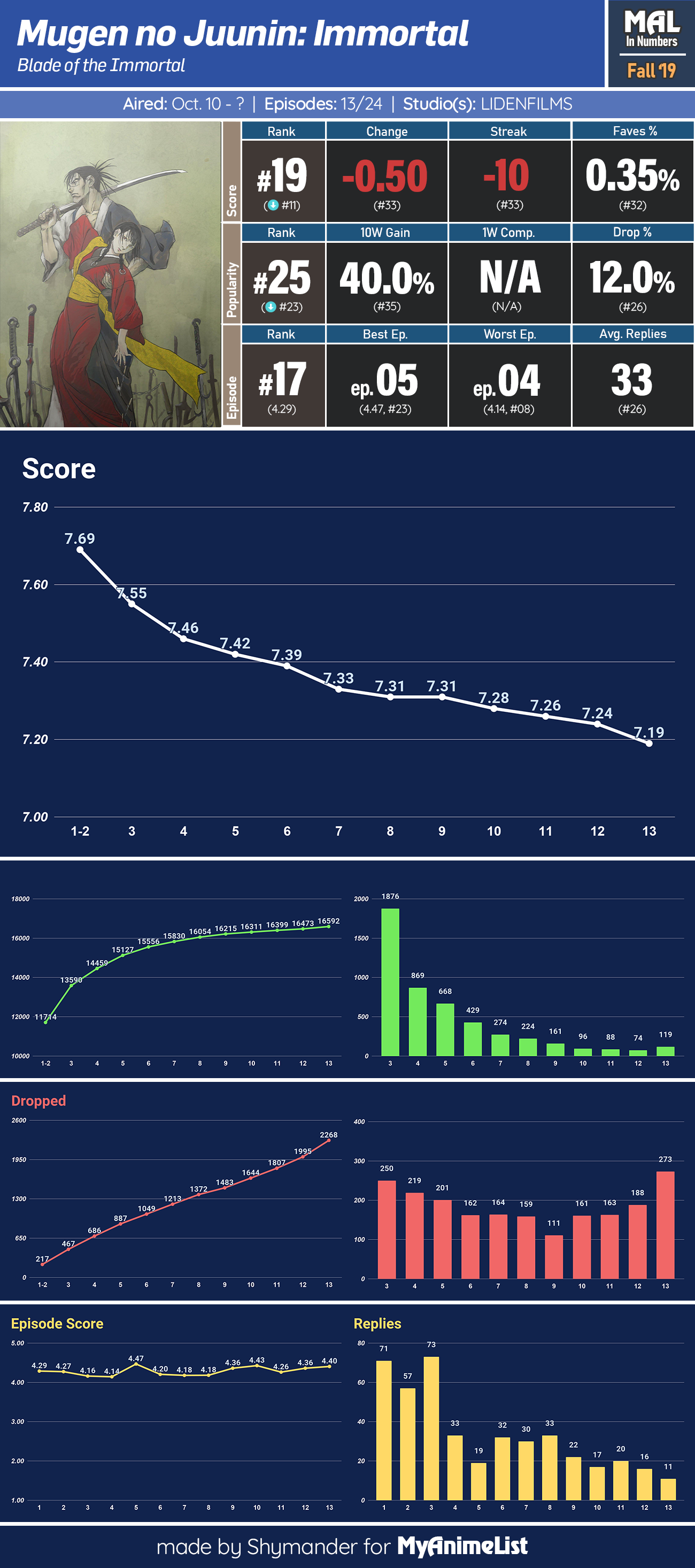 ---
The Seven Deadly Sins: Wrath of the Gods
---

"aight imma head out" - 1,646 users after episode 12.
I'll be honest with you: I let out a series of sounds that can only be described as cackling when I generated the graphs for this. Now, that's not a confession of feeling personal vindication from it, but rather, it's glorious statistical displays like this that fuel my enthusiasm while having to slog through mostly ordinary shows.
Nanatsu no Taizai: Kamigami no Gekirin wasn't the usual tragic downfall—it was troubled from the beginning, a time where the shock of episode 1 made viewers feel like it surely couldn't get much worse. Indeed, an episode score of 2.55 sealed last place in Worst Ep. for the whole season right at the starting line. From there, users gradually warmed up to it more and more, steadily increasing episode ratings even if the overall score would always remain far below the 8.00+ of past seasons. That being said, it managed to go up by four in Score Rank. But everything changed when a hyped-up fight from the manga was grievously butchered.
To put the red monolith in even juicier terms, the percentage increase in Dropped members during the last few episodes went +11.01%, +8.84%, then +33.41%; net gain in favorites also suffered a -82.8% decrease from +87 to +15, but it was still #5 overall. 1.58 sets a solid Worst Ep. record for likely many seasons to come, smashing Try Knight's 1.91 that I thought wouldn't be bested any time soon.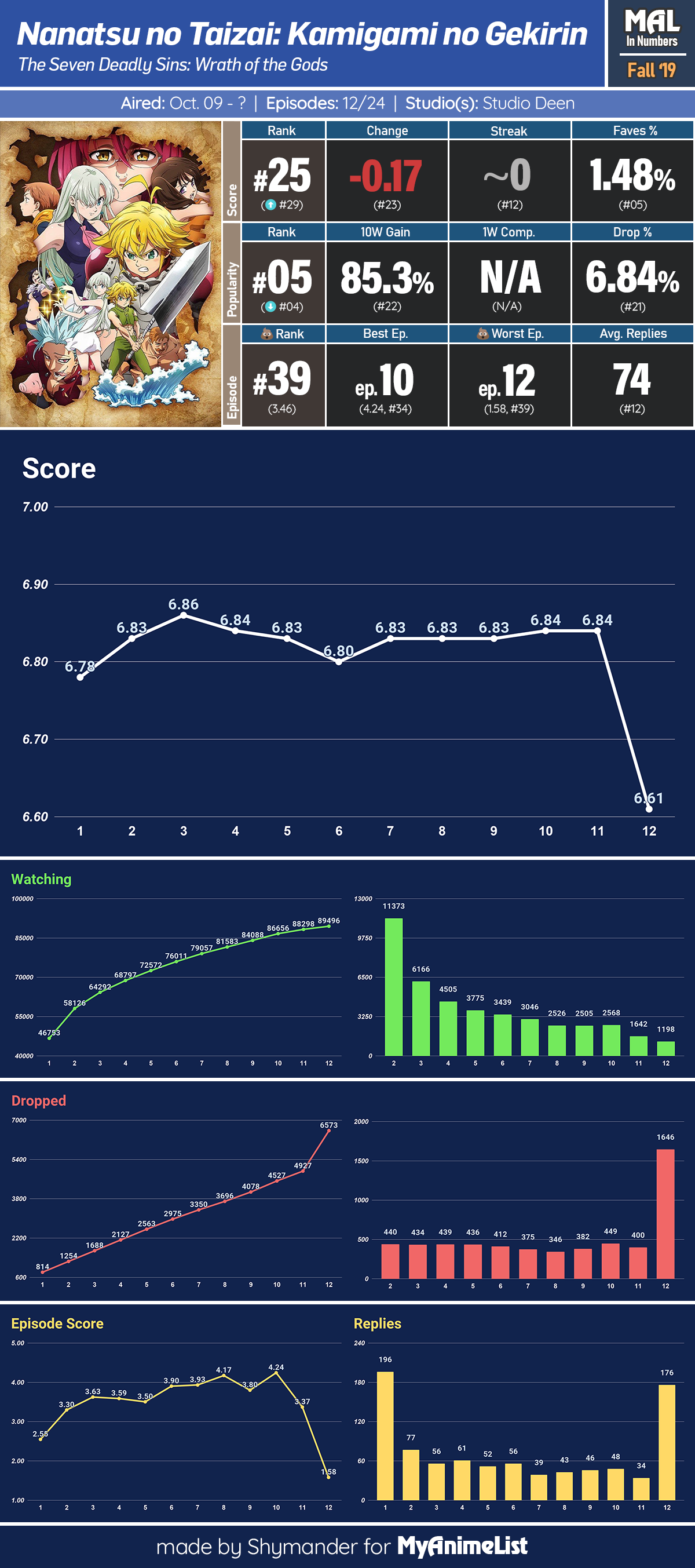 ---
No Guns Life
---

Users clearly would've preferred No Game No Life season two from studio Madhouse than No Guns Life's downward spiral. It joins Assassins Pride and Granblue Fantasy The Animation Season 2 as one of only three shows to fall in score every single week.
No Guns Life was #11 in Drop % after episode 1, at just 1.28%, meaning it dropped by 14 ranks over the course of its entire run, down to 10.9%—that's the largest negative rank change for Drop %, doubling the next highest. The Dropped gains graph offers an interesting shape, starting out at its lowest point before rising and levelling out.
With a new cour airing in the coming season, it'll be interesting to see just how many Completed members carry over. We'll find out in due time.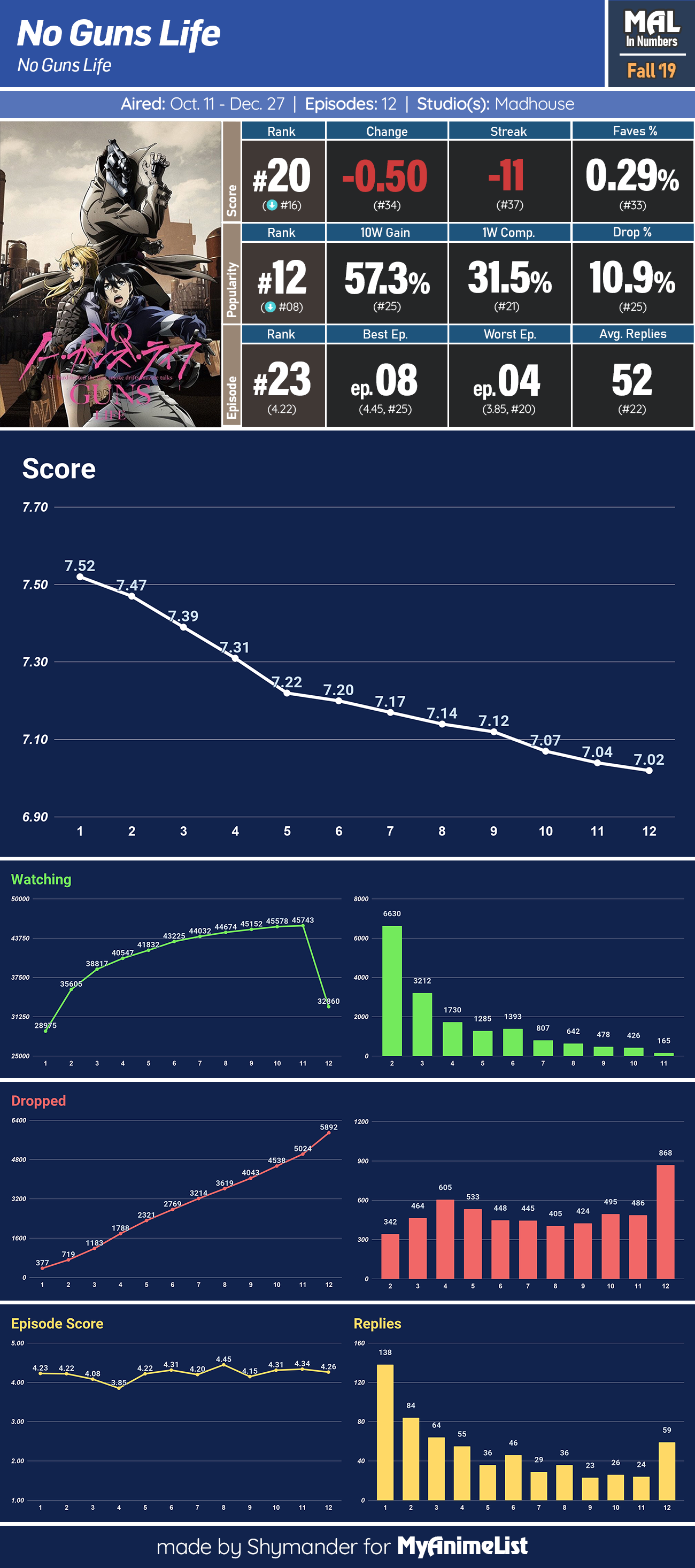 ---
Null & Peta
---

Since MAL's seasonal anime page is sorted by Type, it's easy to miss the growing slate of ONA (Original Net Animation) at the bottom of the page each season, which Null Peta and Mugen no Juunin: Immortal fell under in Fall 2019. Funnily enough, the pair were adjacent in 10W Gain in the bottom ten, though Mugen no Juunin: Immortal fell by two ranks in Popularity while Null Peta managed to surpass Rifle Is Beautiful.
As always, short anime are often under-favorited, so it's no surprise that a low-profile series such as this took last place in Faves %.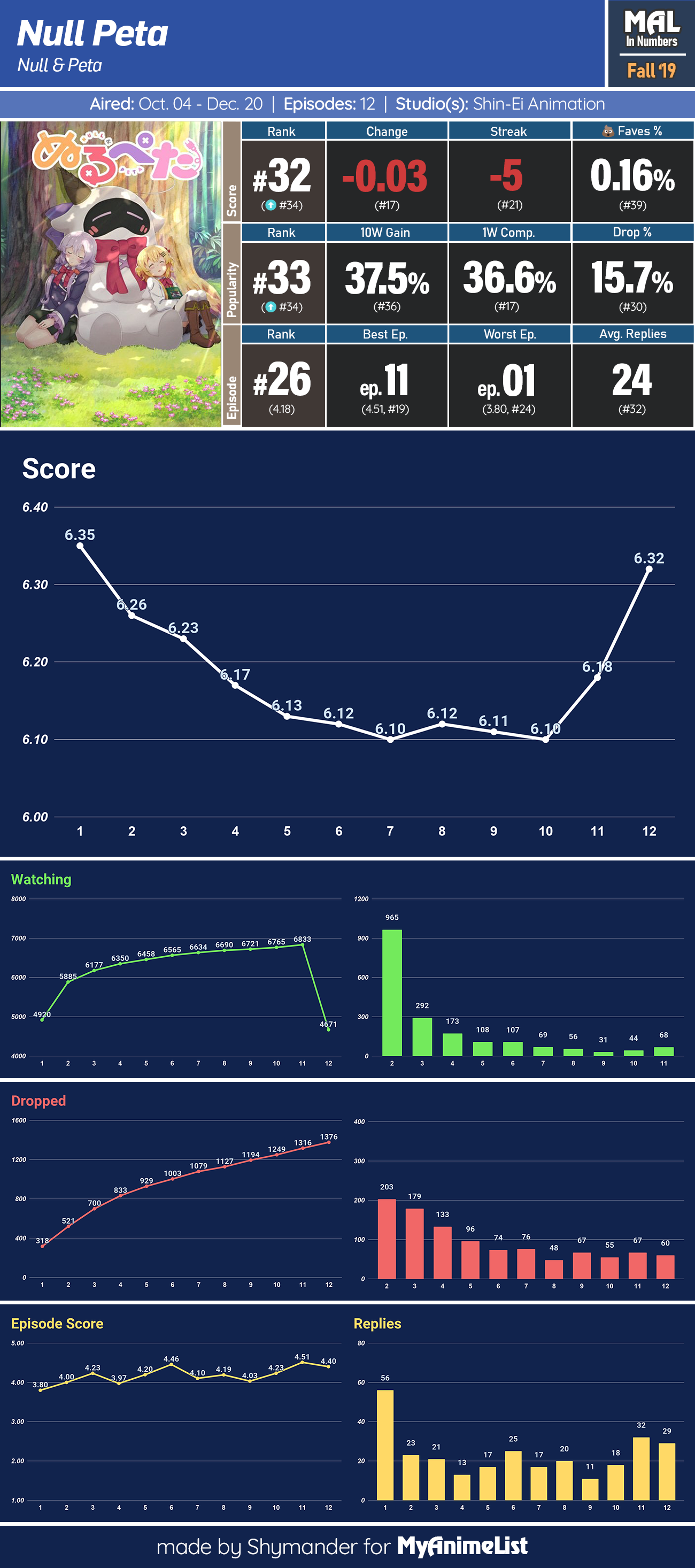 ---
ORESUKI Are you the only one who loves me?
---

Speaking of short anime, perhaps Oresuki would've been better off if it wrapped up after three episodes.
Only a third of all shows in Fall 2019 sported a positive trend in overall score from the get-go, and Oresuki was the sharpest of them all, jumping five ranks up to #8 after the third episode. This was also a remarkable period for Watching members—if you scroll back through the article, even just graphically, the drop-off for Watching member gain after episode 3 is relatively minimal. The trend continued, with minor spikes along the way, and the show ended with a bronze medal for a 10W Gain that almost matched the best of Summer 2019. And sure, it's not the most dazzling achievement, but it was the most discussed third episode of the season by a mile, even if it was only #20 in Best Ep. score.
But things quickly went downhill from there, as seen in the notable dip in both overall score and episode score. Episode 11 offered some respite, only losing 0.02 in score, but the finale right after was the lowest-rated episode of the whole series.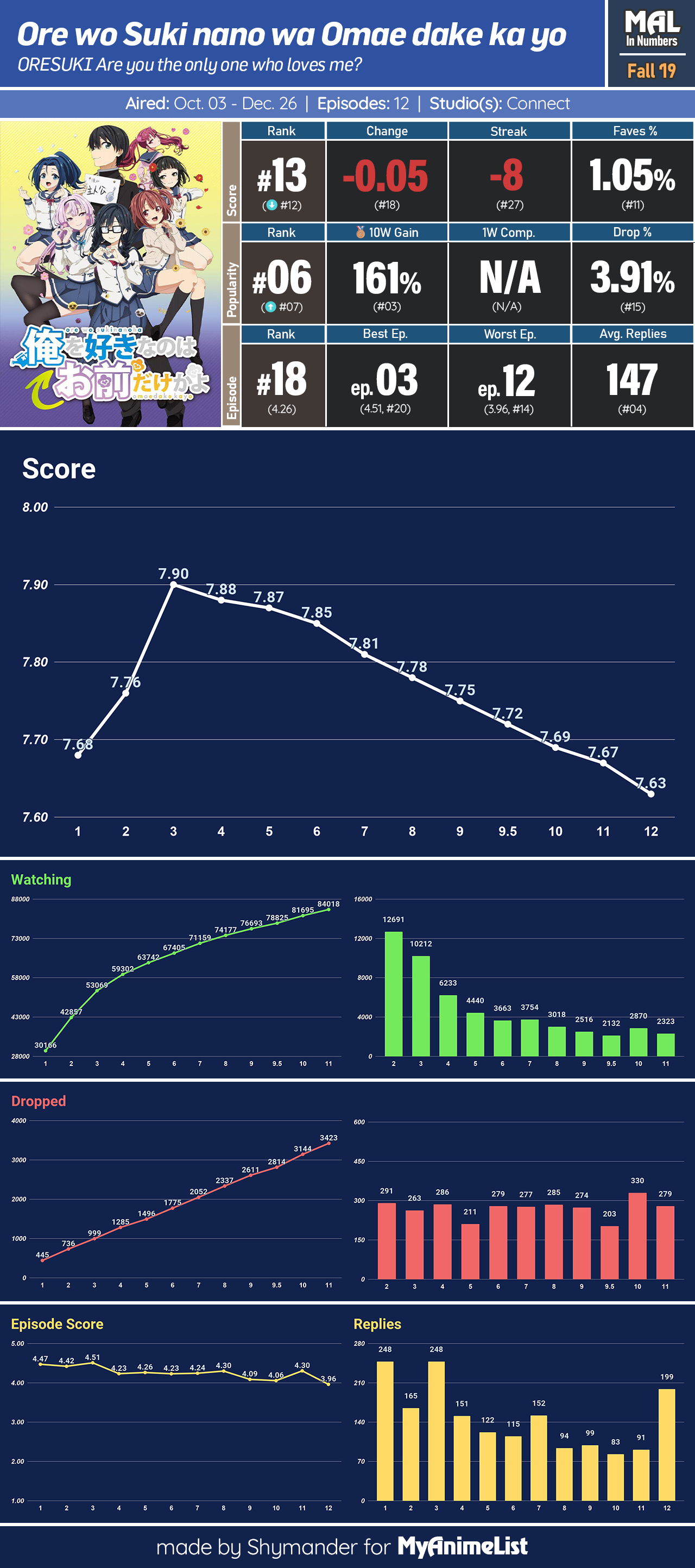 ---
Phantasy Star Online 2: Episode Oracle
---

Phantasy Star Online 2: Episode Oracle is an example of how diving deeper into stats beyond the face value of score and popularity can tell different and more detailed stories. Although the show was on the lower end of Score and Popularity, there was a more dedicated audience within episode discussion threads and in Faves %. Part of that comes with a smaller sample space, but episode 11 does cross the 50-vote threshold that I typically use as a baseline.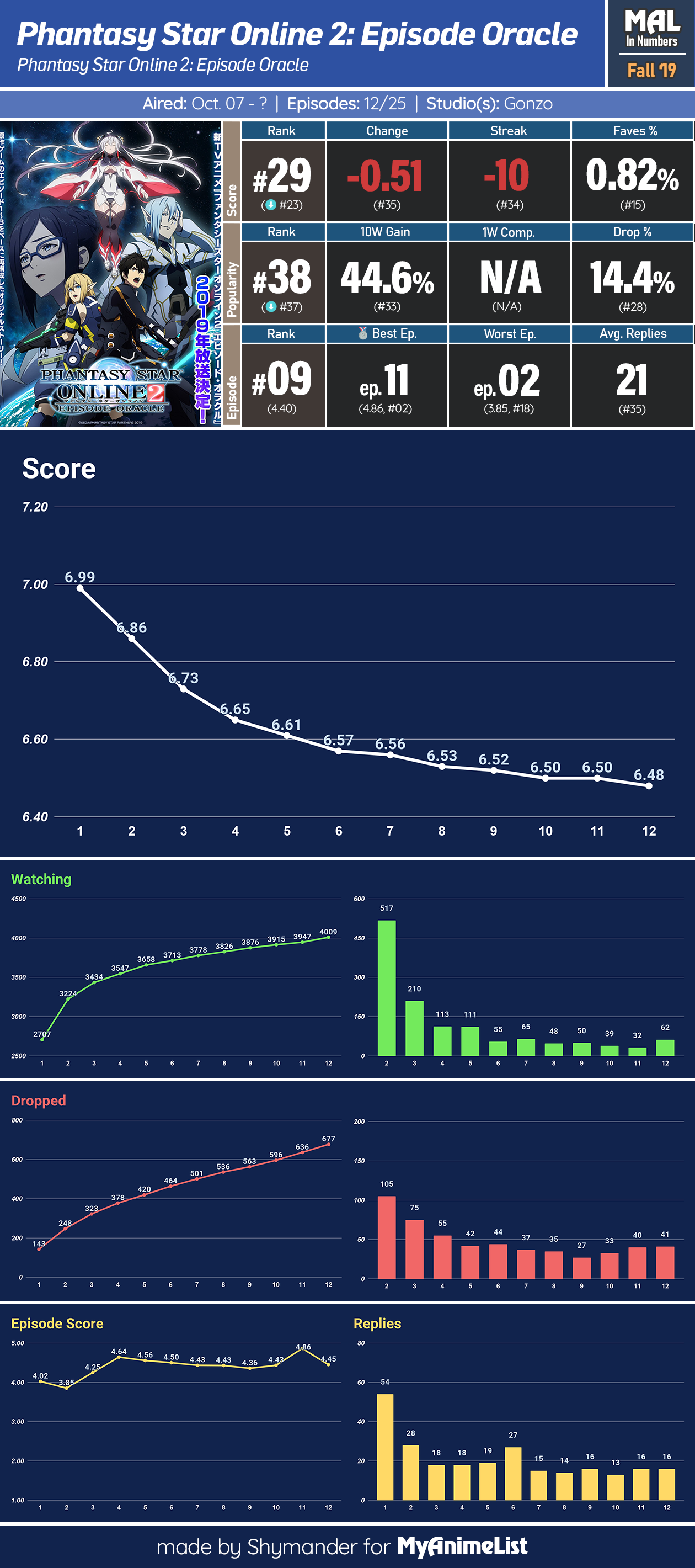 ---
Psycho-Pass 3
---

Between the iconic nature of the first season (8.42) and the bitter opinions that surrounded the second (7.47), Psycho-Pass 3 was in an interesting position when it headed into Fall 2019 with a shorter broadcast period and hour-long episodes. The end result was sitting almost perfectly in the middle during its run before falling closer to the second season, a strong score overall. In terms of Faves %, Psycho-Pass 3 obviously comes nowhere near the original, but it already has more than double the second season's 0.41%.
The most interesting thing about Psycho-Pass 3's data, though, is the abysmal percentage of Plan to Watch members that picked it up to watch early on—12,916 initial Watching members isn't much compared to 72,951 Plan to Watch members, which I'd say was the combination of a late start and being exclusive to Amazon Prime Video for streaming. Considering it's a popular franchise though, Watching members did eventually double across just seven episodes and likely would've gone much higher in 10W with those extra weeks.
Despite a rougher beginning and end, Psycho-Pass 3 performed strongly in other categories, with a high ranking in all Episode categories. Since episodes had double the content, it's no wonder the Avg. Replies rank for Psycho-Pass 3 is almost double Popularity.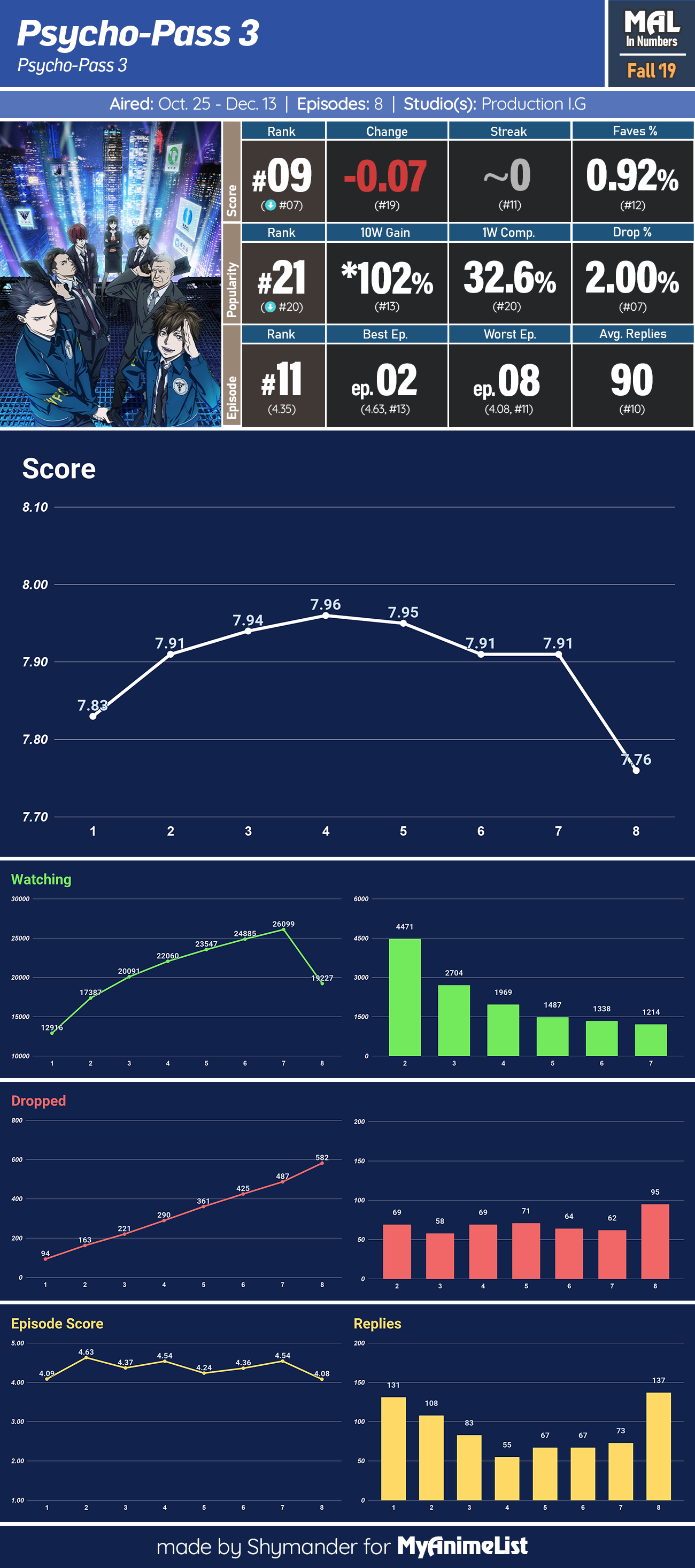 ---
RADIANT Season 2
---

Radiant 2nd Season had a middling performance, but greatly improved upon the first season's final score of 6.51 with a -0.26 Score Change. That being said, the score has risen to 6.90 since the show finished a little over a year ago, but the second season still far outstrips it. Though it had a high rate of Watching member growth, going up by two ranks in Popularity, Avg. Replies was a whole ten ranks lower. This is particularly unfortunate since this sharp contrast more often occurs in the other direction.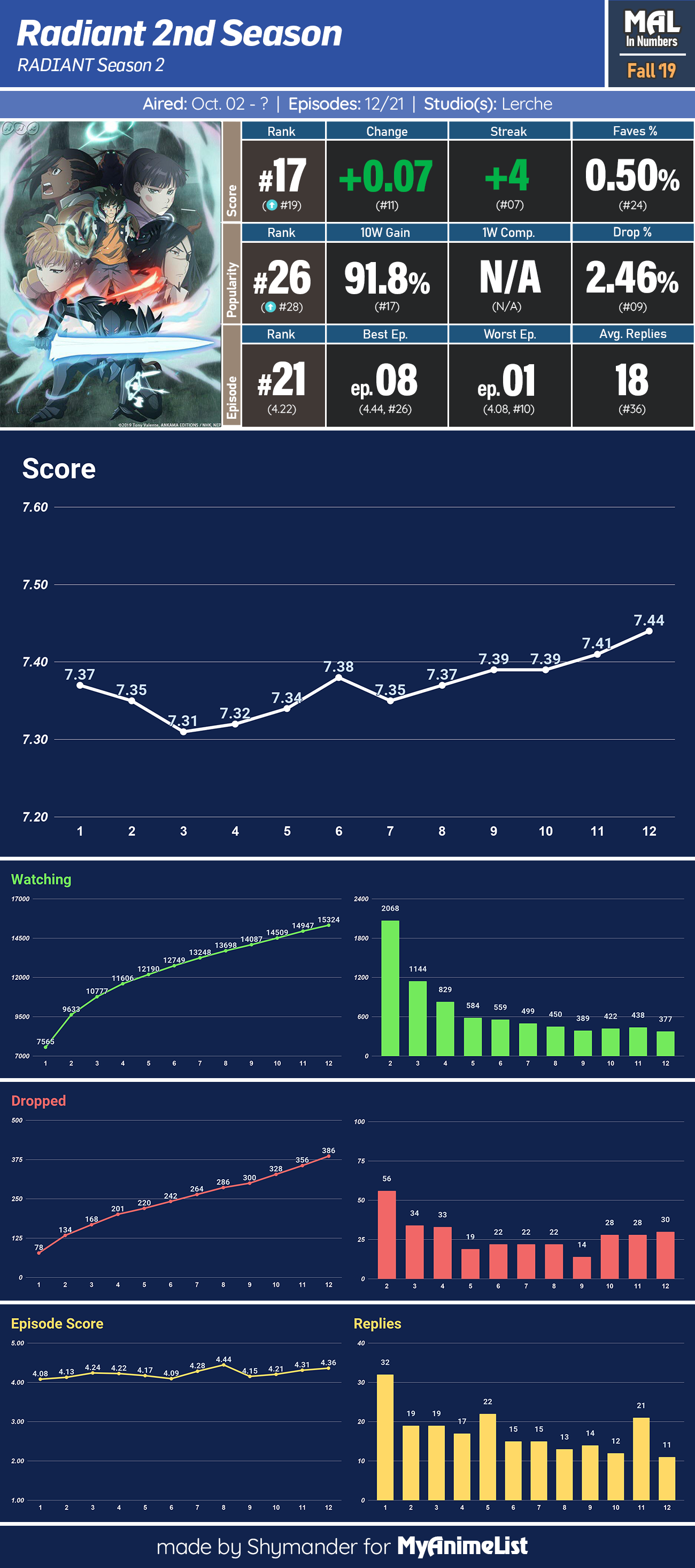 ---
Chidori RSC
---

#5 in Score Change and #8 for Best Ep. are the odd ones out on a board of deep double digits for Rifle Is Beautiful. Dropped member gain quickly outpaced Watching member gain after only three weeks, resulting in a second-to-last 10W Gain and last place in Drop %. 32.9% is a pretty damn high Drop %, but Try Knights maintains its crown of thorns with 40.6%.
Episode 10's 4.75 and episode 1's 3.43 formed the second-largest margin between Best Ep. and Worst Ep. scores in Fall 2019, still well behind Nanatsu no Taizai: Kamigami no Gekirin's 2.66-point difference.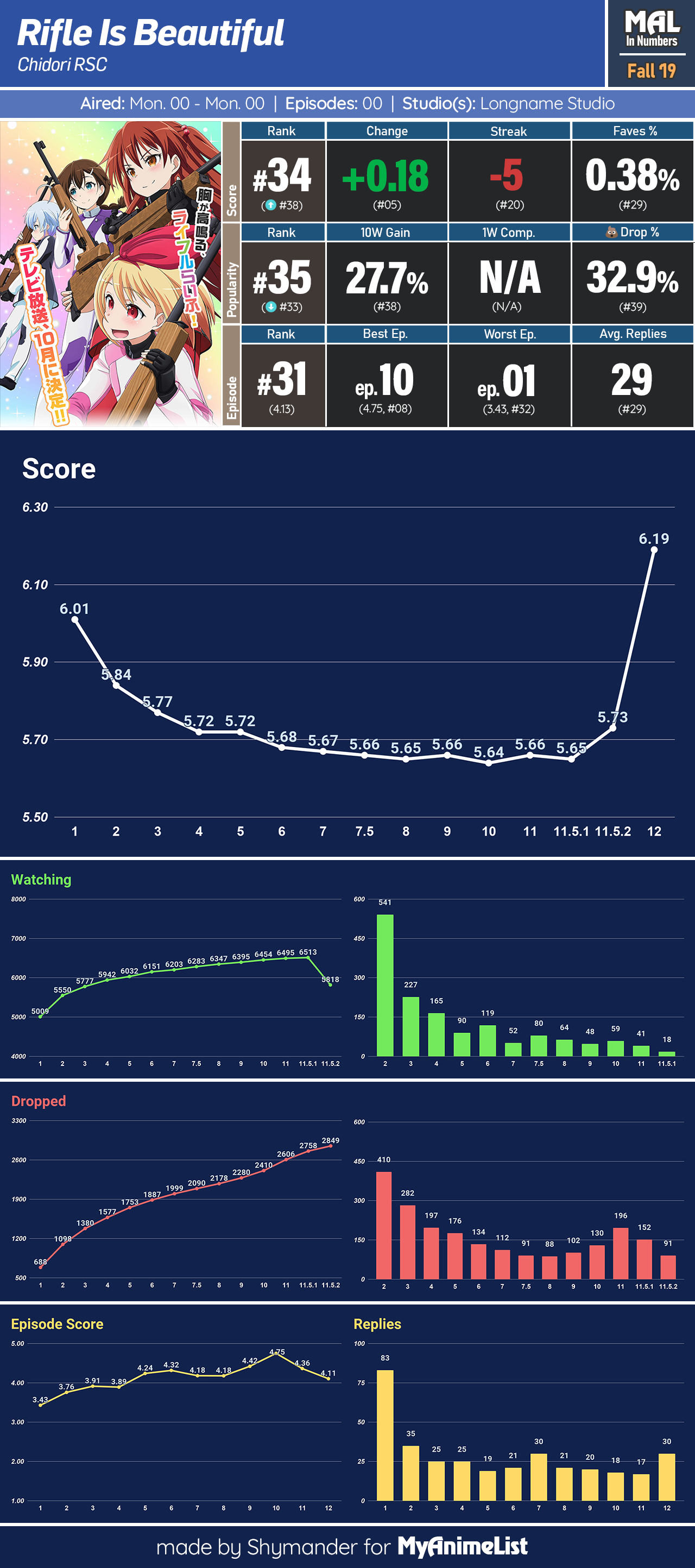 ---
Cautious Hero: The Hero Is Overpowered but Overly Cautious
---

Damn, a double dose of delays and a combined finale to boot. If only the production team was as cautious in scheduling as Seiya...
Aside from a surprisingly low Faves %, Shinchou Yuusha performed very well across all categories. Typically, the most popular isekai in any given season (looking at you, Arifureta Shokugyou de Sekai Saikyou and Kenja no Mago) is one of questionable quality, but this very much broke the formula with a top ten finish in Episode and near-top ten in Score. A much stronger 10W Gain than the aforementioned seasonally-popular isekai (96.7% and 131.7%, respectively) puts Shinchou Yuusha above both in Popularity as well, despite it starting with fewer Watching members. A little bit of quality (and maybe good memes) goes a long way.


---
Food Wars! The Fourth Plate
---

After the turbulent Totsuki Train Arc, the franchise's fourth anime installment, it seems like Shokugeki no Souma is beginning to run out of steam. It's actually been a long time coming: every season of Shokugeki no Souma since the first season has started high and tipped downward in score, and the negative Score Change has only increased each time. A slow start, combined with the largest negative Score Change for the franchise, makes Shin no Sara the worst season of the show by a wide margin—8.19 certainly isn't a low score, but it pales in comparison to the ~8.70 the last few seasons all started with.
I feel like I've said a similar thing a lot throughout this article, but episode 11 just managed to hold up Shin no Sara's score from dropping every single week. Unlike previous similar instances, the finale didn't take an immediate dive in episode score, but the wave of new scoring users still knocked Shin no Sara down one more Score Rank. It fared quite well in episode scoring overall, but seeing that Avg. Replies is a whole ten ranks lower than Popularity, there clearly wasn't much interest or content to discuss.
Considering the, uh, "spicy" reception of the manga's final arc, I'm looking forward to what Gou no Sara cooks up in terms of stats when it airs in Spring 2020. I can see Avg. Replies being much, much higher than this time around.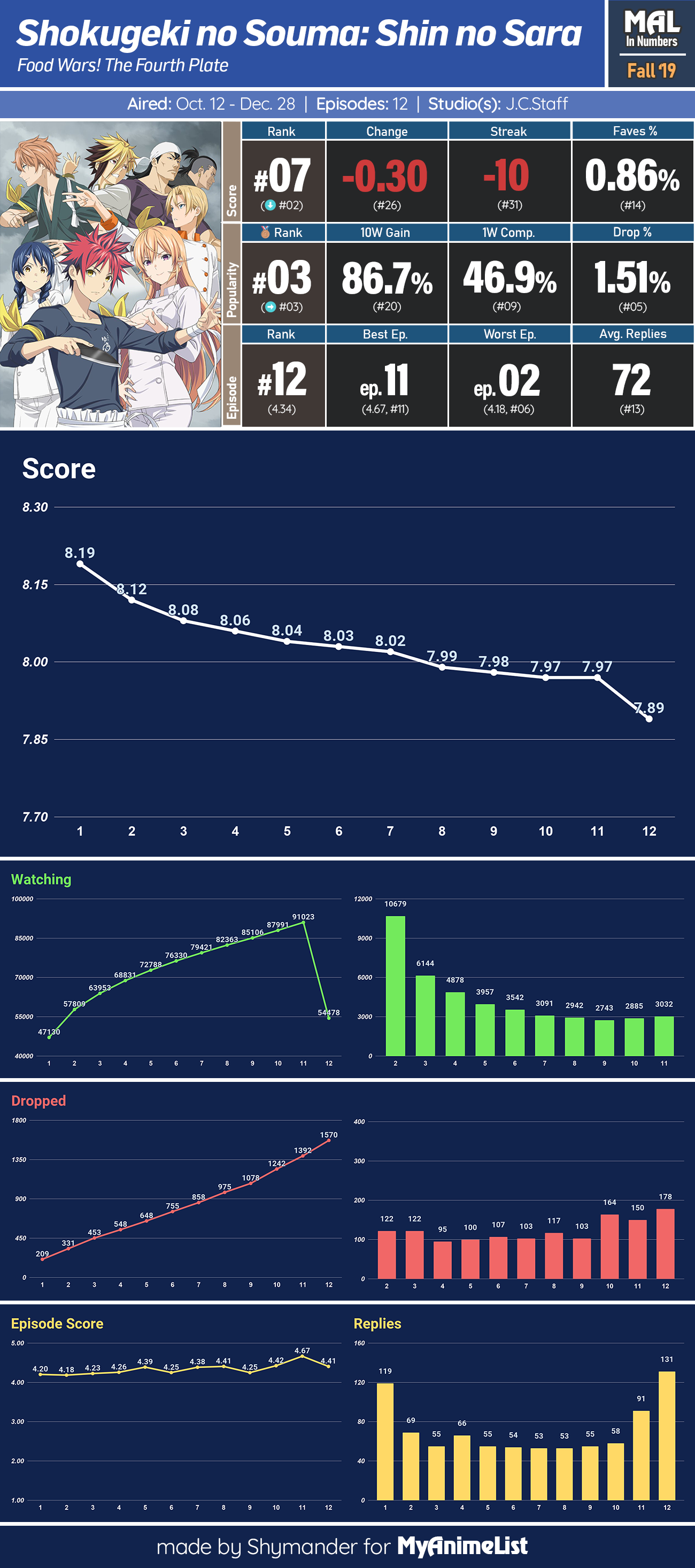 ---
Stand My Heroes: Piece of Truth
---

Stand My Heroes: Piece of Truth isn't as much of a stand-out calamity as Try Knights in Summer 2019, but coming last or near-last in all three major ranks undeniably speaks for itself. As you'll already know if you've been reading through everything, Nanatsu no Taizai: Kamigami no Gekirin's abysmal performance was the only thing that saved it in Episode Rank and Worst Ep. As low as the show's average was, episode 6 still managed a stunning downward dive that almost rivaled the show's abysmal premiere.
The high Faves % made me doubt the effectiveness of the system I use to calculate it, but even if I throw Dropped members into the equation, it still ranks almost just as well at #14. That being said, history does show that the otome fanbase comes out quite strongly in that regard (see In Numbers: The Best Anime of the Decade).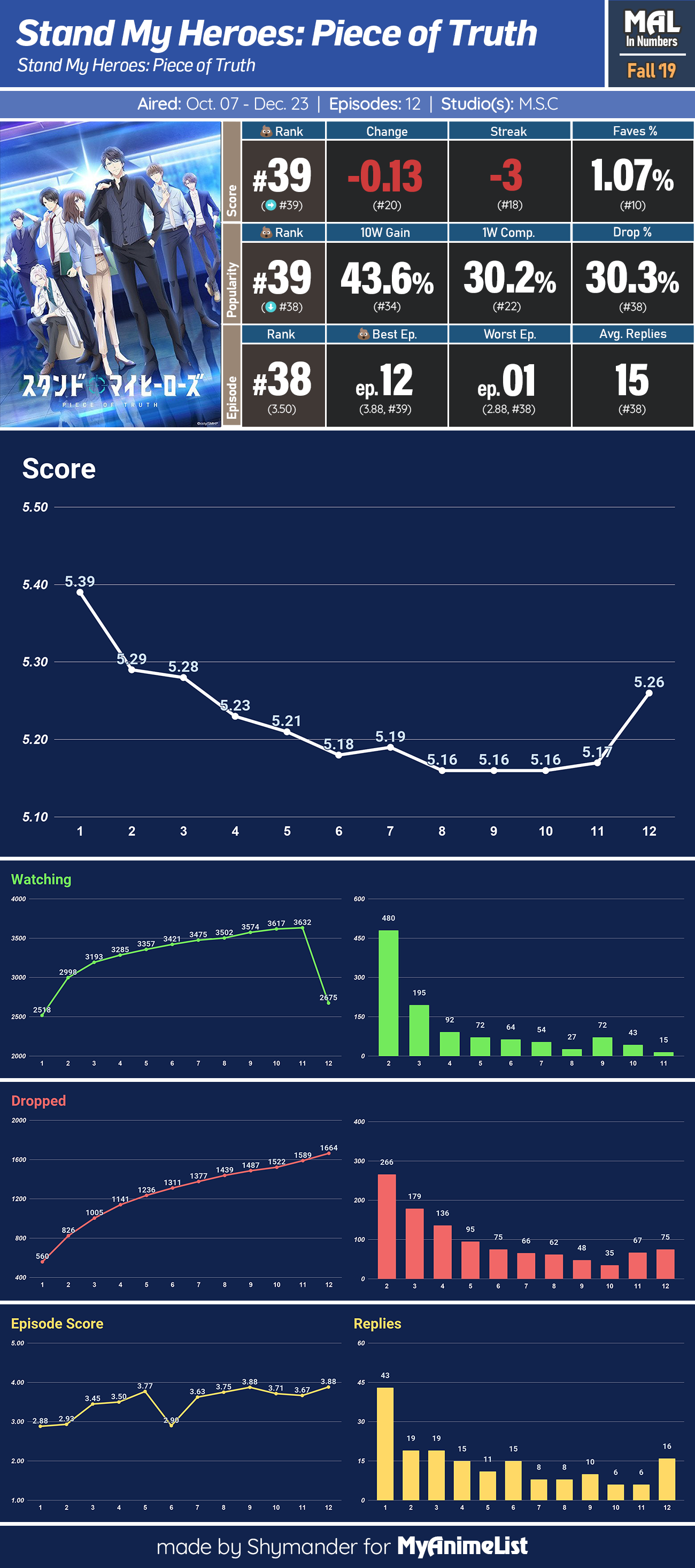 ---
Sword Art Online: Alicization - War of Underworld
---

After a relatively rocky first cour, Sword Art Online's coveted Alicization arc returned with a bang to become the highest-rated season of the show to date. Sure, the score didn't recover from its initial dive, but to remain almost completely steady for the rest of the show and finish in almost the same position is commendable in the grand scheme of things.
The two most popular anime of the season, Boku no Hero Academia 4th Season and Sword Art Online: Alicization - War of Underworld (both of which just happen to be fourth installments) matched and snatched the top two spots in Drop % and Avg. Replies as well. Boku no Hero Academia fared better in Score categories aside from a close loss in Faves %, but SAO was the clear winner in Episode with a remarkable #5 overall. At this point, I think I can call episode 11 a keen point of interest for any show. In this case, it was the most-discussed but second-lowest in episode score.
Another cour is already on the way for Spring 2020, so whether or not it tops this season will have to be seen.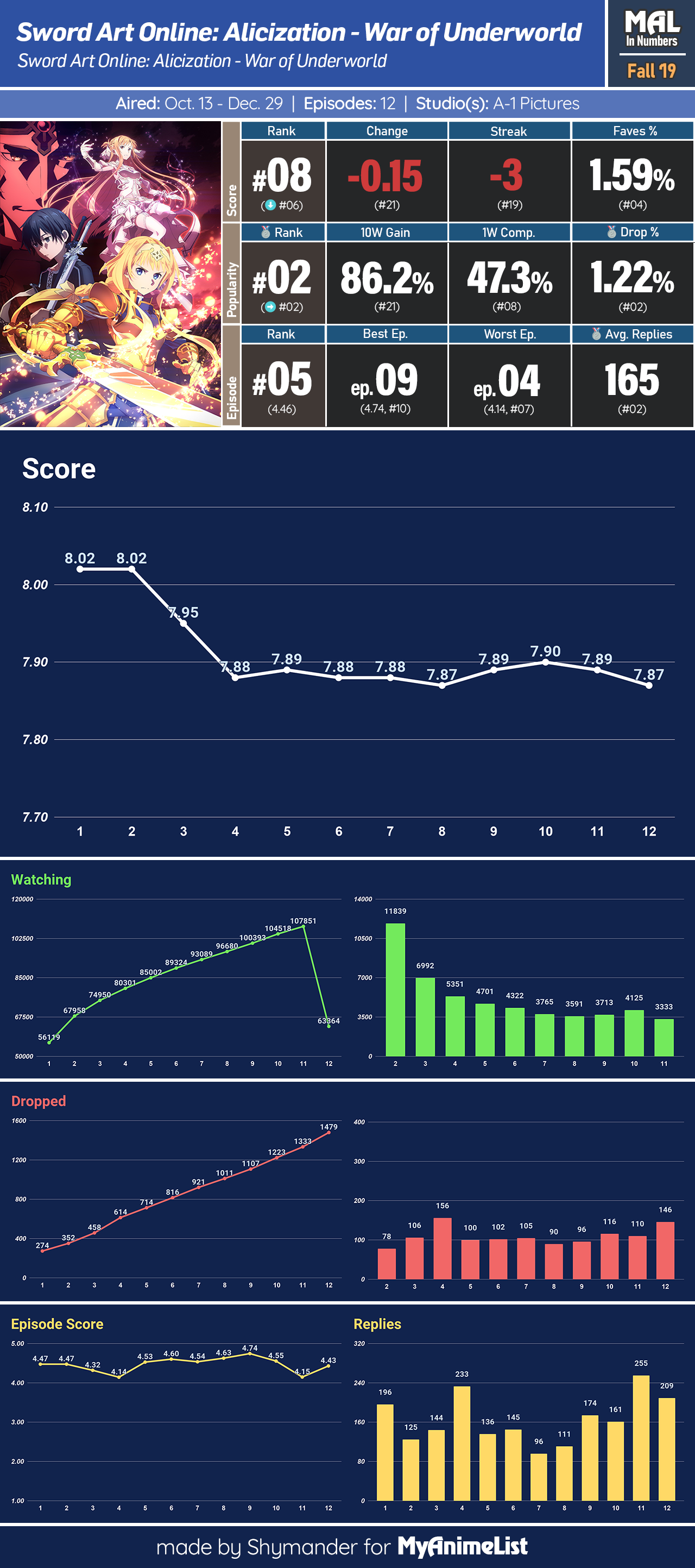 ---
Val x Love
---

Val x Love hop-skip-jumped down the Score graph in the first half before levelling out and recovering a small amount at the end, though it didn't change its Score Rank in the slightest, wedged between Kandagawa Jet Girls and Stand My Heroes: Piece of Truth. Like overall score, Val x Love's second-lowest Best Ep. score was well above Stand My Heroes: Piece of Truth at the bottom. That being said, it was still one of only two shows to never cross 4.00 in Episode Score.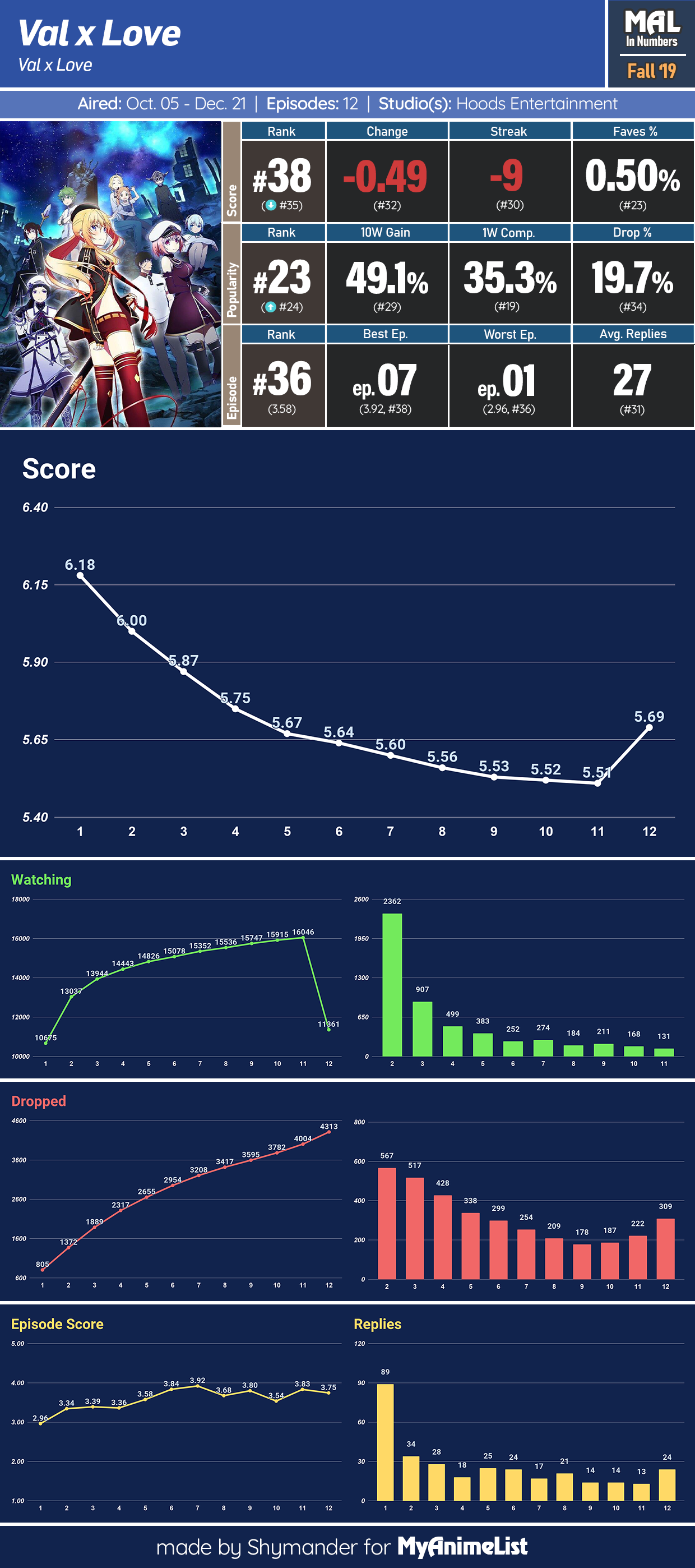 ---
Didn't I Say to Make My Abilities Average in the Next Life?!
---

Misato may not have gotten the average life she desired, but her anime sure did, with mostly middling stats across the board for the season as a whole and against other Fall 2019 isekai—the only categories it didn't place in the middle for were 1W Comp., where it came first among isekai, and Avg. Replies, where it came last among isekai. Best of all, though... Noukin's average episode score is exactly the same as the season average (4.19). I kid you not. It's also the second-closest to the season average for overall score, which is also pretty damn impressive, all things considered.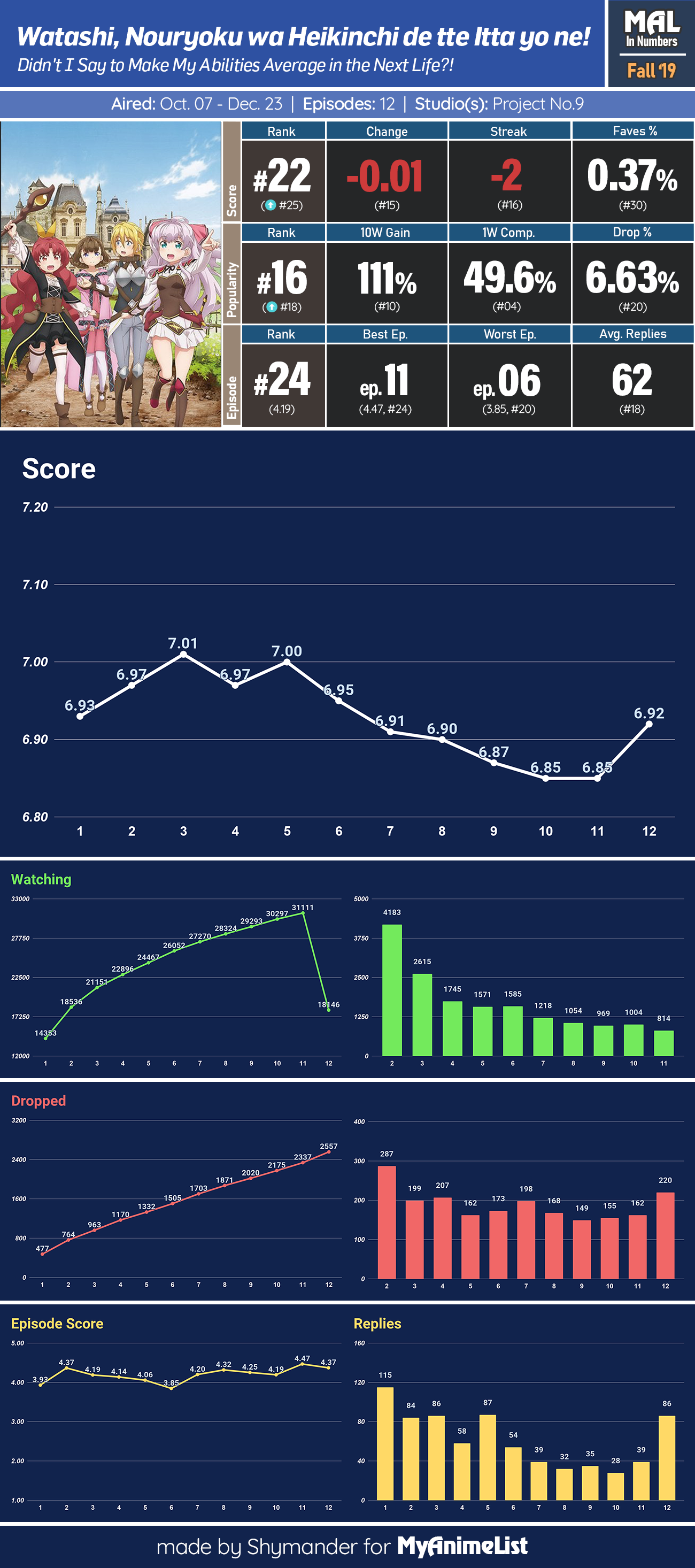 That's it, that's a whopping 39 shows wrapped up with insurmountable detail. But there's still one more important thing I'd like to discuss.
---
So... what's Anime of the Season?
---

With so many statistical categories for so many anime being taken into account, not to mention the literal title of "The Best and Worst Anime," it seems only right to make a definitive judgment on the overall best and worst of each season, as decided by hundreds and thousands of MAL users. These will balance all datapoints, with a particular emphasis on a show's progression (i.e. Score Change, 10W Gain, other changes). Since sequels have different trends and points of comparison, I've given them their own separate accreditation.
The choices are very clear this time around, but there may very well be close contention in the future. However, the numbers will always come first.




Only four shows finished with a score above 8.00 in Fall 2019, which is rough considering that Summer 2019 had six, even though it had seven fewer shows overall. Hell, Spring 2019 also had six with fourteen fewer shows. Although Honzuki no Gekokujou has now crossed that threshold at the time of writing, Beastars was the only non-sequel out of the four that finished above 8.00, and the only one that started out below that mark. But that's just on the surface level.
Beastars stunned the competition in almost every way, easily earning the most top-three finishes. It started high but still conquered Score Change with a perfect Streak, being the only show to score medals in all four sub-categories in any of the three main areas; it smashed the previous record for 10W Gain even though it wasn't the best, doing so without legal streaming; episode scores remained consistently high, and so forth.
The inarguable Best Debut of Fall 2019 was Beastars, so be sure to check it out on Netflix when it finally drops on March 13th.


Once again, this was an easy choice—there's always that one show that stuns with its inexplicably poor quality, and that was Stand My Heroes: Piece of Truth for Fall 2019. It nailed last place in 2/3 of the primary rankings, just barely missing a perfect trifecta thanks to Nanatsu no Taizai: Kamigami no Gekirin.


A good sequel can be one of two things: a consistent follow-up to its predecessor or a vast improvement, regardless of the original's quality. The big guns like Boku no Hero Academia 4th Season and Sword Art Online: Alicization - War of Underworld fared well, but not spectacularly, while others of all sizes bit the dust or sat on their hands. In the end, it was a close content between High Score Girl II and Kono Oto Tomare! 2nd Season, two shows that could be fairly labelled as criminally under-watched with their stat-tacular performances.
As good as they both were, this award has to go to Kono Oto Tomare! 2nd Season. Not only did it earn the most gold medals for the season, but it also graciously completed what the first season started with greater quality. There were only a few points of difference in Drop % and Episode Rank, but the 0.43% difference in Faves %, which is a notable category for sequels since it's usually lower, made a real winner of Kono Oto Tomare! 2nd Season.


This fun choice was just as easy as Worst Debut. I stated in the last section that a good sequel is one that carries on what its predecessor started, even greatly improving on it for some series. Kamigami no Gekirin, on the other hand, actively destroyed what the show had built to that point—a whopping 2.11 points now separate past seasons and Kamigami no Gekirin. Adding in a seemingly unbeatable record for Worst Ep. and the pure graphical spectacle caused by episode 12, Nanatsu no Gekirin: Kamigami no Gekirin was the worst sequel of Fall 2019.


"In Numbers" is a series I started out of enthusiasm for the intriguing datapoints I found while casually monitoring seasonal shows, which I can largely thank the MAL Score Progressions club for enabling. That interest remains a key motivator as I pour hours into preparing and writing these articles, so I want to recognise this fascination that I'm sure some of you share. This award is much more aligned with my own personal opinion, but I hope my decisions will be agreeable. If you feel differently, don't be afraid to let me know.
Ore wo Suki nano wa Omae dake ka yo, Hoshiai no Sora, and Nanatsu no Taizai: Kamigami no Gekirin all presented fascinating points of discussion, but I really have to give it to Honzuki no Gekokujou's for its insane underdog performance in Fall 2019. As I stated in its own section, the show's Score Change and continually receding Drop % are an absolute rarity. For a show to start so low and then go so high... well, it's stuff like this that keeps me excited for what's to come with every new season, because you never know what you might get.


---
Full Ranking Lists
---
Medal Count
Crap Count
Score
Initial Score Rank
Final Score Rank
Score Change
Streak
Favorites %
Popularity
Initial Popularity Rank
Final Popularity Rank
10-Week Gain
First-Week Completion
Drop %
Episode
Episode Rank
Best Episode Score
Worst Episode Score
Average Discussion Thread Replies
---
Stay tuned for the next edition of "In Numbers" in Winter 2020! If you have feedback or anything else you'd like to see, don't hesitate to leave me a comment or PM.