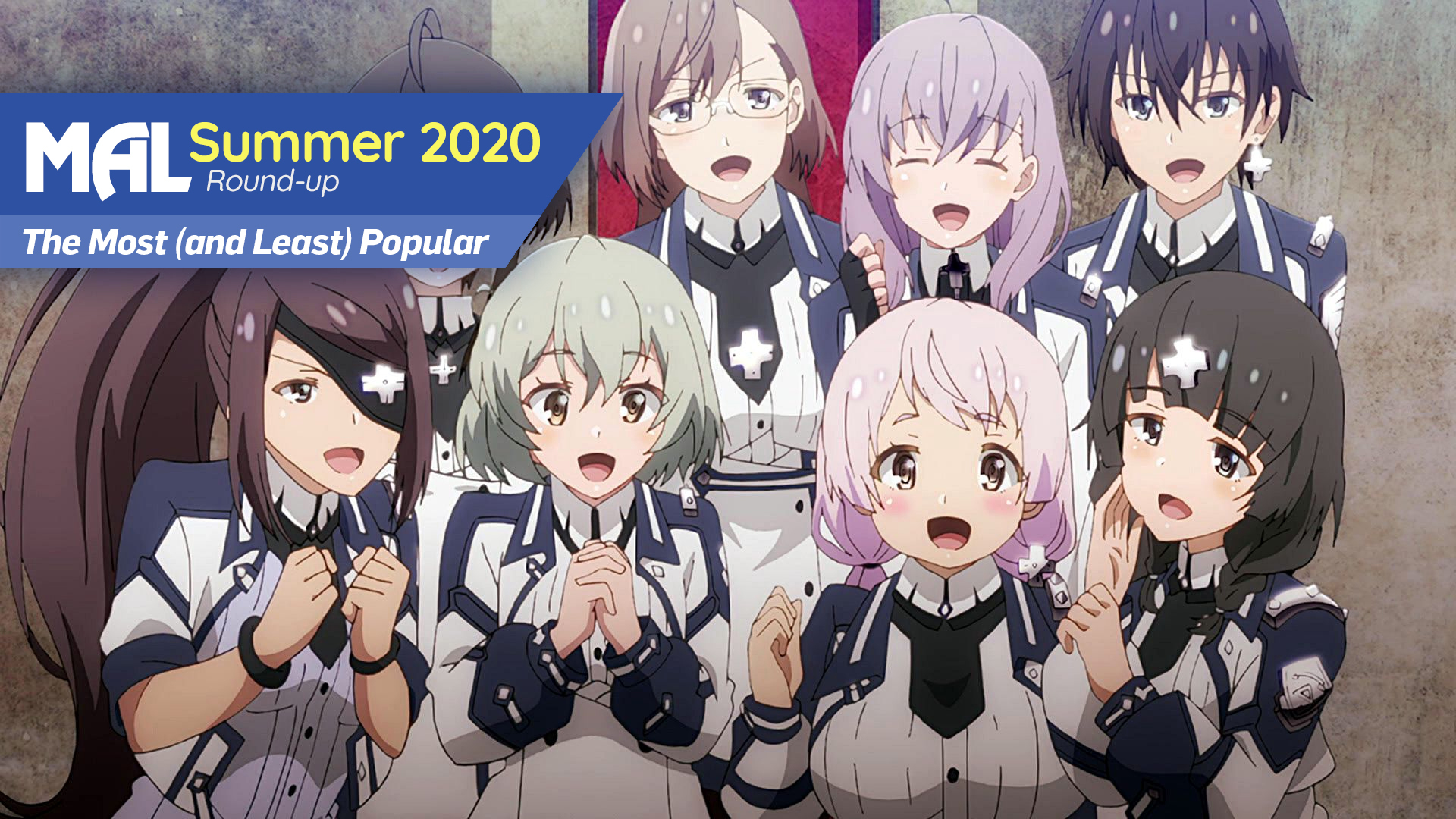 Welcome to the second of a three-part article series, where I'll be closing out the season with a detailed statistical breakdown of which shows kicked ass and which bombed spectacularly. In this volume of the Summer 2020 Round-up, I'll be covering which anime had the highest viewership and which were dropped the most!
To ensure data equality and the inclusion of two-cour anime, all data points are taken from one week after episode 10. Like before, there are a few shows missing due to lack of data or tampering.
---
Guide
In case you're new around these parts, "Total" members incorporates all users who have the anime listed as Watching, Completed, On-Hold, Dropped, or Plan to Watch. The +% figure is measured between "episode 0" (i.e. just before the premiere) and episode 10 for Total, whereas Watching is measured from one week after episode 1.
Finally, the small number next to the rank indicates how much it changed from episode 1. Now, let's get into it!
---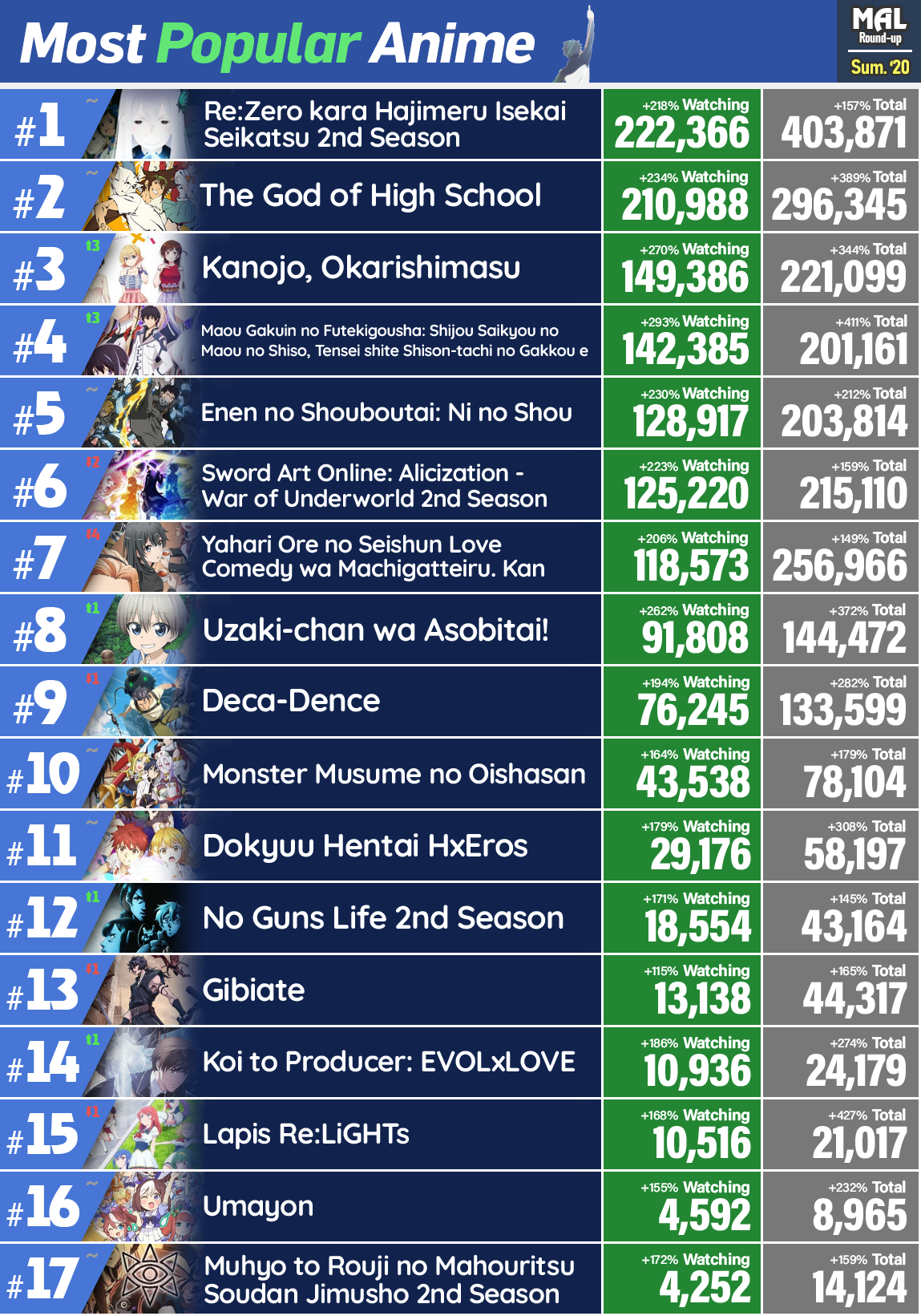 Naturally, sequels tend to start a season with a higher reserve of Plan to Watch members (thereby lower Total growth than debut anime), but that doesn't always translate into actual viewers. It worked out very well for Re:Zero kara Hajimeru Isekai Seikatsu 2nd Season, but Yahari Ore no Seishun Love Comedy wa Machigatteiru. Kan eventually fell behind with a much weaker growth rate than its closer counterparts.
The God of High School arguably had the most successful premiere for a debut anime, kicking off its run with 13,792 (18.1%) more Watching members than Plan to Watch members prior—Lapis Re:LiGHTs was the only other anime to achieve the same. However, The God of High School's late increase in Dropped members wounded its progress while Maou Gakuin no Futekigousha remained remarkably consistent.


---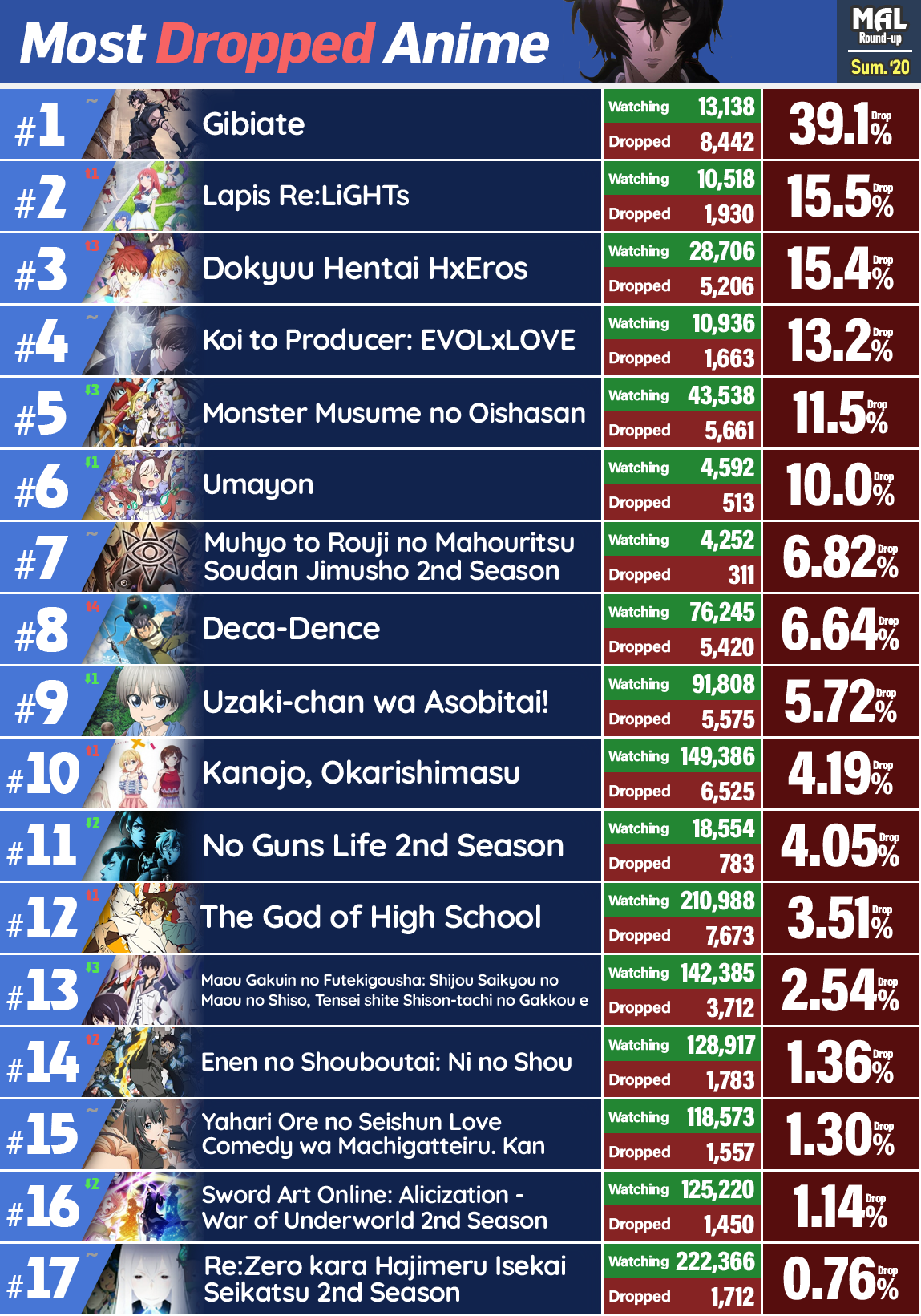 Yep, it's not even a close contest. I unfortunately don't have episode 10 data for it, but Ninja Collection does edge out Gibiate in its current state with a 40.7% drop rate. It also trumps in score, but we'll see more about that in the next issue!
However, the most dramatic change here belongs to Deca-Dence. A surprise twist in episode 2 tripled the number of new Dropped members, and each subsequent episode was higher than the first. The God of High School suffered a similar fate, going from a reasonable 332 Dropped after round 1 to ~1,000+ every week from round 7 until the finale.
Meanwhile, Sword Art Online: Alicization - War of Underworld 2nd Season managed to claw back from an early 'assault' of Dropped members despite being a senior sequel.