For those that are new to the world of BanG Dream!, let us bring you up to speed with this franchise's activities up to now, each band's style, and details on future live performances.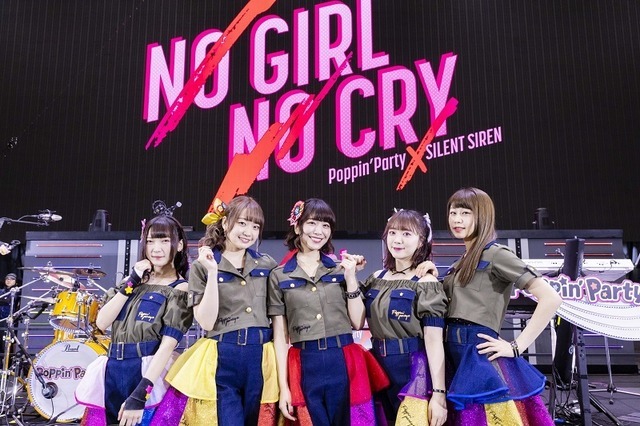 As many music fans know, summer is the season for large live performances and music festivals. But, have you ever considered enjoying your favorite anisongs in a new way? If you answered "yes!" then we highly suggest you to check out BanG Dream! The bands consist of members who are the actual voice actresses of the characters!
You may have heard of the franchise before, but you may be wondering, "Just what kind of content is it, really?" If this sounds like you, then you're in luck! Because this is a perfect way for a newbie like you to learn everything there is to know about BanG Dream!, each band and their members, and details about all of their upcoming performances.


Table of Contents
What is BanG Dream!?
The Amazing Original Songs
From Pop Songs to All Out Rock and Roll! Introduction to the Bands of BanG Dream!
Name That Anisong! The Popular Cover Songs
The Budokan Live: The Journey to Real Live Performances
Let's Enjoy Live Performances! Details on Future Shows
BanG Dream! FILM LIVE —Experience a Live Show on the Big Screen


What is BanG Dream!?
---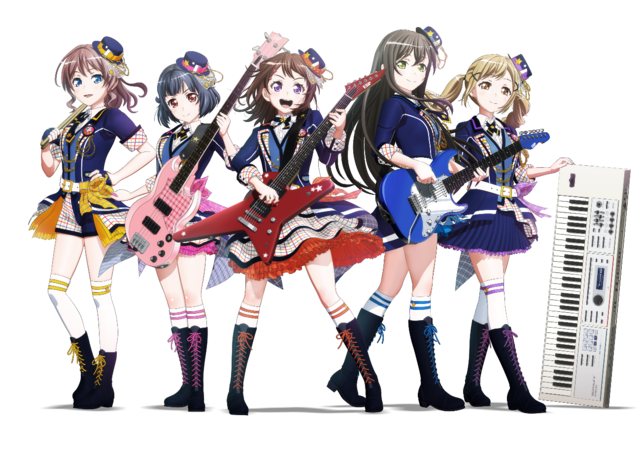 BanG Dream! is a multimedia project spread across various contents including live performances, anime, video games, and much more. As mentioned previously, the most notable attribute involves the voice actresses of each respective character performing as members of the band. With the real and virtual fandoms crossing paths, fans enjoy experiencing an ever-expansive world with their favorite characters.
First, let's take a quick look at the journey of the BanG Dream! franchise up to this point.


2015 —The Launch of BanG Dream!
Starting in 2015, the BanG Dream!: Star Beat comic saw its one year serialization in "Monthly Bushiroad" magazine.
The story follows Kasumi Toyama, an introverted girl, who is determined to change after finding a beautiful red star-shaped guitar. Kasumi and her friends decide to start a band and through music is able to strengthen their bonds with one another.
Concurrently with the comic's serialization, the "BanG Dream!" Real Live project was announced at Aimi's (the voice actress who voices Kasumi) second solo concert on February 28, 2015.


The Expanding World of BanG Dream!
In 2016 the novel BanG Dream! was released by the original writer of the comic series, Ko Nakamura.
In 2017, the first season of the BanG Dream! anime aired during the winter anime season. The first season featured the origin of Poppin'Party and their journey to their first live performance.
In addition to the TV series, the franchise saw the release of its mobile game, "BanG Dream! Girls Band Party!" A.K.A. "GBP" on March 16, 2017.
This game saw huge success for its popular adventure mode featuring a rhythm game mechanic where players enjoyed both original songs and popular anisong covers while interacting with the characters. Users also enjoyed the multiplayer mode that links up to five players in cooperative play online. The game had a million users within a month of release, and by July 29, 2019 they reached a total of ten million users within Japan.


From Short Animation to Theatrical Release
In 2018, the short animation series, BanG Dream! Girls Band Party! PICO was released followed by the second season of the anime series, BanG Dream! 2nd Season."
On September 13, 2019 the BanG Dream! FILM LIVE was released in theaters in Japan. We are very excited to announce future projects that are coming down the pipeline!
The Amazing Original Songs
---
A band's original songs are what defines each group's identity. Let's check out each group's style while listening to these amazing tracks!


Poppin'Party "Happy Happy Party!"
Poppin'Party features true to life lyrics and energetic sounds that just makes you want to clap to each beat. Their songs feature a wide range of sounds anywhere from typical girl band beats to songs like "Tear Drops" which feature a more rock and roll style.
Afterglow "That Is How I Roll!"
Afterglow demonstrates their strength and determination to "keep moving forward" even through life's hardships. When you're feeling down, their songs may give you courage. "Tsunagu Soramoyou" (Tied to the Skies) illustrates the bond between the members and is definitely one of their most popular songs.
Pastel*Palettes "Shuwarin☆Drea~min'"
Hear the hook to this tune once and you'll find yourself unable to stop singing along to the chorus. With songs like "Mou Ichido Luminous (Luminous Once More)" which demonstrates the depth of this band's sounds, you'll be pleasantly surprised if you thought they were just your average "cutesy" band.


Roselia "BLACK SHOUT"
Roselia's style features a beautiful fusion of their gothic themed intros and deeply poetic lyrics. Their first album is called, "Anfang," which means "Beginning" in German. This album's songs is a great listen to prepare for any of Roselia's live performances.


Hello, Happy World! "Egao no Orchestra!" (Orchestra of Smiles)
The rhythm of this song by Hello, Happy World! will get you to start marching with a smile on your face! They also have songs like "Kimi ga Inakucha! (I Need You!)" where each member is assigned a part of the melody. Fans always manage to find something new about the playful beats of Hello, Happy World! with every listen.


RAISE A SUILEN "R・I・O・T"
RAISE A SUILEN's powerful style is revolutionizing the girl band genre and they definitely deliver songs that even people who have never heard of BanG Dream! would find to be attractive. Songs like "EXPOSE 'Burn out!!!'" even feature rap performances.
The music of BanG Dream! is being produced by Elements Garden, who produced music for other popular anime titles including "Uta no Prince-sama" and "Symphogear." You can expect all their songs to be top-notch!
From Pop Songs to All Out Rock and Roll! Introduction to the Bands of BanG Dream!
---
Which group's sounds were you most interested in? From here, we will get into introducing some details about each band and its members.
Poppin'Party


A.K.A. "PoPiPa" Like a star, this band shines bright from within. Members include Kasumi Toyama (guitar/ vocals) voiced by Aimi, Tae Hanazono (guitar) voiced by Sae Otsuka, Rimi Ushigome (bass) voiced by Rimi Nishimoto, Saya Yamabuki (drums) voiced by Ayaka Ohashi, and Arisa Ichigaya (keyboard) voiced by Ayasa Ito.
The voice actresses all perform as a band in real life. Kasumi Toyama decided to start the band after she was moved by seeing her senior's band, Glitter*Green perform. Although the band is still "rough around the edges," their fans enjoy their performances which demonstrate this band's limitless possibilities.
Afterglow

An all-girl rock band with a strong mission. Members include Ran Mitake (guitar/vocals) voiced by Ayane Sakura, Moca Aoba(guitar) voiced by Sachika Misawa, Himari Uehara (bass) voiced by Emiri Kato, Tomoe Udagawa (drums) voiced by Yoko Hikasa, and Tsugumi Hazawa (keyboard) voiced by Hisako Kanemoto.
The band members perform with great precision by utilizing their bond as childhood friends to the fullest. If you enjoy fast-paced rock tunes, then this is the band for you!
Pastel✽Palettes


A.K.A. "PasuPare." A super cute idol band. Members include Aya Maruyama (vocals) voiced by Ami Maeshima, Hina Hikawa (guitar) voiced by Ari Ozawa, Chisato Shirasagi (bass) voiced by Sumire Uesaka, Maya Yamato (drums) voiced by Ikumi Nakagami, and Eve Wakamiya (keyboard) voiced by Sawako Hata.
All the members in the group are active within the same talent management agency.
Each member brings their unique sweetness so if you are a fan of idol groups they would be perfect for you!
Roselia

Roselia is known for their deeper sounds and darker themes. Members include Yukina Minato (vocals) voiced by Aina Aiba, Sayo Hikawa (guitar) voiced by Haruka Kudo, Lisa Imai (bass) voiced by Yuki Nakashima, Ako Udagawa (drums) voiced by Megu Sakuragawa, and Rinko Shirokane (keyboard) voiced by Kanon Shizaki. Roselia's voice actresses also perform live.
Roselia's performances can only be described as flawless. Their skills are top-notch and every member demonstrates a noble spirit like a beautiful blue rose kept safe within a glass case. This band is perfect for those who enjoy gothic themes.
Hello, Happy World!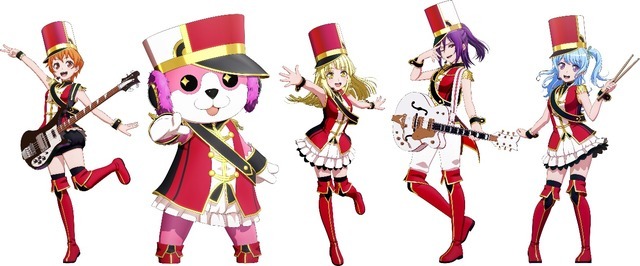 A.K.A. "HaroHapi." The band personifies a fun and merry atmosphere that is common to a circus. Members include Kokoro Tsurumaki (vocals) voiced by Miku Ito, Kaoru Seta (guitar) voiced by Azusa Tadokoro, Hagumi Kitazawa (bass) voiced by Yuri Yoshida, Kanon Matsubara (drums) voiced by Moe Toyota, and Michelle (DJ) voiced by Tomoyo Kurosawa. Having a DJ as a member is this band's unique point.
Listening to their songs may make you feel like you want to get up and join the parade with a big smile. The upbeat tunes evoke happiness and excitement as though you are at an amusement park or playing with toys from your toy box.


RAISE A SUILEN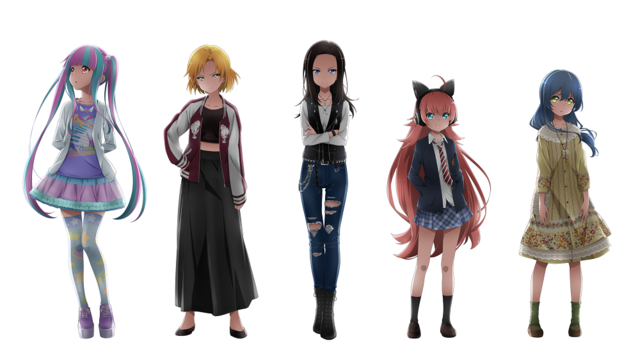 A.K.A. "RAS." This band is known for its aggressive and powerful vocal tracks. Members include LAYER (vocals) voiced by Raychell, LOCK (guitar) voiced by Riko Kohara, MASKING (drums) voiced by Natsume, PAREO (keyboard) voiced by Reo Kurachi, and CHU2 (DJ) voiced by Risa Tsumugi.
The actresses of this band also perform live. Their technical skills are top-notch. Many of their tracks feature EDM-like attributes and many female fans enjoy their cool sound! If you are a fan of music which features powerful vocal tracks or eurobeat you will enjoy this band.


Name That Anisong! The Popular Cover Songs in BanG Dream!
---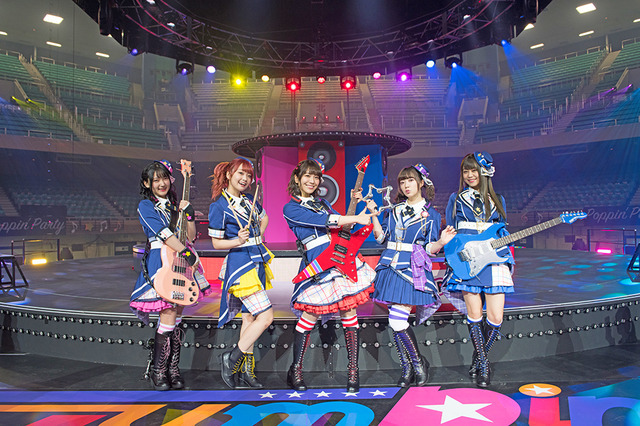 There are close to 200 tracks in "GBP" including all the cover songs, so it may be fun to start out by listening to popular anisongs or Vocaloid songs at first!
You can also begin to see each band's signature style by listening to what kind of songs they cover.
Poppin'Party
The theme of "youth" is a common theme among the songs that Poppin'Party covers with arrangements that fans are familiar with and cute vocal tracks. You can have a lot of fun listening to songs like "God knows…" and one of the most popular Vocaloid songs, "Senbonzakura," as though the members are performing these songs at your school's festival.


Afterglow
By utilizing their versatile vocal skills, Afterglow is able to cover popular songs like "Butter-Fly" and "READY STEADY GO" which were originally sung by male artists, and also popular girl band tracks like "Shunkan Sentimental." It is also interesting to see how they perform these songs live.


Roselia
With a vast array of arrangements, Roselia's repertoire is limitless when it comes to cover songs. They can even perform much more complex pieces such as "Shin Ai" and "Soul's Refrain" with a cool composure.


Hello, Happy World!
Listening to their songs will make you want to get up and dance! They will sing songs like "Taiyou Iwaku Moeyo Chaos" and "GO! GO! MANIAC" in a very playful tone.


RAISE A SUILEN
Although their cover song track list is not that expansive yet, their style is a great match for covering songs by rock bands. For example, songs like "1/3 NO JUNJOUNA KANJOU" is a great track for RAS to cover. We hope you look forward to more songs to be added to their repertoire.


All the cover songs that we have mentioned in this section can be played on the mobile game, "BanG Dream! Girls Band Party!"
You can check out all the other cover songs here:
https://bang-dream.bushimo.jp/music/


The Budokan Live: The Journey to Real Live Performances
---
As mentioned previously, Poppin'Party, Roselia, and RAISE A SUILEN have had multiple live performances.


Poppin'Party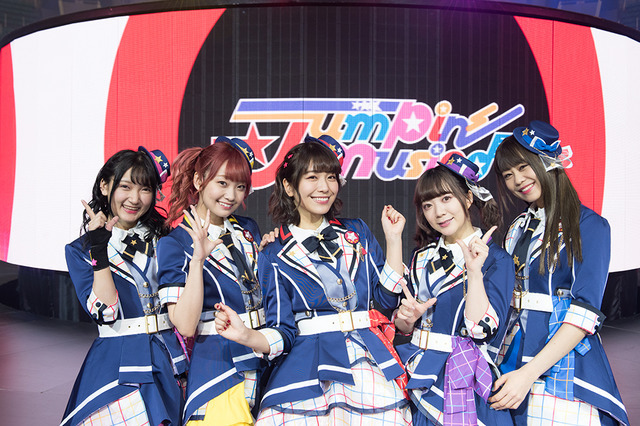 Starting from 2015, Poppin'Party has had live performances that follow the story of the band. Just like in the original story, the number of the members grew with every live performance until they reached their current size.
The quality of their performances continued to elevate as they went along, and in 2017 they held their performance in the famed Budokan arena. In 2019, they had a live battle of the bands with SILENT SIREN. The fans not only enjoy Poppin'Party's performances, but are able to witness the members' growth as they continue to progress as performers.


Roselia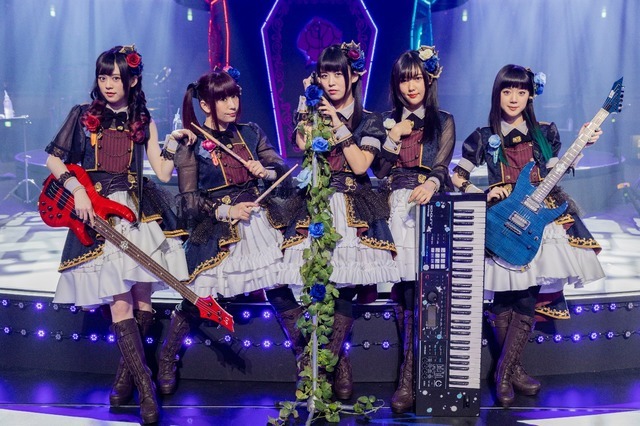 From 2017, the second band Roselia began their performance career in full swing. After their first live performance at "BanG Dream! 3rd☆LIVE Sparklin' PARTY 2017!," they continue to actively perform at music festivals and solo concerts.


RAISE A SUILEN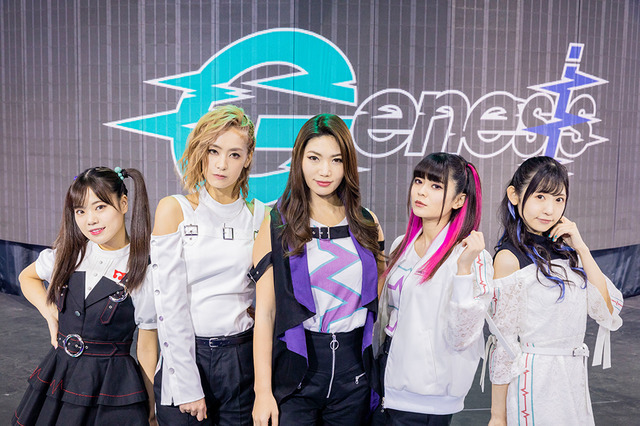 In 2018, THE THIRD was started by members who were originally part of a backup band who played at concerts featuring groups other than Poppin'Party and Roselia. In July of that same year, they were officially named RAISE A SUILEN and debuted as the third performing band.


Let's Enjoy Live Performances! Details on Future Shows
---
If you want to experience performances by BanG Dream! members, don't forget to check out some of their live performances.
CharaExpo USA 2019
At Anaheim Convention Center
December 7th at 6:00pm!
Roselia Special LIVE STAGE
December 8th at 4:15pm!
Poppin'Party Talk Show & Mini Live Acoustic Stage
December 8th at 6:00pm!
RAISE A SUILEN Special LIVE STAGE
Come Join the Fun!
Tickets: charaexpousa2019.eventbrite.com
Info: charaexpo-usa.com


BanG Dream! FILM LIVE—Experience a Live Show on the Big Screen
---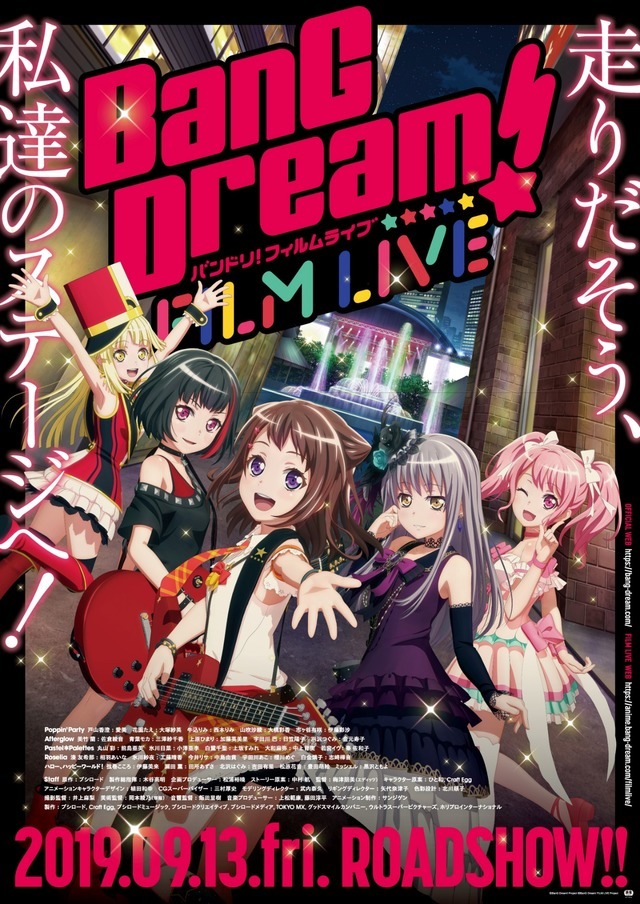 The theatrical release, BanG Dream! FILM LIVE was released in theaters in Japan in September of 2019, a full-length feature where fans could enjoy animated live performances. One thing you want to make sure to do before a live performance is to preview the songs that will be performed. Listening to the CDs or watching the anime may be a great way to do this, but the easiest way to review all of the songs is definitely by playing "GBP." All you have to do is install the app on your phone and you're ready to dive into the world of BanG Dream!
Of course, there's nothing to worry about if you are a newbie to the franchise. You can enjoy playing your favorite tunes, and there's tons of new elements of all the bands that you weren't able to experience from just watching the anime. Have you ever experienced falling in love with a song you just heard in passing at an event? Just like that, you may become a fan of a "BanG Dream!" song that you just heard. If you feel like you want to hear more, then you can always go to a live performance!
BanG Dream! Official Web Site [English]
https://en.bang-dream.com/
Download "BanG Dream! Girls Band Party!" today!
>App Store
>Google Play