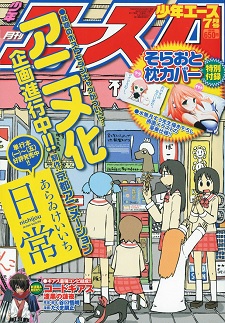 According to Shonen Ace July issue,
Arawi Keiichi
's comedy manga
Nichijou
was announced to get an anime adaptation. The production studio is Kyoto Animation.
Its game adaptation project on PSP has also been underway.
Source:
Scan of Shonen Ace
,
Scan2 (Aug 2009)
Updated on May 24th
According to Kadokawa's notice to the bookstores, the episode 0 of Nichijou anime will bundled with the volume 6 of the manga. It will be released in January 2011.
Source:
Scan of the notice

RSS Feed