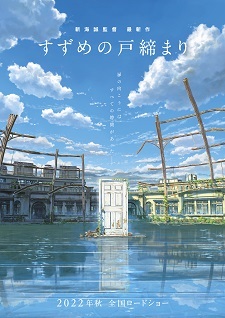 A new anime film titled
Suzume no Tojimari
(
Suzume's Locking-Up
) by
Makoto Shinkai
was announced at the director's new work press conference at the Imperial Hotel in Tokyo on Wednesday. Film production and distribution company
Toho
simultaneously opened an official website, revealing the main staff and a poster visual (pictured). The new film will open in theaters in Japan in Fall 2022.
Staff
Original Creator, Director, Script: Makoto Shinkai (
Kimi no Na wa.
,
Tenki no Ko
)
Character Design:
Masayoshi Tanaka
(
Darling in the FranXX
,
Ano Hi Mita Hana no Namae wo Bokutachi wa Mada Shiranai.
)
Animation Director:
Kenichi Tsuchiya
(
Kotonoha no Niwa
,
Hoshi wo Ou Kodomo
)
Art Director:
Takumi Tanji
(
Byousoku 5 Centimeter
,
Dareka no Manazashi
)
Production:
STORY
(
Sora no Aosa wo Shiru Hito yo
)
Studio:
CoMix Wave Films
Distribution: Toho
Synopsis
Suzume, a 17-year-old girl who lives in a quiet town in Kyushu, encounters a traveling young man who tells her "I'm looking for a door." She follows after him and discovers a weathered door in the ruins in the mountains, as if it were the only thing left standing from a collapse. As if drawn by something, Suzume reaches for the door...
Before long, doors begin to open one after another in various parts of Japan. As disasters come from the far side of the doors, the open doors must be closed.
The stars, the setting sun, and the morning sky—in that place she wandered into, there was a sky that seemingly blended all of time together. Guided by the mysterious doors, Suzume's "door-locking journey" begins.
Official site:
https://suzume-tojimari-movie.jp/
Official Twitter: @
suzume_tojimari
Source:
Comic Natalie
Suzume no Tojimari
on MAL

RSS Feed