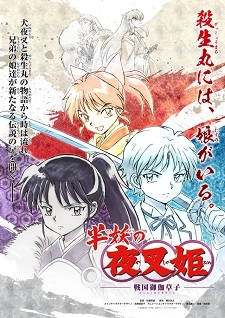 A television anime sequel to
Rumiko Takahashi
's
InuYasha
franchise was announced by Shogakukan on Saturday. The sequel,
Hanyou no Yashahime: Sengoku Otogizoushi
(
Yashahime: Princess Half-Demon
), will premiere in Fall 2020. An official website also opened, revealing a teaser visual (pictured) and production staff.
Synopsis
The daughters of Sesshomaru and Inuyasha set out on a journey transcending time!
In Feudal Japan, Half-Demon twins Towa and Setsuna are separated from each other during a forest fire. While desperately searching for her younger sister, Towa wanders into a mysterious tunnel that sends her into present-day Japan, where she is found and raised by Kagome Higurashi's brother, Sota, and his family.
Ten years later, the tunnel that connects the two eras has reopened, allowing Towa to be reunited with Setsuna, who is now a Demon Slayer working for Kohaku. But to Towa's shock, Setsuna appears to have lost all memories of her older sister.
Joined by Moroha, the daughter of Inuyasha and Kagome, the three young women travel between the two eras on an adventure to regain their missing past. (Source: VIZ Media)
Staff
Director:
Teruo Satou
(
InuYasha
(TV) episode director,
City Hunter Movie: Shinjuku Private Eyes
chief director)
Series Composition:
Katsuyuki Sumisawa
(
InuYasha: Kanketsu-hen
,
Mobile Suit Gundam: The Origin
)
Character Design:
Yoshihito Hishinuma
(
InuYasha
(TV),
Tales of the Abyss
)
Music:
Kaoru Wada
(
Princess Tutu
,
D.Gray-man
)
Studio:
Sunrise
Original creator Rumiko Takahashi will be drawing the main character designs. Publishing company
Shogakukan
, animation studio Sunrise, and broadcasting station
Yomiuri TV
are credited for production.
The original
InuYasha
manga series ran in
Weekly Shounen Sunday
from 1996 to 2008. Shogakukan published the 56th and final volume in February 2009.
Sunrise adapted the manga into a
167-episode television anime
that aired from Fall 2000–2004. A 26-episode sequel titled
InuYasha: Kanketsu-hen
(
InuYasha: The Final Act
) premiered in Fall 2009. The manga also inspired
four anime films
between 2000 and 2004 and a
special episode
in 2008.
VIZ Media published all 56 volumes in English between 1998 and 2011. The company also licensed the anime series in North America and released the first television anime in seven DVD volumes in 2008–2009 and the sequel in May 2015. The first 27 episodes are scheduled to ship on Blu-ray this July.
InuYasha
won the
47th Shogakukan Manga Award
in the Shounen division in 2001. The anime series placed second in the
24th Anime Grand Prix Award
.
Official site:
http://hanyo-yashahime.com/
Official Twitter: @
hanyo_yashahime
Source:
Mantan Web
,
VIZ Media
Hanyou no Yashahime: Sengoku Otogizoushi
on MAL

RSS Feed