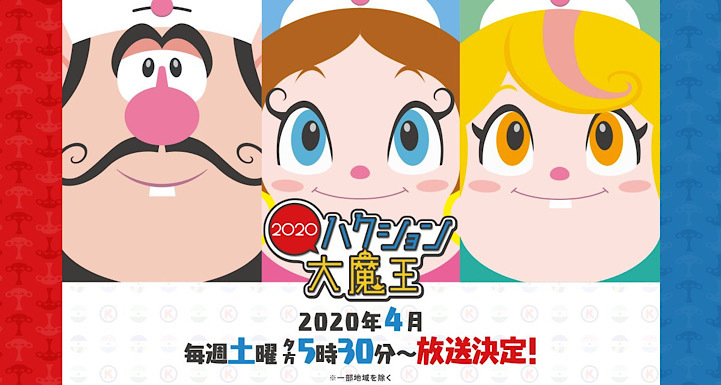 The official website of the
Hakushon Daimaou 2020
television anime announced its main cast and staff on Tuesday. A new synopsis was also revealed. The series will premiere on April 11, 2020 on Yomiuri TV and Nippon TV.
Synopsis
50 years have passed since the events of the original
Hakushon Daimaou
series. Akubi is training to become queen when she meets Kantarou Yodama, the grandson of the genie bottle's original owner, Kan-chan. Together, Akubi and Kantarou take on many jobs in the human world and learn the importance of having a dream.
Cast
Hakushon Daimaou:
Kouichi Yamadera
(
Lupin III
)
Akubi:
Sumire Morohoshi
(
Yakusoku no Neverland
)
Puuta:
Daiki Yamashita
(
Boku no Hero Academia
)
Kantarou Yodayama:
Miyuri Shimabukuro
(
Carole & Tuesday
)
Staff
Director:
Atsushi Nigorikawa
(
Renai Boukun
)
Series Composition:
Hiroko Kanesugi
(
Ore no Nounai Sentakushi ga, Gakuen Love Comedy wo Zenryoku de Jama Shiteiru
)
Original Character Design: Suzuka Yoshida (
Yobarete Tobidete Akubi-chan
)
Character Design: Shin Takemoto (
Genbanojou
),
Masatsune Noguchi
(
Kaze no You ni
animation director)
Sound Director:
Satoshi Motoyama
(
Shinsekai yori
)
Music: Takamitsu Shimazaki, Hiroshi Sasaki, Teppei Shimizu
Sound Production:
Magic Capsule
Original Work:
Tatsunoku Production
Studio: Tatsunoku Production,
Nippon Animation
Production:
YTV
, Tatsunoku Production
Hakushon Daimaou 2020
is set 50 years after the original
1969 TV anime
directed by
Hiroshi Sasagawa
and written by
Tsunehisa Itou
. The new anime was announced after the original series celebrated its 50th anniversary in 2019. Saban Entertainment licensed and dubbed the original series in English in 1992.
Source:
Comic Natalie

RSS Feed