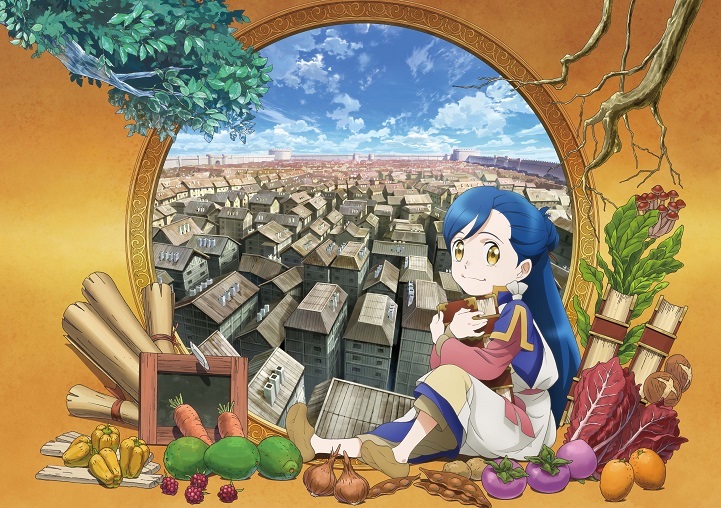 Happinet Pictures
opened an official website for a TV anime adaptation of
Miya Kazuki
and
You Shiina
's
Honzuki no Gekokujou: Shisho ni Naru Tame ni wa Shudan wo Erandeiraremasen
(
Ascendance of a Bookworm: Stop at Nothing to be a Librarian
) light novel series on Friday.
Synopsis
Motosu Urano, a book-loving college student who just got her Librarian certification and was supposed to enter the job of her dreams after graduation, was killed during a massive earthquake crushing her underneath a pile of her own massive collection of books.
Wishing for reincarnation in order to read even more, she got reincarnated to a world with a low literacy level and very few books, limited only to the nobility of the world. As she reincarnated as 5-year-old daughter of a lowly soldier, Maine, no matter how much she wants to read, there is no way there are any books around. If there are no books then what do you do? You make them yourself of course... What her goal is, to become a librarian no matter what, and to live a life surrounded by books. For starters she begins from making them. (Source: MU, edited)
Staff
Director:
Mitsuru Hongou
(
World Trigger
)
Assistant Director: Yoshiki Kawasaki (
Shuumatsu no Izetta
episode director)
Series Composition:
Mariko Kunisawa
(
Shinryaku! Ika Musume
script)
Character Design:
Yoshiaki Yanagida
(
Genshiken 2
),
Toshihisa Kaiya
(
Robotics;Notes
animation director)
Studio:
Ajia-Do
Cast
Maine:
Yuka Iguchi
(
Toaru Majutsu no Index
)
Ferdinand:
Show Hayami
(
Trigun
)
Teaser PV
Kazuki
launched
the fantasy slice of life novel on the Shousetsuka ni Narou website in September 2013 and ended it with 677 chapters in March 2017. TO Books began publishing the series with illustration by Shiina in January 2015. The 17th volume was published last December, with the 18th volume scheduled for release on Wednesday.
Honzuki no Gekokujou
has a cumulative 1 million copies of its compiled volumes in circulation.
Suzuka
's
manga adaptation
of the novel's first part launched on the
Nico Nico Seiga
website in October 2015. The seventh and last compiled volume went on sale in August 2018. The first volume of the second part is planned for an April 25 release. J-Novel Club licensed the manga for digital release this past November.
Honzuki no Gekokujou
placed fifth in the
2017
edition and consecutively first in the
2018
and
2019
editions of the Kono Light Novel ga Sugoi! rankings' Book category.
Official site:
http://booklove-anime.jp/
Official Twitter: @
anime_booklove
Source:
PR Times
Honzuki no Gekokujou: Shisho ni Naru Tame ni wa Shudan wo Erandeiraremasen
on MAL

RSS Feed