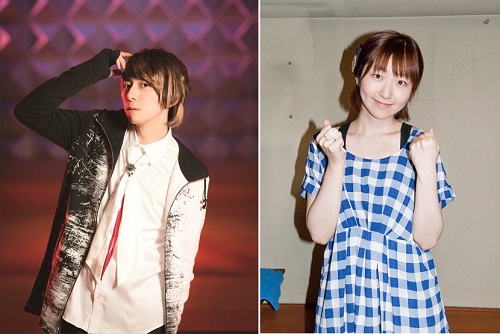 Seiyuu
Wataru Hatano
announced on his blog on Monday that he has married to fellow seiyuu and stage actress
Mai Hashimoto
. Hatano also announced that both of them will continue to improve themselves on their jobs.
Hatano has voiced Yuuta Segawa from
Papa no Iukoto wo Kikinasai!
, Murasaki from the
Hamatora
series, Lindo Tachibana from the
Dance with Devils
series, Ieyasu Tokugawa from
Sengoku☆Paradise Kiwami
, Kai Fuzuki from the
Tsukiuta.
series, Georgi Popovich from
Yuri!!! On Ice
, and more. He currently voices Mirza Kooches from
Grancrest Senki
, Gaku Yaotome from
IDOLiSH7
, Ryuuhou Danchiku from the
Yowamushi Pedal
series, Isamu Takahashi from
Seizei Ganbare! Mahou Shoujo Kurumi
, and more. His upcoming roles include the male version of Sakuyo Mikage in
Mahou Shoujo Ore
and Hikaru Matsuyama in
Captain Tsubasa (2018)
, both of which will premiere on April 2.
Hatano also made his singer debut in 2011, and performed theme songs for the
Dance with Devil
series, the
Hamatora
series, and
Yuri!!! On Ice
.
Hashimoto has voiced Chinami Ebihara from
Code-E
and
Mission-E
, Rin Kujou from the
To LOVE-Ru
series, and more.
Source:
Comic Natalie

RSS Feed