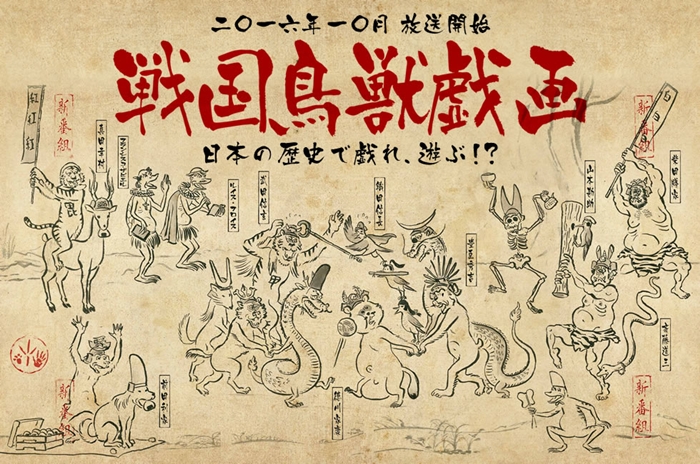 An official website for
Sengoku Choujuu Giga
(
Sengoku Wildlife Caricatures
) has opened, announcing that it will get an original TV anime for Fall 2016. It will premiere in October on KBC TV, tvk, TV Saitama, Chiba TV, and Sun TV. The voice cast members for the anime were also determined, which include
Ryouta Murai
(
Doamaiger D
), Kunio Nakamura, actors Yuuki Torigoe, Shin Nagahama, Masashi Mikami, Tomoya Ishii, and Hashinosuke Nakamura.
Sengoku Choujuu Giga
was previously adapted into a
CM
in March this year, produced by
Studio Ghibli
for
Marubeni Electrics
.
Introduction
The history, either daily life or life stories of Sengoku warriors, is described using animals. We invite popular young actors and unique casts to voice out those Sengoku warriors while joking about them. An anime that teases Japan's history and Sengoku warriors; that's "Sengoku Choujuu Giga."
Staff
Production: Takashi Sumida
Script:
Hiromu Kumamoto
(
Yami Shibai
)
Illustration Director: Nielsen
Studio:
ILCA
Planning, Production: Sengoku Choujuu Giga Production Committee
Source:
Moca News
Sengoku Choujuu Giga
on MAL

RSS Feed