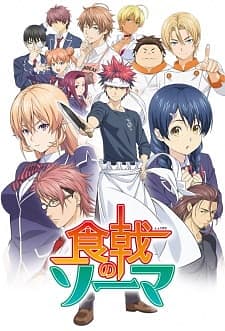 It was revealed on the cover of the second 2016 issue of Shounen Jump magazine that
Shokugeki no Souma
(
Food Wars
) will receive a second season.
Synopsis
Ever since he was a child, fifteen-year-old Souma Yukihira has helped his father by working as the sous chef in the restaurant his father runs and owns. Throughout the years, Souma developed a passion for entertaining his customers with his creative, skilled, and daring culinary creations. His dream is to someday own his family's restaurant as its head chef.
Yet when his father suddenly decides to close the restaurant to test his cooking abilities in restaurants around the world, he sends Souma to Tootsuki Culinary Academy, an elite cooking school where only 10 percent of the students graduate. The institution is famous for its "Shokugeki" or "food wars," where students face off in intense, high-stakes cooking showdowns.
As Souma and his new schoolmates struggle to survive the extreme lifestyle of Tootsuki, more and greater challenges await him, putting his years of learning under his father to the test. (Source: MAL Rewrite)
The
manga series
is drawn by
Shun Saeki
and written by
Yuuto Tsukuda
. It has been serialized since November 2012 and currently has 15 volumes publishing with the 16th volume to be released next year on January 4. Previously, the series received a 24-episode TV anime adaptation that aired from April 4 to September 26, 2015.
Source:
Yaraon
Shokugeki no Souma 2nd Season
on MAL

RSS Feed