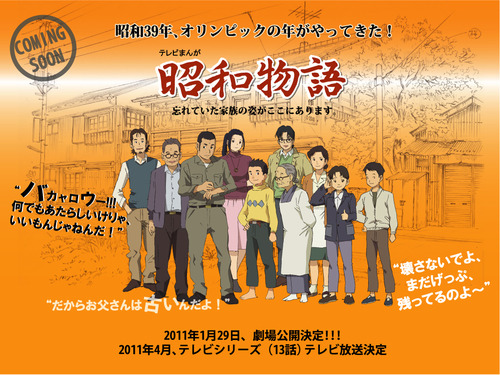 Think Corporation and
Wao World
have announced original anime movie & TV series "Showa Monogatari". The movie will be premiered on January 29th and the TV series will start next April. The target audience are elderly people in their sixties or older.
Showa Monogatari official website
In order to overcome the stagnation of the anime industry due to the declining birthrate and the isolation of the core-fan-oriented titles, the producers took four and a half years to create a slow-paced and easy-to-watch animation. It's a human drama taking place in Tokyo in 1964.
Staff
Director of the movie: Murakami Masahiro ("
8-gatsu no Symphony: Shibuya 2002-2003
")
Director of the TV series: Kugimiya Hiroshi ("
Sugar Bunnies
")
Character Design & Animation Director: Yanagino Tatsuo ("
First Kiss Monogatari
")
Production Studio:
Wao World
Cast
Matsumoto Yasunori
Fukuen Misato
Takagi Wataru
Tsukada Masaaki
Yoshino Hiroyuki
Kyouda Hisako
Tamagawa Sakiko
Aoki Makoto
Source:
Think Corp.

RSS Feed