Hungry For More Anime Like Toradora! ?
---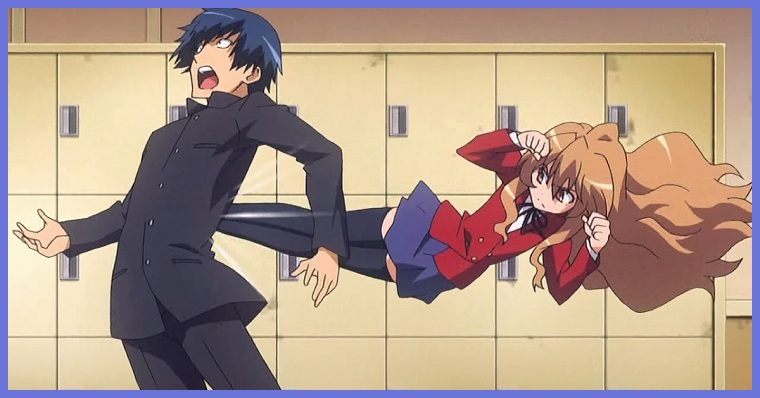 Toradora! is by far one of the best romantic comedy anime out there. The writers successfully let the comedy dwindle out to make way for some serious pulls at the viewers' heartstrings while keeping the characters real, honest, complex, and original.
Although I personally think it is unique in its own way, here is a list of recommendations of other anime like Toradora!
---
---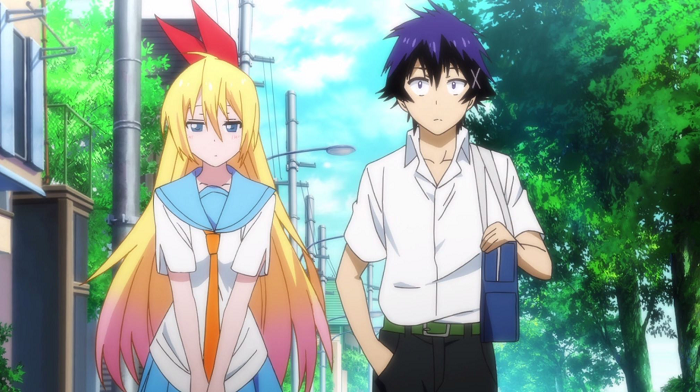 Why it's Similar:
Being able to relate to one another softens their hearts. The concept is similar in Toradora!. Raku and Chitoge have a very confrontational relationship, constantly fighting and bullying one another until they realize they have much more in common than they thought.


Plot Summary:
As heirs to two rival Yakuza gangs, two high school students are begrudgingly forced into a relationship and try their best to keep up the facade for the sake of holding the peace between their respectful gangs.


Why you should watch it:
If you're into the harem genre, looking for good visual design, and don't mind the regular rom-com clichés, this a great series to keep things light and entertaining.
---
---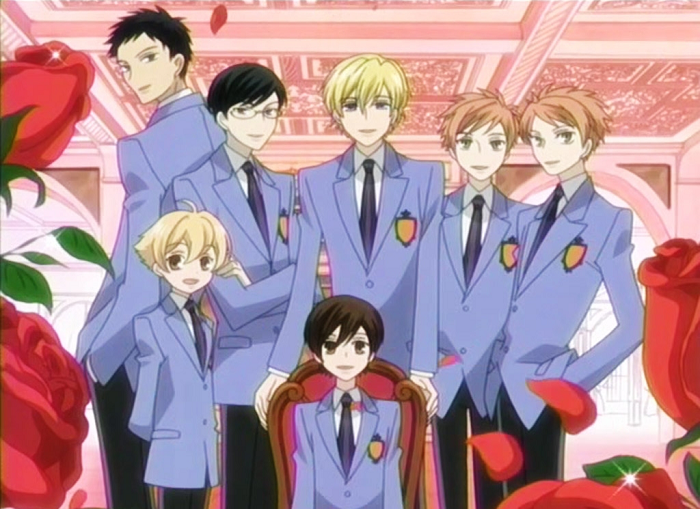 Why it's Similar:
Our male protagonist, Tamaki, has strong feelings for Haruhi but defines them as a father's love for a daughter. He takes it upon himself to take care of her, guide her, and defend her throughout the series slowly realizing that there might be more to it than he thought.


Plot Summary:
Regular student Haruhi enrolls into an elite high school. After she breaks the vase of the prestigious school's host club designed to entertain all girls, Haruhi has to pay off her debt by working as a host, a male host. And from this very quirky story line, the plot thickens.


Why you should watch it:
Unique shoujo in the fact that its heroine isn't bubbly and loud. She's calm and collected, always level headed but in contrast, the rest of the Host Club members are vibrant and challenge her at every turn. Great combination of characters and a very original plot.
---
---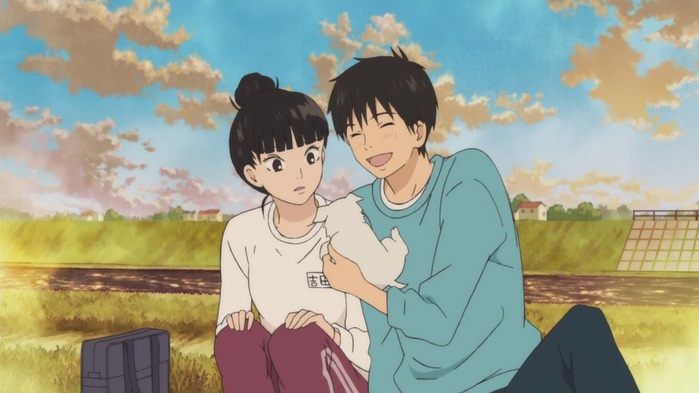 Why it's Similar:
"Never judge a book by it's cover", they say. And that's precisely the theme that threads Toradora! to Kimi ni Todoke. She's shy, introverted, and misunderstood. She yearns to make friends, but her appearance, like Ryuji's, is a big obstacle.


Plot Summary:
Because of her scary resemblance to the character from "The Ring", Sawako, nicknamed "Sadako" by her peers, has difficulty making friends despite her kind personality. Eventually, she finds her place within a new group of friends when one of the most popular boys in school persistently tries to become her friend.


Why you should watch it:
This is an adorable series with great visuals and soundtrack. Watching Sawako's personality evolve is tremendously satisfying and watching their innocent love blossom requires a whole lot of tissues.
---
---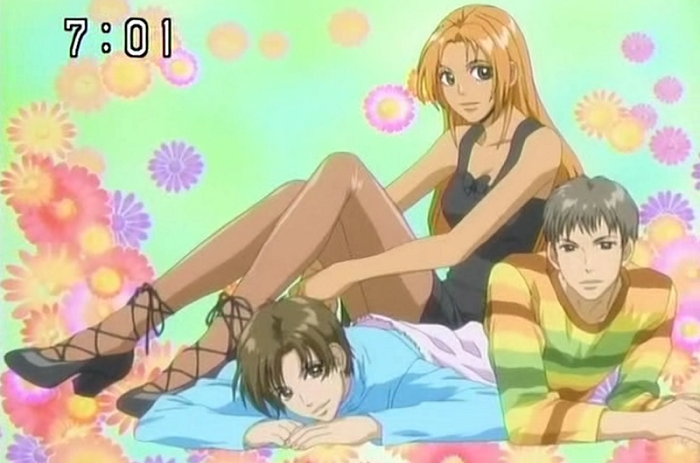 Why it's Similar:
There's a strong love triangle between Momo, Kairi, and Touji that reminds us a bit of the love triangle between Taiga, Minori, and Ryuji. One of the two draws out all aspects of her personality in ways that the other just can't.


Plot Summary:
Young Momo falls for handsome, perfect boy, and first crush, Touji in high school. But things get complicated when the requited duo turns into a trio. Her first instinct is to fight off Kairi Okayasu, but eventually, her emotions take the better of her


Why you should watch it:
If there's a checklist of requirements to successfully categorize a series as shoujo, Peach Girl meets each and every one of them. Sometimes, that's just what we're looking for. The strong themes drive the drama forward, the tears out, and in rare moments make your heart swell up.
---
---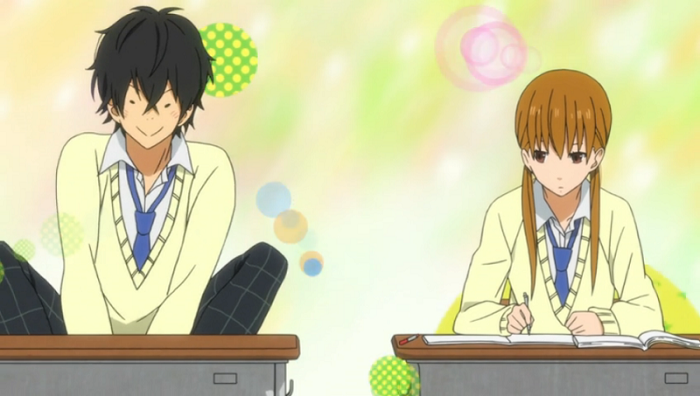 Why it's Similar:
Extremely different personalities, yet, somehow, they compliment one another. Haru's rage is caged by Shizuku's presence. He quickly learns to quiet his violent urges when he's around her, proving that she means all the more to him than satisfying his thirst for a fist fight.


Plot Summary:
Hard working, academic driven Shizuku Mizutani is thrown into a whirlwind when bad boy Haru Yoshida who has an affinity for violence and rage pushes his way into her life. They inadvertently help one another figure out how to balance emotions, school and social life.


Why you should watch it:
This is a romantic comedy that can appeal to an audience of all types because of two characters with opposing extremes that, when combined, balance each other out down to a T. And to top it all off, there's a great combination of animation styles.
---
---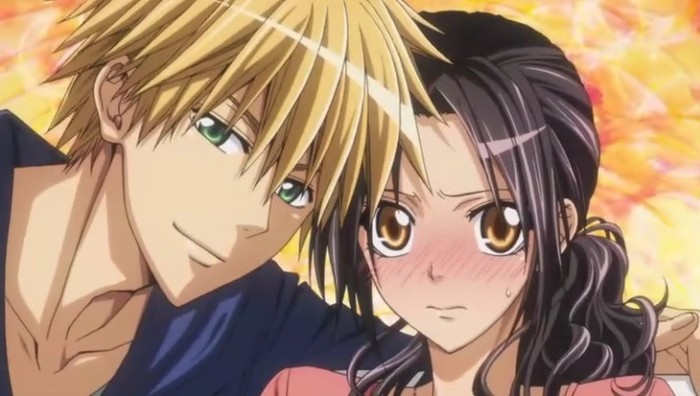 Why it's Similar:
Their relationship starts off on the wrong side. Misaki is strict and one-sidedly against Usui, often reacting to his charms in a not-so-cute manner. But his actions eventually sway her feelings, mostly because she realizes how much energy he invests in looking after her.


Plot Summary:
Misaki is the first female student council president of her high school which only recently went from being an all boys school to a co-ed school. Things can't get rougher, right? Until the known playboy of the school, Takumi Usui, finds out she works part-time in a maid cafe.


Why you should watch it:
The soundtrack and animation combination in this series is much like Toradora!'s. They do a great job of creating a comedic world where the characters can live out their high school romance. And an extra bonus, the whole concept of blackmail keeps things exciting throughout the series.
---
---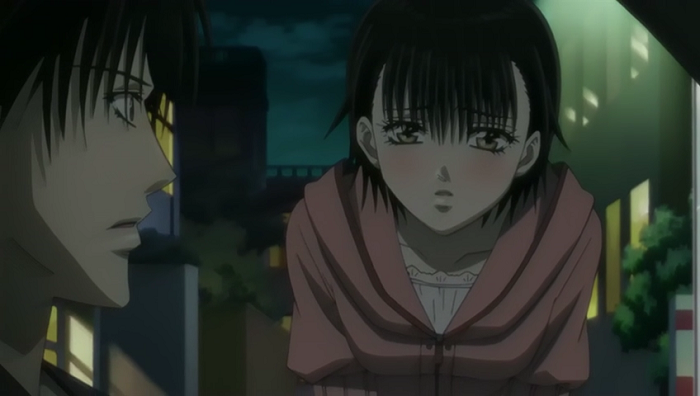 Why it's Similar:
Skip Beat! might be the closest in kind to Toradora! in the fact that it works around the regular tropes of the shoujo genre. Kyouko and Tsuruga define their feelings towards each other as "respect" but eventually they innocently realize that there's more to it than the affections of a kōhai towards her senpai.


Plot Summary:
Young high school drop out Kyouko Mogami unexpectedly gets her heart broken by her childhood love, Shoutarou, leaving her with a cold and vengeful heart. She's determined to destroy his career and she stubbornly enters the entertainment industry, not without obstacles, with the goal of crushing the man who treated her like dirt.


Why you should watch it:
It wouldn't be a surprise if Kyouko's character was the only character in the show. Her interior thoughts are hilarious and her acting is fierce. Watch out Sho 'cause she's a force to be reckoned with! It's also extremely refreshing because it's set in an environment much different than high school.
---
---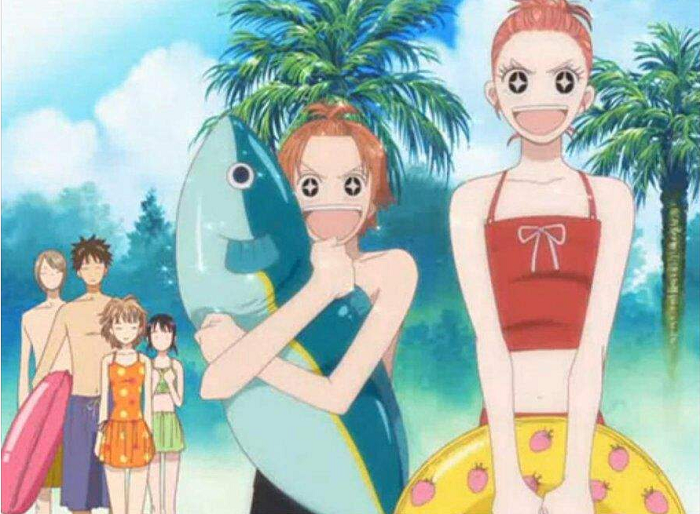 Why it's Similar:
This is an anime like Toradora! because of the motive behind the female and male leads' relationship which resembles an old bickering couple. They're both crushing on each other's respective friends and promise to help one another begin a relationship with them. From there, things develop similarly to how Taiga and Ryuji's relationship does in Toradora!.


Plot Summary:
Lovely Complex tells the story of Risa, a young teenage girl looking for her high school love and Ootani, a high school boy looking for the same. But there's one thing Risa has over her female peers and her rival Ootani: she's extremely tall, 172 cm to be exact and he can't help but be 152 cm short.


Why you should watch it:
A great anime because it often draws from real life to inspire hilarious dialogue and situations. If you've had a tall or short complex, this is probably an anime you could relate to, as well as other reasons like the awkward moment you meet your ex while standing next to your current crush.
---
---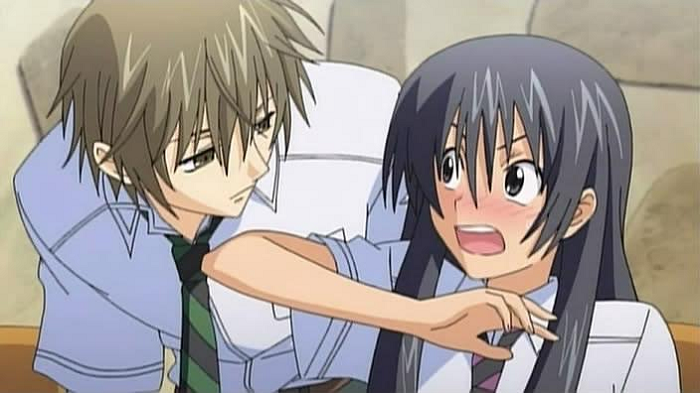 Why it's Similar:
The sizzle between these two starts off slow. Kei has had longtime feelings towards Hikari but she's slow to catch on. Her focus is so deep in taking the throne from Kei that she often neglects the way he feels for her.


Plot Summary:
The S.A. is a special class designed for the top 7 students of Hakusenkan academy, an elite high school. Hikari and Kei are at the top of the class, Hikari always remaining in second place. Their friendship, rivalry, and love evolve as she tries to make her way to first place.


Why you should watch it:
A romantic comedy that doesn't take into consideration any laws of physics. There's something to be said about never getting used to how the random competitions in this series literally reach insurmountable heights.
---
---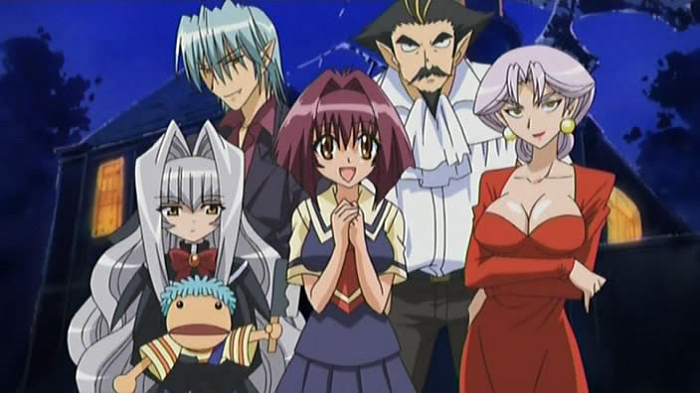 Why it's Similar:
If there was an "intense stare contest" Kenta's, our male protagonist, would be on par with Ryuuji's. That aside, Karin and Kenta's relationship has its obstacles (family, friends, foes etc.) regardless of how they feel for one another.


Plot Summary:
Karin is a rare breed of vampire. Unlike her family and her fellow species, she produces blood and suffers from exaggerated nosebleeds. The only way to overcome this excess of blood she produces is to bite into someone and force the excess into their blood stream, causing them to feel extreme feelings of happiness.


Why you should watch it:
The supernatural elements don't hurt the romantic comedy genre. It actually makes things a little funnier and a little more entertaining, especially when it comes to a family of vampires all with their own set of quirky supernatural abilities.
---
---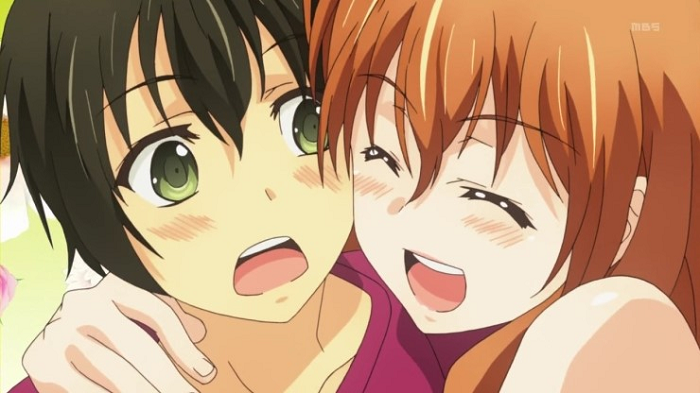 Why it's Similar:
The reason Toradora! is such a memorable rom-com is because it has the perfect blend of themes, music, and animation style to play on the audience's feelings. The same can be said about Golden Time. Although Koko shows up with a blatant infatuation for Mistuo, her feelings later drive her to fall for Banri.


Plot Summary:
Tada Banri starts off his college years on the wrong foot, showing up late for his entrance ceremony and getting lost on his way to his faculty building. But things take an interesting turn after he meets Mitsuo, Mitsuo's childhood friend Koko, and Linda - an upperclassman.


Why you should watch it:
The show is directed towards a slightly more mature audience, however, that doesn't mean that things are less captivating. There's a twist around every corner: as in the appearance Banri's Spirit, an entity that exists due to his accident, or, the cameo appearance of a twisted version of Nana.
---
---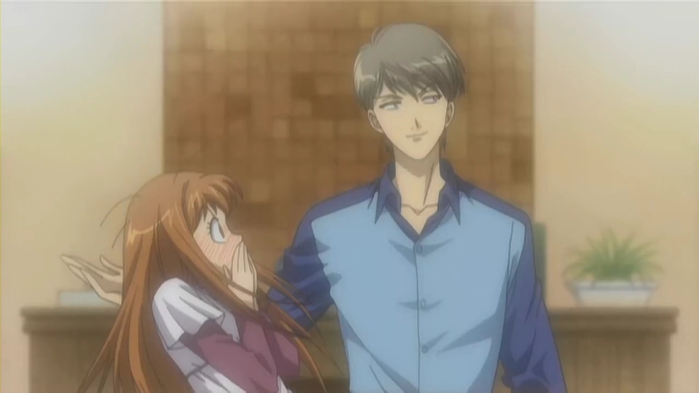 Why it's Similar:
Kotoko's and Irie's love story starts off rough. She's loud, bubbly and at times quite innocent. He's studious, handsome and aspires to become a doctor. Although they have extremely different backgrounds and personalities, their differences become the middle ground that bridges them together.


Plot Summary:
Kotoko's bad luck starts when she decides to confess her love to her long time crush Naoki Irie. Not only does she get her heart broken but shortly afterwards, finds out that an earthquake destroyed her and her father's house. They're forced to move into her father's friends home whose son is Naoki.


Why you should watch it:
It finally gives an anime relationship the length and attention it deserves. We all know that Toradora! leaves us wanting more, but in Itazura na Kiss, there couldn't be more to give. So we'll just leave it to you to decide whether or not it was worth the watch.