---
Fairy Tail Characters Ranked by Strength
---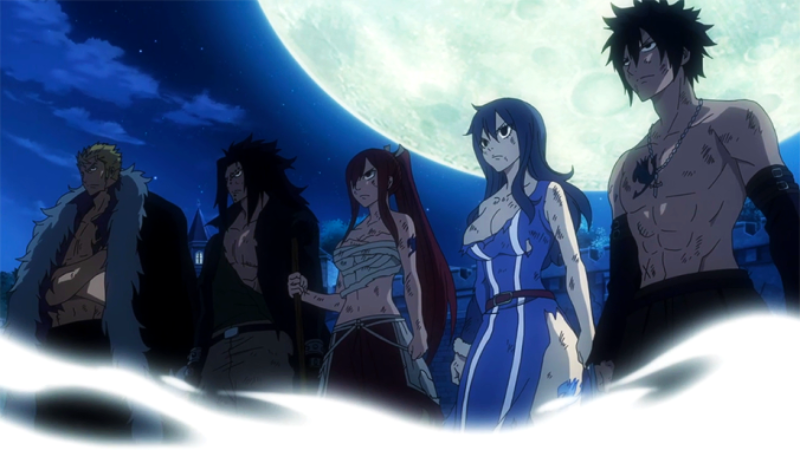 When Hiro Mashima sat down to pen the Fairy Tail manga, he probably didn't expect the overwhelming success the series would enjoy. Or maybe he did! After all, this is the same mangaka who created the well-received Groove Adventure Rave series.
So why is Fairy Tail such a massive hit? The reasons are many, but it doesn't take a rocket scientist to figure out that its roster of cool characters play a major role in its widespread appeal. And just like other popular shonen series such as One Piece, Naruto and Dragon Ball, we're introduced to some incredibly powerful characters that keep us in awe.
Let's take a peek at some of the strongest Fairy Tail characters!


---
---
Age:
Unknown


Skills:
He's usually got a big smirk on his face, and is incredibly arrogant. But then again, what else would you expect from an Etherious demon?!
So is Mard Geer's pompous attitude warranted? Well, I don't think anyone would enjoy getting caught up in his Thorn Curse attack, which generates an array of rose vines beset with thorns. Ouch!
And if that doesn't engulf his foe, then he'll use his Curse Power to create a Rose Explosion which causes massive damage. Memento Mori is his most powerful curse which engulfs his adversary with a dark mist and then unleashes a beam of dark spirits. Mard Geer is also well-versed in unarmed combat and telepathy.


Quote:
"If this is the best you can muster, I advise you all give up now. Mard Geer has yet to even try."


---
---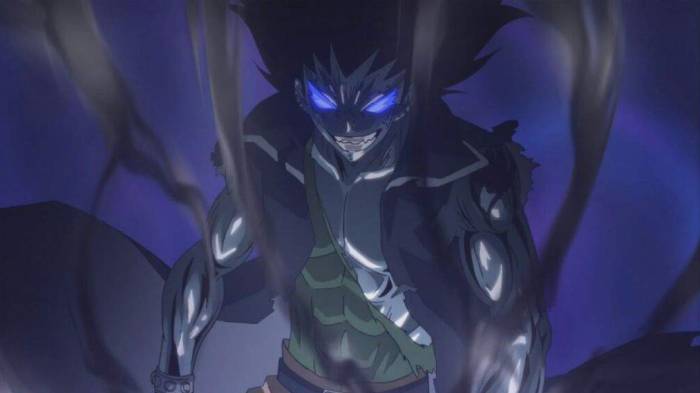 Age:
Unknown


Skills:
Gajeel is tall and muscular, and easily identifiable by his long and spiky mane of hair. And it's easy to figure out why he's one of the strongest Fairy Tail characters, when you realize that he's got an incredibly wide skill set.
His Iron Dragon Slayer Magic allows him to manipulate iron, and even eat it to recover strength. And he's also able to change parts of his body into steel, and execute impressive attacks and transformations such as the Iron Dragon's Roar, Scales, Club, Lance, Sword, Kunai, Hard Fist, Foot Blade, Pickaxe and Shovel.
His skills stretch further into the Dragon Slayer's Secret Art and Iron Shadow Dragon Mode, which unleash powerful magical and shadow abilities. And then, there's his Dragon Force ability which enhances his strength, speed and stamina while his face is covered in black iron scales and body in a black hue.


Quote:
"Don't get too full of yourselves, you punks. Don't look down on Fairy Tail!"


---
---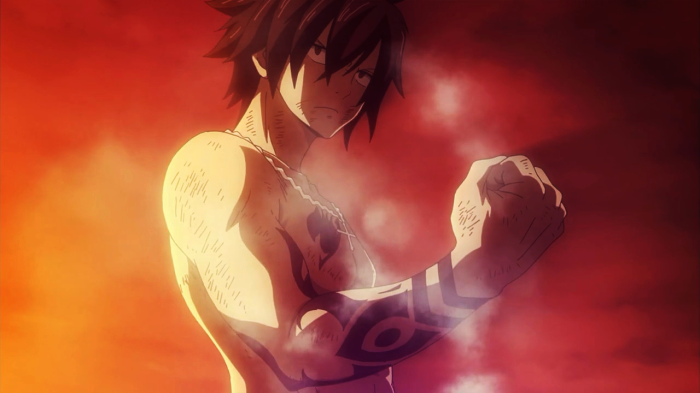 Age:
18


Skills:
Gray Fullbuster is a mage in the Fairy Tail guild, who specializes in a wide array of ice magic. His Ice-Make magic ability is incredibly handy, as it allows him to mold ice into a variety of objects. He utilizes this ability to create swords, arrows, lances, battle axes, cannons...the list goes on.
His Ice Devil Slayer Magic gives him dominion over the element of ice, while allowing him to execute a variety of destructive ice magic attacks. Grey also managed to execute the Unison Raid, which unleashed a string of water and ice needless when he combined his power with Juvia.


Quote:
"I'll do what I want till the end."


---
---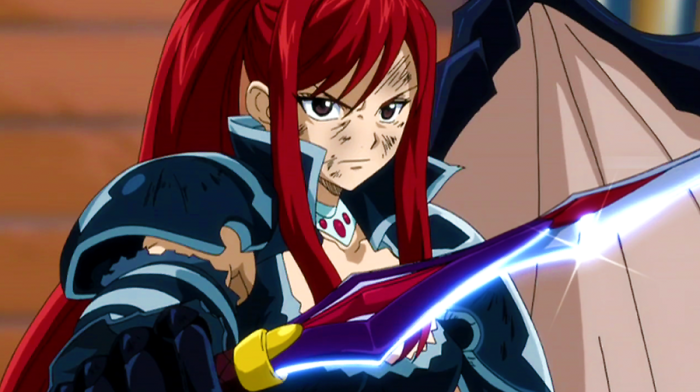 Age:
19


Skills:
Erza Scarlet is an incredibly formidable and tough S-Class Mage of the Fairy Tail Guild. She owns an extraordinary amount of armor and weapons, which she showcases throughout the series.
Her 'Requip: The Knight Magic' ability allows her to swap her clothes, armor and weapons on the fly. She also possesses expert swordsmanship skills, and is able to execute a variety of Sword Magic attacks. And when swords no longer cut it, she's also an accomplished archer who always hits her mark!
Erza's also incredibly smart and is well-versed in all the intricacies of the Magic world. One can truly appreciate how sharp she is in battle, and how darn quick her reflexes are.


Quote:
"Hurt me with the truth. But, never comfort me with a lie."


---
---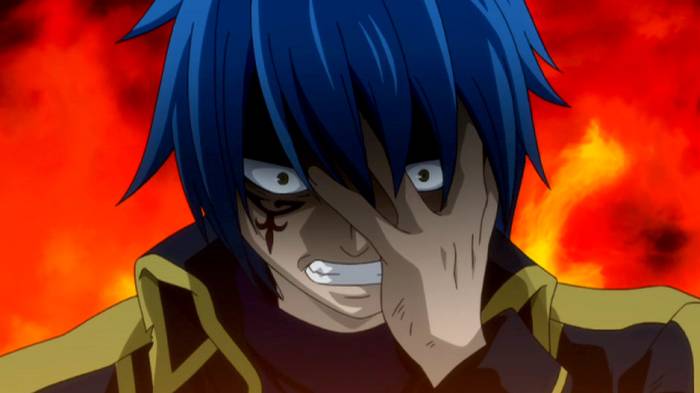 Age:
Unknown


Skills:
Nowadays he's an independent mage, however, Jellal's background as a Dark Mage and Wizard Saint gives us an idea of how his skill-set is orientated.
His magical skills are vast and varied; he's able to conjure up Earth, Wind, Fire and Water Magic. And then he's got an array of cataclysmic Darkness Magic attacks. One of his most impressive and destructive magic abilities is 'True Heavenly Body Magic: Sema', in which he's able to create a swirling cyclone from the clouds above and an enormous meteor, descends from its center point.
Jellal is proficient in hand-to-hand combat and a skilled swordsman. He's also capable of Thought Projection and Telekinesis making him a near-impregnable opponent in battle.


Quote:
"This is my sin for giving in to my own weaknesses. My heart just couldn't keep up with the gigantic gap between dreams and reality."


---
---
Age:
23


Skills:
Laxus Dreyar is muscular with blonde spiky hair and a dramatic-looking lightning bolt scar on his right eye. Nope, he's not emulating David Bowie but he certainly has presence. And that scar clues one in that Laxus specializes in Lightning and Thunder Magic.
His 'Lightning Dragon Slayer Magic' is incredibly destructive, while his 'Raging Bolt' sends a bolt of lightning at his foes. However, one of his most impressive abilities is his 'Lightning Dragon's Breakdown Fist' which fires an electrically-charge oversized variant of his fist!
And similarly to other S-Class Mages of the Fairy Tail Guild, Laxus is multi-talented. He's capable of Thought Projection, Fairy Law, Organic Link Magic and Jutsu Shiki – a barrier which he uses to nullify the effects of the Magical Barrier Particles which have infected him.


Quote:
"If this is the end for us, then here, take my hand, cause I'll be there by your side to the very end."


---
---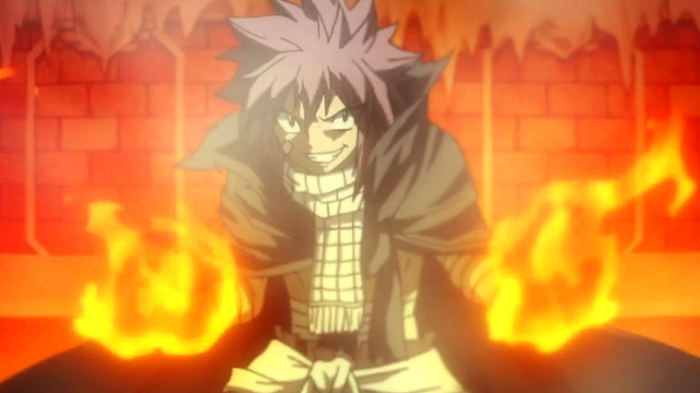 Age:
Unknown


Skills:
Natsu is average in size, but stands out due to his spiky pink hair. And even though he looks a bit diminutive when compare to other Fairy Tail Guild mages, he still ranks as one of the strongest Fairy Tail characters!
His Fire Dragon Slayer Magic makes him fearsome in battle. He can execute it in a number of ways, and flames can emerge from any part of his body. Furthermore, Natsu is also able to eat flames and is also immune to the majority of fire-based attacks.
One of his most powerful abilities is his Phoenix Blade. By igniting his entire body, and then charging towards his opponent, he is capable of delivering a destructive piercing attack. Apart from these magical attacks, Natsu has immense physical strength and an enhanced hearing and smelling ability.


Quote:
"If you don't have the courage to change things then you might as well die!!!"


---
---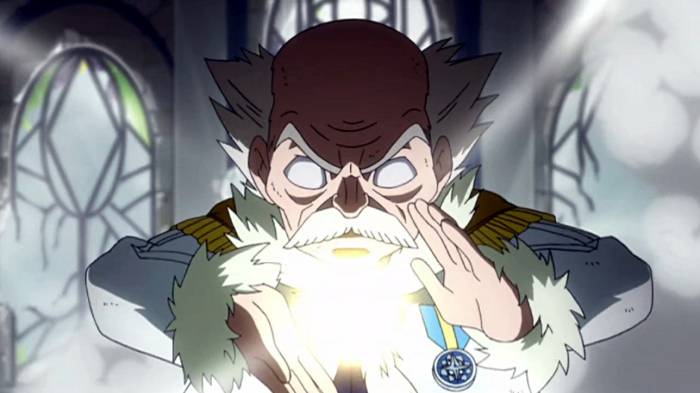 Age:
88


Skills:
Can an octogenarian even qualify as one of the strongest Fairy Tail characters? In Makarov Dreyar's case, then yeah, most definitely!
Makarov is one of the Ten Wizard Saints and Guild Master of the Fairy Tail Guild. His short stature and advanced age don't hold him back from being formidable in battle. He's able to transform into a scary-looking giant, even to the point where he's towering over Tenrou Island after he casts his Giant Magic.
He's such an accomplished and versatile mage that he's able to cast Fire, Wind, Ice, Light and Fairy Law Magic. And he's capable of putting up strong defenses against his rivals by casting his Magical Defense Seal. He's also able to fly and pull off some impressive acrobatics and somersaults.


Quote:
"Even if I can't see you...no matter how far away you may be...I will always be watching you."


---
---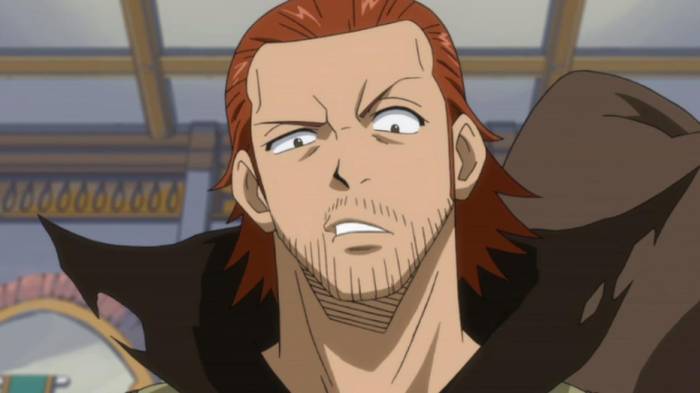 Age:
45


Skills:
Gildarts Clive is a Fairy Tail Guild S-Class Mage. He has a prosthetic arm and leg, but still possesses some incredible hand-to-hand combat techniques. More so, his physical strength, endurance and durability are tremendous which make him a tough combatant to contend with.
But Gildarts doesn't rely solely on his physical abilities. He's able to cast Crash, a powerful magical attack which can crush everything in its path including rival magic attacks. And his Magic Power is of such a high-level, that it takes the form of a white aura around him.


Quote:
"Fear is not evil. It tells you what your weakness is. And once you know your weakness, you can become stronger as well as kinder."


---
---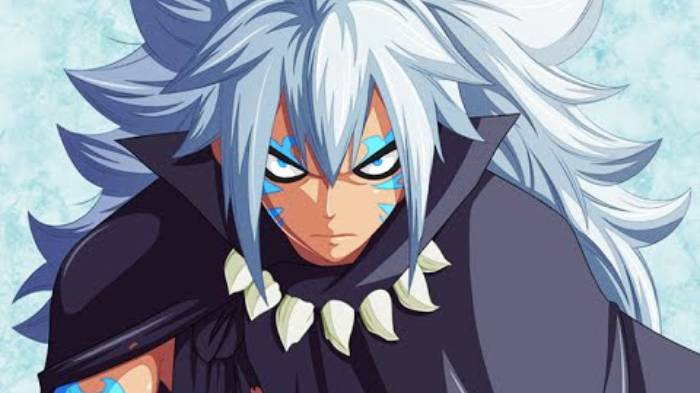 Age:
400+


Skills:
He prefers to take the form of a human, but Acnologia can also shape-shift into a fearsome Black Dragon! Quite ironic really, considering that he was one of the first Dragon Slayers.
His expertise at annihilating dragons is taken to the next level with his Dragon Slayer Magic, in which he reaps the souls of dragons. And his Dragon's Roar unleashes a ginormous breath attack which is tied to an element of Acnologia's choosing.
When Acnologia is in his Black Dragon form, his strength is immense and he can fly. But even in his human form he's physically strong, and his magic powers are awe-worthy.


Quote:
"I recognize you as my enemy, Dragon. And I shall slay you."


---
---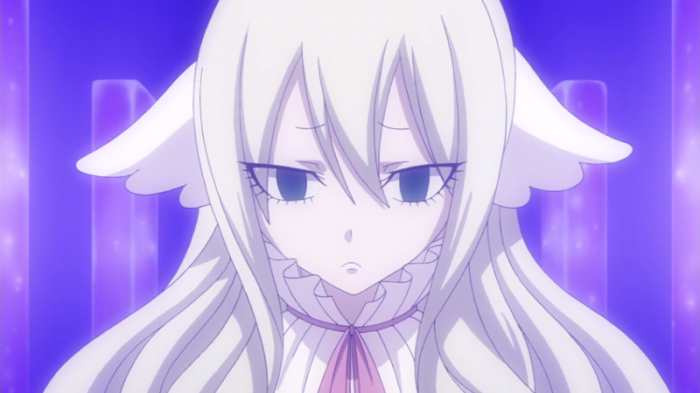 Age:
13 (biologically)
118 (chronologically)


Skills:
Mavis Vermilion co-founded the Fairy Tail Guild and is also the first Guild Master. Since she's comatose, she communicates via Thought Projection to other guild members.
She's an excellent tactician, and her analysis of situations is so accurate that it can seem as if she can see the future. On top of this, she can project some scary illusions that take the form of beasts by utilizing her Illusion Magic. Mavis can also gather and concentrate the light from the sun, moon and stairs by casting her Fairy Glitter spell. As if that wasn't enough, she can also fly, walk on water and communicate with others nearby telepathically.


Quote:
"There is a wall that can't be destroyed with just power. However, there is a type of power that can destroy that wall. The Power of Feelings."


---
---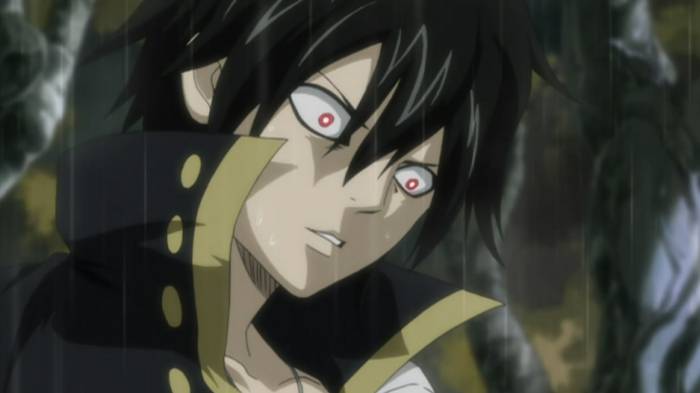 Age:
400+


Skills:
Zeref is quite enigmatic. On one hand he's perceived as an incredibly evil mage. Yet, he's emotionally conflicted and even shows care and concern for those around him. In any case, he's definitely the strongest of all Fairy Tail characters – bar none!
He's a master of Dark Magic, Living Magic and the Black Arts. Even at a young age, he managed to bring demonic entities to life. But it's his Ankhseram Black Magic that will cause his foes to break into cold sweats, as they realize how uncontrollable and deadly it is.
Another powerful ability is his Immobilization Magic, which allows him to freeze time. He's also able to use Fire Magic, demonstrating his versatility as a mage. And if you're wondering why he looks so young for someone that's over 400 years old, well, that's because he attained immortality by being cursed by the God Ankhseram. No anti-aging creams and supplements can beat that!


Quote:
"If this world continues to reject me, then I shall reject the world."


---
Honorable Mentions
---


Can't get enough of the strongest Fairy Tail Characters. Fret not! Here are a few more badasses who give no quarter in battle!


---
---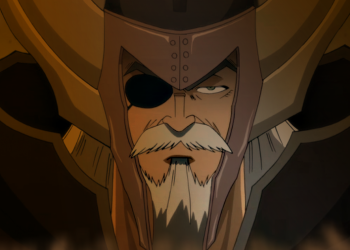 As one of the former founders of the Fairy Tail Guild, and then moving on to establish the Grimoire Heart Guild - Hades possesses a slew of magical powers.

He tends to keep his Demon Eye covered, but when he activates it powerful Eye Magic is unleashed!
---
---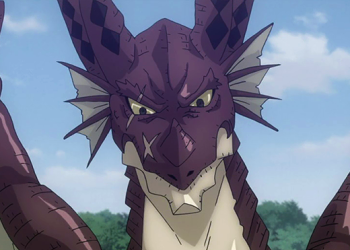 Igneel is a ferocious Fire Dragon King. And if that hasn't got you on edge already, then his Fire Dragon Slayer Magic where he shoots out large breaths of fire will have you running for cover!
---
---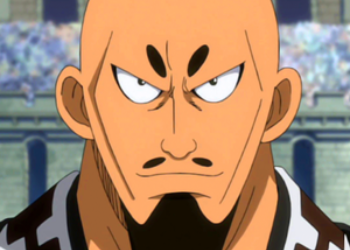 Jura is an Earth Magic user and one of the Ten Wizard Saints. He doesn't hesitate to challenge the strongest Fairy Tail characters in duels; showcasing his immense strength and magic abilities.
---
---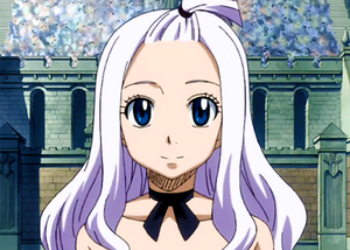 While Mirajane may seem sweet and harmless, she possesses some incredible powers.

Take her Satan Soul spell as an example, which allows her to seize the appearances and abilities of demons. And each Satan Soul form comes with its own assemblage of magical and physical attributes.
---