All the Racing Anime You'll Ever Need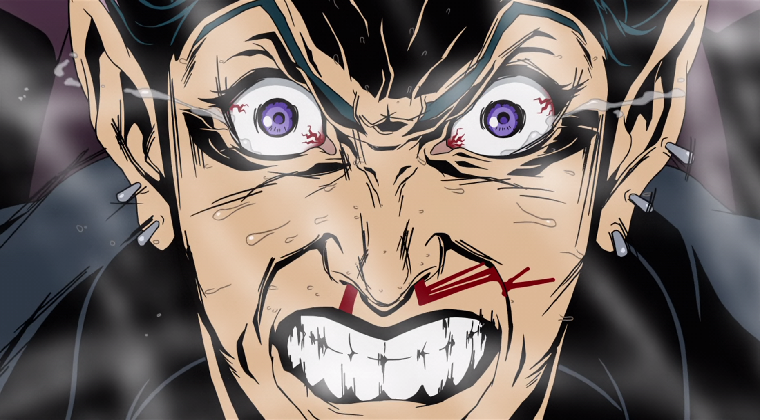 Amid the flurry and popularity of sports anime, racing anime's always been there as the genre's less noticeable, yet just as passionate cousin. Be they in mecha suits, cars or bicycles , there's nothing quite as adrenaline filled as urging a favored character across the finish line. It really helps when there's good animation behind the action to properly relay the intense speeds these racers travel at, but hey, even without the eye candy, races are still intense to watch.
Below is a compilation of nearly all racing anime ever made, old and new. Race on.
---
---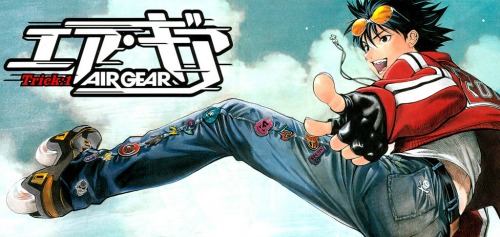 A young man finds himself living a dream when he obtains a pair of Air-Techs, next-gen roller skates. His dream is to make it to the top and become the 'King', but plenty of opponents stand between him and the title.
---
---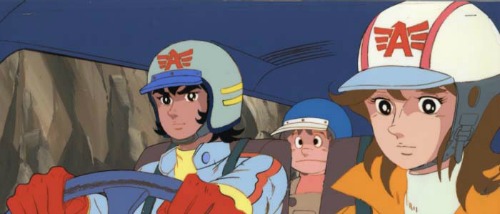 With dreams of becoming a great racer, Takaya constructs his own race car. However, inexperience leads to disaster and while he escapes injury, his car is destroyed. The incident proves fortuitous when Takaya is approached by a mysterious driver offering to help Takaya with his destiny.
---
---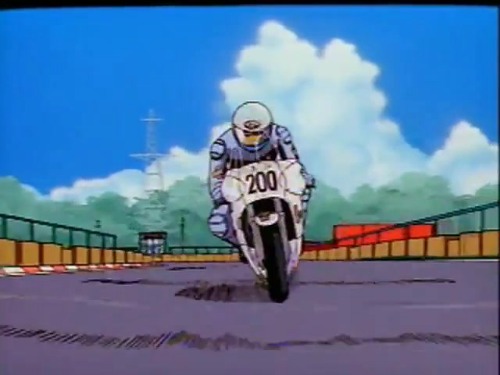 This OVA follows the trials of a motorcycle racer.
---
---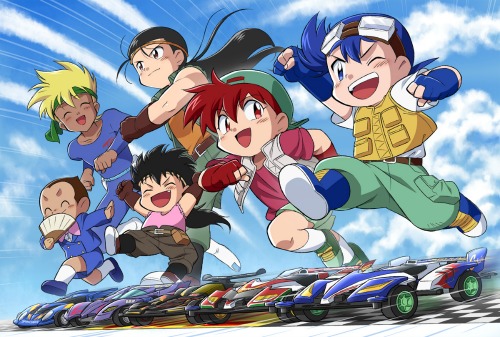 Retsu and Go Seiba receive racing cars called Mini 4WD and take up the goal of winning the Japan Cup.
---
---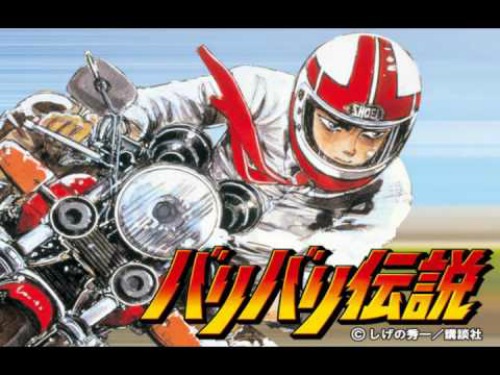 Bari Bari Densetsu features four teenage motorcycle racers as they aim for the top.
---
---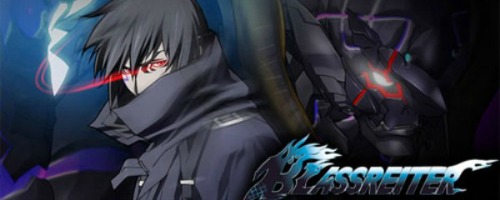 Science fiction meets racing when mindless, biomechanical creatures called Demoniacs hold modern Germany under siege. A Xenogenesis Assault Team (XAT) is dispatched to address the problem. However, life takes a bizarre turn when humans begin to display Demoniac abilities.
---
---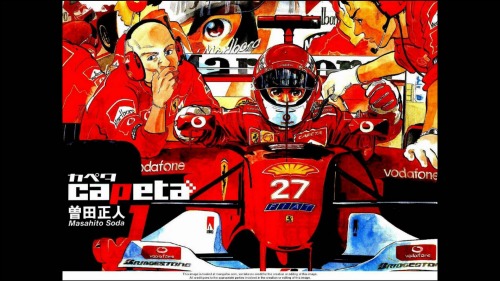 An ingenuitive 4th grade boy restores an old junked racing cart and puts it to the test in actual races. He'll prove he's the best, even without the 'newest and best' model.
---
---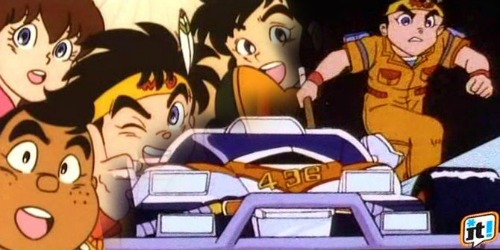 A series of races for minor titles paves the path to the title of Emperor. Racers put everything on the line to compete for this ultimate position.
---
---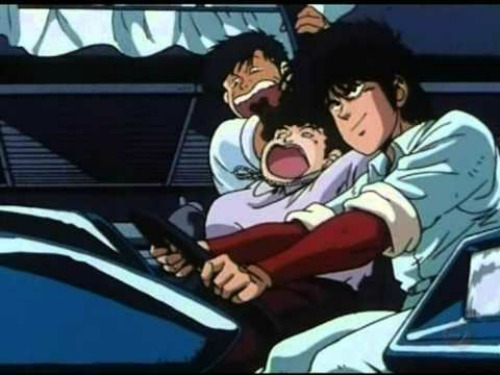 Akagi, a 'country' boy, moves to the city to pursue his dreams of racing a Formula One car. Good thing for him, he seems imbued with a bit of natural talent.
---
---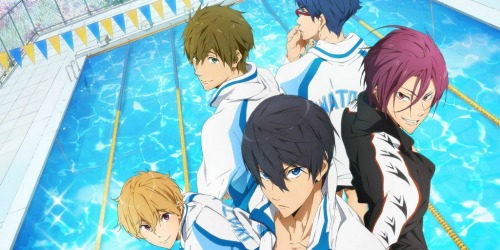 A group of teenagers, reeling with nostalgia, drag together a swim club in high school. After meeting an old friend and rival, their little swim club ventures into competitions.
---
---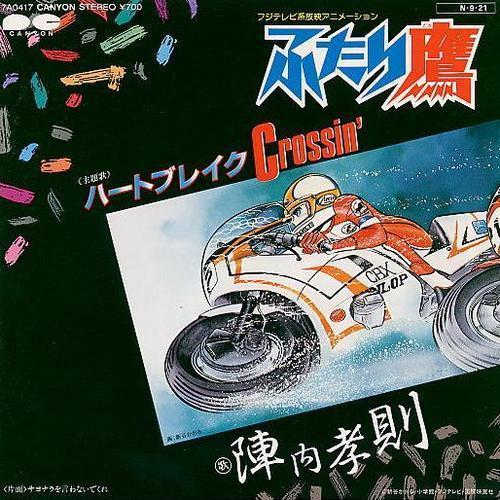 Two young men that share names meet on a race track, after almost killing each other in a motorcycle race they become rivals. However, the two quickly discover that a passion for racing and shared names are not their only common ground. Will one of them make it to the top, or will they take each other down in the struggle?
---
---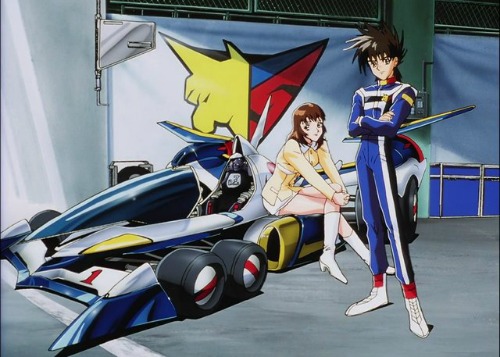 Cyber Formula is about cars equipped with AI systems to assist drivers. Hayato is the youngest racer in cyber formula driving with the most advanced system, known as Asurada.
---
---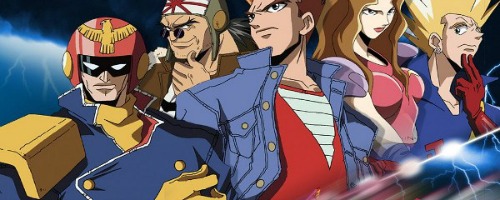 After dying in a high-intensity chase, a detective is placed in cryo-sleep for 150 years. He is then brought back to life by two doctors and thrown into a world of futuristic racing and dangerous criminal organizations.
---
---

A race car driver competes around the world in a race car left to him by his father.
---
---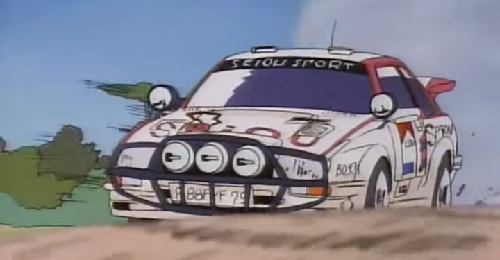 Todoroki accepts a big-shot car company's offer to sponsor him as a driver. Thanks to that, he now has a shot at the Safari Rally Kenya championship.
---
---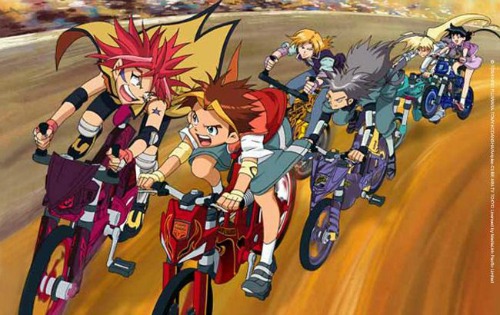 Yamato and his two friends practice MTB (mountain biking) in a special area known as the 'X-Zone', until one day their territory is challenged by an MTB race team named Shark Tooth. However, a race for rights to the X-Zone is derailed when the racers find themselves in another world also named X-Zone. What is going on and how will they return to their old life?
---
---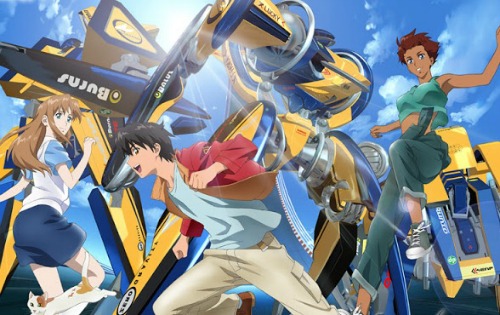 Cars are a thing of the past in IGPX, usurped by high-tech mecha suits capable of reaching unimaginable speeds. Join competitors in a new breed of race as they pit their skills as pilot and racer against other suits.
---
---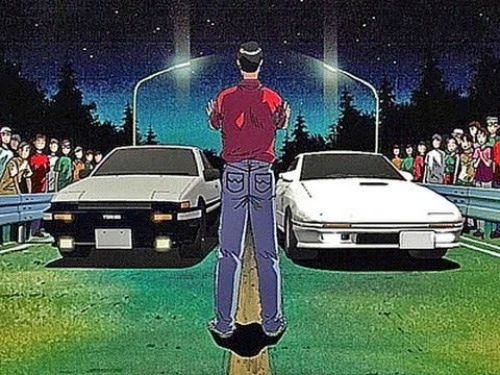 Initial D takes the viewer on a death defying trip down winding mountain roads with daredevil racers drifting toward a win. The story follows Takumi as he develops from a dreamer to top competitor in these races.
---
---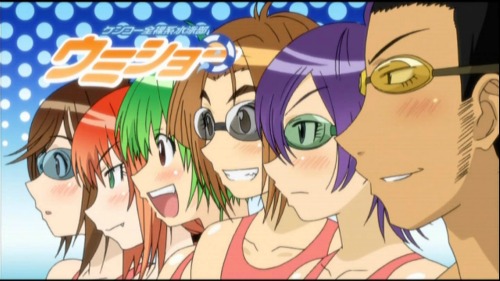 A school swim team is disrupted by a new transfer student, whose speed and endurance defy belief. On top of that, this girl has a habit of swimming nude! But could she be a mermaid-like creature or just a normal, if eccentric, girl?
---
---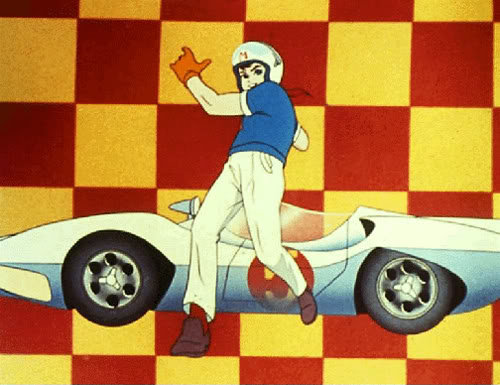 An engineer is refused his chance to design a 'fantasy' engine so he leaves his job, but doesn't abandon his dreams to create the fastest car. Founding a family team, his son is put behind the wheel with dreams of being the best racer.
---
---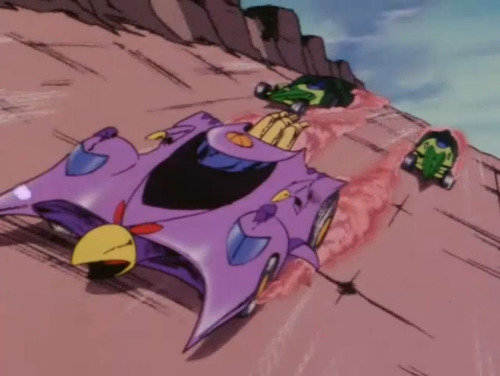 The Saionji Racing Team is created to compete against Black Shadow, which has a reputation of ruining big races. To do this, they've created a cutting edge engine and a car to put it in, with a driver who has vendetta against Black Shadow.
---
Set to air Summer 2016
---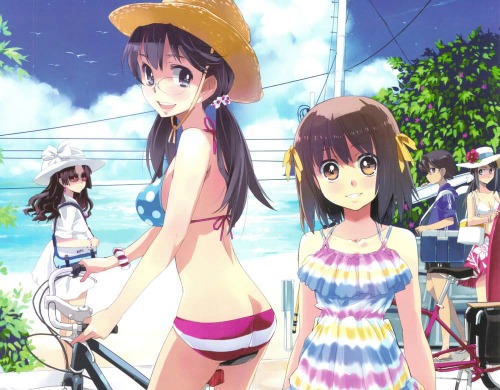 Hiromi meets the leader of the cycling club at her school while riding her bicycle to school everyday. From there, new journeys unfold.
---
---

Follow the protagonist as he guns for his dream of becoming a professional speedboat racer!
---
---

When Pepe's brother is scheduled to marry the girl Pepe loves, he throws himself fully into his career as a cyclist. It's a rocky venture, with many stops and near-losses, but he will not stop striving for victory.
---
---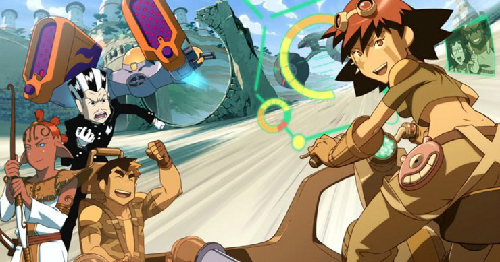 Eva runs away from Boarding School and sneaks off under the alias 'Molly' to keep her true identity from her father Don Wei, the president of a racing company and legendary race manager. She joins the Great Race on Earth so she can win and have one wish granted.
---
---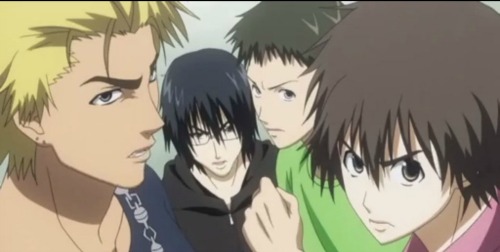 High school student Shinozaki Mikoto is introverted and bullied at school, but is brought out of his shell by a newly awakened love for riding bicycles. He then starts dreaming of becoming the best cyclist in the world and winnign the Tour de France. The only problem is, he doesn't know how to ride a bike.
---
---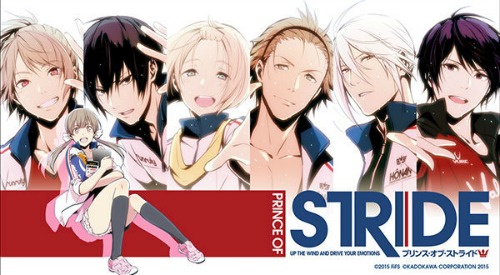 A mind-boggling sport known as 'Stride' takes track and field to the next level. Combining parkour with high-speed foot racing, Stride knows no boundaries. Over buildings, through schools, across suburbs, any terrain is a possible course to test one's speed and teamwork.
---
---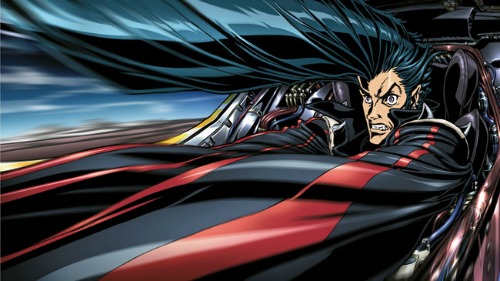 Trigger-happy military, daring criminals, funky aliens, and the most absurdly dangerous, high-intensity racing you've ever seen in anime? In this high stakes racing anime, prideful driver JP is aiming for victory in the best racing event in the galaxy, the Redline.
---
---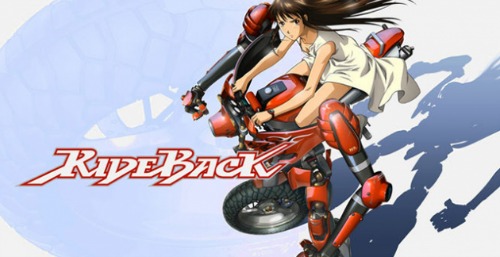 Grounded from her dreams of becoming a ballet dancer by an injury, Rin discovers a new joy after piloting a motorcycle-like robot known as Rideback. From there she becomes embroiled in competitive racing with astounding aptitude.
---
---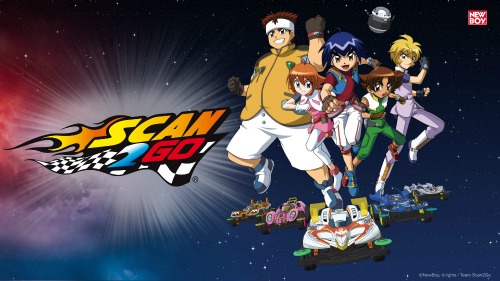 Races have gone beyond the boundaries of Earth's atmosphere when life on 'alien' planets is discovered. Competitors take to the stars to determine who is the fastest in the universe.
---
---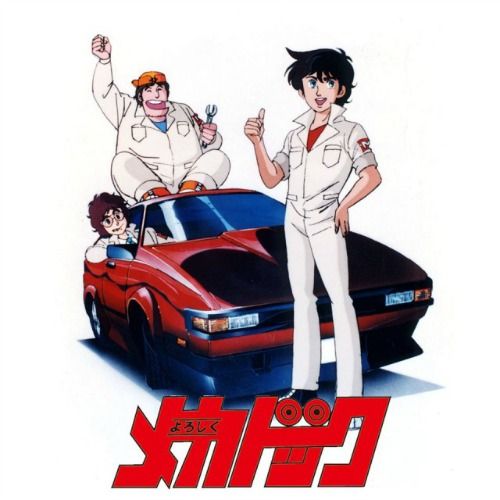 Mechadock is a powerful race car obtained from a simple economy car, which is able to race on any ground.
---
---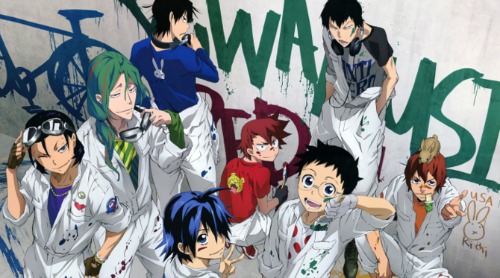 When he discovers his new schools anime club has disbanded, Sakamichi Onoda takes it upon himself to revive it. While completing his weekly 90 kilometer bicycle ride to Akihabara, his riding ability is noticed. After taking up a fellow students' challenge for a race, Onoda begins his bicycle racing journey.
---
Disclaimer: While efforts were made to ensure this collection is as comprehensive as possible, it should be noted that anime shorts/specials, some OVAs, and obscure titles were not included. It should also be noted that series with multiple parts are not all referenced separately, but under the main or original title (such as Yowamushi Pedal.) This list also does not include anime which merely reference racing, if no races occur in the show (such as Classroom Crisis which only makes allusions to racing rockets.)