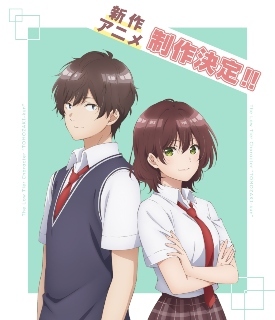 The official website of the
television anime adaptation
of
Yuuki Yaku
's
Jaku-Chara Tomozaki-kun
(
Bottom-Tier Character Tomozaki
) light novel announced on Friday that a new anime project is in production.
The romantic comedy television anime aired for 12 episodes in Winter 2021. Funimation streamed the anime series with English subtitles and dub.
Shinsuke Yanagi
(
Ryuuou no Oshigoto!
) helmed the series at
Project No.9
.
Fumihiko Shimo
(
Dumbbell Nan Kilo Moteru?
) handled the series composition and
Akane Yano
(
Netoge no Yome wa Onnanoko ja Nai to Omotta?
) designed the characters.
Hiromi Mizutani
(
Tanaka-kun wa Itsumo Kedaruge
) composed the music.
Yaku began publishing the romantic comedy light novel through the Gagaga Bunko label in May 2016, featuring illustrations by
Fly
. Shokagukan published the ninth volume on January 24 last year. Yen Press licensed the light novel in November 2018 in English and shipped the seventh volume on January 11.
Eight Chida
drew a
manga adaptation
in
Gangan Joker
magazine from December 2017 to February 2021. Square Enix shipped the sixth and final volume on April 22. Comikey licensed the manga digitally in English last November.
Synopsis
Fumiya Tomozaki is Japan's best player in the online game Attack Families, commonly known as "Tackfam." Despite holding such a revered title, a lack of social skills and amiability causes him to fall short in his everyday high school life. Failing to have any friends, he blames the convoluted mechanics and unfair rules of life, forcing him to give up and proclaim himself a bottom-tier character in this "game."
After a fateful meeting with another top-tier Tackfam player, Fumiya is shocked to discover the player's true identity—Aoi Hinami, a popular, smart, and sociable classmate who is the complete opposite of himself. Aoi, surprised at how inept Fumiya is at everything besides Tackfam, decides to assist him in succeeding in what she calls the greatest game of them all. Through the gruesome ordeals of social interactions and relationships, Fumiya begins to advance tiers in the glorious game of life. [Written by MAL Rewrite]
Announcement
Official site:
http://tomozaki-koushiki.com/
Official Twitter: @
tomozakikoshiki
Source:
animate Times
Jaku-Chara Tomozaki-kun (Shinsaku Anime)
on MAL

RSS Feed