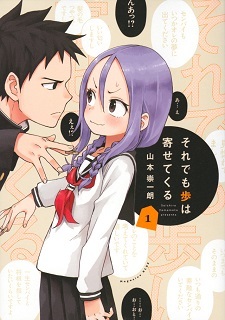 The official website of
Weekly Shounen Magazine
announced a television anime adaptation of
Souichirou Yamamoto
's
Soredemo Ayumu wa Yosetekuru
(
Even So, Ayumu Approaches
) on Friday. The anime series, commemorating the magazine's 60th anniversary, will debut in 2022.
Synopsis
On a whim, first-year Ayumu Tanaka quits the Kendo Club to join the illegitimate Shogi Club. Urushi Yaotome, the president of the club and a master of shogi, is thrilled to finally have a playing partner. As Ayumu's upperclassman, Urushi endeavors to be his shogi mentor and student role model. Too often, however, she finds herself blushing with embarrassment! Stone-faced and honest, Ayumu sees no issue with calling Urushi "cute." Although Ayumu likes her, he refrains from confessing and promises himself to first beat her in a game of shogi.
Through school life and shogi games, the two students have many hilarious and heart-warming adventures. Ayumu enjoys every second with Urushi, but he is still a long way from beating her in shogi. With the commitment he made to himself, will Ayumu ever get the chance to confess his feelings to Urushi? [Written by MAL Rewrite]
Yamamoto originally posted the romantic comedy manga on his Twitter account under the title
Shougi no Yatsu
in April 2018. Weekly Shounen Magazine began serializing the manga the following March. Kodansha published the fifth volume last October, with the sixth volume scheduled for release on January 15. As of July 2019, the manga has over 7 million copies of its volumes in print.
Soredemo Ayumu wa Yosetekuru
ranked third in the 6th Tsugi ni Kuru Manga Taisho's Print category, a joint award by Kadokawa's Da Vinci literature magazine and streaming platform Niconico.
Announcement CM
Magazine Pocket page:
https://pocket.shonenmagazine.com/episode/10834108156646485056
Source:
Anime Recorder
Soredemo Ayumu wa Yosetekuru
on MAL

RSS Feed