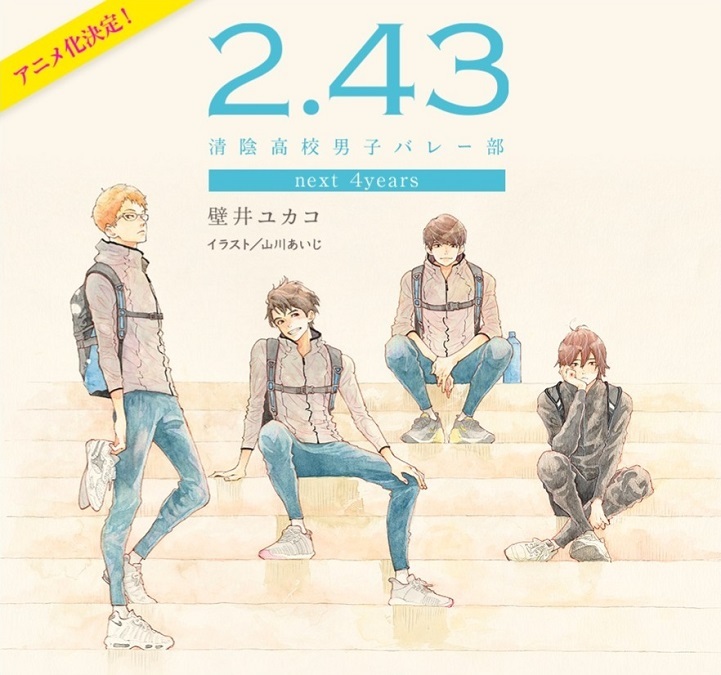 The official website of
Yukako Kabei
's
2.43: Seiin Koukou Danshi Volley-bu
(
2.43: Seiin High School Boys Volleyball Club
) novel announced last Friday that an anime adaptation for the series is in the works.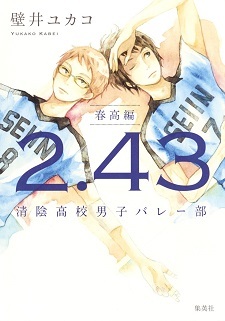 Synopsis
High school student Kimichika Haijima moves back to his hometown, Fukui, after causing trouble in the Tokyo Junior High School volleyball club. There, he is reunited with his childhood friend, Yunii Kuroba, who possesses outstanding physical abilities, but is vulnerable under pressure. Haijima, with his overwhelming passion and talent for volleyball, forms an ace combination with Kuroba.
The two enroll at Seiin High School, where they join the volleyball club. Awaiting them are the 163 cm hot-blooded captain Shinichirou Oda, the talented and sharp-tongued vice-captain Misao Aoki and his third-year pair, and second-year students, including Akito Kanno, who is always wearing long sleeves due to his allergy to sunlight.
The newborn team breaks its former shell of weakness and becomes Fukui's rising star. This is a certain team's journey to victory, with a series of fascinating rivals standing in their way.
Kabei began penning the sports novel under the Shueisha Bunko imprint in March 2015, featuring cover illustrations by
Aiji Yamakawa
(
Chocolate Underground
). The third arc concluded with the fifth volume in September 2018 (pictured right). A short spin-off, titled
Sora e no Josou: Fukuhachi Kogyou Koukou Undou-bu
, was released in October 2016. Kabei also published the first chapter of a new fourth arc, subtitled
Next 4 Years
, last Friday.
Yamakawa
began serializing
a manga adaptation in
Cocohana
magazine last July. The latest chapter was published in October 2018, and the series has been on an indefinite hiatus since.
Novel special site:
http://243.shueisha.co.jp/
Fourth arc site:
http://renzaburo.jp/contents_n/110-kabei/
Source:
Shueisha Bunko
2.43: Seiin Koukou Danshi Volley-bu
on MAL

RSS Feed