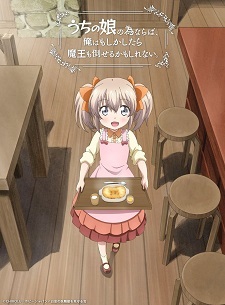 Animation production and planning company
Genco
opened an official website for a TV anime adaptation of
CHIROLU
's
Uchi no Musume no Tame naraba, Ore wa Moshikashitara Maou mo Taoseru kamo Shirenai.
(
If It's for My Daughter, I'd Even Defeat a Demon Lord
) light novel series on Wednesday. This marks the second anime project celebrating Hobby Japan's 50th anniversary, following
Infinite Dendrogram
last month
.
Synopsis
Dale is a cool, composed, and highly skilled adventurer who's made quite a name for himself despite his youth. One day on a job deep in the forest, he comes across a little devil girl who's almost wasted away. Unable to just leave her there to die, Dale takes her home and becomes her adoptive father.
Devil or not, Latina is beyond adorable, and the adventurer soon finds himself head over heels with being a parent. But why was she out in the forest to begin with, and why does she carry the mark of a criminal? (Source: J-Novel Club)
Cast
Latina:
Kanon Takao
(
Hyakuren no Haou to Seiyaku no Valkyria
)
Dale:
Nobuhiko Okamoto
(
Nejimaki Seirei Senki: Tenkyou no Alderamin
)
CHIROLU
began penning
the fantasy slice of life novel on the Shousetsuka ni Narou website in August 2014. Hobby Japan published the first volume with artworks by
Truffle
in February 2015. Subsequent volumes features designs by illustrator
Kei
. The seventh volume was released in February 2018, and the eighth volume will go on sale on Friday.
Kadokawa's
ComicWalker
website has been serializing a
manga adaptation
by
Hota.
since July 2016. The fourth compiled volume was published in August 2018. The light novel and manga volumes combined have a cumulative 500,000 copies in circulation.
J-Novel Club licensed the light novel in English in May 2017 for digital release, and published the seventh volume last August. Seven Seas Entertainment publishes the manga in North America and
shipped
the second volume last October.
Official site:
http://uchinoko-anime.com/
Official Twitter: @
uchinoko_anime
Source:
animate Times
Uchi no Musume no Tame naraba, Ore wa Moshikashitara Maou mo Taoseru kamo Shirenai.
on MAL

RSS Feed