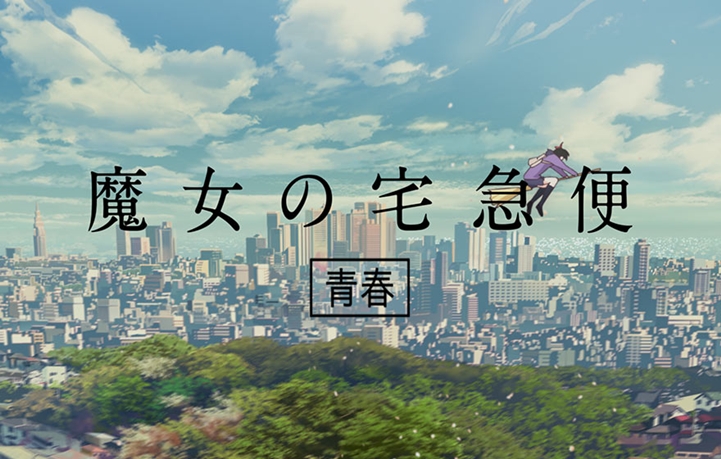 On Monday, Nissin Foods' Cup Noodles brand launched an animated commercial message (CM) series for 2017 titled
Hungry Days: Aoharu ka yo.
The project, which follows the theme of "youth," was first teased on June 8 with a
trailer
narrated by
Megumi Hayashibara
.
The first installment of the series features the protagonist of
Majo no Takkyuubin
(
Kiki's Delivery Service
) as a 17-year-old high school witch, four years older than her appearance in the original film. Rock band
BUMP OF CHICKEN
performs the theme song "Kinen Satsuei" with vocalist and guitarist Motoo Fujiwara composing the song.
Synopsis
Kiki is a 17-year-old high school witch living in Yokohama. In that town, she lives peacefully with her black cat Jiji. She has faint feelings for her childhood friend Tombo who attends the same school as her. One day, by chance, she sees Tombo being confessed to by a junior, and she feels a tug in her heart. Will Kiki be able to deliver her feelings?
Cast
Kiki:
Minami Hamabe
(live-action
Ano Hi Mita Hana no Namae wo Bokutachi wa Mada Shiranai.
)
Tombo:
Yuki Kaji
(
Boku no Hero Academia
)
Staff
Director: Show Yanagisawa
Episode Director: Jun Soga (
Kami nomi zo Shiru Sekai
episode director)
Art Director:
Yuusuke Takeda
(
Ghost in the Shell: Stand Alone Complex
)
Character Design:
Eisaku Kubonouchi
(
Makunouchi
mangaka)
Key Animation, Animation Director:
Yuuichi Takahashi
(
Sekiranun Graffiti
)
Studio:
Tatsunoko Production
30-second CM
Studio Ghibli
produced the original 1989 fantasy film with
Hayao Miyazaki
as the producer, director, and writer.
Majo no Takkyuubin
is an adaptation of the Japanese novel of the same name written by Eiko Kadono and illustrated by Akiko Hayashi. The film is a winner of the
Animage
Anime Grand Prix Award.
Official site:
http://www.cupnoodle.jp/hungrydays/majyotaku/
Source:
Comic Natalie
Hungry Days: Aoharu ka yo.
on MAL

RSS Feed