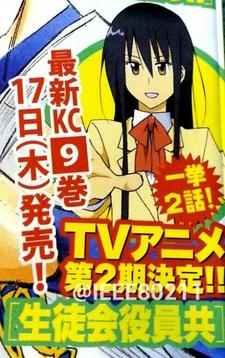 The 46th issue of Weekly Shonen Magazine, to be published next Wednesday, October 16th, will be announcing that a second season of "
Seitokai Yakuindomo
" has been green-lit and will air January 2014. An
OVA
will also be bundled in a special edition of volume 10 of the manga. Volume 9 of
the manga
, which will be released on October 17th, will also contain an OVA in its special edition.
Seitokai Yakuindomo is a school comedy produced by GoHands and aired from July to September in 2010. Starting in April 2011,
OVAs
were released in the special editions of manga volumes five to eight, and later, three more as standalone OVAs.
Source:
Tweet of Weekly Shonen Magazine Scan via IEEE802.11 blog
(confirms second season and airing date),
Weekly Shonen Magazine Scan via ANN
(for the OVA),
Natalie
Seitokai Yakuindomo 2
on MAL

RSS Feed