As a follow-up to yesterday's post, I thought I'd talk about a few sports series that pre-date the breakout of sports anime among Western fans and Japanese otaku - back in the day when just about the only sports series you'd find at Comiket was Prince of Tennis.
Ookiku Furikabutte - While this isn't among my favorite sports anime of all time, it's very good (especially the first season) and the logical starting point for any discussion on this topic. Higuchi Asa's manga began its ongoing run in 2003, and has had two seasons of anime (plus an OVA). While a seinen, I think OoFuri is written very much from a female sensibility - its idealized views of the teenaged male have unmistakably been a huge influence on the new wave of sports manga that have become commercial powerhouses. OoFuri also offers a pretty realistic take on baseball - its heroes (especially protagonist Ren Mihashi) are fragile and imperfect rather than cocky and preternaturally gifted, and the focus here is on the team rather than the individual.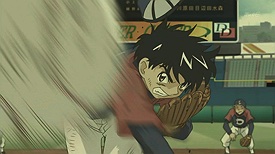 Major - At the opposite end of the spectrum is Major. It's an institution in Japan, with a 78 volume manga, six seasons of anime, OVAs and theatrical films (mangaka Mitsuda Takuya recently started a sequel, Major 2nd, about the original hero's son - I quite like it so far). Major is an encylopedic story of one hero's epic baseball journey from little league to the International Baseball Classic to the North American World Series. And that hero, Honda Goro, is one of the seminal characters in manga and anime. Goro is very much a prodigy, a freakishly talented protagonist rather than an everyman, but the magic here is in watching him achieve greatness through sheer will and unstoppable talent - and in overcoming his human frailties along the way. The first season of the anime, directed by the great Kasai Kenichi, is among the best 26 episodes of anime you'll ever see.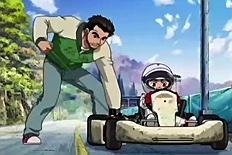 Capeta - After Baby Steps, Capeta is perhaps the most comprehensive and realistic take on youth sports in manga and anime. In all honesty I was never that interested in auto racing, but in mangaka Soda Masahito's hands, even kids on carts is a fascinating subject. The protagonist Capeta Taira is one of the best in sports manga, a thoroughly decent and likeable kid with an insatiable need for speed and competition. The anime sadly only covers the first two major arcs of the manga, but it does so very well - real kids are cast in the youth roles, and the racing sequences are freakishly exciting.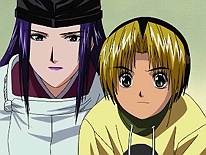 Hikaru no Go - Some may dispute whether a series about the ancient Chinese game of Go is a sports series at all, but if Chihayafuru is (as I would argue) than so is HnG. It also made a bit of splash among Western fans, appealed to both genders, and like Chihayafuru caused a boom in the popularity of an "uncool" sport, especially among the young. Both the manga and anime are great and indispensable - the latter is a superb and faithful adaptation but suffers even more from an abrupt ending than the manga does. Hikaru no Go, especially in anime form, may deliver the most excruciating cliffhangers of any series in a genre well-known for them.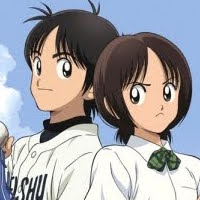 Cross Game - While the sublime Touch is Adachi Mitsuru's best-known work, I would argue that Cross Game is even better - the bittersweet product of a mature writer's genius. Both manga and anime are fantastic - this is one of the most faithful adaptations out there. Sports is only the canvas Adachi uses, while human relationships are the painting itself - nevertheless, the man clearly has a great love of baseball, and it's a crucial element of the story. I consider Cross Game to be among the half-dozen best anime of the last decade, irrespective of genre or demographic.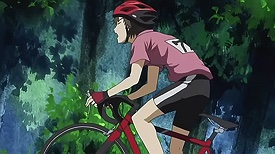 Over Drive - Before there was Yowapeda there was Over Drive. As an anime it has many flaws - jerky pacing, no ending, so-so animation. But there's something about this cycling series that appeals to me. It has some of the quirkiest, most offbeat humor in sports anime and the racing is genuinely exciting. There aren't a lot of examples of cycling anime and especially if you're interested in the sport, you should give this oddball of a series a chance.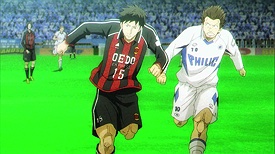 Giant Killing - Captain Tsubasa is the unquestioned trademark of soccer anime and Ginga e Kickoff my personal favorite, but as a fully realized depiction of the sport on the professional level Giant Killing is hard to beat. This is a seinen's seinen, methodical and detailed about every aspect of professional soccer in Japan - the fans, the ownership, coaching, young players trying to make a splash and veterans desperate to hang on, even the youth academies. As usual the anime stops in the middle of the manga, but Deen did an excellent job with it.
Bamboo Blade - As much as any recent anime, Bamboo Blade manages to combine moe appeal and a credible take on sports (in this case, kendo). No, I wouldn't call this a pure sports anime, but the sports is pretty solid - and you get winning characters and some excellent humor to boot. More recent series have tried to appeal to otaku with this formula, but in my view none has done so as deftly as Bamboo Blade did.