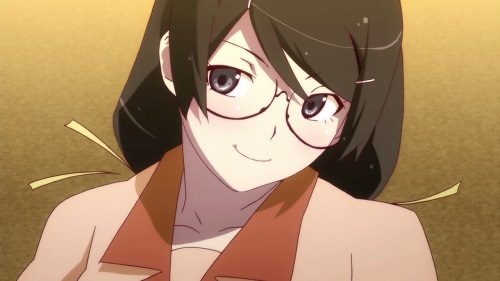 Meganekko literally translates to glasses girl, and such a character is easily recognizable by her frames. Cute without being childish and pretty without being gorgeous, the meganekko is a happy medium of looks and brains. She's usually also an all-around pleasant person in the bargain, though meganekko can range from the silly to the serious. Often quiet or shy, a meganekko may sometimes hide a wilder side behind her glasses. Experienced anime fans can probably name many, but here's a few of the best examples for those new to the party!
(Prefer glasses guys? Read about megane danshi here!)
All member favorites stats are accurate as of 12/04/2015
---
Member Favorites: 2797
---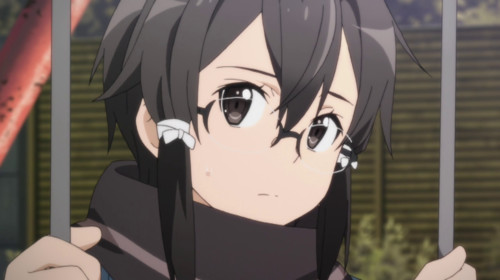 All hail gamer girls! Shino Asada joins the cast of Sword Art Online in the third season, SAO II. She's smart and an excellent shot to boot. Her in-game avatar doesn't wear the spectacles she needs in real life. Like the other glasses girls in this article, Shino is cool and calm, appearing unshakeable. However, she's got a kind heart and a traumatic past that surfaces from time to time.
---
Member Favorites: 9163
---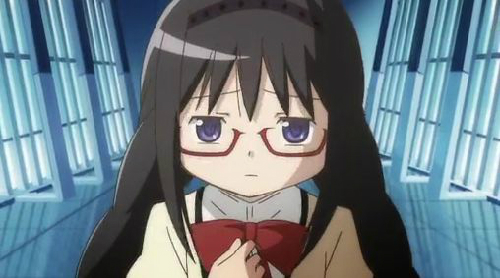 A recent transfer to Mitakihara Middle School, Homura is friendly but timid due to a long hospital stay. She is academically and athletically gifted, but apart from Madoka and the other magical girls, she prefers to be left alone. Appropriately, Homura's fighting style as a magical girl involves support and defense rather than pure offense, and she fights with an impenetrable shield. Initially she relies on her friends to help her in battles with witches, but gradually develops her own formidable skills. By the end of the series, Homura becomes powerful enough to protect her friends on her own, whatever harm may befall them.
---
Member Favorites: 88
---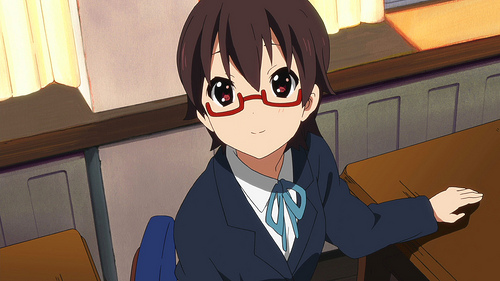 The third student council member on this list. Nodoka is a dear friend of main character Yui Hirasawa, and is the mature and sensible core of the student council, and later becomes its president. She is constantly exasperated by less responsible students—among them the members of the light music club—but is willing to work to help them fix their mistakes. A gifted student and skilled homemaker, Nodoka is nonetheless sometimes overwhelmed by the goals she sets for herself, and relies on her friends to keep her sane. She also has a terrible sense of direction, despite her passion for traveling.
---
Member Favorites: 88
---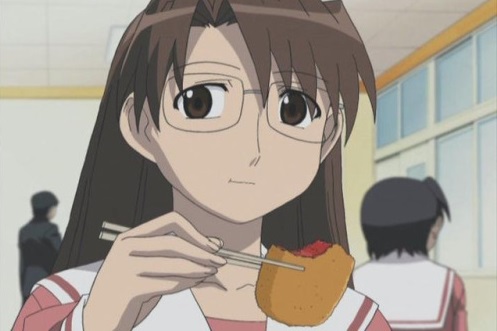 Also known as "Yomi," Koyomi Mizuhara is one of the most well-known meganekko. In fact, she was known as Meganekko until her name was revealed in the second volume of the manga. Her name is a pun on "read between the lines," which suits her studious nature. Koyomi prides herself on her intelligence and her maturity, considering herself more of an adult than her close high school friends. She is generally a more serious brand of meganekko, but does have a mischievous side. Koyomi can also be a bit superstitious when grades are on the line, and she has a weakness for sweets.
---
Member Favorites: 2507
---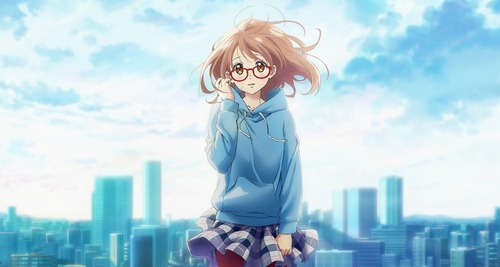 Kyoukai no Kanata (Beyond the Boundary) features a protagonist who's just as attracted to glasses girls as many of the viewers, and looking at Mirai Kuriyama, it isn't hard to see why. The petite Mirai is cute but reserved, preferring to keep to herself and blog about her beloved bonsai trees. But her baggy cardigan and glasses hide a stronger side: Mirai hails from a secret society of warriors dedicated to striking down the demonic youmu. She does this with the grisly power of hemokinesis, whereby she uses her own blood as a weapon. Mirai may be afraid to fight, but in a pinch there are few swordsmen more skilled.
---
Member Favorites: 406
---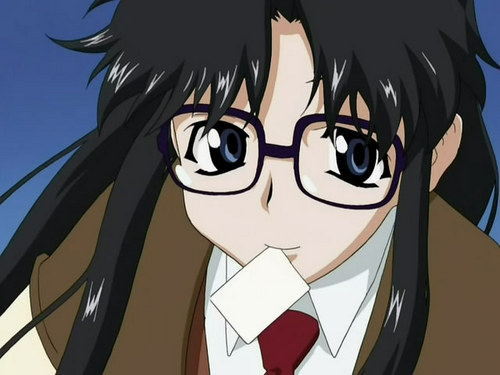 If you Google meganekko, Yomiko Readman pops up as one of the suggested searches. Yomiko takes this archetype to its logical extreme: she's kind to a fault, socially awkward, and reads literally hundreds of books a month. Her bibliophilia is a side effect of her ability to control paper, from creating human-sized paper airplanes to stopping bullets with notecards—useful skills for a secret agent with the British Library. Though her trusting and amiable personality makes her bad at undercover work, Yomiko is a brilliant fighter, overcoming powerful opponents with improvised paper weaponry. Coming between this anime girl with glasses and a book is a recipe for thousands of papercuts.
---
Member Favorites: 29
---
The resident meganekko on the student council of Ashford Academy, a prestigious boarding school in Britannian-occupied Japan. Though a shy star student, Nina is openly racist toward the conquered Japanese, or "Elevens" after the Britannian name for their country. Due to a series of terror incidents, she also develops obsessive tendencies which help steer her toward a career in military physics. Though Nina is an engineering genius and a calm, polite presence on the student council, don't be fooled by the studious appearance of this glasses girl. Some of the ugliest effects of the Britannian-Japanese war lurk just beneath her bookish façade.
---
Member Favorites: 48
---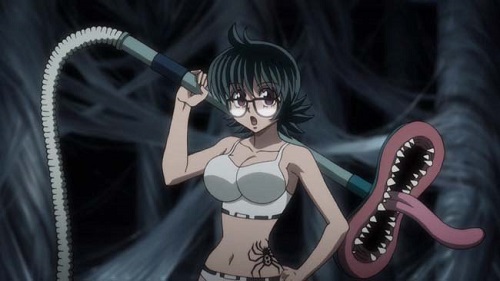 Another glasses girl whose appearance and behavior hide a darker side. Shizuku is the eighth member of the Genei Ryodan, or Phantom Troupe, a gang of professional thieves. She acts immaturely for her age, being extremely forgetful and appearing to be nothing more than an airheaded little girl. Taking Shizuku at face value, however, is a good way to get killed; she possesses powerful deductive skills, and is a remorseless, emotionless killer with a magical vacuum cleaner as her unusual murder weapon.
---
Member Favorites: 28
---
A former librarian with the National Central Library in Central City, Sheska was fired for reading instead of working. She rivals Yomiko for sheer bibliophilia, but her addiction to books makes her practically unable to hold down a job. Like many meganekko, Sheska is quite shy, but her shyness stems from frustration with her repeated failures. All she needs is to find a place for her talents, however: she has the uncanny ability to recall anything she has read, which makes her extremely useful for protagonists Edward and Alphonse's search for the Philosopher's Stone.
---
Member Favorites: 1
---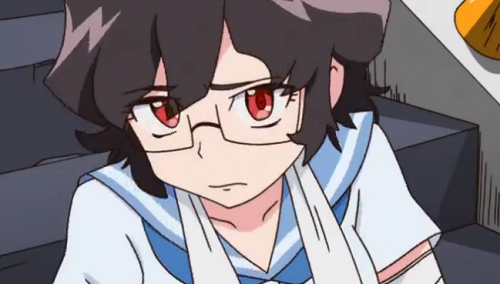 Maiko is a No-Star student of Honnouji Academy, meaning she lives in abject poverty and terror. She is a characteristically shy and selfless glasses girl, lacking in confidence yet willing to sacrifice herself for her friends. She quickly befriends Ryuko and Mako on the way to school during the chaos of No-Late Day, but proves almost supernaturally accident-prone; Ryuko is just as often in danger from rescuing Maiko as from the Student Council's traps. Maiko is a skilled driver, however, and gains confidence when she returns Ryuko the favor with an armored bus.
---
Member Favorites: 62
---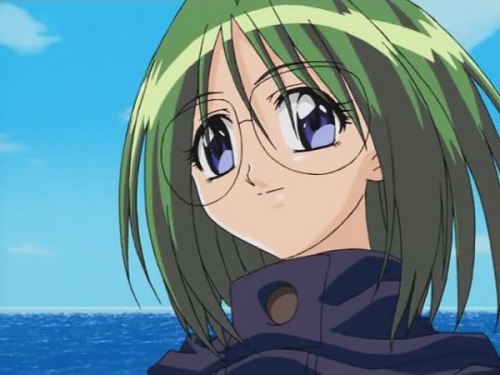 It's a familiar trope in Western fiction for a shy, nerdy girl to lose her glasses when she becomes more outgoing. That's less common among meganekko, but it's not unheard of. Lettuce Midorikawa embodies this archetype; although she is normally timid and easily bullied, in her super-powered Mew form she is confident and capable. Even with porpoise DNA and power over water, however, she believes that diplomacy is the best way to solve problems.
---
Member Favorites: 4
---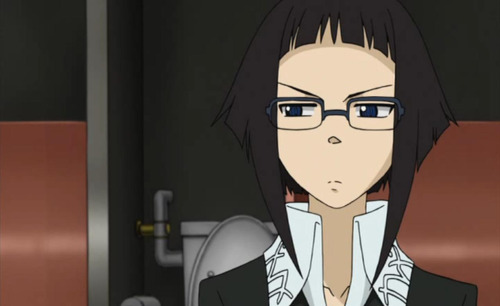 The Death Weapon assigned to protect East Asia. As the glasses will imply, Yumi has a brilliant mind, with a memory almost as photographic as Sheska's. She's an excellent information gatherer and possesses the Senrigan, or Thousand-Mile Eyes, which allows her to see over great distances. Yumi takes her job and her life seriously, and is never seen smiling. She also treats fellow graduates of Death Weapon Meister Academy as a teacher would treat a child, and her strong sense of hierarchy earns her the title of "King of the Tattletales."
---
Member Favorites: 471
---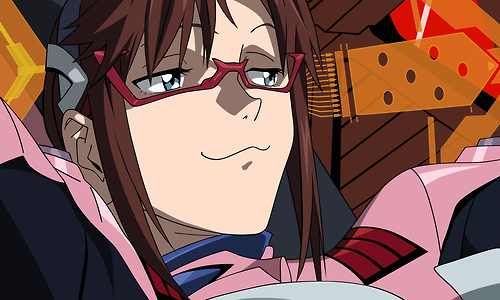 For a mecha pilot tasked with preventing human extinction, Mari Makinami Illustrious is taking things rather well. As opposed to Shinji Ikari and other traumatized Eva pilots, Mari openly enjoys fighting the Angels, even singing as she rides into battle. In this sense she differs from the traditional meganekko—the glasses are essentially just to set her apart from the others—but given everyone else's more subdued nature, Mari's essentially an inversion of a normally low-key archetype. Bombastic and bloodthirsty, Mari is as fearsome in battle as she is beautiful in glasses.
---
Member Favorites: 254
---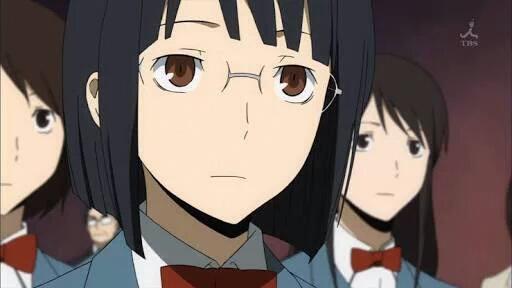 Quiet and timid on the outside, Anri is intelligent and cares deeply for her close friends. This meganekko is one of the few who wield swords, as she is the owner of the supernatural sword Saika that allows Anri to control whoever she cuts, but also causes massive psychological damage to the wielder.
---
Member Favorites: 7169
---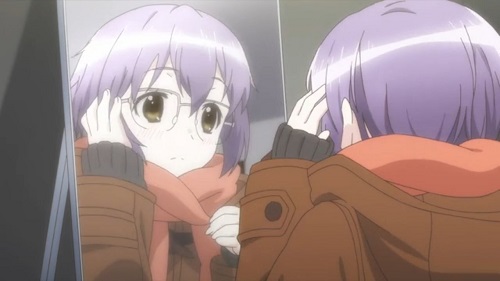 This glasses-wearing cutie is so popular she even got her own spinoff series! In the original anime based off the light novel, Nagato Yuki is an expressionless, hyper-intelligent alien, but in Nagato Yuki-chan no Shoushitsu (The Disappearance of Nagato Yuki-chan), she's the shy, easily-flustered human member of the school's literature club! Either way, her glasses suit her perfectly.
---
And Many More...
---
As the glasses of the meganekko demonstrate, visual shorthand is good for a rough approximation of a character's personality. Some glasses girls are shy and some are outgoing, but almost all are notably intelligent or reliable in one way or another. Sometimes their ambition and intelligence take them to dizzying heights; other times, they struggle to find their niche. Regardless where a meganekko happens to find herself, she is generally the calm center of the chaos around her. She may have all the tools to succeed, but she might need the right opportunity or motivation. More often than not, the natural talent and determination of the meganekko make her a reliable and valuable friend.
(Prefer glasses guys? Read about megane danshi here!)