Fifteen source types are currently used to categorise anime entries on MyAnimeList.net, ranging from the regular (Manga, Light Novel) to the irregular (Picture Book, Radio). More detail is better in the business of databasing, but there comes a point where sorting becomes too diverse. Thus the categorisation of "Source: Other." In the case of anime, the leftovers (so to speak) are certainly diverse… not to mention incredibly bizarre.
So let's dive into the strange (under)world of anime classified as "Source: Other" to find out exactly what it can entail.
Multimedia Franchises
---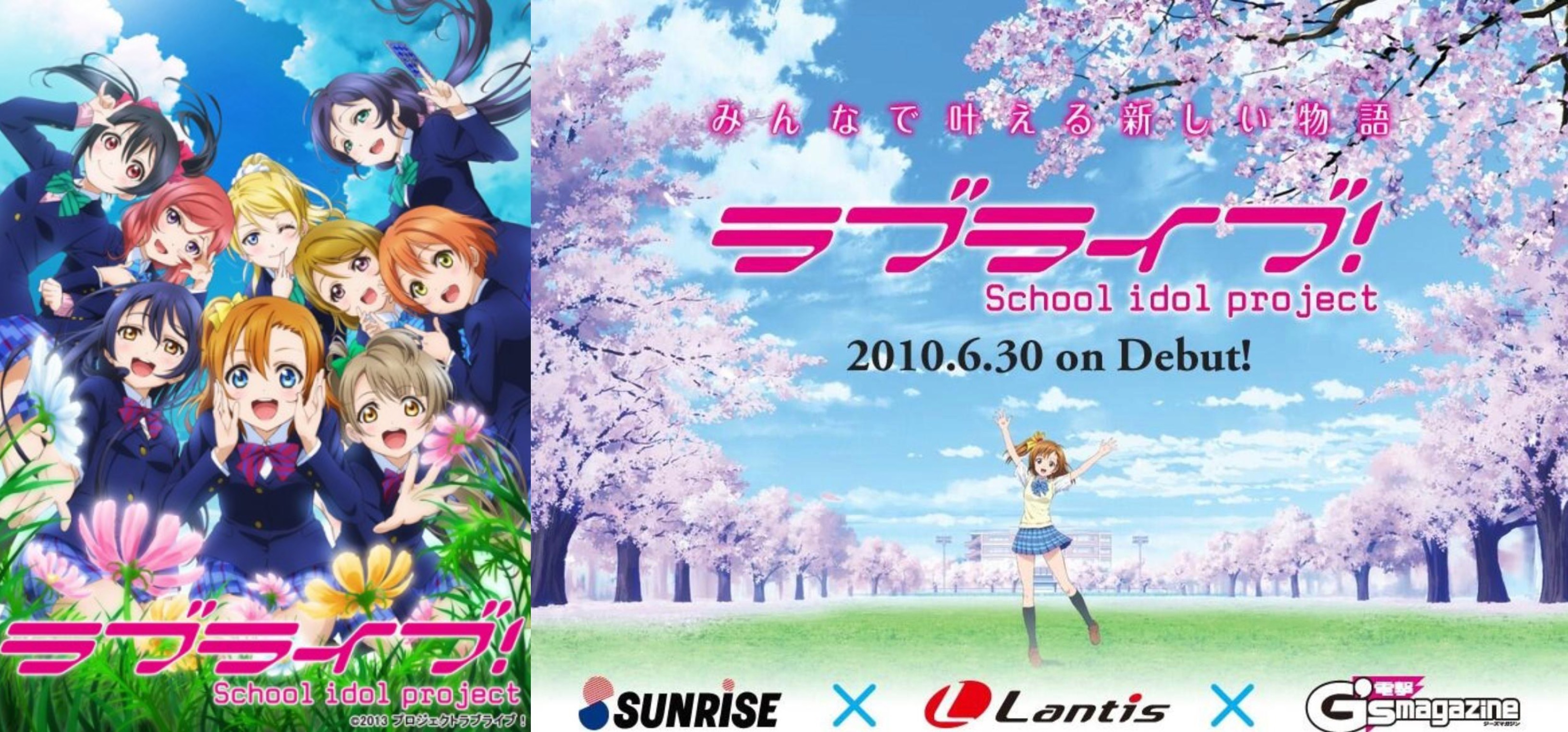 Wikipedia defines a multimedia franchise as "a media franchise for which installments exist in multiple forms of media, such as books, comics, films, television series, and video games." In truth, most popular anime become multimedia franchises, but they all have to start from somewhere, right? Well, not necessarily.
There isn't a straightforward answer to what Love Live! School Idol Project is actually adapted from, since the anime series was developed by Sunrise alongside stories and character introductions in Dengeki-G magazine and songs by Lantis as a whole project. Similar multimedia idol projects like The iDOLM@STER (Source: Game) and Uta no☆Prince-sama♪ (Source: Visual novel) distinctly started from a single source. Since 2010, the Love Live! franchise has grown to include multiple manga adaptations, novels, games, a whole new unit, and more.


Characters
---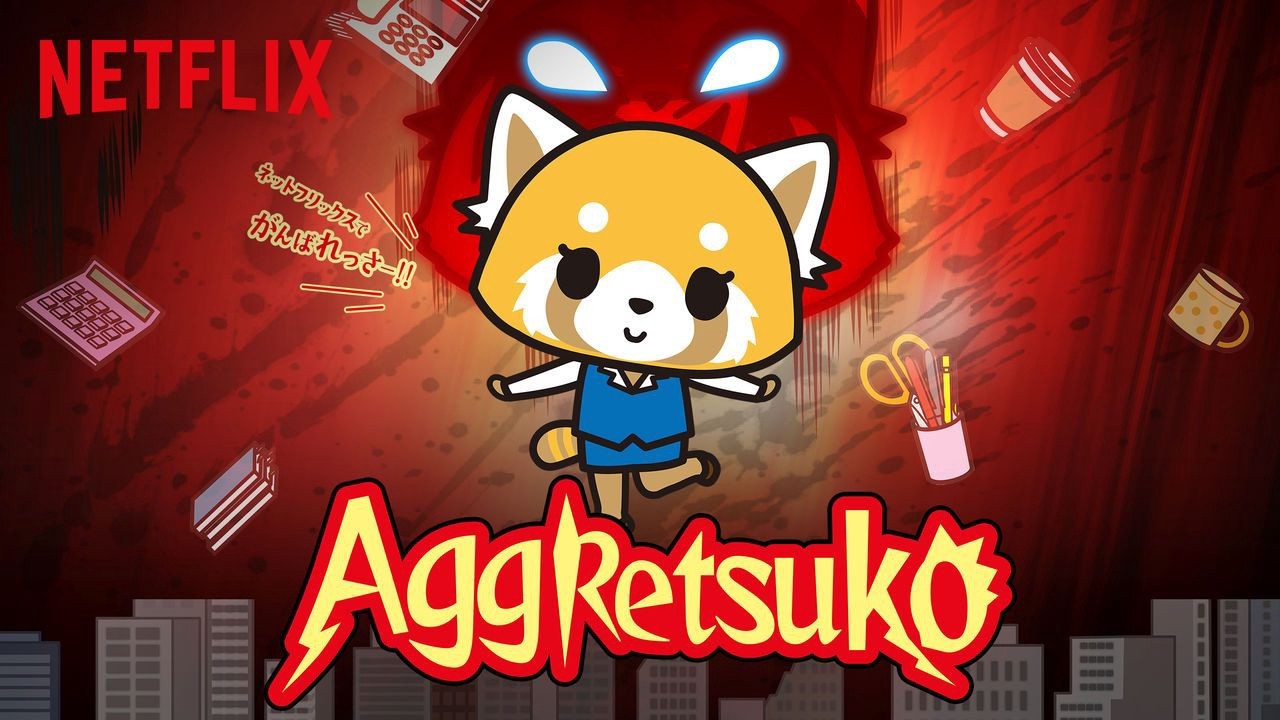 It may seem odd to center a business around creating and licensing characters for products, but that's been a winning formula for the company behind Hello Kitty, the second-highest grossing media franchise of all time with $85.8 billion in revenue to date. Aggressive Retsuko is one of Sanrio's more recent creations that has found global success, partially thanks to the ongoing Netflix series. In this instance, there is a blurred line between labelling the source as Original or Other since the character's first major appearance was in a short anime, but it technically isn't the source of the character — she was created in 2015 by Yeti, but made her anime debut in 2016. Rilakkuma is a similar example of this that happens to also have a Netflix Original series.


Gamebooks
---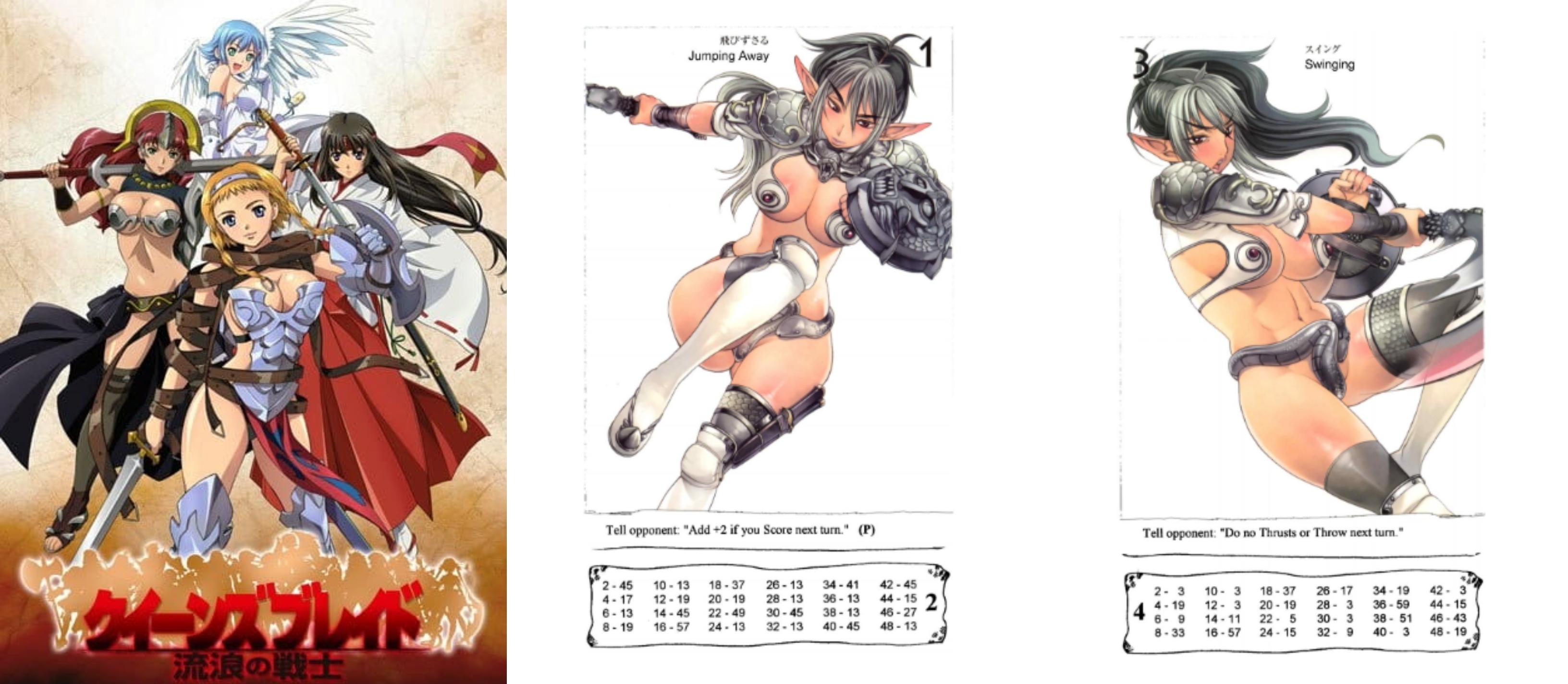 Queen's Blade started as, in essence, a combat-based choose-your-own-adventure series (otherwise known as a "gamebook"), but evolved into a multimedia franchise that included the standard list of adaptations — manga, anime, novels, and a video game. Each book contained one character that you would pit against someone else's in combat with special skills and items, not to mention plenty of lewd graphical depictions. The rules are too detailed to succinctly break down here (e.g. there's a rule stating that the taller character gets a stat bonus), but you can check them out yourself here. Needless to say, this is probably one of the biggest stretches made for an anime adaptation.


Artwork
---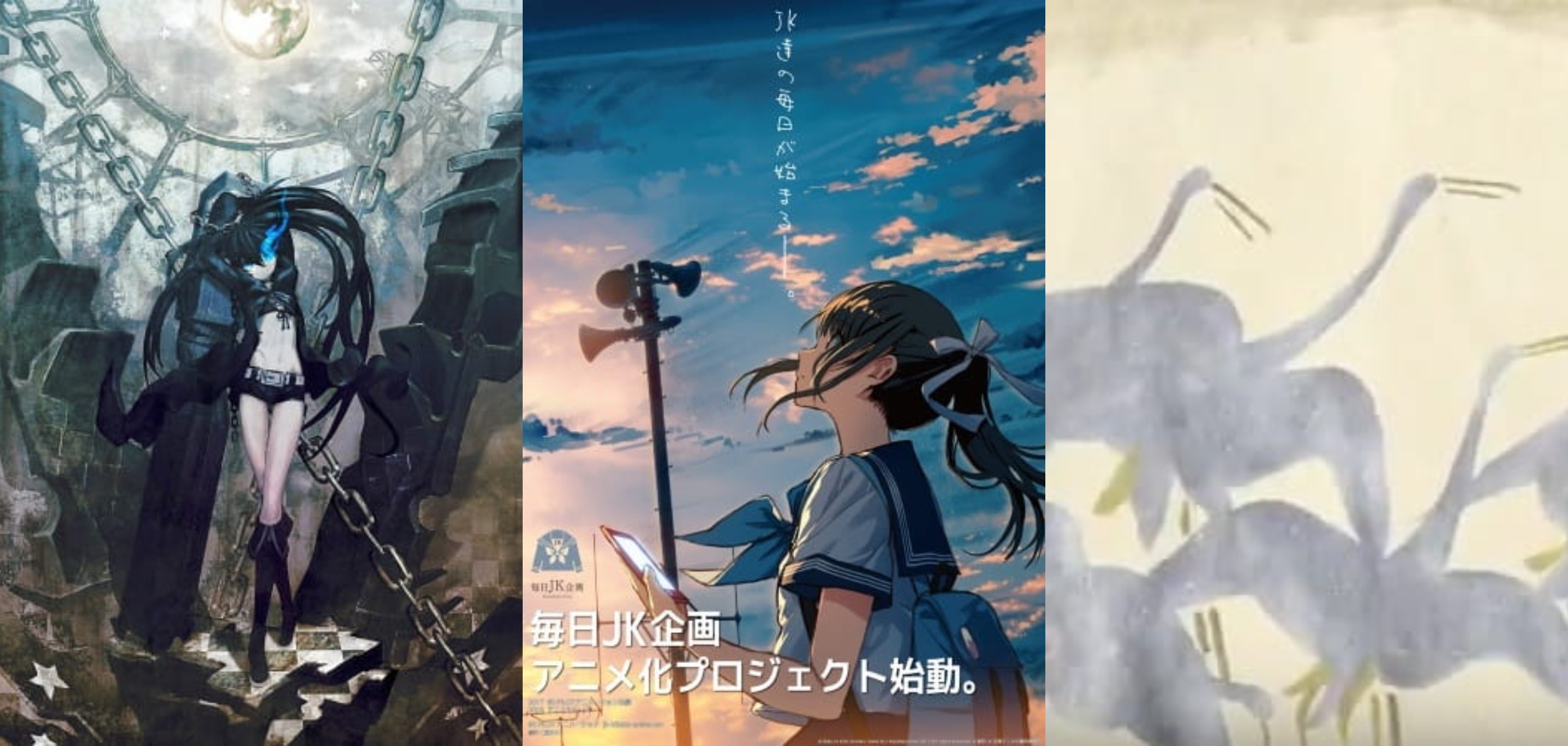 A single character illustration by artist Ryohei Fuke (A.K.A. huke) sparked an entire media franchise of music, anime, manga, and video game adaptations. Ryo of Supercell was inspired by the illustration and created a Vocaloid song called "Black Rock Shooter" with the Hatsune Miku synthesizer, and huke provided the illustrations used in the song's music video that became the first anime adaptation of several. The subsequent OVA and TV anime adaptations constructed a Madoka-esque setting and storyline around the Black Rock Shooter character.
There's not much I can say about this one since it hasn't actually been released yet despite being announced two and a half years ago. This anime is based on the Mainichi JK Kikaku (Daily High School Project) illustration series by Kina Kazuharu, who draws real female high school students that he sees on the street. You can find an example of his work here.
Unlike Black★Rock Shooter, Tsuru Shitae Waka Kan simply brings the original artwork to life through animation rather than constructing a plot around it. To be fair, that would be a tall order, since this anime is based on a scroll painting from the 17th century. It's just a 1-minute short that depicts flying cranes in the gold-and-silver style of the original artwork, but it's a great example of how deep the "Source: Other" rabbit hole goes.


Doujinshi
---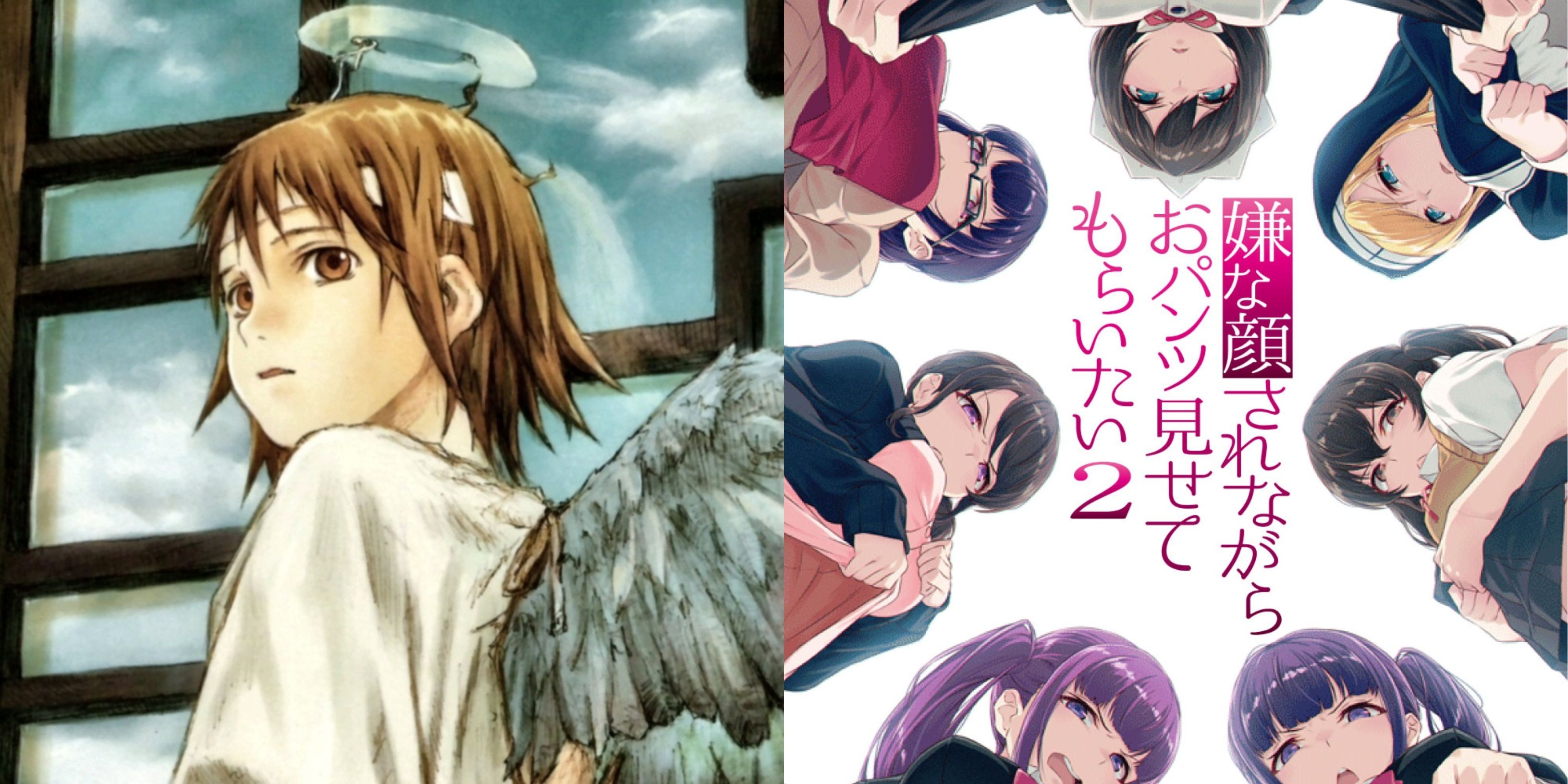 Doujinshi is the Japanese term for self-published works, but it's most commonly associated with hentai within the anime community. Many artists find their start in creating doujinshi, which can put them on the map (Shokugeki no Souma's artist did hentai, for example). Although it's rare, even (non-hentai) doujinshi can get the anime adaptation treatment.
Haibane Renmei is a beloved series that began as a doujin by Yoshitoshi Abe (who you may know from Serial Experiments Lain), which was originally released in 1998. It was eventually reworked into Old Home no Haibane-tachi, which was sold at Comiket 60 and 61 in 2001. The original publication only covered about an episode and a half of the eventual anime adaptation, which greatly expanded on the story and thus mostly discontinued the doujin series.
Though it certainly sounds like a hentai, it's mild enough to be classified as just ecchi. Drawn by 40-hara, the series depicts various situations where maids, high school girls, nurses, and shrine maidens show their panties while wearing looks of disdain. The first anime was clearly a success, since it received a second season, which recently released.


Live-Action Movies
---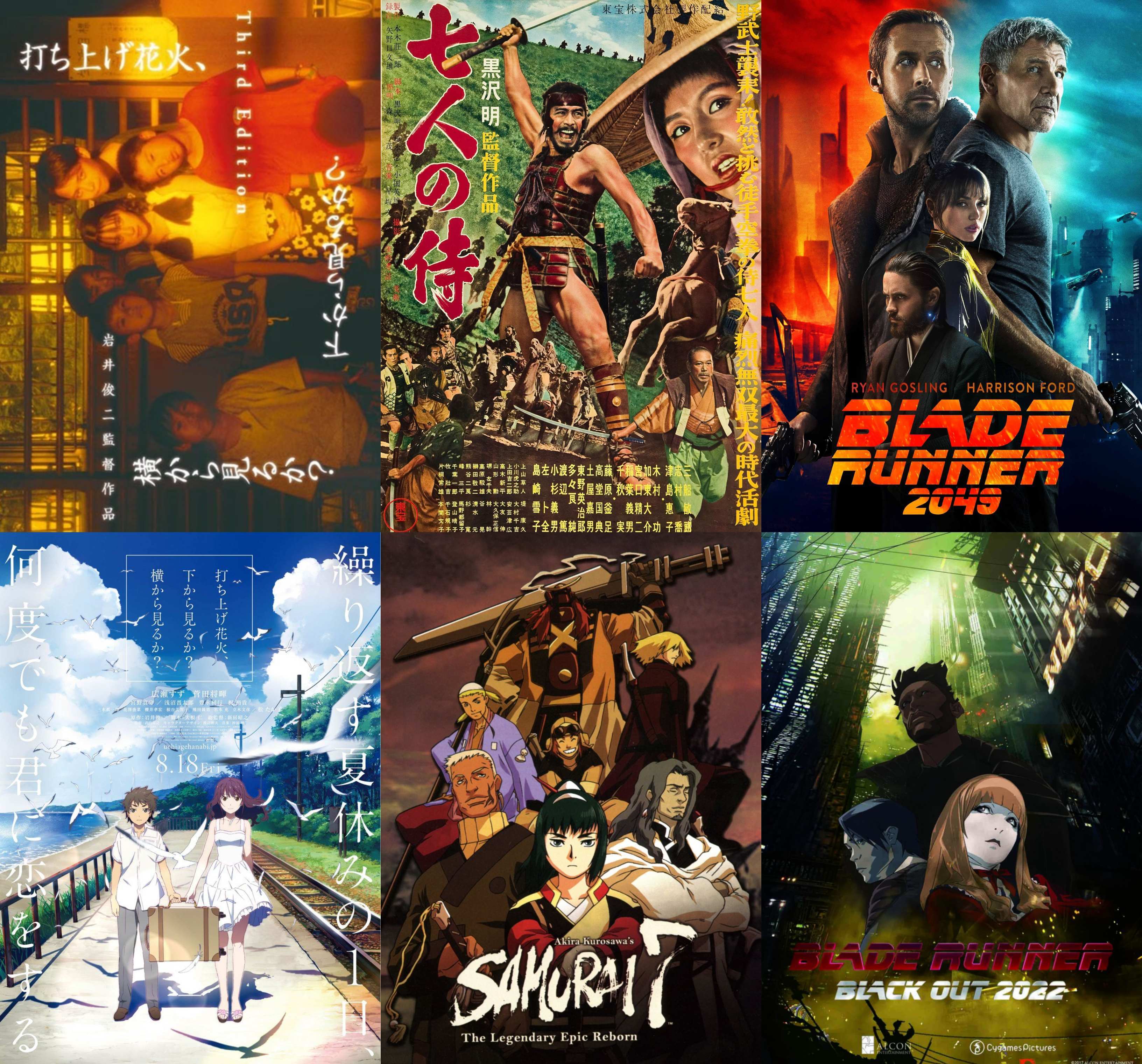 There are plenty of live-action film adaptations of anime, but the reverse also happens!
Widely recognized by the anime community as a disappointment, studio Shaft's Uchiage Hanabi, Shita kara Miru ka? Yoko kara Miru ka? was actually adapted from a live-action television drama and film of the same name from 1993. It originally aired as the second-to-last episode of a 17-episode anthology series based around "strange stories of the world" before premiering in cinemas two years later.
If you haven't already guessed, Samurai 7 is (loosely) based on Seven Samurai, one of the most iconic Japanese movies of all time. Unlike the original film, the anime adaptation is set in a futuristic, cyberpunk version of Japan with mechanical upgrades and technology. Character names are kept the same, but their traits and relationships are sharply altered in some instances. It might not be the best watch if you're looking for something just like the original, but it provides a fun animated expansion of a classic tale.
Anime adaptation of live-action films isn't restricted to just Japanese films. Directed by Shinichiro Watanabe (Cowboy Bebop, Samurai Champloo), Blade Runner: Black Out 2022 was a 15-minute short that served as a prologue to Blade Runner 2049 just prior to its release. It doesn't end there with Blade Runner 2049 though — a 13-episode anime series based on the film (but set 17 years earlier, in 2032) was announced at the end of 2018.


Live-Action TV
---


Unsurprisingly, there are anime adaptations of live-action TV shows as well.
Based on a popular K-Drama widely considered to be a major factor in the global rise of Korean popular culture, Fuyu no Sonata was an anime co-production between Japan and Korea that featured many of the original Korean voice cast and Japanese subtitles.
As a fan of the original show, I was particularly surprised to find a 22-episode anime adaptation of the long-running American TV show Supernatural. The series remakes a number of the show's best episodes while also throwing in some original stories, which include prologues of the Winchester brothers and new supernatural threats.


Anime Itself
---


It's anime inception all around, but this category actually has the most diversity between entries out of this entire list.
Reboots aren't uncommon for anime, but most of the time, they're new adaptations of different material (e.g. Fruits Basket 1st Season and Dororo re-adapting manga). In the case of Casshern Sins, it's rebooting an original anime series from 1973 called Shinzou Ningen Casshern, so it's directly adapted solely from an anime series. Despite being a reboot, Casshern Sins is actually very different from the original series — instead of a cybernetic hero fighting evil, Casshern is a subordinate of the villain.
Neko no Ongaeshi (The Cat Returns) is a spin-off of the beloved Ghibli movie Mimi wo Sumaseba (Whisper of the Heart), and although some characters are crossed over, the stories in the two films are not related. Studio Ghibli began work on the movie as the 20-minute "Cat Project" in 1999 for a theme park in Japan. Although the theme park cancelled the project, the 20-minute short film turned into a 45-minute project, and then a feature-length film — "The Cat Returns."
Nisekoimonogatari was a trailer for a fake crossover anime created by Shaft (the studio behind the Monogatari series and Nisekoi) as an April Fools' Day joke to celebrate their 40th anniversary. So what do you do when there's an animated crossover between two popular series that come from different sources? Source: Other.
This example, an adaptation of a fictional anime that appears in the otaku-centric Genshiken, takes the inception to a whole new level. The three-episode OVA, released alongside the main series, offers a small glimpse into what the members of the Society for the Study of Modern Visual Culture frequently watch and discuss.


International Comics
---

It's easy to look at the anime-style visuals of Radiant and assume that it's adapted from manga, but that would be incorrect — it's actually a manfra (yes, that's a real term), which is why you won't find it on MAL or tagged with "Source: Manga." Originating from France, Tony Valente's comic series clearly draws inspiration from Japanese manga, and it eventually received an anime adaptation, which I imagine must've been a surreal moment for the author. On top of that, it was also the first manfra to be published in Japan.
Japanese audiences indulge in superheroes and villains like everywhere else, so much so that there are multiple anime adaptations of Marvel and DC comics from X-Men to Batman: Gotham Knight. However, the most interesting one of them all is definitely Ninja Batman, an amalgamation of Batman characters that find themselves fighting it out in feudal-era Japan.
Witchblade is another adaptation of an American superhero series, but one that isn't published by Marvel or DC Comics. The anime features a different story with new characters (ones with Japanese names), but it still exists within the world of the original comics. The accompanying manga and novel adaptations also took different routes, but still resided in the same universe.
Cannon Busters is a fresh example of an international comic adaptation, a Netflix Original anime made by studio Satelight with the original creator, LeSean Thomas, at the helm. The project started as a Kickstarter for a pilot episode in 2014 before being picked up by Netflix for a full series and releasing in August earlier this year. There was a mix of Japanese and non-Japanese staff behind it, but it's a "Source: Other" anime adaptation nonetheless.


Figures/Models/Toys
---


As strange as it sounds, one of the most prevalent categories under "Source: Other" is anime adaptations of figures, models, and toys. You really have to wonder how these brainstorming sessions went.
It's short, it's raunchy, and it's based on a series of fantasy figures designed by multiple artists, including the likes of Rei Hiroe (Black Lagoon) and Hisasi (Masou Gakuen HxH). This isn't the only case of Hobby Japan's lewd fantasy figures getting anime, other examples include Sin: Nanatsu no Taizai and Nanatsu no Bitoku. You can find a preview of the Bikini Warrior figures here.
Unlike the scantily-clad, big-bosomed Bikini Warriors, the Frame Arms Girl model kits are stacked with self-built mechanical suits, leaving just a little bit of exposed skin to tease. The anime adaptation is also quite different: it features full-length episodes with the figures staying as figures rather than being transformed into full-size characters. You can find a preview of the Frame Arms Girl figures here.
In a sense, Busou Shinki is a combination of Bikini Warriors and Frame Arms Girls — it's a series of well-armoured female figures designed by notable Japanese artists that are kept as figures in the anime adaptation. However, the main difference with Konami's Busou Shinki series is that there's considerable variation, and the franchise includes all kinds of media, from music to artbooks. You can find a preview of the Busou Shinki figures here.
Moving on from underdressed adult figures, Shinkansen Henkei Robo Shinkalion is based on a line of toys best described as "bullet train Transformers." The Shinkalion robots are various models of real-life Japanese bullet trains that transform into robots to fight an evil black bullet train to protect the safety and peace of Japan. You can find a preview of the Shinkalioni figures here.


Apps
---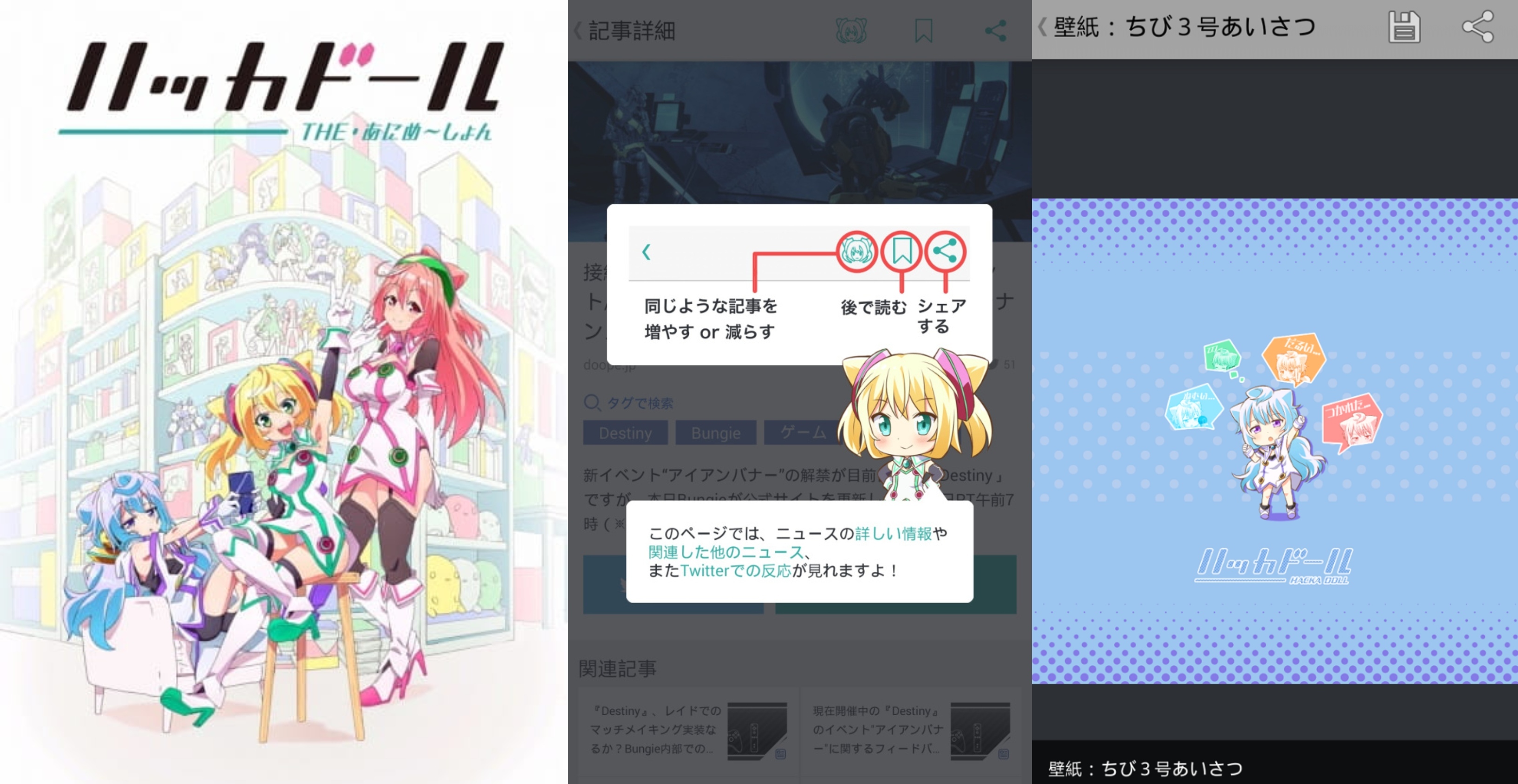 There are plenty of anime based on mobile games of multiple genres, but Hacka Doll is a special case — it's based on a customisable news feed app made by DeNA, our previous site owners. The app has since discontinued service, but not before it inspired an anime adaptation. Without any context, the synopsis actually sounds really fascinating, so I recommend taking a read yourself through the link above.


Western Animation
---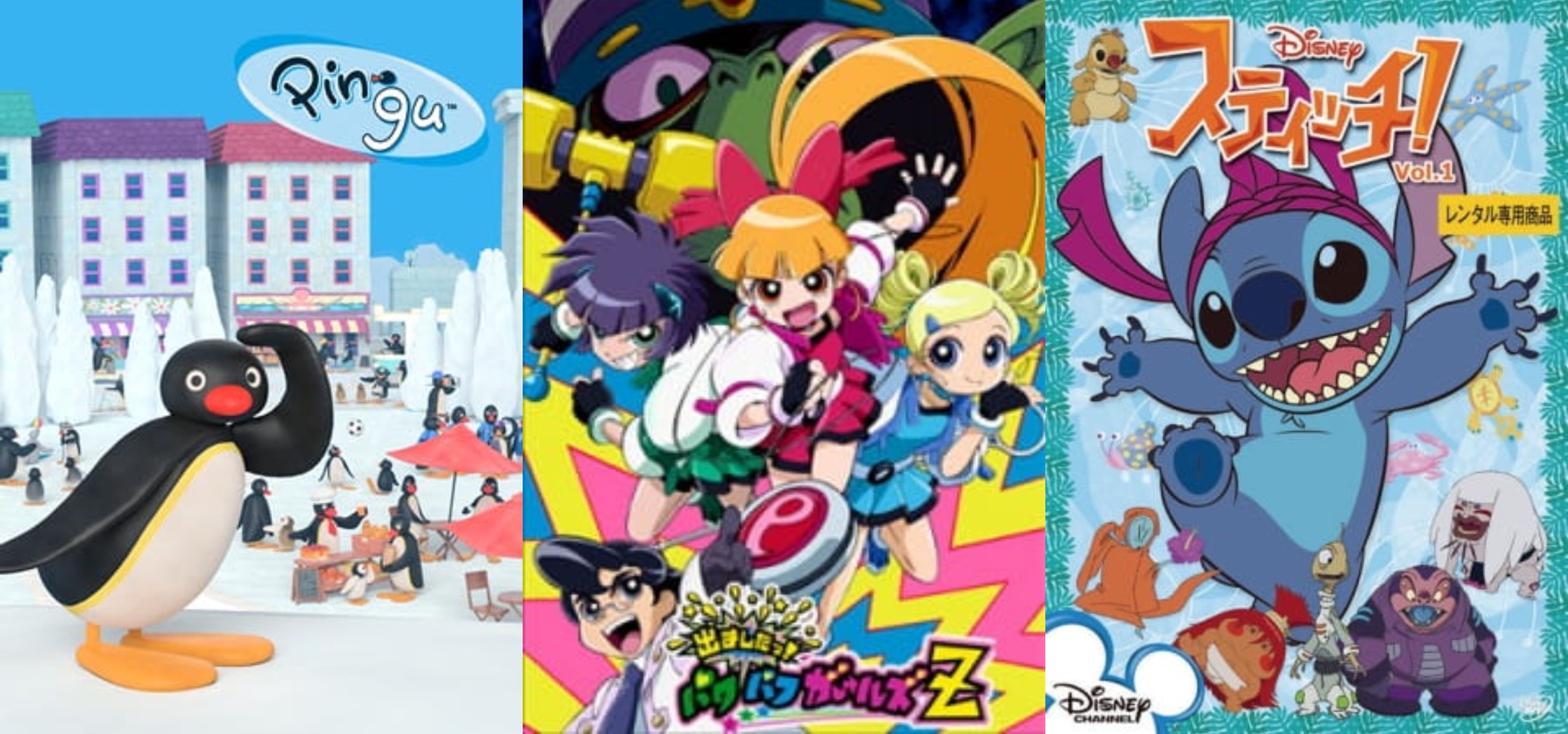 Comics aren't the only things that have been adapted into anime from overseas — these adaptations took the "tion" out of animation.
I'm sure many of you are already familiar with this entry, considering how it was received by certain MAL users... regardless, I grew up with Pingu on VHS, and now it's available as a CG anime that effectively mimics the original clay animation. It even got a second season.
If you've ever watched the original Powerpuff Girls cartoon, you'll remember the opening sequence that shows Professor Utonium spilling Chemical X into a mixture of "sugar, spice, and everything nice" that creates the Powerpuff Girls. In the anime version, a mochi cake falls into the formula to make Chemical Z, which creates the Powerpuff Girls Z (beat that, Dragon Ball). Add in some magical girl elements and you've got yourself the anime version.
Just like with superheroes, Japan loves Disney like everyone else on the planet (though nowadays, they are mostly one and the same). Stitch is a particularly popular character that even got his own anime. The anime adaptation, simply titled Stitch!, is a spin-off of Lilo & Stitch: The Series produced by studio Madhouse. The original series showcases Hawaiian culture, but this was replaced with Okinawan culture in the anime; there's also a separate Chinese version that operates on a similar concept.


Drama CDs
---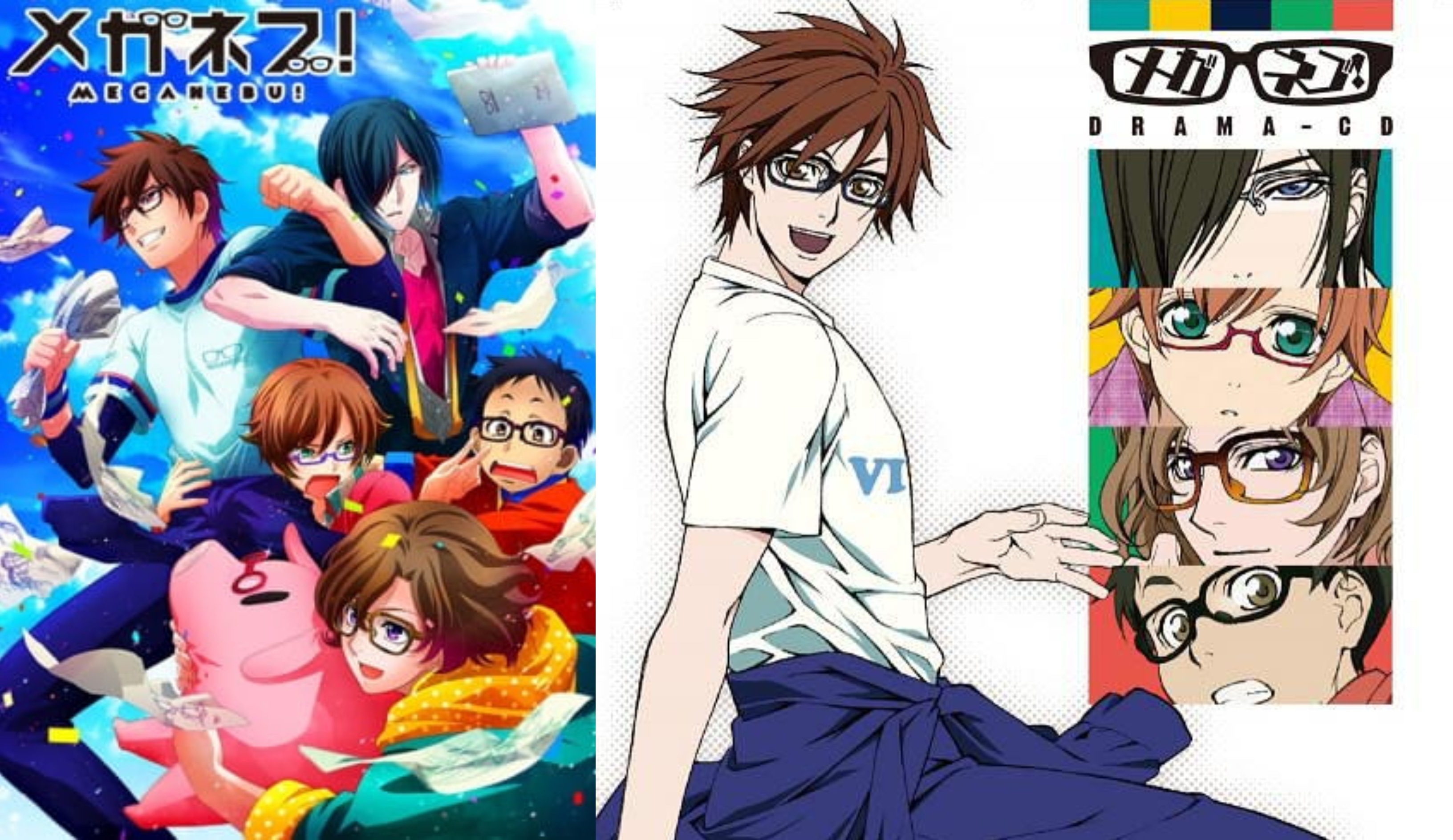 It's not uncommon for popular series to receive drama CDs, but it rarely opens in reverse. The Meganebu drama CD series follows the activities of five male students who are members of their school's Glasses Club and their shared passion for eyewear, and it was adapted into an anime by Studio Deen in 2013.


Pachinko
---


Adapting beloved game franchises into pachinko machines is a bit of a meme in the gaming community, but over here in the world of anime, pachinko machines are the ones getting adapted instead.
Based on the Rio series of pachinko machines, Rio: Rainbow Gate transforms a still background image into 13 full-length episodes filled with playing games and playful ecchi. The main character, Rio Rollins Tachibana (which is an objectively cool name), even made a special appearance in Dead or Alive Paradise for PSP.
They may have only been 15-second shorts based on pachinko and slot machine parlor Island's "Aira Project" commercials, but they starred some incredible voice talent. Airi was voiced by Pile, the idol behind one of Love Live!'s most popular characters, Maki Nishikino; Hana was voiced by the #1 most popular person on MAL, Kana Hanazawa; and Shima was voiced by Yuka Iguchi, best known for her role as Index in Toaru Majutsu no Index.


Non-Fiction
---

From the main visual, you might assume that this is a loli bait series... and you would be correct since Moetan is based on a series of English language study aids aimed at Japanese otaku. There isn't as much teaching going on in the anime adaptation though...
This one isn't adapted from a published non-fiction work like Moetan, but it is produced by educational IT book publisher Shoeisha. In its single 3-minute episode, the anime illustrates how the three most common internet protocols/standards handle a request (an online video purchase) from the user by handing off packets of data between them.


Stage Play
---


Going to see an anime stage play is high on my bucket list for visiting Japan, but I guess I'll have to make do with the other way around for now.
Oh! Edo Rocket is a minor show with some big names behind it. You may recognise the original playwright, Kazuki Nakashima, as one of the creators of Kill la Kill and Promare. Meanwhile, the anime adaptation was directed by Kenji Nagasaki, the man behind every season and movie of Boku no Hero Academia. The original stage play heavily employed breaking the fourth wall, and the anime followed suit.
If you loved Shouwa Genroku Rakugo Shinjuu, try this one out: a modern interpretation of the traditional Japanese Rakugo story "Atama-yama" set in contemporary Tokyo. Although it has a low score of 6.50 on MAL, it won the 2003 Annecy International Animated Film Festival Grand Prix (Le Cristal d'Annecy) for Best Short Film and was also nominated for an Oscar in the same year Spirited Away won Best Animated Feature.


Folktales
---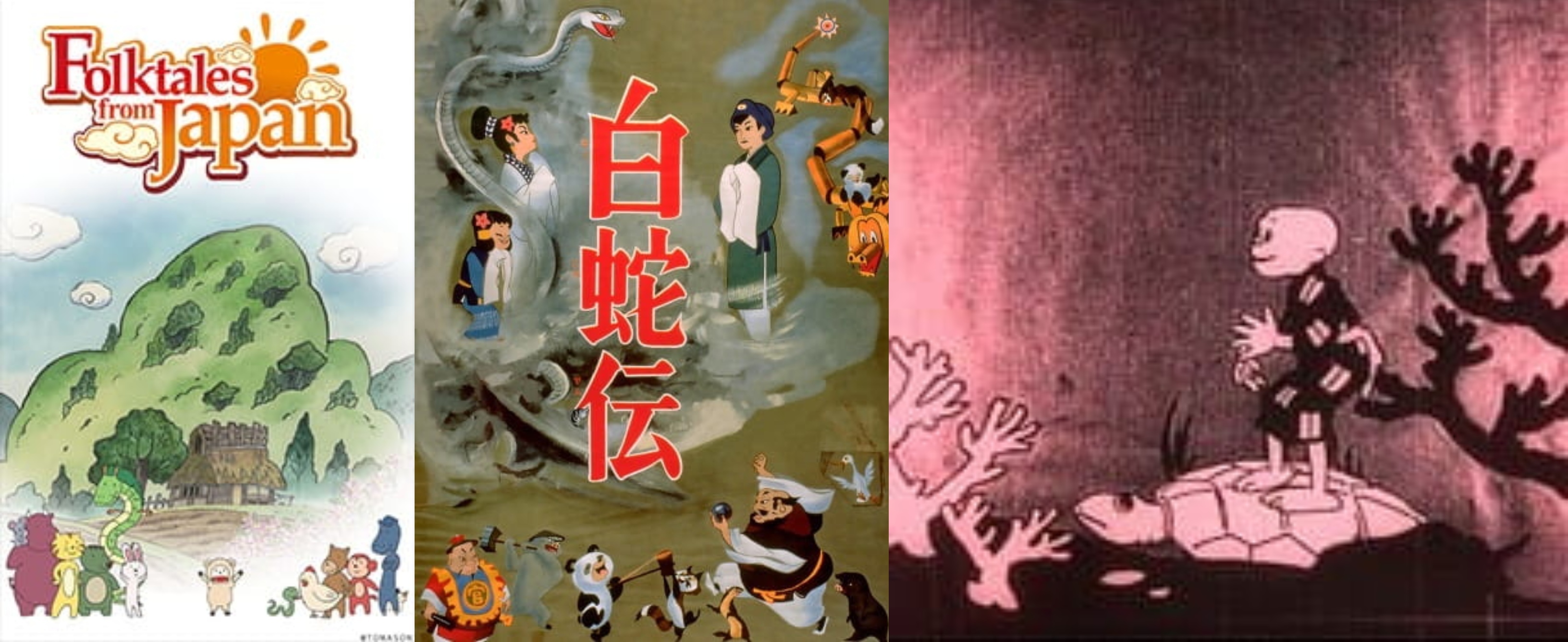 Sometimes, stories are passed down through so many generations that it's impossible to identify exactly where they came from. Japan has a rich history of mystic folktales that are no exception to getting the anime treatment.
Folktales tend to be short and sweet, perfect for a series of episodes containing three stories each, aptly titled Folktales from Japan. To give you an idea of just how deep the well of Japanese folktales go, this anime is 258 episodes long — 774 folktales in total.
Folktales are old, and so is this anime adaptation of the Chinese folktale Panda and the Magic Serpent from 1958. This is a special one because it was the first anime feature film in colour and one of the first to be released in America in 1961. A restored version of the film was shown earlier this year at the Cannes Film Festival.
If you've watched a lot of gag anime, you might have seen a number of references to the tale of Urashima Tarou, one of the most well-known Japanese folktales. There are references to him and his magic box throughout many anime, so naturally, the story got an anime of its own (several, in fact.


Poem
---


Often comprised of interpretive wording and poignant imagery, poetry could be a near endless source of inspiration for anime. However, what I could find for poetry adaptations were short and unnerving.
Based on a poem by Sakutaro Hagiwara, Fue is animated in an unorthodox and unsettling hand-drawn style. In fact, everything about this anime is creepy and off-putting, which very much reflects the general style of Hagiwara's darker poems. If you have an aversion to anime in the Dementia genre, stay far away.
Similarly, Miyako is an unsettling anime adaptation of poetry taken from the perspective of a mentally ill woman stalking another woman, but this one includes an actual reading of the poem.


Biographical
---

Biographical movies and shows tend to be directly or loosely adapted from written material, either by the subject of the biography or a third party — one example being Anne no Nikki. Susume, Karolina., on the other hand, is an animated commercial for CalorieMate seemingly based on the career of professional shogi player Karolina Styczyńska, who was the first non-Japanese player (Polish) to be awarded professional status by the Japan Shogi Association.


Pop Group
---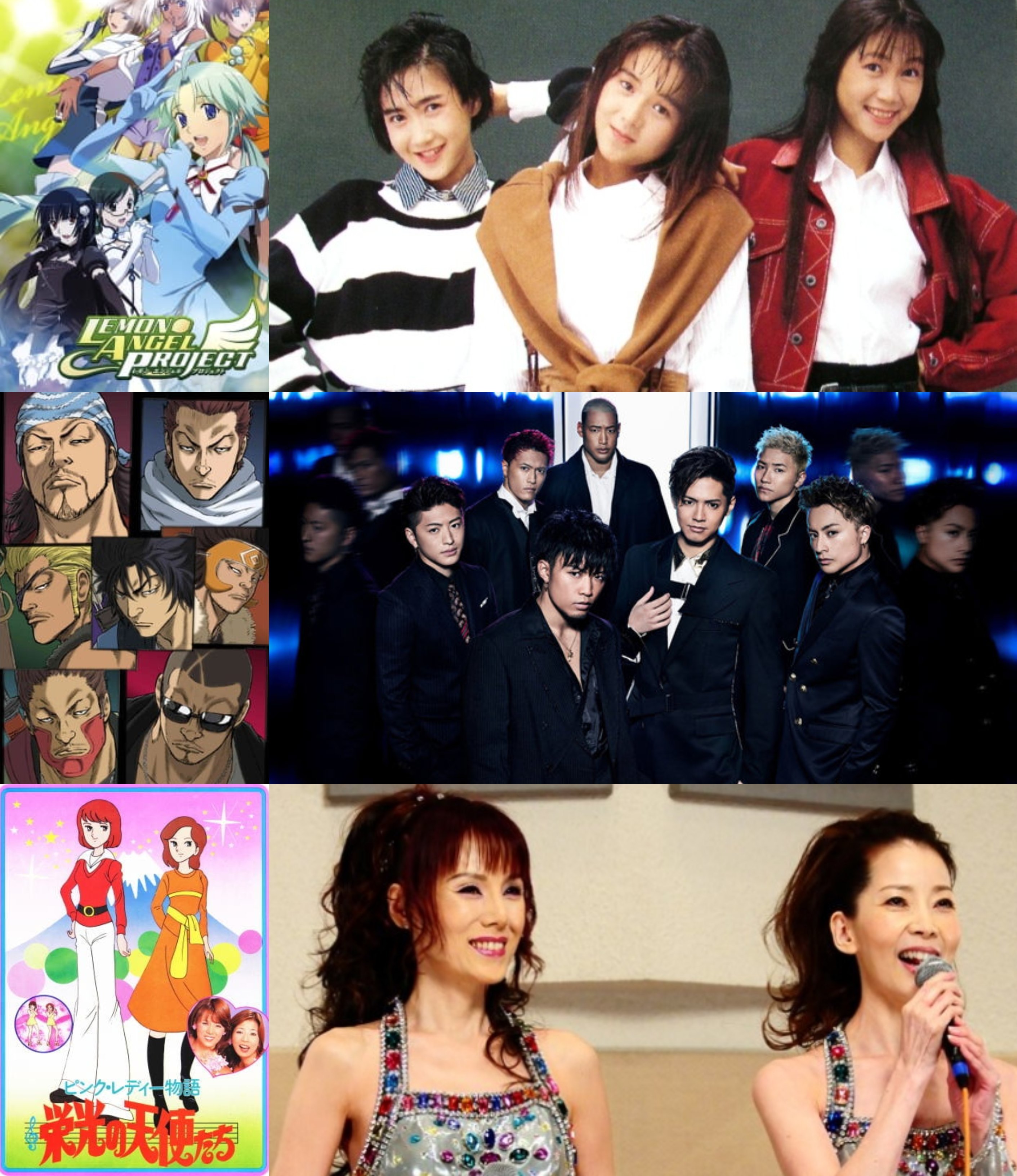 Released in 2006 and set in 2017, Lemon Angel Project is loosely based on the 80's J-pop group Lemon Angel. The original group consisted of three members that were only active for three years. In the anime adaptation, their names are altered and they're thrown into a fantastical story.
The previous entry is naturally listed with the Music genre, but this 2009 anime adaptation of EXILE bears the Action, Sci-Fi, Martial Arts, and Samurai genres. With another grand step-up from before, Exile is a 19-member Japanese boy band that has been active since 2001 and still is today. In the anime adaptation, these members are futuristic samurai that are transported back in time to Sengoku-era Japan.
Dialling things back a little from the extremity of Examurai Sengoku, Pink Lady Monogatari: Eikou no Tenshi-tachi is actually based on the real-life story of Pink Lady, a female pop duo from the 70's. Their career has been on-and-off, but they're listed as one of the best-selling idol groups of all time.


Conclusion
---
These are just a few examples of strange anime creations that lie both in plain sight and beneath the surface. The real beauty of "Source: Other" is that it always has the potential to expand. Egyptian mythology, dreams, text message conversations — who knows what else we might see in the future?