Sure, Western adaptations of Japanese anime or manga may give most anime fans a headache, but have you ever thought about the reverse? Despite what you might think, there actually have been quality productions and interesting takes on classic and modern works that are worth checking out.
You've likely seen or at least heard about the few that Studio Ghibli has brought to prominence over the years, including When Marnie Was There, Earthsea, and Howl's Moving Castle. However, there is a whole world of Western literature anime that flies right under the radar. These fascinating creations adapt pieces ranging from classics dating back centuries to children's books of this millennium.
After extensive research, I've picked out just 30 of the most significant (and unique) anime adaptations out of the surprisingly many that I found.
Note: Anime that are fairly well-known (Romeo x Juliet, Fushigi no Umi no Nadia, Gankutsuou, Ghibli films) or are just loosely inspired by Western literature (Pandora Hearts, Zetsuen no Tempest) are excluded from this list.


---
Les Misérables
---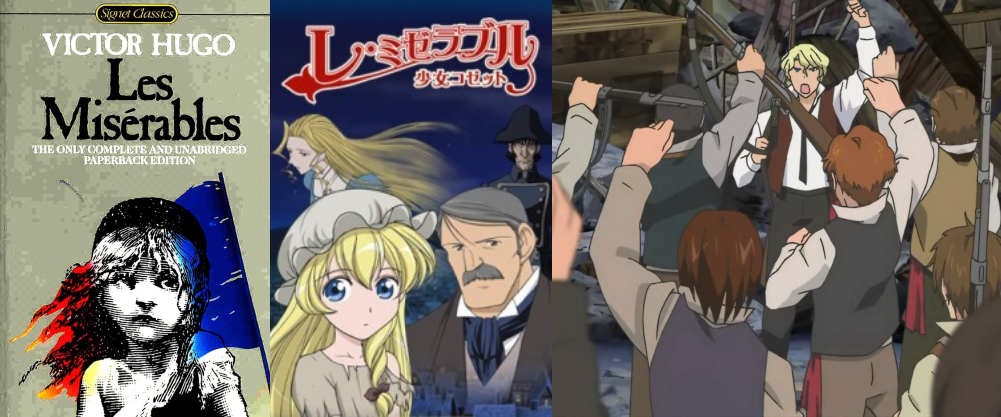 With 1400 pages in English and 1900 in French, Victor Hugo's Les Misérables is one of the longest novels in the history of Western literature. Since its release in 1862, this famous work has been adapted into an iconic Broadway show that was performed 6,680 times and a cinematic musical that grossed over US$440 million at the box office.
The book's monstrous length wasn't an issue for Nippon Animation, who produced this 52-episode animated saga about the French Revolution back in the mid-2000s. Unlike the movie, the anime adaptation focuses more on servant girl Cosette than the former convict who takes her in, Jean Valjean.
Vive la révolution!


---
Agatha Christie and Hercule Poirot Novels
---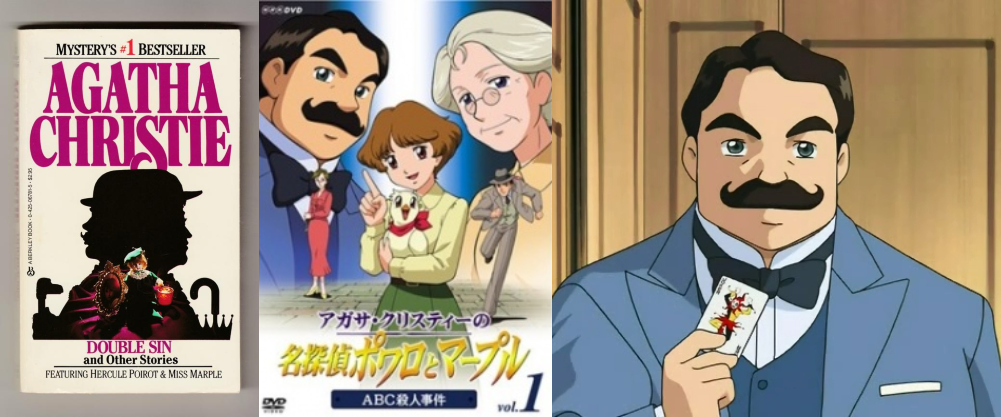 The queen of the mystery genre, Agatha Christie, gave the world two of the most iconic fictional detectives: the magnificent Hercule Poirot and the intuitive Miss Marple. In this 39-episode anime by Pokemon's OLM, the two super sleuths are connected by Mabel West, Miss Marple's great-niece, who becomes Poirot's junior assistant.
There was also a simultaneous manga adaptation for three of Christie's novels: The ABC Murders, 4:50 From Paddington, and Death in the Clouds.


---
Anne of Green Gables
---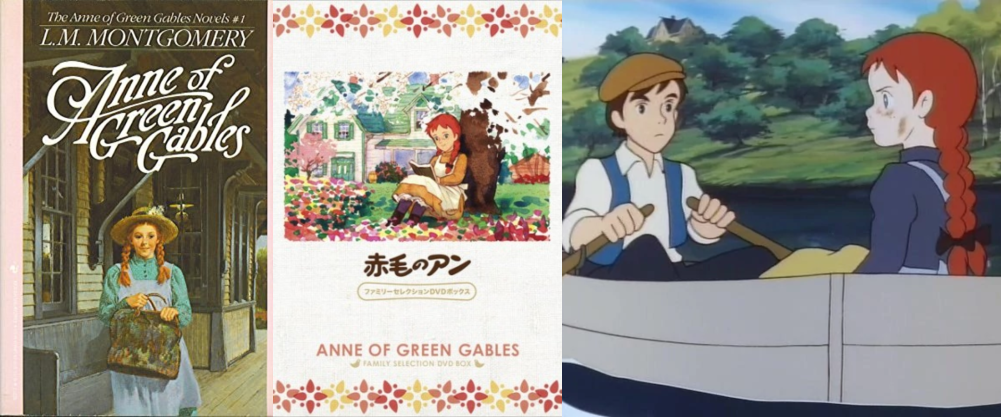 Since its release in 1908, Anne of Green Gables has sold more than 50 million copies, been translated into at least 36 languages, and been adapted into multiple films, TV series, and stage productions, earning its place as a classic children's novel for all ages.
When siblings Matthew and Marilla Cuthbert decide to adopt an orphan boy to assist them on their farm, the orphanage accidentally sends them a young girl instead. This girl is Anne Shirley, a redhead with an energetic and talkative manner despite having lived the harsh life of an orphan. After working through their initial hesitations, Matthew and Marilla choose to accept her into their family. This coming-of-age story about the optimistic and imaginative Anne is filled with challenges, as Anne adjusts to her new life, as she attends school and makes friends for the first time, and as she slowly learns how to conduct herself as a young lady.
Emily of New Moon from the same author, Lucy Maud Montgomery, was also adapted into an anime in 2007 (Kaze no Shoujo Emily). There was also a later prequel anime titled Konnichiwa Anne: Before Green Gables that came out only 10 years ago.
The anime was directed by Isao Takahata with scene layouts by Hayao Miyazaki at Nippon Animation, six years before they would go on to form Studio Ghibli. The top four reviews for Akage no Anne on MAL give it a 10, 10, 9, and 9, so it's certainly worth your time if you adore this classic.


---
Frankenstein
---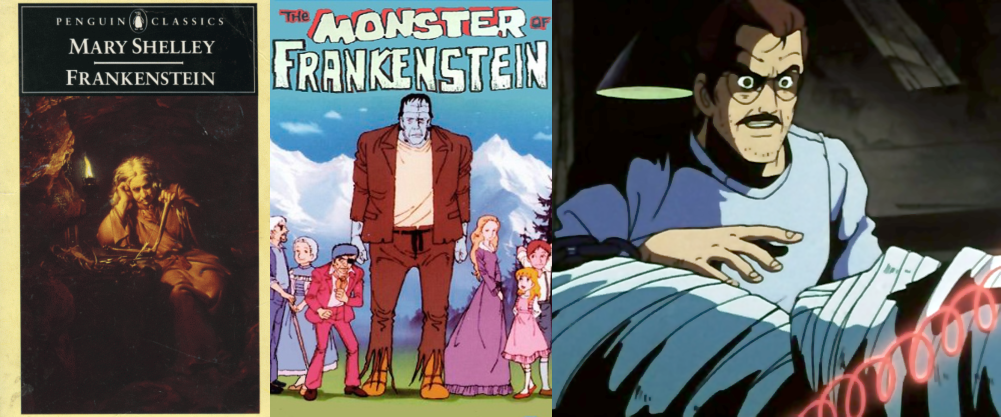 "Nothing is so painful to the human mind as a great and sudden change."
Hailed as the work of one of the greatest female authors of all time, Mary Shelley's gothic novel Frankenstein has made cultural waves since its publication two centuries ago. The tale of the visionary scientist Victor Frankenstein and his creation is considered to be one of the earliest cases of science fiction, and it addresses crucial themes such as the reckless pursuit of knowledge and existence itself.
Kyoufu Densetsu Kaiki! Frankenstein is based not only on Shelley's original novel, but it also draws from Marvel Comics' The Monster of Frankenstein. This anime film follows Victor and the consequences of his creation after its disappearance, while his monster embarks on a harsh journey of self-discovery.
Remember, Frankenstein is the name of the doctor, not his monster.
---
Deltora Quest
---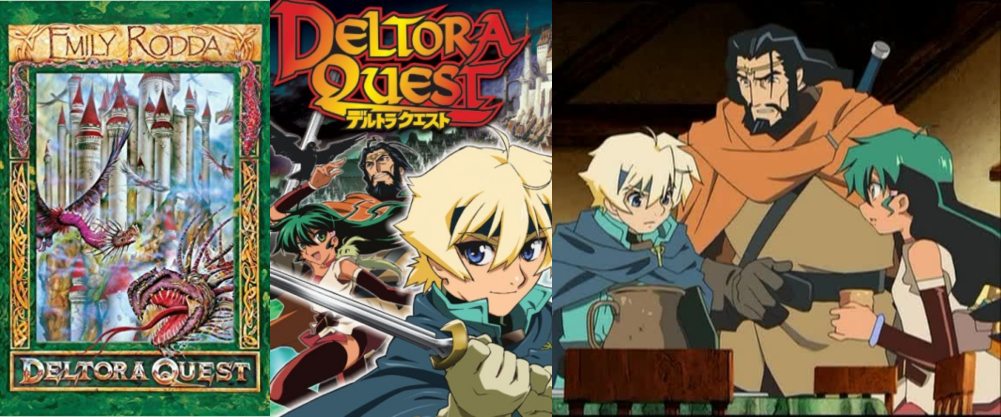 In a sea of anime adapted from classic pieces spread out over the last few centuries, Deltora Quest is one of the few anime adaptations of modern Western literature on this list. Beginning with The Forests of Silence in 2000, the original Deltora Quest book series by Australian author Emily Rodda has had a heavy impact on young readers worldwide. Rodda was approached with numerous offers for a film adaptation, but Genco was the only one who promised not to change the story. Thus, a 52-episode series was commissioned.
Due to its popularity in Japan, an additional 13-episode filler arc was also produced; the opening theme of this arc was an adapted version of In This Life by Delta Goodrem, an Australian singer-songwriter.
With a whopping 65 episodes, it's the longest adaptation on this list, but it is well worth the watch if Lief, Barda, and Jasmine helped shape your childhood. There is also a manga adaptation with 10 volumes, but it only covers about half of the first book series.


---
Treasure Island
---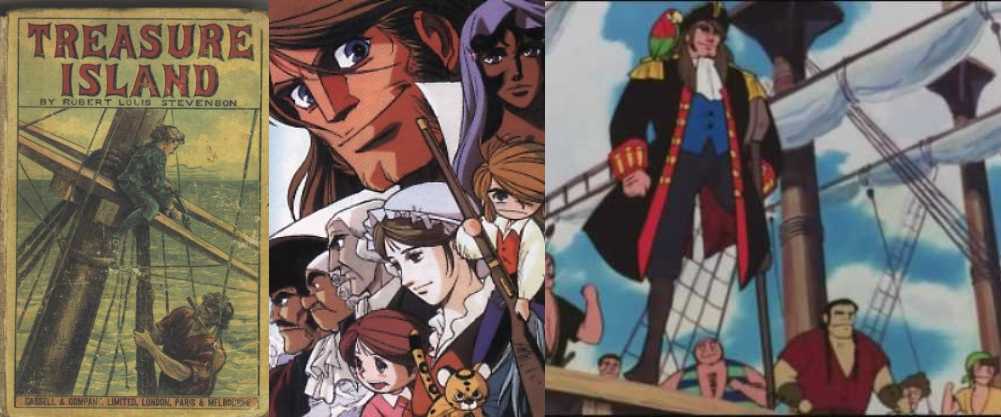 The influence of Robert Louis Stevenson's Treasure Island on the modern depiction of pirates cannot be understated, having given us classic tropes like The Black Spot, the one-legged pirate with a parrot, and an "X" on the map marking the location of buried treasure.
The main character, 13-year-old Jim Hawkins, is thrown into the dangerous world of piracy when an old sailor dies in his family's inn and leaves behind a map leading to the treasure of the notorious swashbuckler Captain Flint. On his journey to "Treasure Island," Jim faces treachery from all sides in the pursuit of glory and riches.
Takarajima is the highest scored entry on this list with an 8.02 at the time of writing. Thanks to TMS Entertainment, you can watch it in English online for free here.


---
The Three Musketeers
---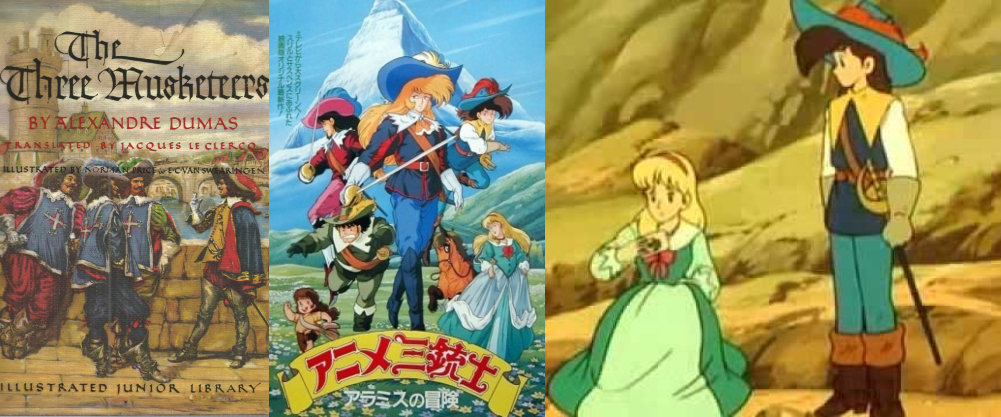 When you hear "All for one, and one for all," I'm sure many of you immediately think of the fundamental rule of alchemy from the Fullmetal Alchemist franchise. Readers of classic literature, however, will know that the phrase is originally the motto of the illustrious Three Musketeers ("Un pour tous, tous pour un").
Written in 1844, the story of the Three Musketeers is a historical tale of adventure, romance, and fighting injustice in a time of intense politics. In 17th century France, a poor young nobleman by the name of d'Artagnan leaves his family to join the Musketeers of the Guard in Paris, but is beaten and robbed when he arrives. In his quest for revenge, d'Artagnan befriends three Musketeers, Athos, Porthos, and Aramis, and they fight together against a corrupt regime.
Some small changes were made in this adaptation: d'Artagnan is much younger, the action takes place over months instead of years, and Aramis is made into a woman who disguised herself as a man to join the Musketeers.


---
Robin Hood
---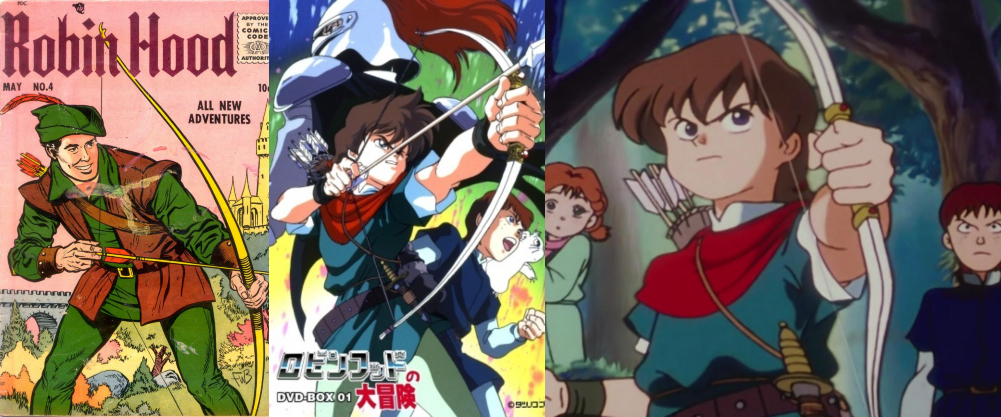 While this adaptation turns the main characters into teenagers, it is still the same tale of stealing from the rich and giving to the poor in a time of medieval corruption and oppression. Due to the ambiguity of the legend in English folklore, interpretations of Robin Hood and his ventures vary greatly. Some aspects, however, generally remain consistent: Robin's romantic interest in Maid Marian, the corrupt Sheriff of Nottingham, the ironically named Little John, the loyal Will Scarlet and the rest of the Merry Men, etc. Though in the case of Robin Hood no Daibouken, Robin's main adversary is the Baron of Nottingham instead of the Sheriff.
Robin Hood has seen many botched depictions and adaptations over the years (including a very recent one), but with an above-average score of 7.22 at the time of writing, Robin Hood no Daibouken may be worth checking out.


---
The Diary of Anne Frank
---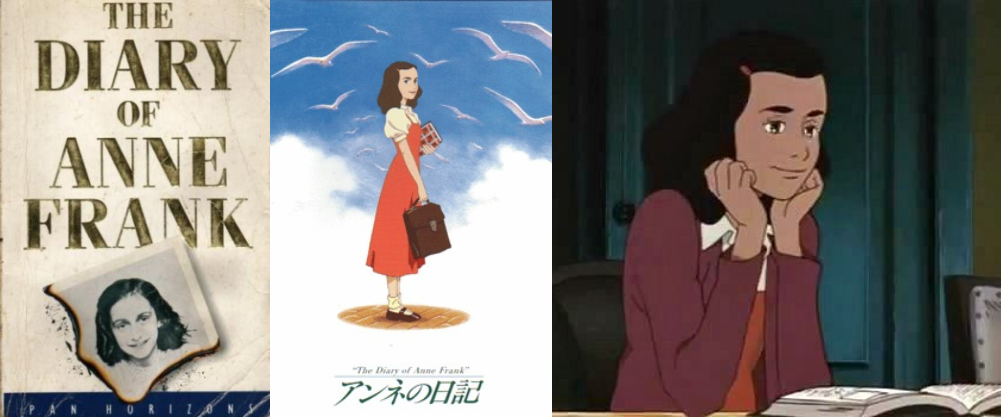 Anne no Nikki is a feature film by Madhouse (yes, you read that correctly) based on the historically significant diary of Anne Frank, a young German-born girl who was hidden away in an attic for two years to escape persecution during World War II. The tale of Anne Frank is an important one, but didn't quite make a successful transition into animation; in the words of ANN's Justin Sevakis, "even a story as powerful as Anne Frank's cannot overcome truly odious filmmaking and weird directorial choices that just don't work", and he couldn't "think of a worse way to experience the story than watching this film."
This is certainly one of most surprising entries on this list, but there are more just like it below.


---
Pinocchio
---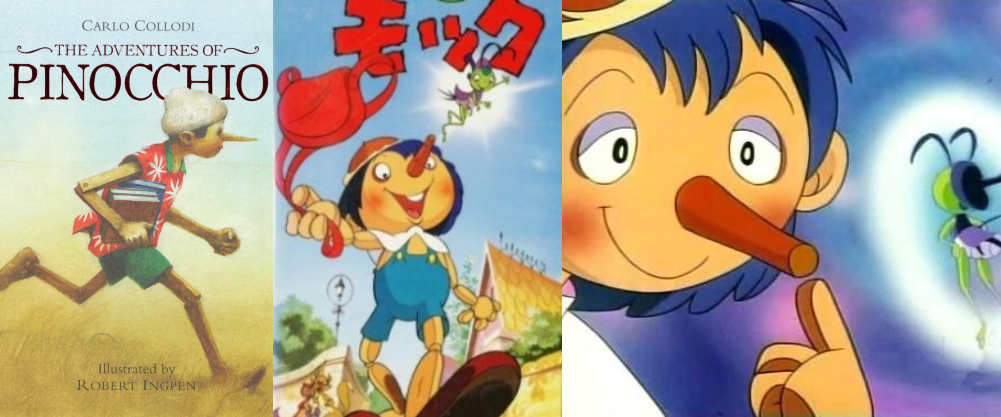 Before the well-known Disney animated classic Pinocchio, there was the Italian children's novel The Adventures of Pinocchio way back in 1883 that has been translated into over 300 languages as of last year. Pinocchio is a culturally significant character that represents the human condition and our dual nature; our real self and our material self.
Unlike the famous Disney adaptation, this version of Pinocchio takes a much darker tone that portrays the titular character suffering from constant physical and psychological abuse and freak accidents. On his quest to become a real boy, Pinocchio even resorts to attempted murder and other forms of delinquency.


---
A Christmas Carol
---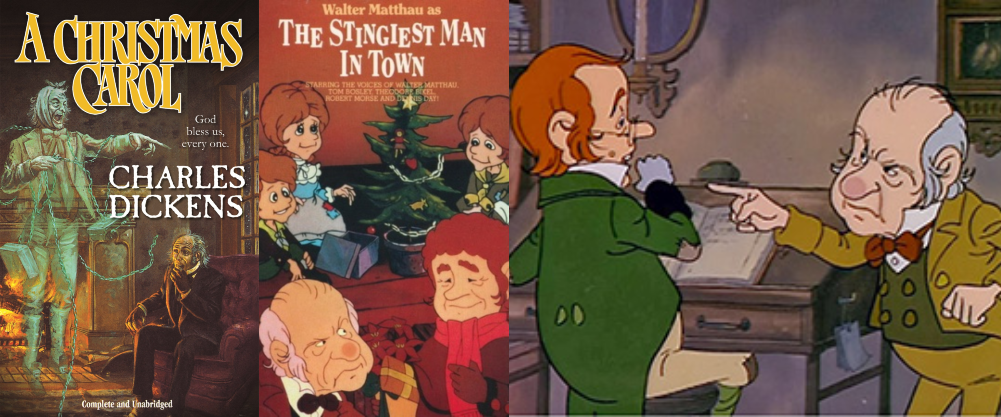 Money can't buy happiness.
This is the moral of Charles Dickens' A Christmas Carol, the quintessential piece of Christmas literature. A joint American-Japanese production, Machi Ichiban no Kechinbou adapts this classic novel from the perspective of the insect B.A.H. Humbug (an obvious play on Ebenezer Scrooge's famous catchphrase). Aside from this small quirk, this adaptation faithfully portrays Scrooge as the affluent grouch that embarks on a layered journey of self-reflection and personal redemption.


---
Cinderella
---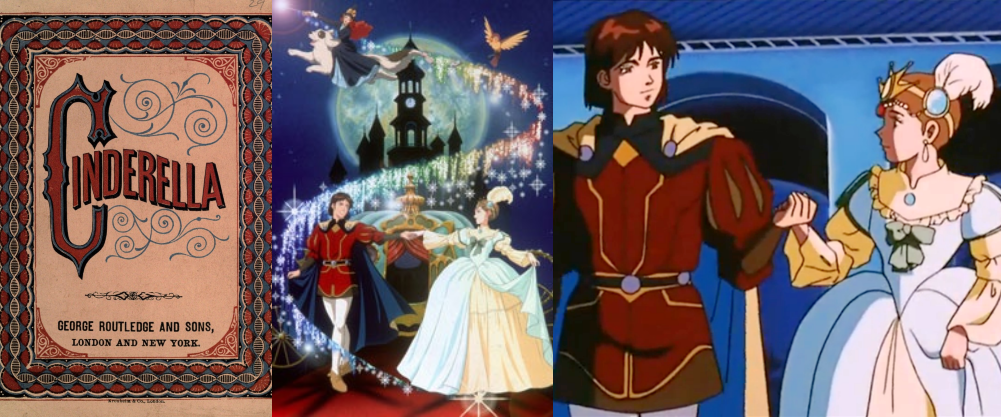 While this anime adaptation likely adapts the 1812 Brothers Grimm version, the folktale and archetypes of Cinderella are old and far-reaching. From the ancient Greek story of Rhodopis to the Chinese fairy tale Ye Xian, the story of an oppressed young girl who falls in love with a prince on a magical night is known far and wide with numerous variations on the classic tale.
In the case of Cinderella Monogatari, most of the tropes are maintained, but the story and romance are extended due to the 26-episode length. Cinderella instead meets Prince Charles after he sneaks out of the castle disguised as a commoner, and the two become friends and have adventures together. On top of the cruel stepmother, there is also the evil Duke Zaral who plots against the royal family.
The series does eventually result in the emblematic ball, but with its own unique twist...


---
Little House on the Prairie
---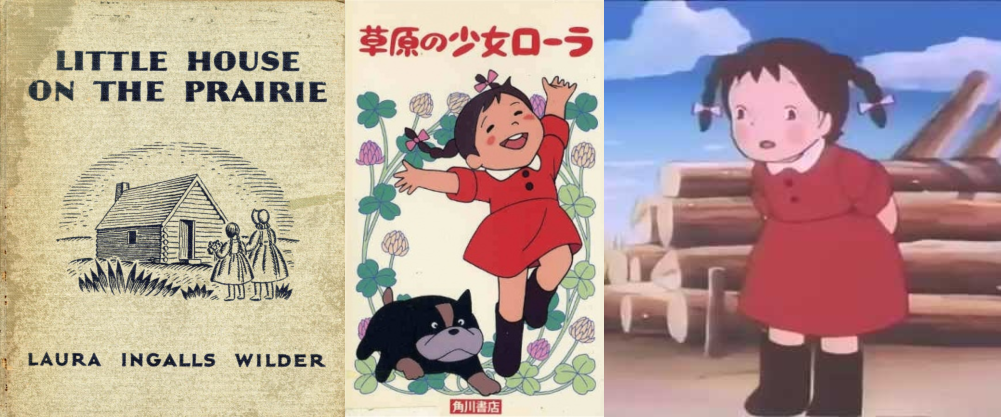 Well-known for the television series adaptation that ran from 1974 to 1983, Little House in the Big Woods and Little House on the Prairie by Laura Ingalls Wilder are the beginning of a 9-book series about Ingalls' own experience growing up with her family in the American Midwest and the struggles that it entailed. These two books were the source for a 26-episode series from Nippon Animation titled Sougen no Shoujo Laura (Laura, the Prairie Girl).
Even though Little House on the Prairie is certainly a Western literature classic, it's surprising to see a series so grounded in American history and culture be adapted into Japanese animation, especially a 2-cour series that ran at the same time as the live-action show.
---
The Secret Garden
---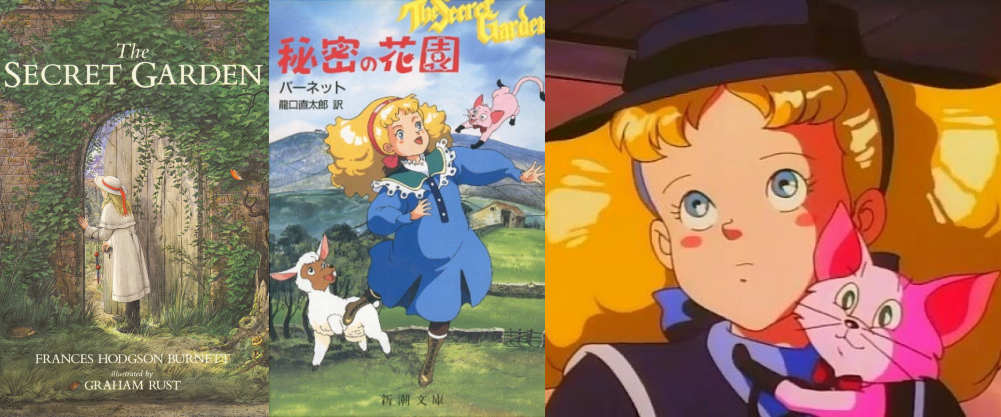 Mary Lennox's childhood is far from ideal. Her parents don't love their daughter and make an effort to ignore her, leaving it up to their servants to care for her, letting Mary grow into a spoiled and quarrelsome child. When a cholera outbreak takes the lives of her parents and servants, Mary is sent to live with her unfamiliar uncle in Misselthwaite Manor. Mary remains bitter at first, but soon comes to grow fond of her new home as she learns of an intriguing garden that was locked away; it is here that Mary makes friends as she cares for the secret garden, and in turn, begins to care for herself.
The central theme of The Secret Garden by Frances Hodgson Burnett is the idea that when something is neglected, it withers and dies; when something is cared for, it will thrive.
There is also an anime adaptation of Burnett's A Little Princess titled Princess Sara.


---
Peter Pan
---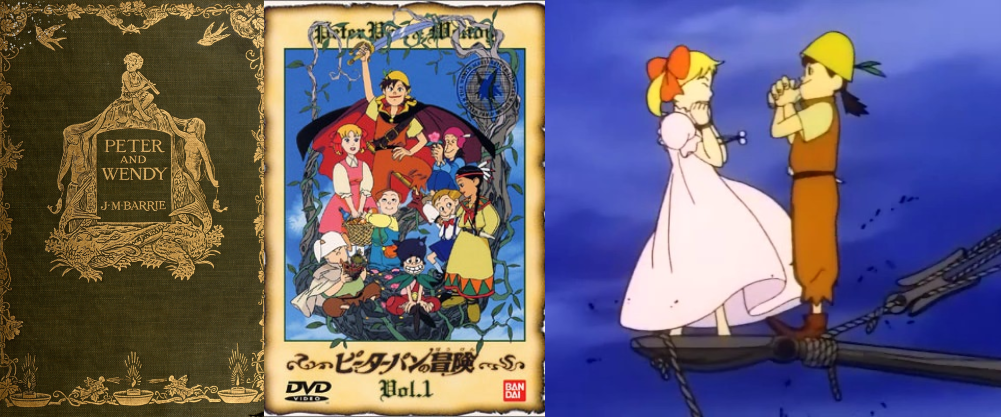 All you need is faith, trust and a little bit of pixie dust.
On a fateful, drawn-out night, Wendy Moira Angela Darling and her two younger brothers are whisked away on an adventure to the timeless Neverland by the boisterous Peter Pan, where they have all sorts of exciting encounters. Mermaids, Indians, fairies, and of course, the ongoing fight against nefarious pirates.
There are a number of differences in Peter Pan no Bouken compared to previous versions. For example, there are only three Lost Boys instead of the original six, and Captain Hook doesn't get eaten by the ticking crocodile in the end.
The influential Peter Pan name and story have been adapted into many different brands of popular culture – even into manga series such as Peter Pan♠Syndrome, Lost Boys, and Sayonara Peter Pan.


---
Starship Troopers
---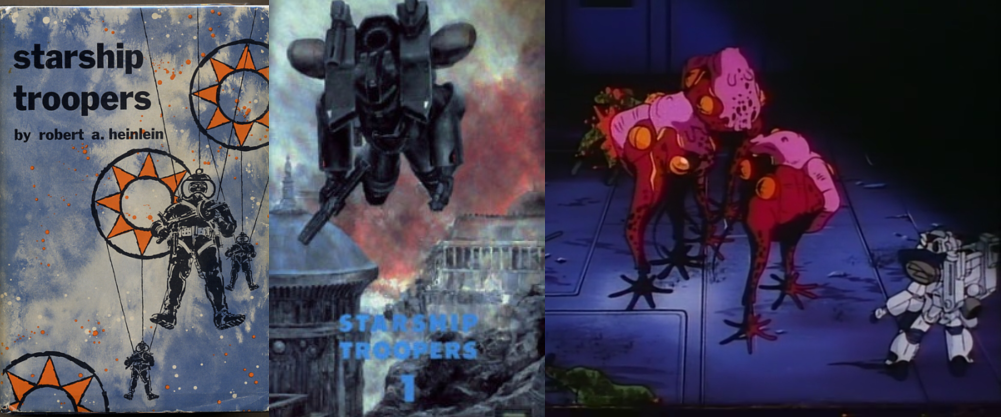 Even a Western "mecha" series that's 60 years old this year couldn't escape the robot-obsessed grasp of Sunrise... and the staff of Gundam, no less. Most of the anime on this list are fantasy or historical, making this science fiction adaptation a rare instance.
Starship Troopers is set in a future ruled by a military government known as the Terran Federation. The story follows Juan "Johnny" Rico as he serves in the Mobile Infantry, a division of space marines, and climbs the military ranks in the middle of an intergalactic war between mankind and an alien species called "Arachnids" or "Bugs".
The anime adaptation was dedicated to the author, Robert A. Heinlein, who sadly passed away before the first part of the series was released.
Starship Troopers also had two additional adaptations, Starship Troopers: Invasion in 2012 and Starship Troopers: Red Planet in 2018.


---
The Swiss Family Robinson
---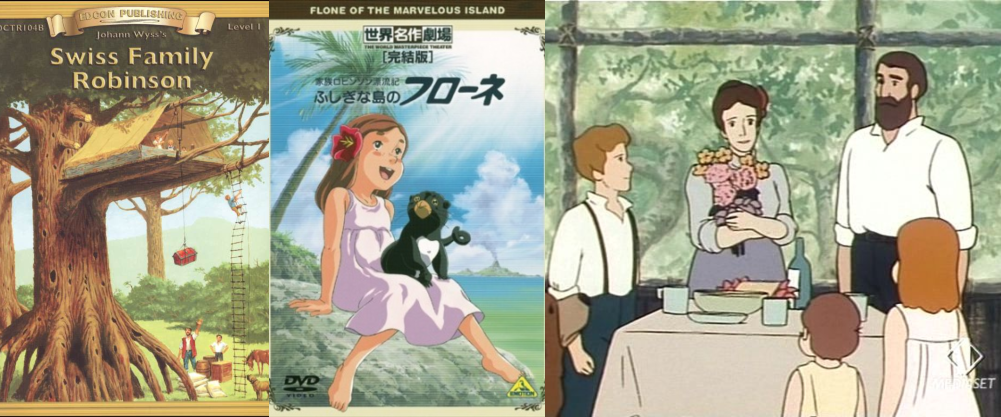 Before the hit show Lost, the award-winning movie Castaway, or even the classic Gilligan's Island, there was Swiss Family Robinson, the tale of a family that deftly adapts to a new life after they are left shipwrecked on a deserted island. The Robinson family survive and thrive for ten whole years over the course of the original novel by Johann David Wyss, and stick together through thick and thin.
Kazoku Robinson Hyouryuuki: Fushigi na Shima no Flone makes a small alteration to the story by adding in Flone as an original character, but the anime still retains the original story, characters, and themes of family and the beauty of nature. The island is home to all kinds of plant life that would not be able to coexist in real life, an intentional part of the original story meant to teach readers about nature, which is replicated in the anime adaptation.
This adaptation was one the few World Masterpiece Theatre works by Nippon Animation that was actually dubbed in English and broadcast in Europe and the United States.


---
Zorro
---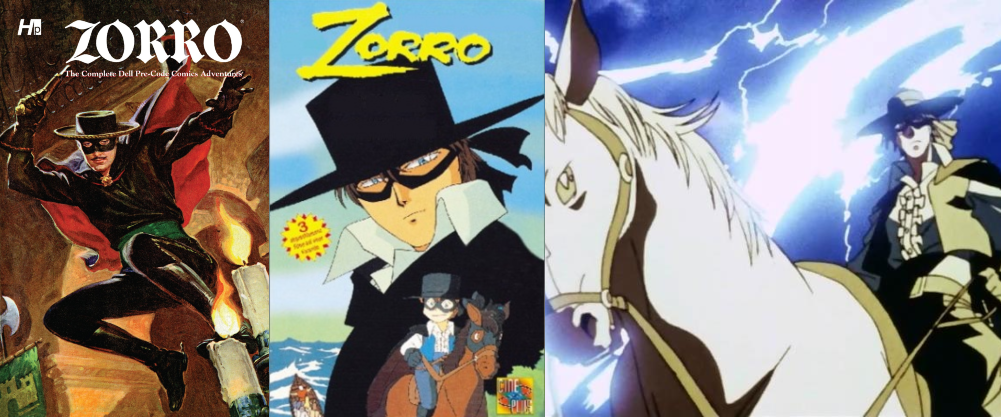 For those of you who know the masked vigilante Zorro (Spanish for "fox"), you may be surprised to know that his origin is in Western literature, namely the 1919 novel The Curse of Capistrano. This iconic character has been the subject of over forty film adaptations along with numerous television shows, radio dramas, comics, stage productions, and even video games.
Don Diego de la Vega returns from his study trip to find that his home has fallen under an oppressive dictatorship. Outraged, he dons the Zorro persona to fight against this cruel regime, leaving his trademark "Z" on all his foes. The legend of Zorro is one of danger, justice, and romance.
Funnily enough, this adaptation was very popular in Spain and Portugal, who are the villainous colonisers of the story.


---
Around the World in Eighty Days
---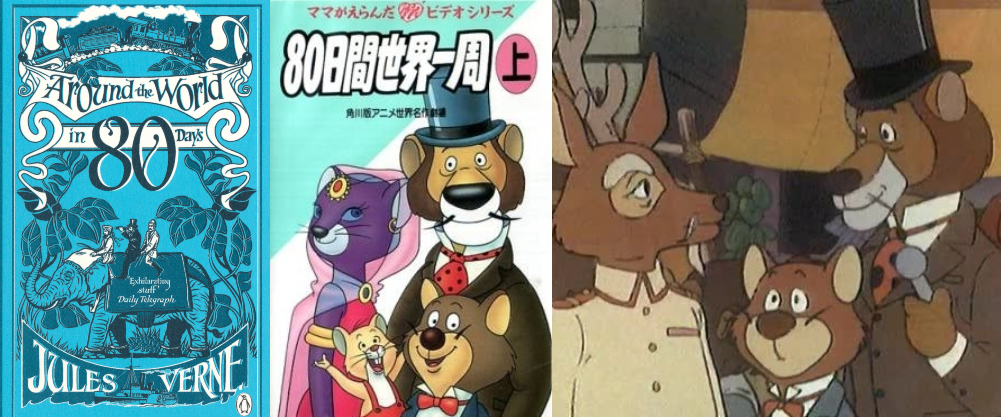 One of Jules Verne's most iconic works, Around the World in Eighty Days, depicts inventor Phileas Fogg's journey around the world in a mere eighty days as the result of a £20,000 bet (nearly US$3 million today). Fogg and his valet Jean Passepartout travel to Egypt, India, Hong Kong, Japan, the United States, and then back to England on their incredible journey.
Anime 80-nichikan Sekai Isshuu was a collaborative production between Nippon Animation and Spanish studio BRB Internacional for a primarily Western audience. It didn't quite take off in the United States, but found popularity in the United Kingdom and Spain.


---
Wind in the Willows
---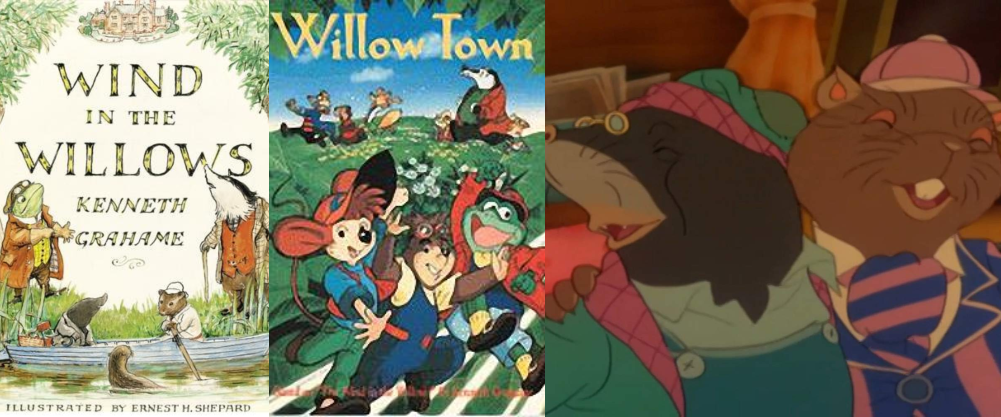 "Believe me, my young friend, there is nothing – absolutely nothing – half so much worth doing as simply messing about in boats."
Unlike the previous entry on this list that turns the original characters into anthropomorphised animals, The original The Wind in the Willows novel tells the fun-filled tale of four animal friends: the altruistic Mole (Moly), the river-loving Rat (Ratty), the rich and obsessive Mr. Toad (Toady), and the gruff but benevolent Mr. Badger. Together, they help keep Willow Town out of the clutches of the villains that wish to take it over. In the anime, the names were slightly altered for the Japanese audience.
This adaptation is so obscure, it wasn't even listed in the "Adaptations" sections of The Wind in the Willows's Wikipedia page at the time of writing.


---
The Wonderful Wizard of Oz
---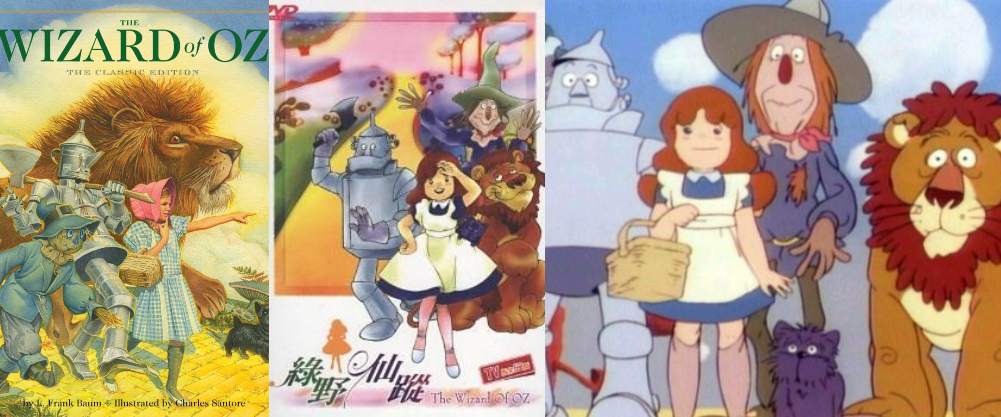 There's no place like home.
You can relive the magical journey of the fearless Dorothy, Scarecrow, Tin Man, and the Cowardly Lion as they face Oz's many dangers in this anime adaptation.
The iconic 1939 movie adapted only the first book of the Oz series, whereas the 52-episode anime adaptation adapts 4 of the original 14 books (yes, there are that many). The first two parts of the series remained mostly faithful to the original material (episodes 1-30), while parts 3 and 4 strayed heavily; the plot and characters were significantly altered.


---
Alice's Adventures in Wonderland
---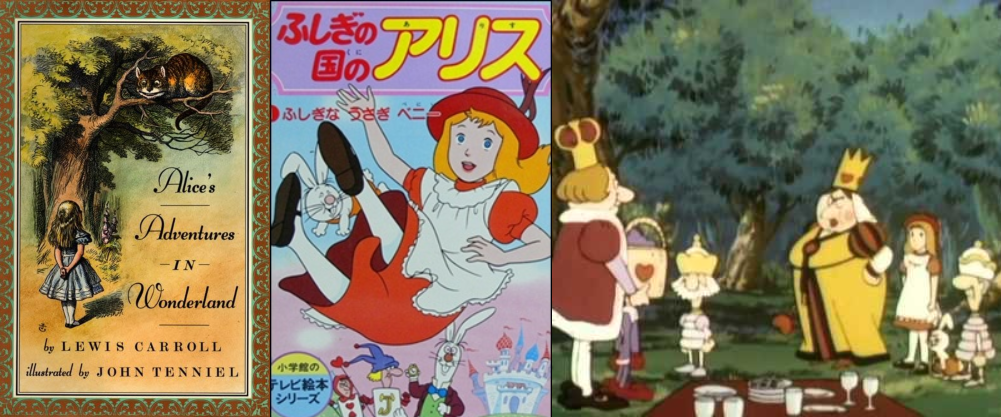 Pandora Hearts, Rozen Maiden, Slayers, InuYasha, Sword Art Online: Alicization, the ED of Dagashi Kashi, etc.
With the amount of anime and manga loosely or heavily inspired by Alice's Adventures in Wonderland, is it really any surprise that there was a direct anime adaptation? Fushigi no Kuni no Alice was a Japanese-German co-production between Nippon Animation and Apollo Films that became quite popular in many European countries. The biggest change in this series from the books was that Alice returns to the real world at the end of each episode and then returns to Wonderland at the start of each episode; these transitions were often depicted as "dream-like."


---
Little Women
---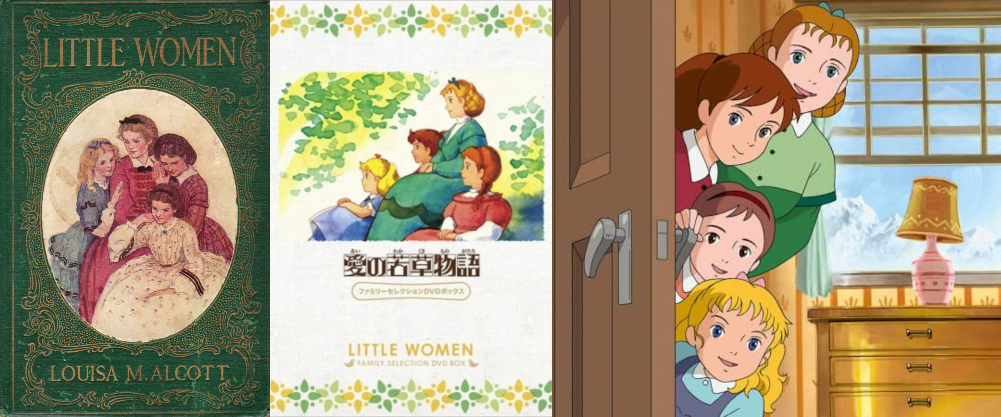 To quote Barbara Sicherman, a professor of women's studies and culture, Little Women "has been read as a romance or as a quest, or both. It has been read as a family drama that validates virtue over wealth", but also "as a means of escaping that life by women who knew its gender constraints only too well."
Ai no Wakakusa Monogatari was one of only three World Masterpiece Theater anime to be dubbed and broadcast in the United States; it's actually available to watch on Amazon right now! There was also a sequel series called Wakakusa Monogatari: Nan to Jo-sensei that premiered a few years later.


---
The Story of the Trapp Family Singers
---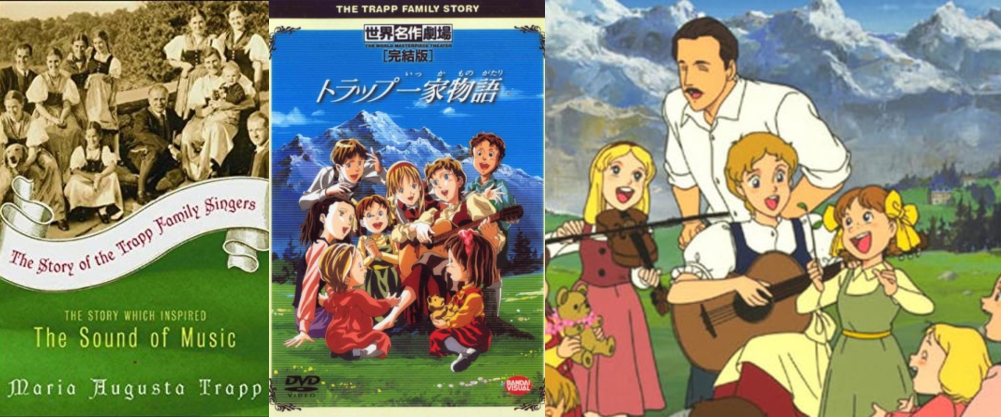 The hills are alive with the sound of music in this beloved tale, one you may know as the source for the classic musical The Sound of Music. Maria Augusta von Trapp's memoir reflects on her journey from an Austrian monastery to fleeing from Nazis with her new family, encountering tragedies and new friends alike along the way.
Many alterations were made to the original story, but unlike other adaptations such as the live-action musical, the children's names were kept the same in this version.


---
The Ingenious Gentleman Don Quixote de la Mancha
---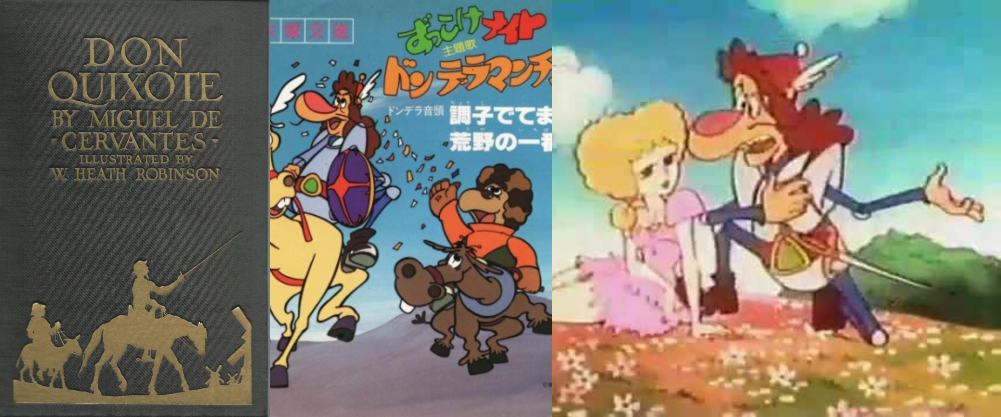 The Ingenious Gentleman Don Quixote de la Mancha is arguably one of the most revolutionary works on this list, forever changing the nature of "modern" literature when it was first published in 1605. In a time known for chivalric romance and pastoral dramas, it took these genres and brazenly commented on them in a form of parody well ahead of its time.
Not much information is available on this anime adaptation, but interestingly, it was one of the first anime directed by Kunihiko Yuyama, the main director of the Pokemon television series and movies.
On a side note, we published an article about the parallels between Mahou Shoujo Madoka★Magica and Don Quixote that you can check out here.


---
The Jungle Book
---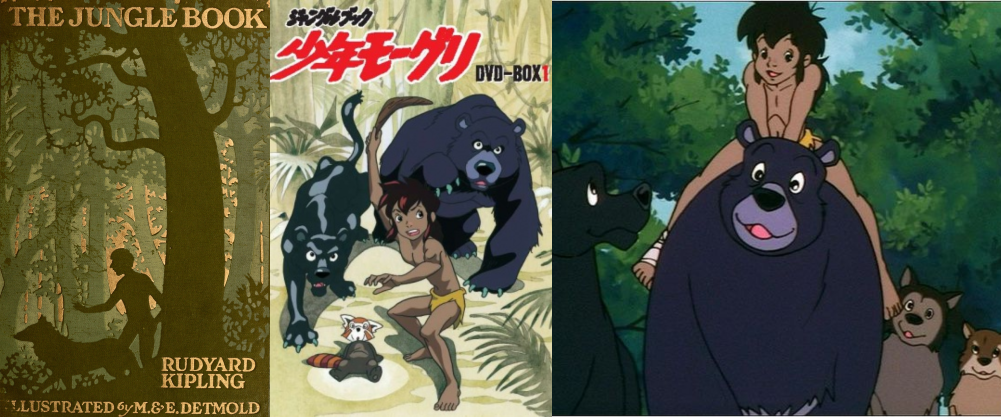 For those who somehow don't know about The Jungle Book, here are the bare necessities: Mowgli is raised by wolves after being abandoned in the jungles of India, where he learns how to survive and thrive thanks to the other animals he befriends. Writer Rudyard Kiping translated his childhood experience with abandonment and fostering to tell this iconic tale.
Jungle Book Shounen Mowgli is another 52-episode series from Nippon Animation's extensive catalogue, which actually became very popular in India and was even dubbed in Hindi.


---
The Adventures of Tom Sawyer
---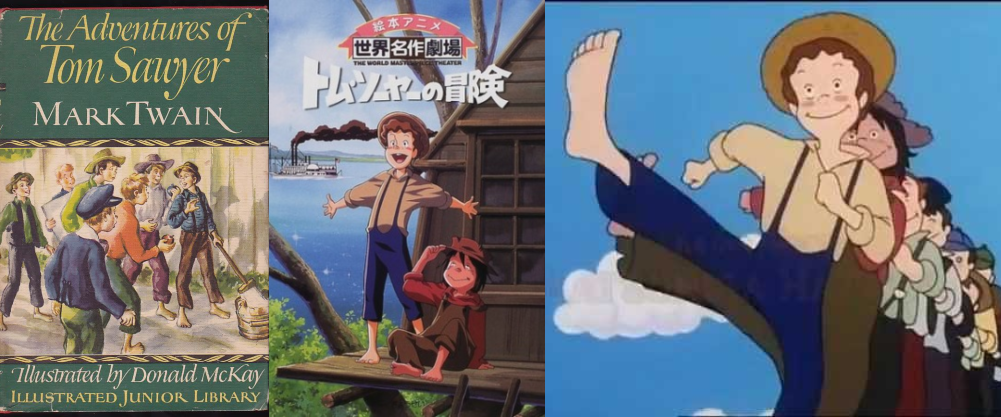 Tom Sawyer's adventures, like many shounen anime, can be broken up into arcs featuring all kinds of mischief and mayhem. Tom cunningly convinces local kids to do his chores, falls in love and gets "engaged" (more than once), witnesses a murder, runs away from home, and more. Tom Sawyer is voiced by Masako Nozawa, who you may know as the voice of Gokuu in Dragon Ball Z.
Part of the aforementioned World Masterpiece Theatre collection, this series was dubbed in English and broadcast on HBO in 1988.


---
Adventures of Huckleberry Finn
---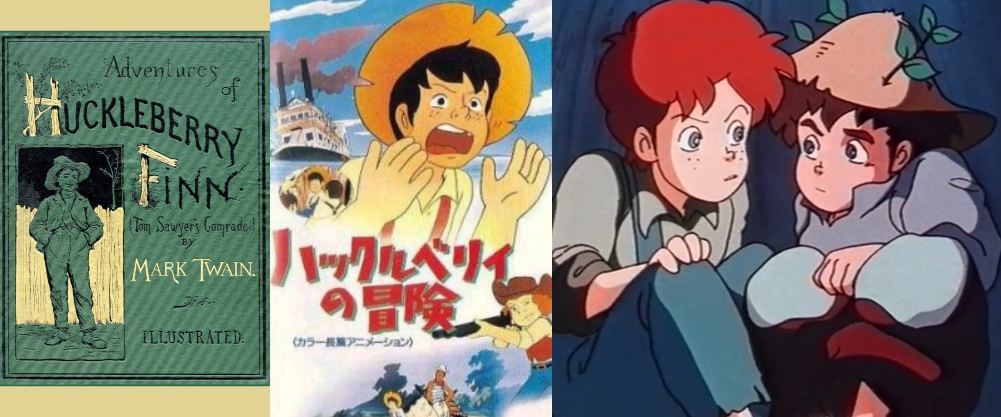 The character of Huckleberry Finn (or Huck for short) first appears in The Adventures of Tom Sawyer as Tom's best friend, but was granted his own book by Mark Twain eight years later in the form of a direct sequel. However, this anime was made by entirely different producers to Tom Sawyer no Bouken and actually came before it. Likewise, the books differed in that The Adventures of Huckleberry Finn contained a lot more coarse language and controversial elements.


---
Magic Tree House
---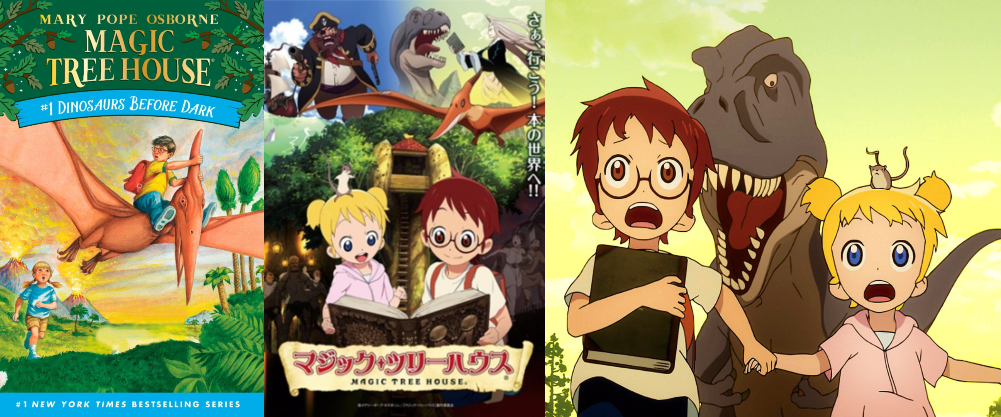 Spanning around 100 books (including spin-offs) and still ongoing, the Magic Tree House series is a bestselling and award-winning set of Western children's literature. At the time of this adaptation, in 2012, the books had sold more than 3.3 million copies in Japan alone. The plot is simple: two siblings, Jack and Annie, stumble across a magical tree house that is a gateway to all of space and time, taking them anywhere they desire.
In the anime movie (by the director of Toaru Majutsu no Index), Jack and Annie have to find four magic medallions to help Morgan, who had been turned into a mouse. They visit the late Cretaceous period with dinosaurs (book 1), a medieval castle (book 2), the city of Pompeii (book 13), and a pirate ship (book 4).
---
The Story of My Life
---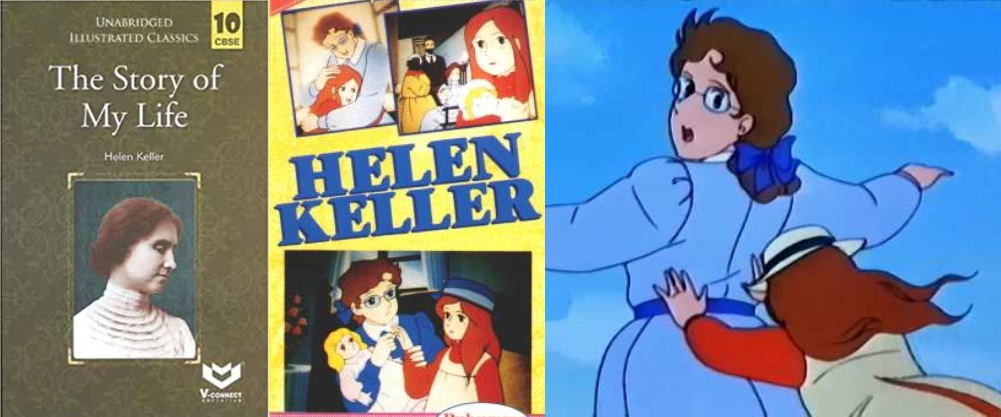 This is second only to Anne no Nikki in oddness, and it is perhaps the single most obscure entry on this list – an anime adaptation of Helen Keller's biography. For those who don't know of her, Helen Keller was born both blind and deaf and had to learn to communicate in an era that lacked the kind of support we have now. The book is actually dedicated to Alexander Graham Bell, inventor of the telephone, which reads "To ALEXANDER GRAHAM BELL Who has taught the deaf to speak and enabled the listening ear to hear speech from the Atlantic to the Rockies, I dedicate this Story of My Life."
Like Tanoshii Willow Town, this adaptation isn't even listed on The Story of My Life's Wikipedia page.
---

This list may seem like a lot, but it only scratches the surface of anime based on Western literature. If you're interested in finding more such shows, the best way is to simply open Nippon Animation's producer page.