---
The Top 5 Anime Studios on MAL
---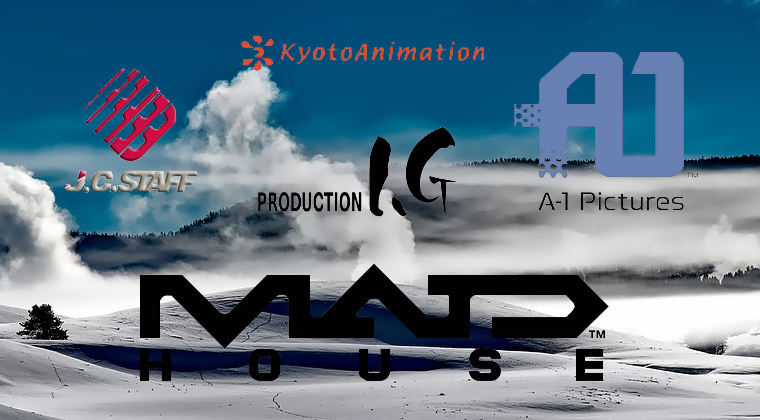 I'm sure most longtime anime fans and MAL members are asking themselves which are the anime studios with the most hit anime on MyAnimeList? Well, we decided to go through our database and look at studios which have the most shows with 150 000 members or more. And we must stress that these are animation studios, and not production companies like Bandai Visual or Sony Pictures Entertainment. It also goes without saying that these are all anime studios in Japan.
Now, this is not a scientific metric in any shape or form. Nor is it meant to determine which are the best anime studios overall. So don't fret if your favorite studios didn't make the list (Trigger, Sunrise, and Ghibli fans relax). This is a 100% unbiased list of anime studios which are popular exclusively with MAL members and nothing more. We systematically combed through the anime of each studio, and collected data into a spreadsheet to finally narrow down the five studios which best fit the criteria.
Now we let the numbers speak for themselves!


---
Anime studios with the most hits
---
---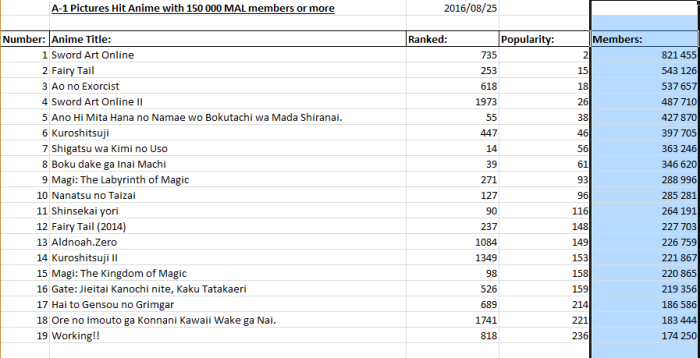 The other studios on this list have been around for a while, but A-1 Pictures was founded in 2005 which makes it rather young. Nevertheless, they've managed to produce some phenomenally cool anime in a relatively short space of time. And this hasn't gone amiss with MAL readers if we consider that 19 of their anime shows have garnered 150 000+ members!
Even though their body of work isn't that large, that hasn't stopped them from releasing a string of heavy hitters such as Sword Art Online, Fairy Tail, Ao no Exorcist, Kuroshitsuji, Shigatsu wa Kimi no Uso, Shinsekai yori, Aldnoah.Zero and Gate: Jieitai Kanochi nite, Kaku Tatakaeri. A-1 Pictures focuses a lot on manga and video game adaptations, while also producing some original works to spice things up.
When A-1 Pictures was formed, they worked on more family orientated anime. But over time they started diversifying their output, which is par the course for the majority of anime studios out there. This makes sense, as this strategy allows studios to reach out to more anime fans which can only help in increasing their longevity within the anime industry.


---
---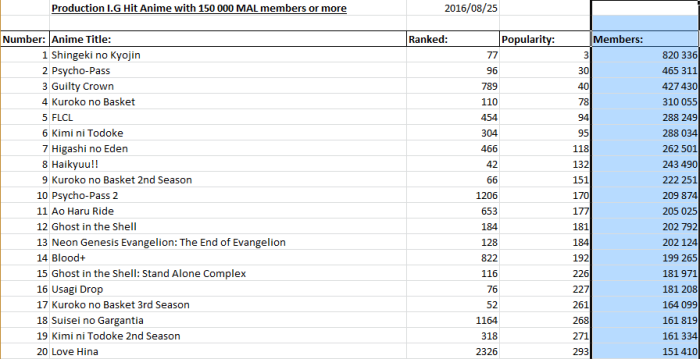 Production I.G boasts a whopping 20 hit animes show here on MAL, which isn't surprising considering the high quality of anime this studio produces. They've also built a reputation for using CG and the latest digital animation techniques. In many ways, they're a pioneer in this field as far as anime studios are concerned.
The first Ghost in the Shell movie was a game changer for both Production I.G and the anime industry as a whole, mainly due to the successful use of both CG and hand drawn visuals. Back when this theatrical anime was released, there were very few shows that boasted similar production techniques. And since then, we've seen the industry gradually adopt CG to a point where it's become the new norm.
Another aspect of Production I.G which make it stand out from its peers is that they focus extensively on producing anime with darker and more serious themes. They've given us hit shows such as Attack on Titan, Psycho-Pass, Blood+, Ghost in the Shell: Stand Alone Complex and Gargantia on the Verdurous Planet. However, they've also turned their attention to more light-hearted fare such as Kuroko no Basket, Usagi Drop and Love Hina.


---
---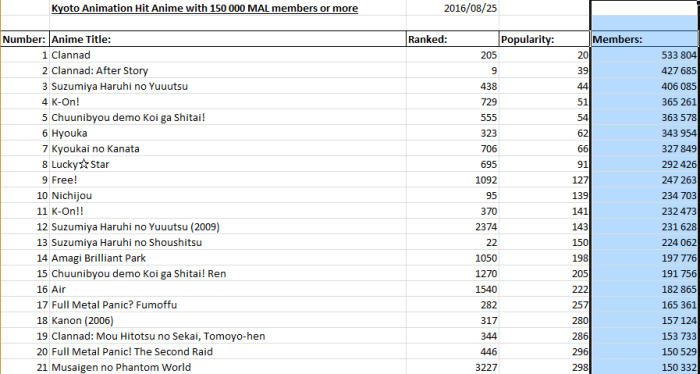 Kyoto Animation is one of the smaller studios on this list, and as the name suggests it is located in the Kyoto Prefecture. Regardless of the studio's size, they've somehow managed to create plenty of hit anime which MAL fans wholeheartedly approve of! They've got 21 anime with 150 000+ members which is quite the achievement.
It's generally a good idea for anime studios to produce both TV series and theatrical releases, and Kyoto Animation has kept a healthy balance between the two while also producing a couple of OVAs and ONAs. Romantic comedy is the genre that dominates their anime line-up, but they also like to mix things up with fantasy, supernatural, science fiction, mecha action, drama, school life and slice of life. And most of their hit shows are adaptations of popular manga and light novels.
Given the studio's focus, many of their hit anime are accessible even to folks who only have a mild interest in the medium. Clannad, Suzumiya Haruhi no Yuuutsu, Kyoukai no Kanata, K-On!, Lucky Star and Air are the type of anime we can sit and enjoy with our families and significant others, while looking at the brighter side of life!


---
---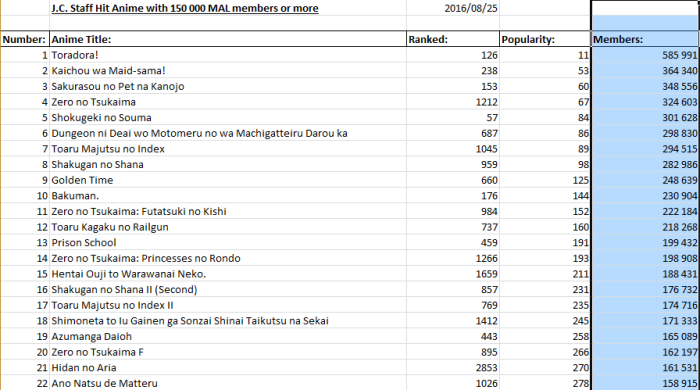 J.C. Staff is one of those animation studios which most anime fans don't talk much about, or seem to hold as much reverence for compared to certain higher-profile studios. Quite strange really, as this is a well-established studio which has produced tons of hit anime shows - many of which MAL readers absolutely love! The numbers don't lie; J.C. Staff has managed to stack up 22 hit anime here on MAL.
It's time to dig a bit deeper and find out why J.C. Staff anime appeals so much to you. And what's immediately apparent is that this is a studio that knows how to produce shows that win the hearts of anime fans. They dabble in all genres from comedy, romance, drama, fantasy, thriller, science fiction, action, mecha, magical girl, slice of life and even ecchi. This eclectic mix of genres and their massively large body of work means that this is studio that has gone out of its way to please every type of anime fan.
And boy, does J.C. Staff ever deliver the hits! Their animators have worked their fingers to the bone to bring us romantic comedies such as Toradora!, Kaichou wa Maid-sama! and Sakurasou no Pet na Kanojo. But then they decide to turn up the heat, and give us a taste of fantasy and harem with the spectacular Zero no Tsukaima. And if that doesn't have us salivating already, then they administer a one-two punch with the crazy over-the-top Prison School and the inspiring slice of life comedy-drama - Bakuman.
Whatever your tastes may be, J.C. Staff has the right anime for you!


---
---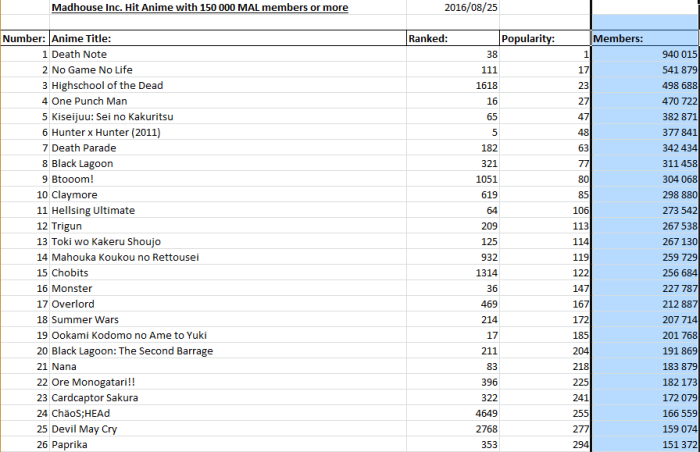 Well, it seems that the anime from Madhouse Inc. truly resonates with MAL readers more than any other animation studio. They've got 26 anime shows with over 150 000 members which is pretty wild!
So why does Madhouse have this strong appeal with anime fans, especially here on MAL?
First and foremost, Madhouse Inc. is a studio which has predominantly focused on producing a more mature type of anime. When anime fandom was still in it's infancy in the West, part of the appeal of the medium was that it was a slick and sophisticated form of animation that adults could also watch. Madhouse was responsible for some of the hottest mature-orientated anime back in the day. Galactic Patrol Lensman, Birdy the Mighty, The Dagger of Kamui, Battle Angel Alita, Cyber City 808, Harmagedon, Wicked City, Demon City Shinjuku, Doomed Megalopolis, Perfect Blue, Ninja Scroll and Zetsuai 1989 are some older Madhouse releases which blew away anime fans back in the 80's and 90's.
But Madhouse didn't rest on its laurels and diversified its output with anime TV series that would also appeal to younger audiences. Beyblade, Carcaptor Sakura, Chobits and Hunter x Hunter are a few hit shows with younger anime fans. On the flipside, Death Note, No Game No Life, Highschool of the Dead, One-Punch Man, Btooom!, Claymore, Trigun and Overlord are all massive hits across the board, which shows that the studio hasn't lost its edginess while appealing to a larger audience.