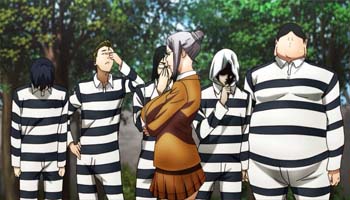 Prison School is a manga by Akira Hiramoto and it's full of shocking content, which will easily scare the uninitiated, and sexual themes that are definitely NSFW. It has punishments administered by a girl with hilariously oversized breasts, dressed in a skimpy outift, and seeing her beat our protagonists in an outrageously sexual manner is sure to make your jaw drop. The fun part is that these sexual torture scenes are just a bait element of the anime. It also builds up a thrilling story with its memorable characters. Akira Hiramoto's work is both juvenile and ingenious, taking into account the viewing experience per episode and making sure the overall story is of great quality. This kind of shock bait anime is something I would expect from Production IG, which once featured Eren's mother spray blood in slow motion while being eaten by a Titan, or Madhouse, with Prison School having the recognizable dark and gritty visuals similar to Death Note. Out of all the possible studios that could've presented this awesome anime, JC Staff would be the last one I would think of, given their past track record.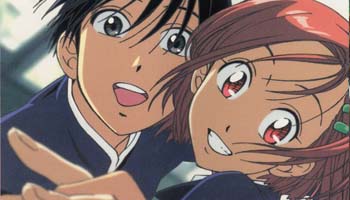 It's surprising for anyone who grew up watching JC Staff 90's and early 00's. At the time, JC Staff was like a shy girl dreaming of a rose-colored high school life. The studio's themes of choice were predominantly "school," "romance" and "slice of life," and they produced some of their best work in these genres.. Some people grew up with Kare Kano, an anime co-created with Gainax, about two students falling in love. It taught audiences the beautiful potential of the Romance genre with its beautiful narrative, engaging characters and relatable situations which captured the wonderful image of falling in love when you're young.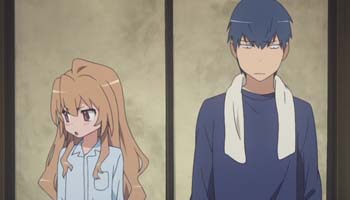 Many anime fans regard ToraDora as one of the best romance anime out there. The story of the small tsundere and the guy with an evil stare has captured the hearts of anime fanatics around the world. JC Staff smartly incorporated elements from their favored genres to create a beautiful anime experience, which a lot of people still hold in high regard to this day. It was relatable, endearing and cute as you witness the two characters grow closer together.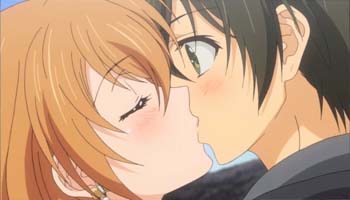 JC Staff did a lot more wonderful anime that blends its three strong genres giving us hits like Honey and Clover, Kaichou wa Maid-sama and Sakurasou no Pet na Kanojo. Unfortunately, JC Staff became a one note studio as time passed, since it failed to deliver solid hits with second seasons of their popular works. They became a bit desperate as well, trying to reclaim their past glory, reflected in some of their more recent shows that fall back on their staple genres, such as Golden Time. The show had an unsatisfying narrative and the romance felt lacking. The shy girl of JC Staff seemed to be losing her ability to paint a rose-colored high school life. They decided that a change was needed. JC Staff broke free from the three genres it was most comfortable with, and decided to go outside of their comfort zone.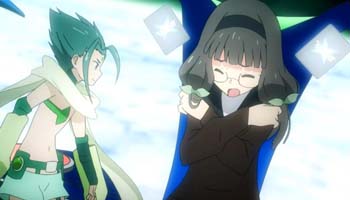 Their first bold step outside of their comfort zone came with Selector Infected WIXOSS, which some believe is the spiritual successor to Madoka Magica. It's a dark anime with some nihilistic components that really remind you of Madoka Magica. More importantly, it isn't created by the shy girl JC Staff you're accustomed to. The girl seems to have grown up, and has decided to go for a more mature approach. After all, it doesn't feel like the JC Staff 90's or 00's anime fans are familiar with. It is unrecognizable from any of their previous works. The studio still features shows with its three main genres, school, romance and slice of life, but the ones that stand out nowadays are those that aren't typical JC Staff anime.
To avid fans of the 90's and early 00's, who experienced the wonderful love stories JC Staff featured in its anime, prepare to see a familiar studio all grown up. Try watching an episode of Prison School, and you may be left in utter shock that JC Staff is behind it. It's a mind blowing fact, which actually helps in enjoying the anime more. The studio is exploring new genres, as Prison School is filled with more mature elements and dark comedy. It feels like the shy girl googled "fetish" and became intrigued with the search images.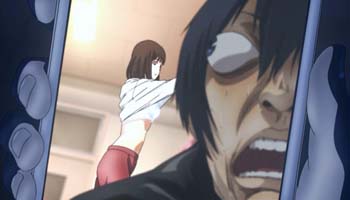 Many will feel that JC Staff has come on leaps and bounds, as they have expanded their horizons as well as their repertoire, giving them more versatility, and proving they aren't afraid to try something edgy. To avid anime fans out there, this new change might actually make you say "I'm glad I'm an anime fan."