Some days you want to pull out the cosplay gear and strut that stuff. But most other days, you might not want to dress exactly like Sailor Moon. Thanks to the brands below, you can still pay homage to your favorite show, while looking great. The cute outfits, shoes, and dresses below were inspired by anime, and walk the fine line between fashion and fangirl.
---
---

Source: Earth Music&Ecology
Earth Music&Ecology has done a number of anime collabs, but the K-On wins for its super stylish but comfy-looking getup. Each outfit also manages to capture the personality of the K-On characters, which means you can find a look that suits you.
---
---

Source: Super Groupies
Super Groupies has quite a collection of anime and game themed accessories, but it's the shoes that really strike the perfect balance between being functional and looking great. There have been two shoe lines released, high-top sneakers for kicking butt all day, and pumps for a flash of elegance during night-time nightmare battles.
---
---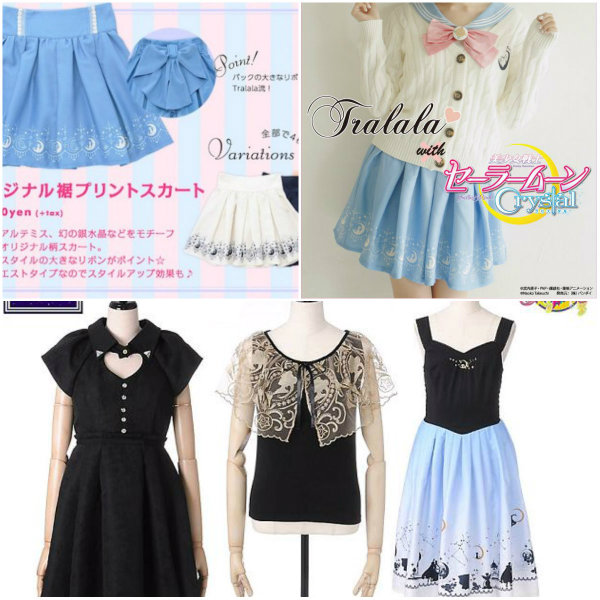 Sources: Tralala, Honey Bunch, Secret Honey, and Riccimie Premiere Salon
Of course there have been a ton of Sailor Moon inspired outfits. Were you expecting anything less? The above are just a handful of the best, which mix sweet design with some small touches as a nod to the beloved series. Each clothing line brings a different feel with it, from playful to a bit more sophisticated. It's also worth noting that Secret Honey has collaborated with Disney on a line of Frozen clothing. That's a whole different kind of magical girl.
---
---

Source: Earth Music&Ecology, and Honey Bunch via ANN
Another series that gets plenty of fashion love is the idol anime Love Live!. The idols have inspired super-cute everyday clothing that you can wear practically anywhere.
---
---

Source: Felissimo
The Rose of Versailles anime is a 1979 anime set in 1755 Europe, and the dresses by Felissimo reflect that. They're elegant and vintage without looking outdated, perfect for a nice day out or the French revolution, whichever.
---
---

Source: Super Groupies
These dresses were inspired by the various battle outfits in Cardcaptor Sakura, but you won't need any magical powers to make them look fantastic.
---
---

Source: Heredita Clothing
Mexican designers Heredita Clothing have some awesome looking anime items, but these Dragon Ball Z kicks are the most eye-catching. They're brightly decked out in the show's signature colors, but are minimalistic enough to not be glaringly obvious.
---
---

Source: Bandai and Rody Horse
Did you think only girls got to dress up in anime-inspired fashion? Bandai's here to make sure no one gets left out of the fandom, no matter how old. These absolutely adorable baby clothes will turn your little one into a tiny otaku, and feature designs from Doraemon, Dragon Ball, and a few other pop and anime references.
If that's not enough cute overdose for you, the makers of baby toy Rody Horse have created these ridiculous mashups of Neon Genesis Evangelion and cute horses. Because nothing says "brink of destruction" like horsey onsies.