---
What's a school anime without a school uniform?
---
The school uniform (seifuku in Japanese) is such a commonly depicted part of Japanese culture that as anime fans, we just expect it to be there. Even in series that take place mainly outside of the school environment, as long as there is a school-age character, the uniform will probably make an appearance. To many anime fans, the school uniform has become a representation of adolescence at its best. It carries the connotations of drama, romance, and life-altering change that anime will have us believe all Japanese students experience. Of course, this couldn't be farther from the truth, but we can always dream.
Sometimes it's the premise of the anime that makes the uniform memorable, and sometimes it's the uniform itself that makes an impression. Though most anime fans can easily describe the standard Japanese school uniform, many artists take liberties with their own interpretations, and their creativity results in some pretty interesting designs. Even without a unique spin, though, there's still something mesmerizing about those sinfully short skirts that fans can't get enough of.


---
Check out the some of famous anime school uniforms!
---
---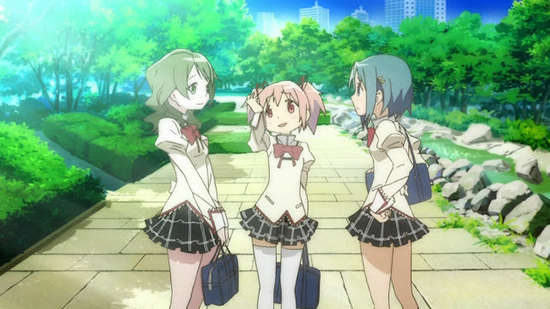 With their plaid, pleated skirts and high-collared, long-sleeve shirts, the school uniforms in Mahou Shoujo Madoka Magica are lovely in their own right. But in a similar concept to Sailor Moon, when the girls transform, their clothing changes as well. Unlike in Sailor Moon, however, their post-transformation clothing looks completely different, with a bit of a gothic Lolita twist. The school uniforms in Madoka Magica are blazer styles, unlike Sailor Moon's sailor style uniforms.


---
---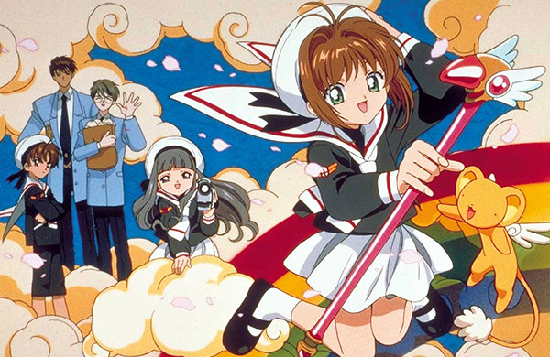 The simple school uniform in Cardcaptor Sakura falls in stark contrast to some of Sakura's elaborate outfits, but it's memorable nonetheless. The V-shaped collar and white beret are a nice touch. As Sakura is an elementary school student, she also carries around a randsell (randoseru), the iconic boxy backpacks all Japanese schoolchildren use as part of their uniform.


---
---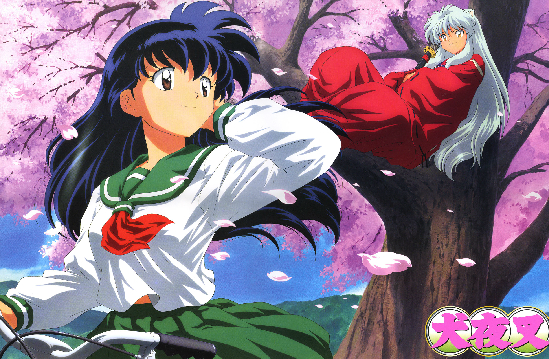 Although Kagome is more often battling demons in the Warring States Period than attending school, she's almost always dressed in her school's bright green sailor uniform, which gets her a lot of weird looks. It's pretty normal as far as modern school uniforms go, however.


---
---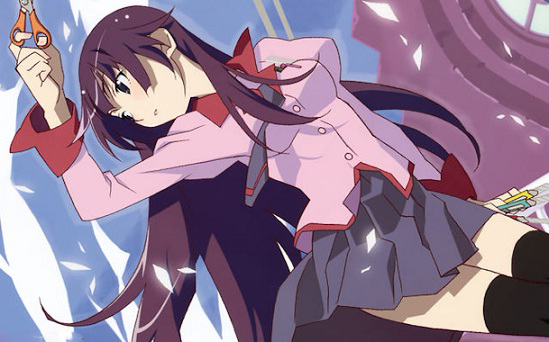 A variation on the collared shirt style, the Bakemonogatari uniform features an unusual pink and purple color combination, complete with puffy shoulders and red cuffs. Though the girls have a pretty extensive collection of individualized clothing, it's fun to catch them in their uniforms.


---
---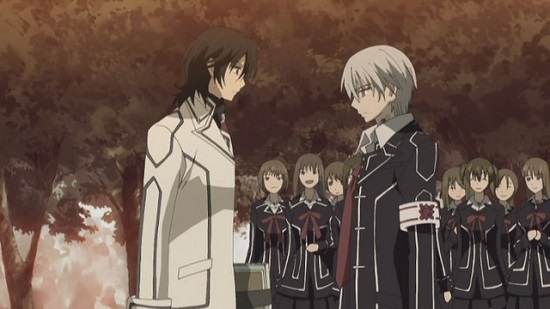 Cross Academy in Vampire Knight has a day class and a night class, and the students' uniforms correspond to which class they're in. Day students wear a black uniform, and night students wear a white uniform. The linear, opposite-colored designs on the uniforms make them quite striking. This uniform is also a variation on the collared shirt plus blazer combination.


---
---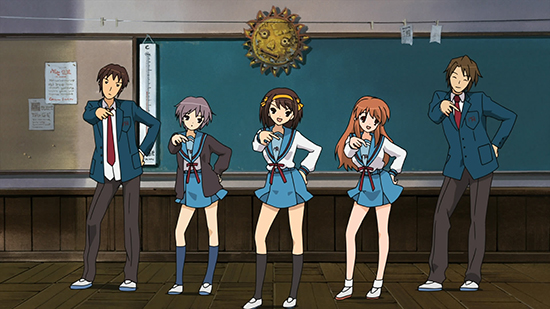 The sky blue uniforms in Haruhi are a variant of the sailor style, but the collar drops low, and it's held together with a thin red ribbon rather than a traditional sash. The skirts are also different from the standard pleated skirt; they're more fitted, with just two front pleats, and it comes with a belt. The male uniform is a simple blue blazer, black pants, a white collared shirt, and red tie.


---
---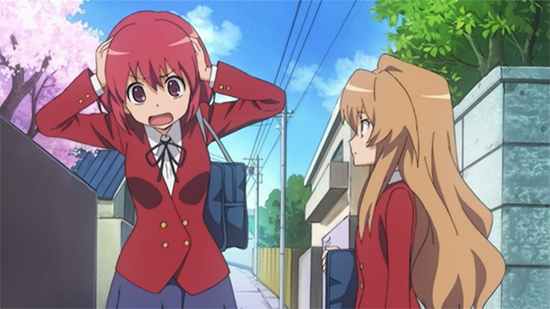 The Toradora! girls uniform features another unusual color combination. With its double breasted red blazer and royal blue skirt, it can be recognized almost immediately, even though it's so simple. The male students all wear gakuran, a tradition Japanese style of uniform, which is unusual and even commented on by the main character himself. This is because gakuran are generally paired with sailor uniforms for girls, which are also more traditional. But for some reason, the Toradora girls wear more modern blazer style uniforms!


---
---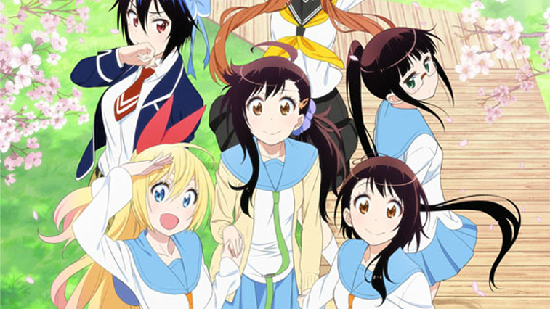 What is that ribbon?! If its orange color doesn't leap out enough against the uniform's pastel blue skirt and collar, then its length is sure to get your attention. Good thing there's a clip to keep it out of harm's way. The tops on the female sailor uniform are loose and long. I bet they're super comfortable! Raku from this rom-com wears a gakuran as well. It only makes sense: gakuran are also associated with gangsters!


---
---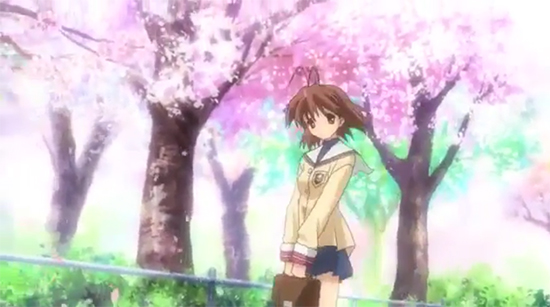 The characteristic yellow-beige jacket over the blue turtleneck dress is actually pretty different from the traditional sailor-style school uniform, but its subdued color scheme keeps it under the radar. Nevertheless, the moment you see it, you'll be thinking of dango (and maybe choking back a few tears). Guys wear beige blazers and dark blue pants. The female summer uniform is pretty different, featuring a dark blue suspender skirt that might remind you a little of another Key anime, Air.


---
---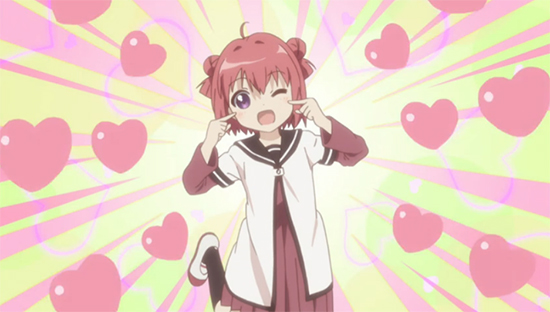 Charming and feminine, the uniform in Yuru Yuri is a two-layered masterpiece. The base is a long-sleeved dark pink dress, and on top of that is a long white sailor-collared shirt that's split in the front and fastened with a single button. It looks easy to move around in, which is good considering how energetic the Yuru Yuri girls are!


---
---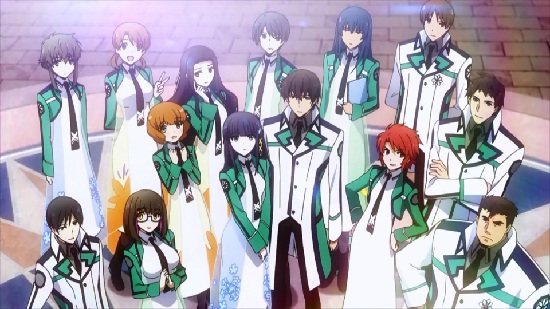 So far it's mostly been a talk of girls' uniforms since artists don't tend to get as creative with boys' uniforms, but Mahouka Koukou no Rettousei is a huge exception. The emerald color scheme with geometric motifs is super eye-catching on both genders' uniforms, and the uniforms themselves serve to distinguish students' abilities. Girls have long dresses with translucent parts that change color depending on the wearer's abilities, and guys have long coats. Both genders may have a special flower emblem if they are a Course 1 student, indicating that they are the top students.


---
---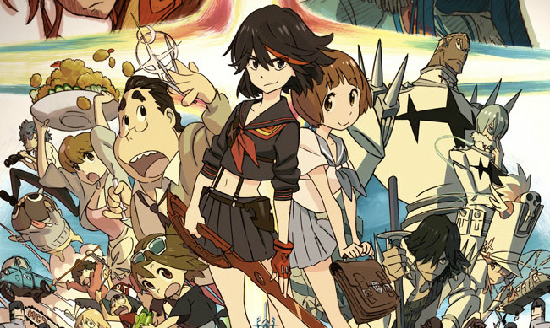 Kill la Kill takes the school uniform concept to the next level. The whole series is about uniforms, and with a sentient, shape-shifting uniform, Ryuuko is hard to tear your eyes away from. I mean, no other school uniform covers so scandalously little. But the school uniform in Kill la Kill is more than just eye candy. The uniforms are a mark of power, and different ranks of uniforms can increase your power to unthinkable levels. Some can even talk to you.
---
---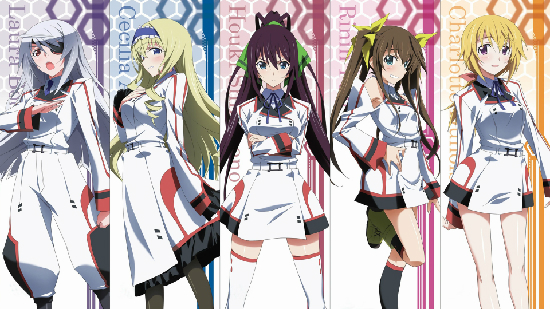 Infinite Stratos goes so far as to provide customized uniforms for each main character! Their uniforms perfectly suit their personalities. Besides the school uniforms, the IS pilots also have special skintight suits to wear when piloting their giant mecha.
---
---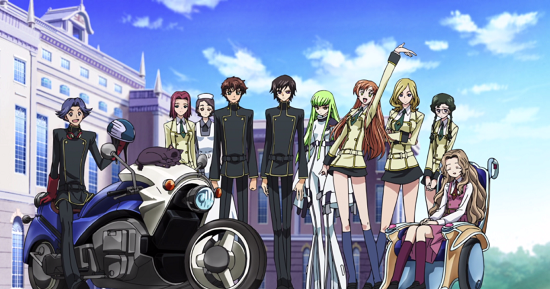 The students of Ashford Academy have classy blazer and gakuran based uniforms! The younger girls wear pink pinafores instead of the beige jacket.


---
---
Sailor Moon is a classic mahou shoujo (magical girl) series that has really put the anime school uniform in the spotlight. The main cast attends school in a standard sailor-style uniform (sera fuku), but whenever each character undergoes a magical transformation, her uniform changes to her corresponding color and becomes infinitely more glamorous. It still retains the sailor style, however, hence the name of the series. These uniforms have undergone several makeovers over the years, the most recent addition to the franchise being those in Sailor Moon Crystal.


---
---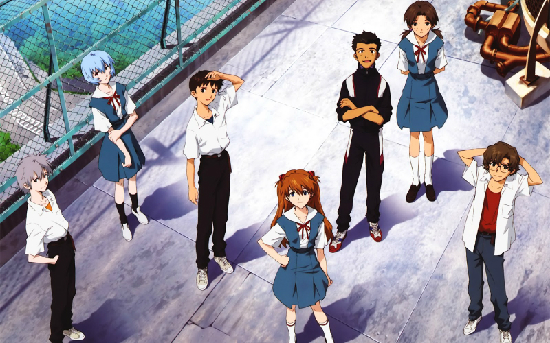 Throughout the gore and heavy mecha madness of Evangelion, Rei's and Asuka's eye-catching blue suspender skirts and crisp white button-downs serve as the occasional reminder that despite the terrifying burden on their shoulders, the main characters are still just kids.


---
---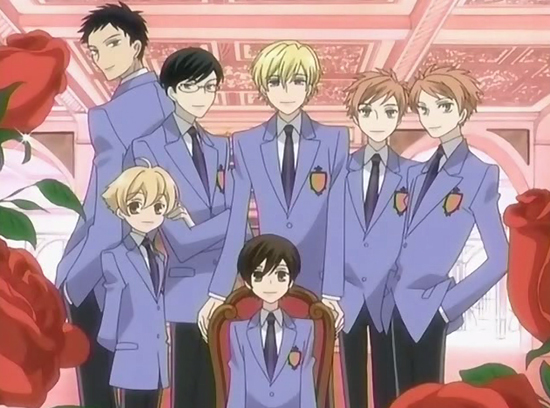 The fun with Ouran High School Host Club is that the female protagonist Haruhi is always in the male school uniform! That unmistakable periwinkle suit with its orange Ouran High School emblem can be recognized anywhere. As this is a rich kids' school, the female uniform is a long, yellow gown.