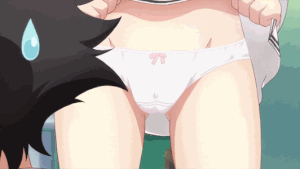 With so many attractive female characters appearing in our fave anime series, it's simply impossible to ignore the accompanying fan service. Those hard working animators are always thinking of us, and constantly looking at ways to delight us with flesh and panty shots.

And since we're on the subject of panty shots - have you ever wondered what type of panty your favorite anime heroine is wearing? And yes, there are as many different types of anime panties as there are in the real world.


We're going to be taking a look at shimapan, white cotton, G-string, print and fancy panties. Brace yourselves; we're entering some seriously sexy territory!
Print Panties
---

Panties with prints are growing in popularity as women seek out undergarments with original designs, and a bit of character. Print panties are often made out of cotton, but satin and silk alternatives are also available for those seeking something a bit more sensual. They're also made to hug the hips or be more loose-fitting. It's also possible to pair them up with a sexy garter belt and stocking set, provided that the print patterns are a good match for these.


---
---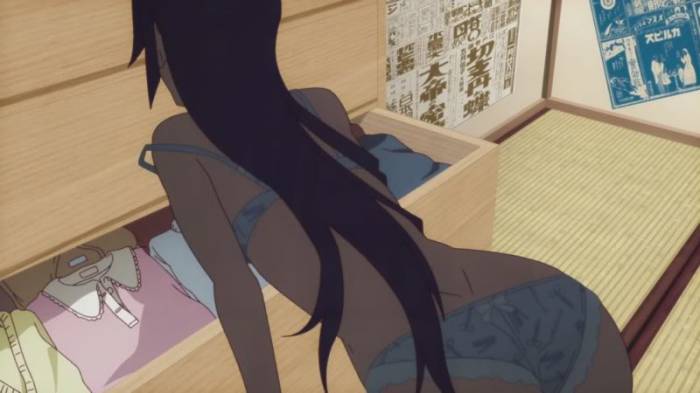 Hitagi prefers to keep to herself and lacks a sunny disposition. Yet, her choice in print panties show that she may be a wild child at heart.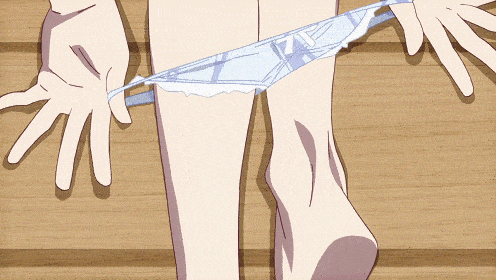 ---
---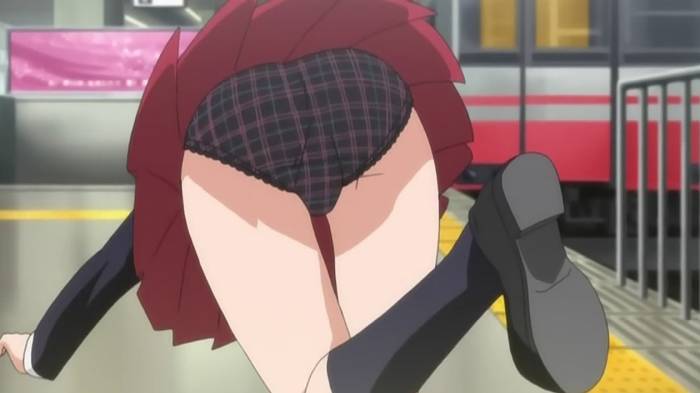 Naru has a thing for worker uniforms. Perhaps her interest in such utilitarian outfits may have effected her choice of undergarments. We get a glimpse of her checkered print panties, and wonder why we don't see more anime girls wearing these!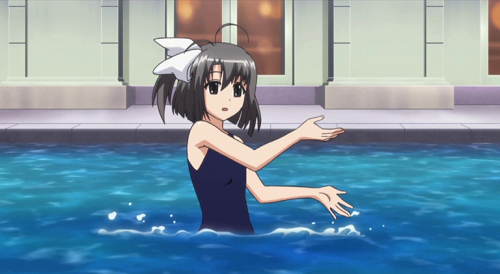 ---
---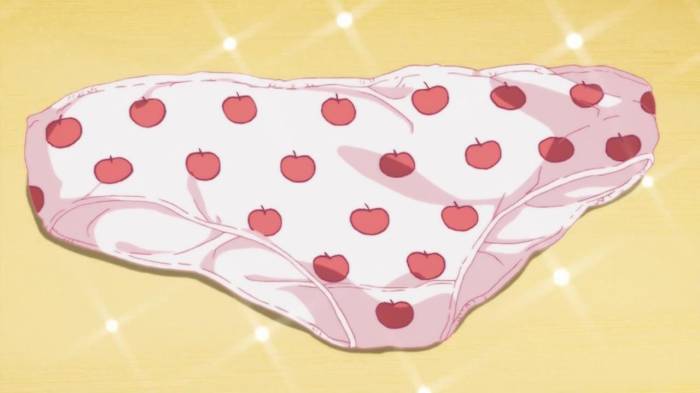 So what kind of panties would a cute anime witch wear? Well, Rurumo decides to eschew panties with any broomstick and cat patterns. Instead, she opts for a pair of print panties with an apple design.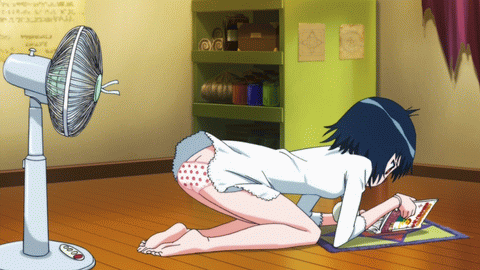 Shimapan Panties
---

The shimapan is an abbreviation of shima-pantsu, which means striped panties in Japanese. This type of underwear is usually worn by moe characters, and this is one of the main reasons why many anime fans are so fond of them. Light blue and pink stripes are the most common colors used in shimapan panties.


---
---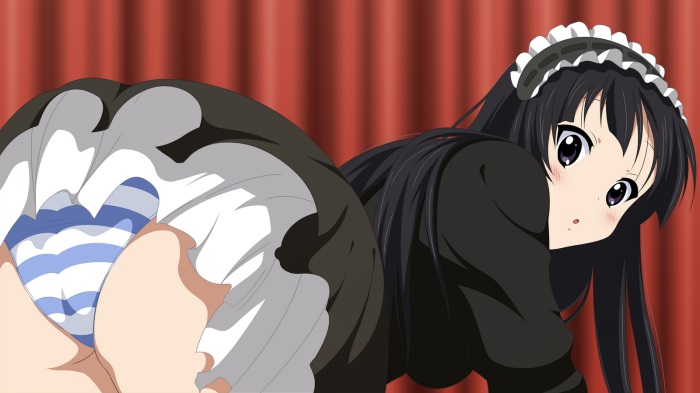 Mio is shy and cute, while looking really great in a maid's outfit. Those sexy shimapan panties are bound to drive her fans crazy!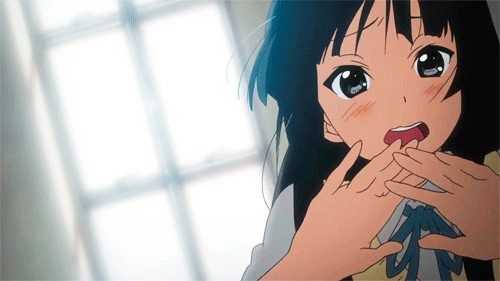 ---
---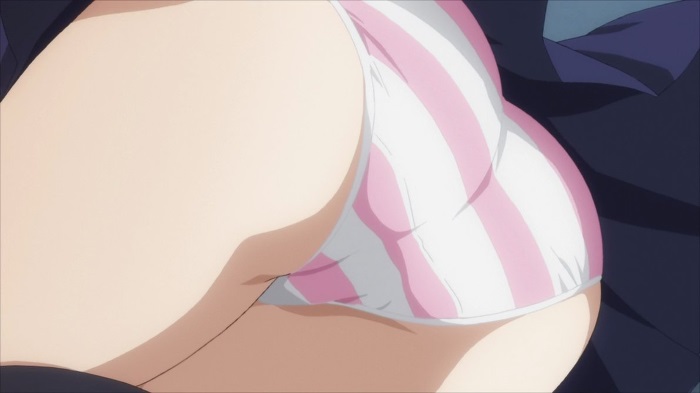 When she's wearing her white ribbons, she acts as her true self, a vulnerable little sister to her adoptive older brother. Her pink-striped shimapan panties are pretty much what we'd expect her to wear.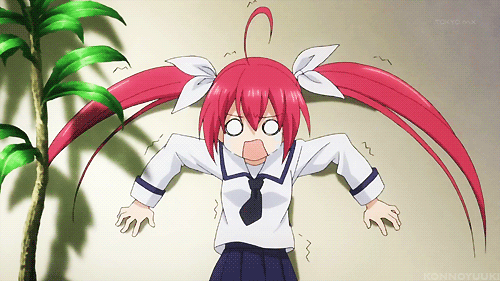 ---
---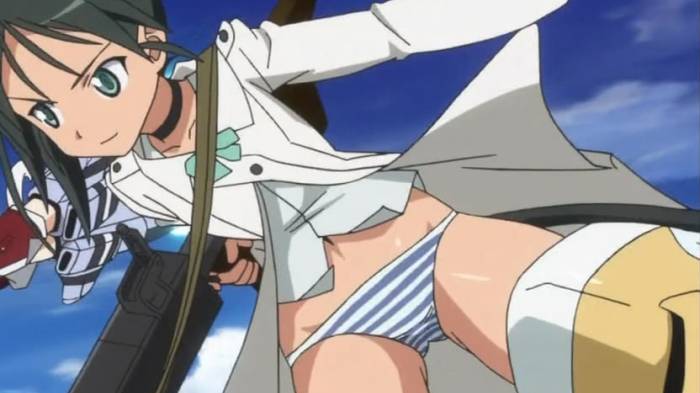 Francesca may be diminutive and young, but she knows how to hold her own in battle. However, it's very likely that her opponents will be distracted by her tight-fitting shimapan panties.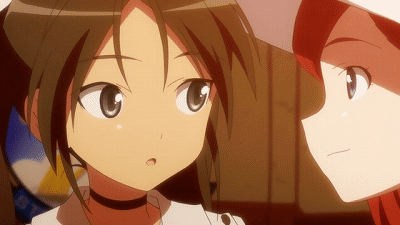 White Cotton Panties
---

As the name already implies, white cotton panties are undergarments manufactured from cotton and are white in color. They're commonly form-fitting, while the cotton is lightweight and soft to the touch. Thus, they're very comfortable and it's not surprising that so many female anime characters are seen wearing them.


---
---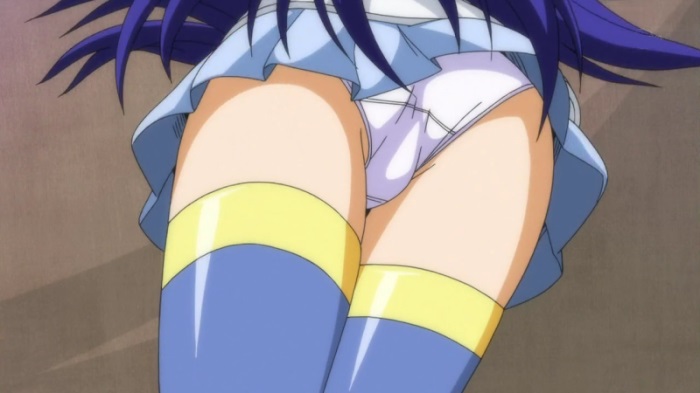 Medaka is a blue-haired beauty who is prone to turning heads. And she probably causes traffic accidents at the slight reveal of her white cotton panties!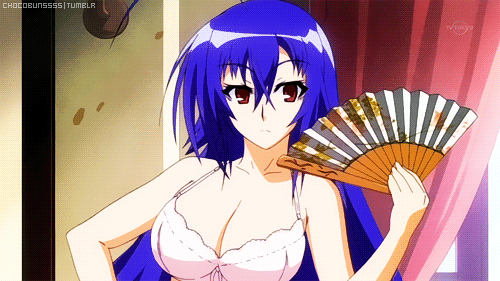 ---
---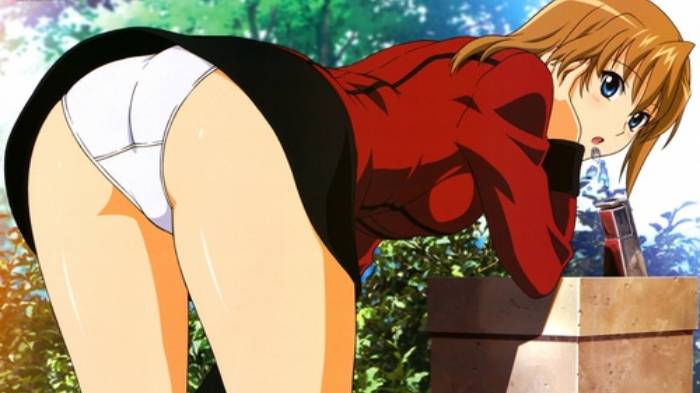 You'd think that a salvager would cover up more. Aika goes against the grain by revealing her fine form and white panties, which will drive anime fans wild!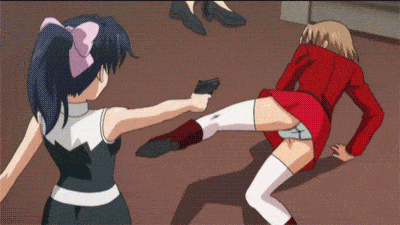 ---
---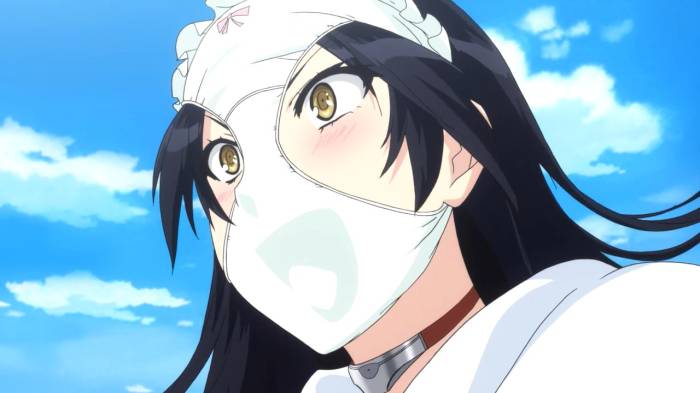 Most girls wear panties to cover their nether regions. But Ayame doesn't roll that way, as she's an anime heroine of a different kind. She wears her white cotton panties on her head in order to cover her face...and fight the good fight!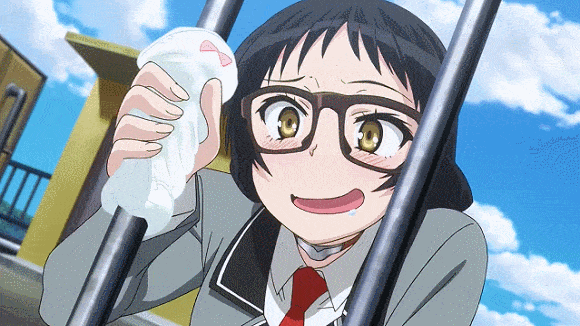 G-String Panties
---

The G-string is certainly one of the sexiest panty-types out there, and it's easy to see why. It consists of a thin strip of fabric, leather, plastic or satin which nestles between the buttocks, and is attached to the band around the hips. The front area is usually triangular and just about covers the crotch, leaving little to the imagination!


---
---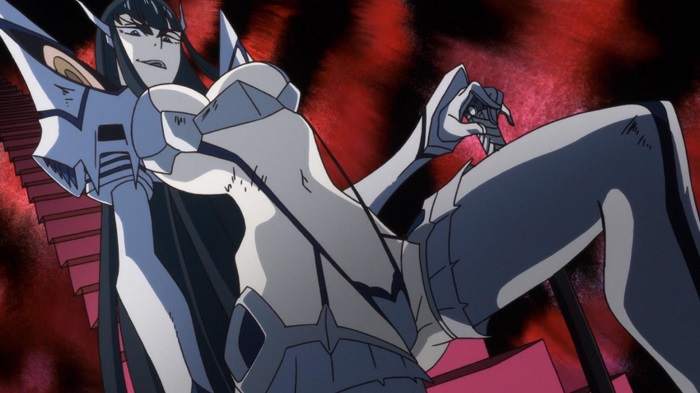 Satsuki's wild-looking uniform is bound to titillate and cause plenty of jaws to drop. Her attention-grabbing G-String is so cheekily designed that it veers towards the scandalous.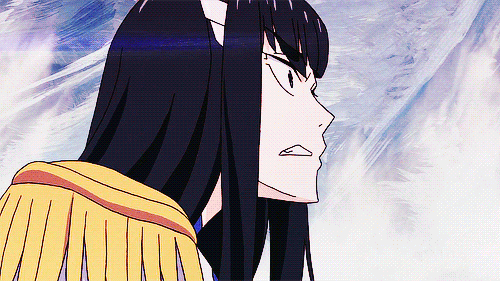 ---
---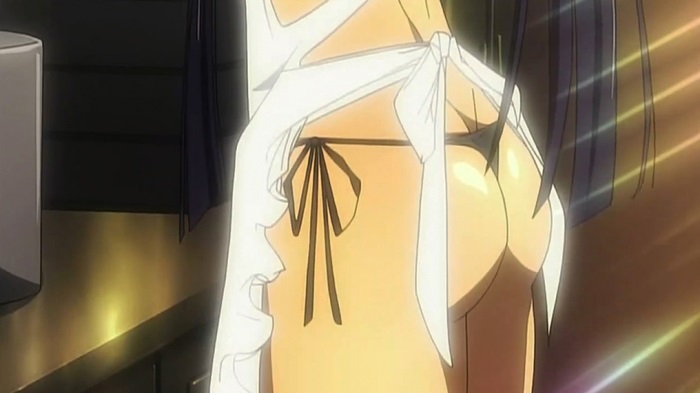 Anime panties sure are sexy, but Saeko raises the temperature and then some. We caught her wearing an apron and a G-string, yet we didn't feel like we were stuck in hell's kitchen...it felt more like heaven!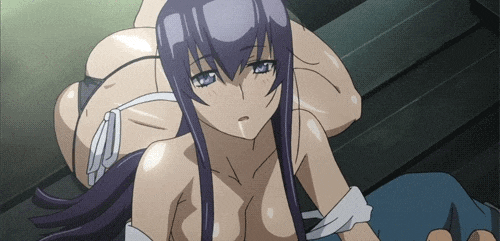 ---
---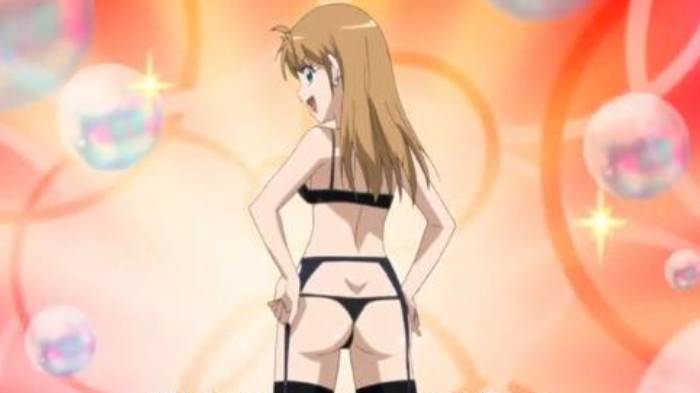 Yamada's horny as hell, and she's on a mission to have sexual relations with 100 men. Well, with that alluring G-string there's a pretty good chance that she'll seduce a good number of guys.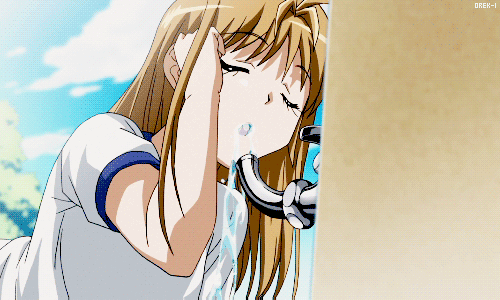 Fancy Panties
---

Fancy panties tend to be more exotic and upscale to other undergarments. They're definitely aimed at women looking for something a bit more special, and seductive. These can be made out of lace, or simply incorporate lace strips and design elements among other materials such as cotton, silk and satin. And similarly to print panties, they can be coupled with garter belts and stockings.


---
---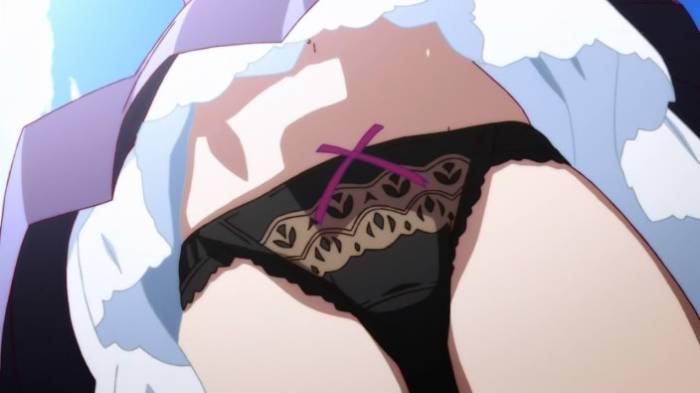 Tsubasa's got a great body who also happens to have great taste in underwear. She sports a classy pair of fancy black panties, which is sure to be met with resounding approval by anime fanboys worldwide.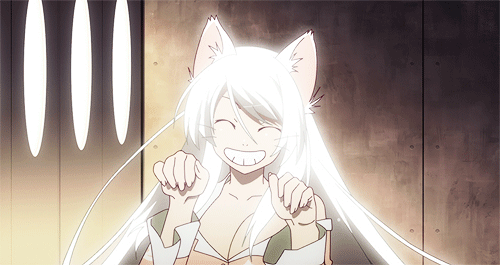 ---
---

Some fancy panties have elaborate designs, while others are simple yet elegant. Kurumi wears a pair of tasteful light-blue panties which look really good one her.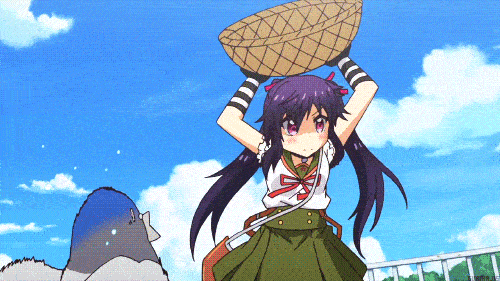 ---
---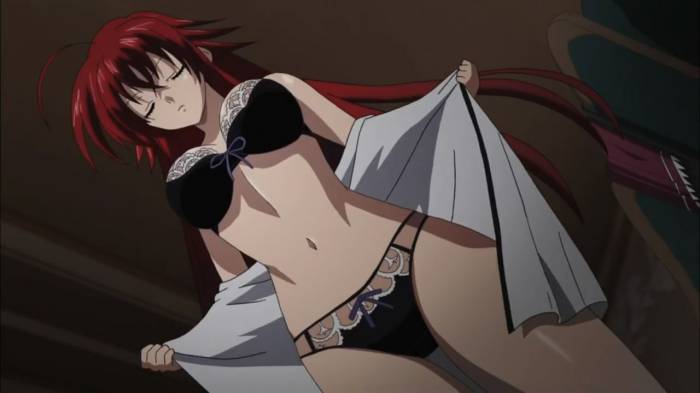 Rias is one of the sexiest red-haired anime babes out there. Nevertheless, her sexiness levels are further elevated when she's wearing her slick black panties which are partially translucent.