Indie makeup brands have gotten popular recently because they are cheaper, often vegan/cruelty free, and have really cute colors and names! Theses indie makeup makers are all anime fans themselves! Here's some of their collections that are based on some of everyone's favorite shows and movies!
(This is not a paid advertisement and merely reflects the writer's own interests. All photos are credited to the official stores, unless otherwise noted.)
---
Shiro Cosmetics
---
Shiro is even named after the Japanese word for "castle", which they have adopted as their logo! Among their video game and pop culture inspired collections (there's even a bunch of lipsticks named after Nicholas Cage- no joke), are these three winning collections.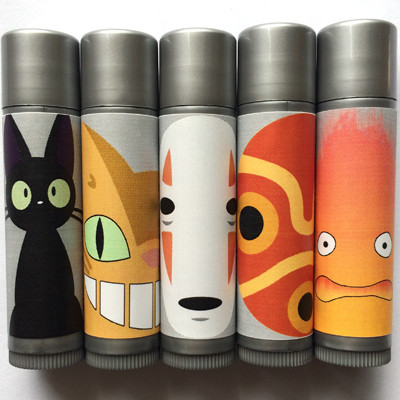 These lip tints are moisturizing, colorful, and taste delicious! Featuring names such as Who Swallowed a Star, this collection pays homage to:
-Majo no Takkyuubin (Kiki's Delivery Service)
-Tonari no Totoro (My Neighbor Totoro)
-Sen to Chihiro no Kamikakushi (Spirited Away)
-Mononoke Hime (Princess Mononoke)
-Howl no Ugoku Shiro (Howl's Moving Castle)
---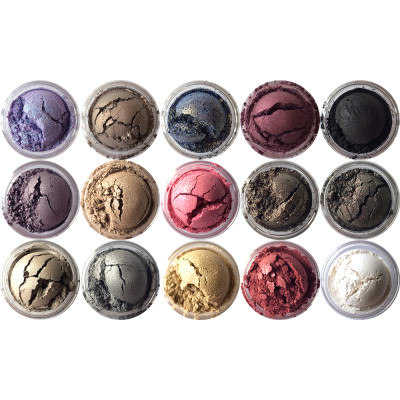 Featuring names such as "Alkahestry" and "The Colonel", this eye makeup collection is enough to please any fan of Fullmetal Alchemist or Brotherhood. Best of all, you don't need to do any alchemy of your own- the only Equivalent Exchange here involves money!
---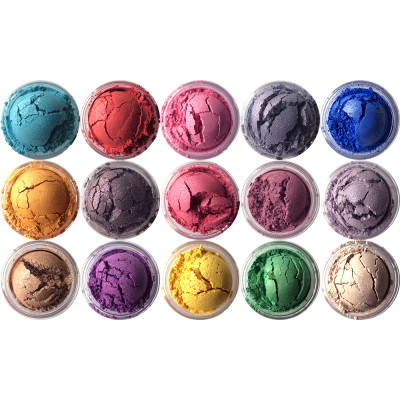 Named "The Super Effective Collection", wearing these Pokemon inspired colors will cause critical hits to anyone who sees you! Guess which colors are named "Bubblebeam" or "Vinewhip"?
---
Baroque Cosmetics
---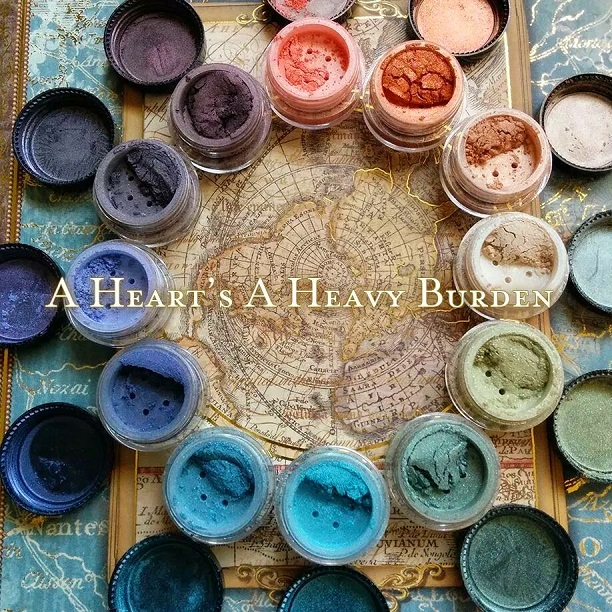 Baroque Cosmetics is another indie makeup brand that features a wide range of themes, including the French Revolution (appropriate for "Baroque"), and ...Skyrim?
Here's their collection based on Howl no Ugoku Shiro (Howl's Moving Castle). They even have a color for Heen, named "Good Doggy"!
---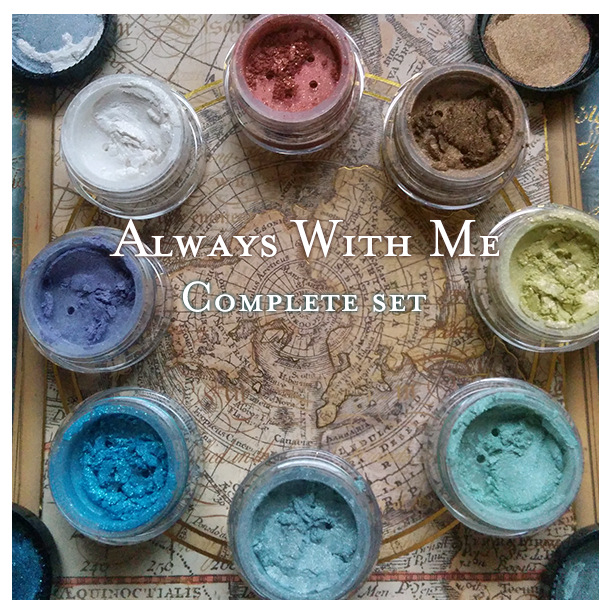 Ghibli movies will prove to be very popular among these makeup crafters! Baroque Cosmetic's eye pigments set based on Sen to Chihiro no Kamikakushi (Spirited Away) is named "Always With Me" as a callback to the beautiful theme song, "Itsu mo Nando demo", which tells you that what you are looking for can always be found inside your heart. Featuring clever names such as "Smells Like Human Spirit" and "Give Me Sen!", this collection might charm you so much you forget your own name!
---
Geek Chic Cosmetics
---
Geek Chic is another online makeup shop that has great products and low prices (and a kitschy website). They sell products with themes like the Dragon Age video game series, The Avengers, and (...) pies. While they also have clever blushes named after anime concepts such as a lipcolor named "So Kawaii" and a blush named "Chuuu", our focus here is on their anime series-specific eyeshadow collection!
(Slightly off-topic, but they even have a perfume named after Vash from Trigun!)
---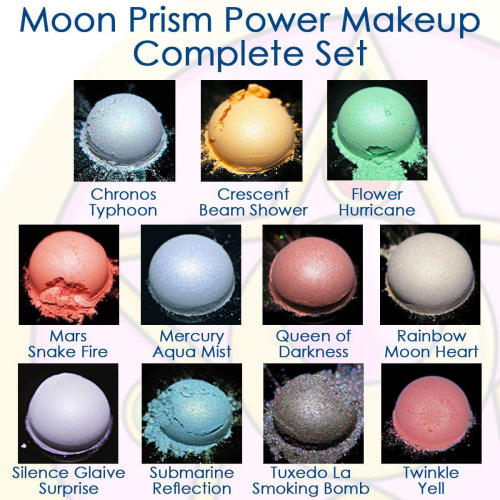 (Source: tumblr.com)
This is not the last time you'll see Bishoujo Senshi Sailor Moon on this list, not that that's a surprise. I mean, the name of the show is literally "Pretty Guardian Sailor Moon", and the girls even use gadgets disguised as makeup compacts and lipsticks!
---
Hello Waffle Cosmetics
---
Named after the owner's cat, Hello Waffle Cosmetics is popular for having (surprise, surprise) cat-themed makeup sets, but they also carry a Fullmetal Alchemist collection! Sounds like Hello Waffle's owner would fit in perfectly at MAL!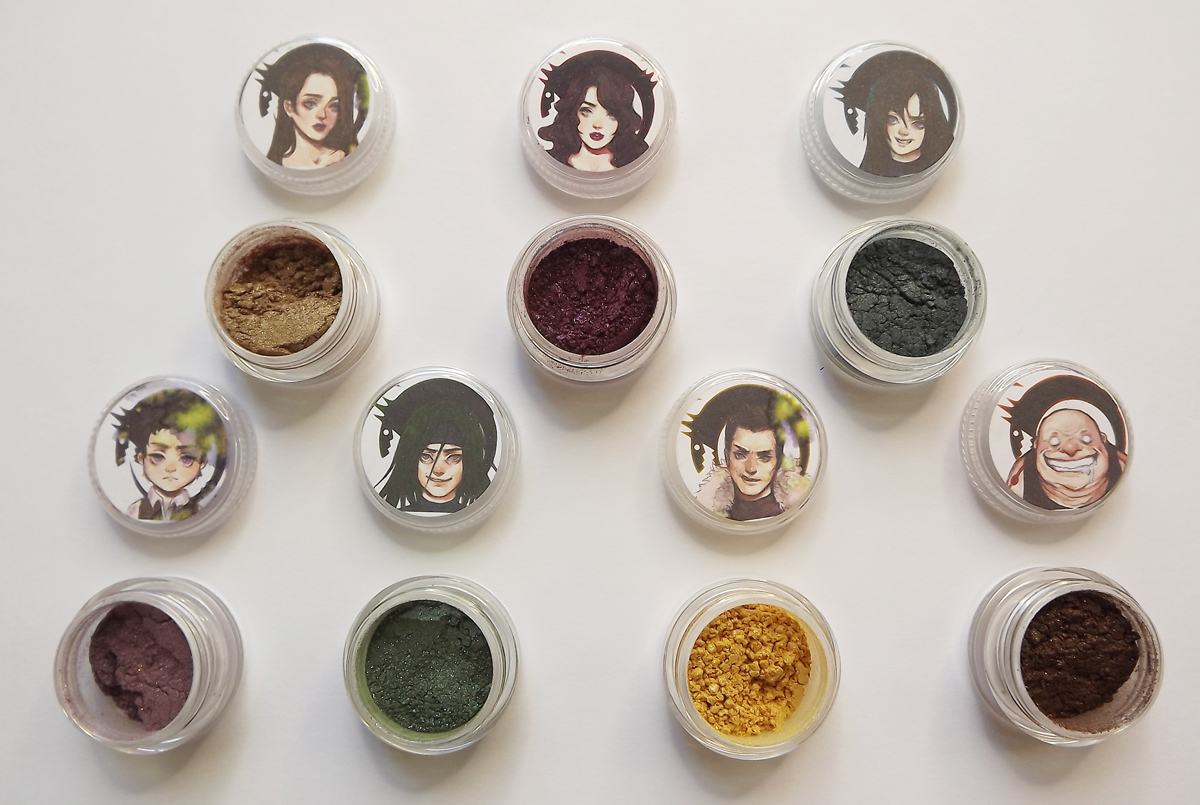 (Source: Biohazardous Beauty)
The Ouroboros collection features the deadly sins we all love to hate! Be careful with them though, lest you get taken over by Envy, or worse, Pride!
---
Dusk Cosmetics
---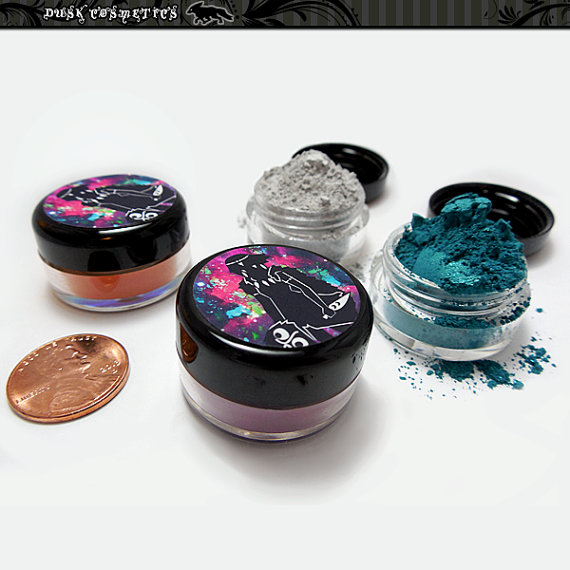 Named "Youkai Princess", well, Mononoke Hime (Youkai and Mononoke are basically the same thing anyways), this collection has super cool art on the containers! To see all seven colors, click on the link.
---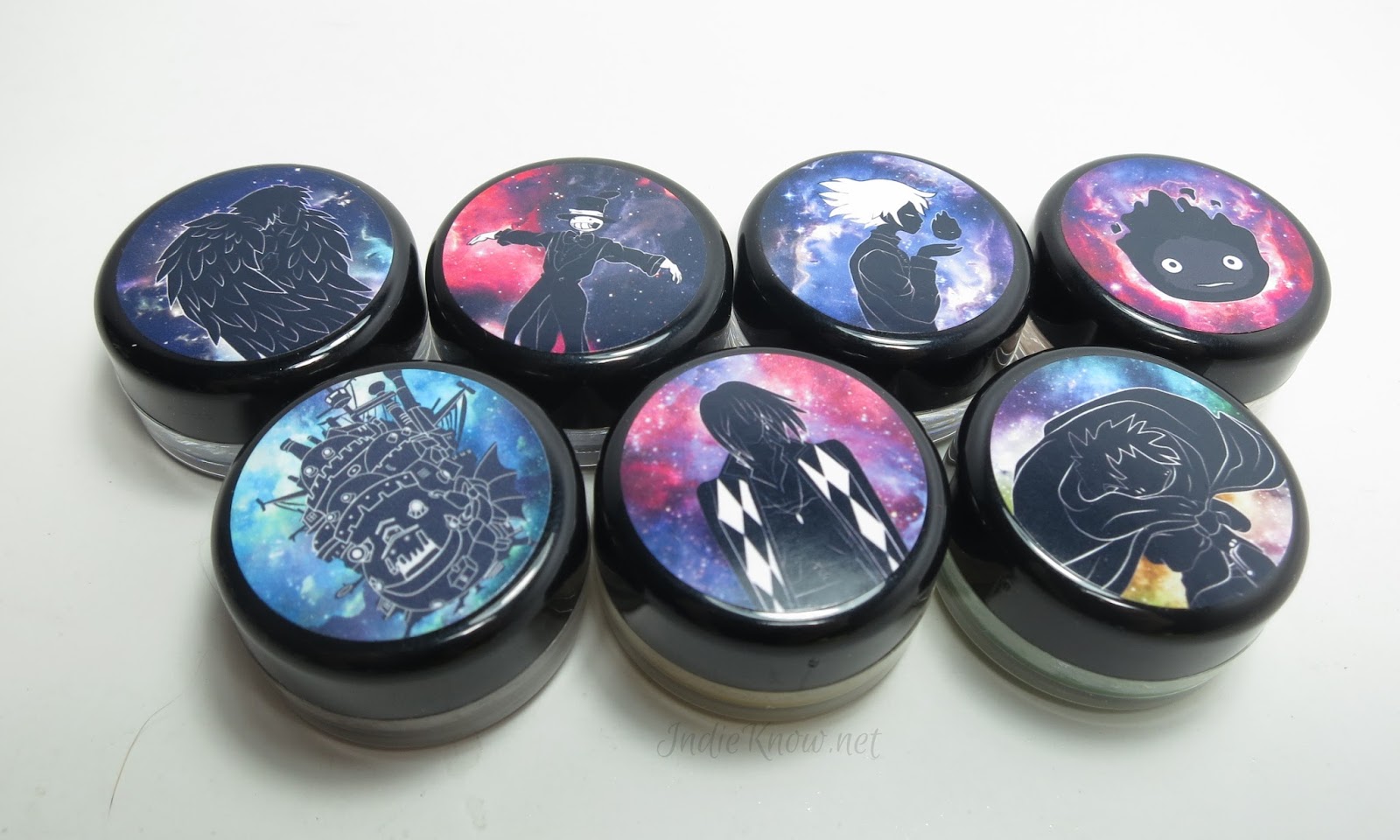 Yet another Ghibli fan-collection, the writer's favorite shade in "The Enchanted Castle" collection is "Sophie", a sparkly silver-white that looks just like the main character's hair.
---
Geek Fire Labs
---
Geek Fire Labs doesn't have a lot of different kinds of products, but they make up for that in providing a wide variety of those products! They feature a whopping 25 different flavors of lip balm inspired by pop culture phenomena such as Star Wars and Game of Thrones. We bet everyone's wondered what Hans Solo tasted like.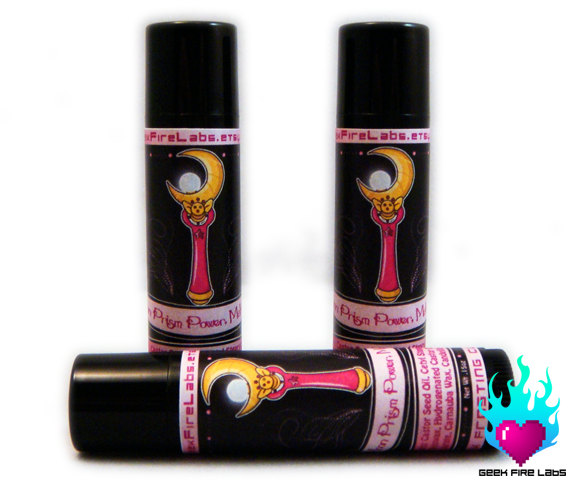 Eyeshadows, especially the loose powder kind, can be hard to use-we get that! But anyone can enjoy the delightfully moisturizing properties of Geek Fire's Sailor Moon based lip balm! It tastes like cupcakes-perfect for the gluttonous Usagi!
---
Uponaworld Cosmetics
---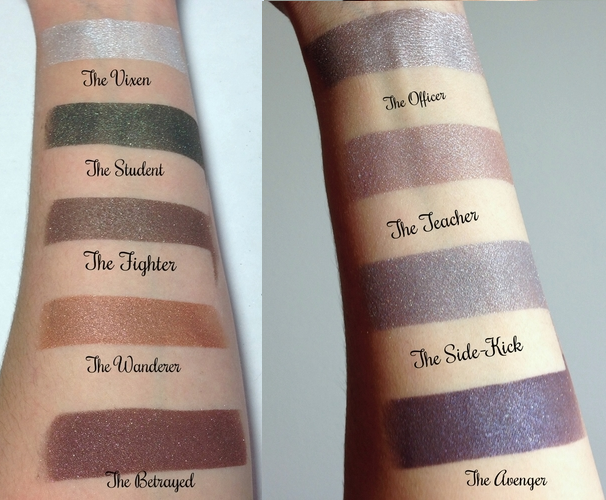 While Kenshin is certainly pretty enough to pull it off, he's probably not the type to like makeup. That doesn't mean that fans of the series can't wear colors inspired by Kenshin and his beautiful hakama, or other characters from Rurouni Kenshin: Meiji Kenkaku Romantan!
---
Premium Bandai
---
Premium Bandai is no indie-brand-it's Bandai's official product line of anime-themed fan goods targeted towards adults! Among the limited edition release products are many cosmetics based off popular TV anime!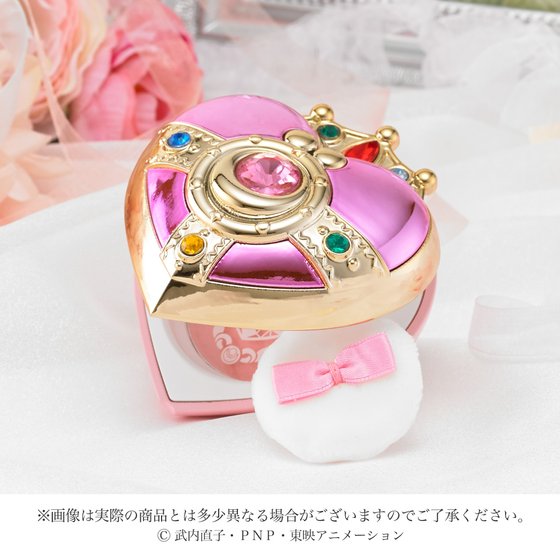 Newly released December 2015, this replica of Sailor Moon's own Cosmic Heart Compact, the third item in the series that Usagi receives in order to transform. You won't even need to shout the magic words, "Moon Prism Power, Makeup!" Just pat on the cute pink blush, and you're done!
---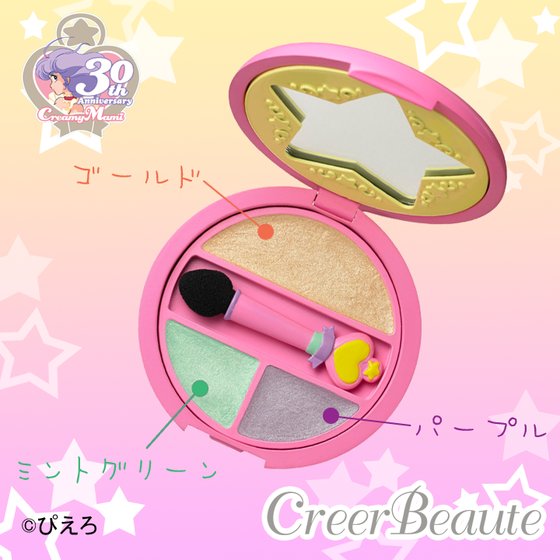 This cute compact may look like a child's toy, but is a fully usable makeup compact! Released to celebrate the 30th anniversary of Mahou no Tenshi Creamy Mami (Magical Angel Creamy Mami), this compact is modeled after Mami's own magic compact, and the pastel colors match perfectly with Japan's trend of pastel shades.
---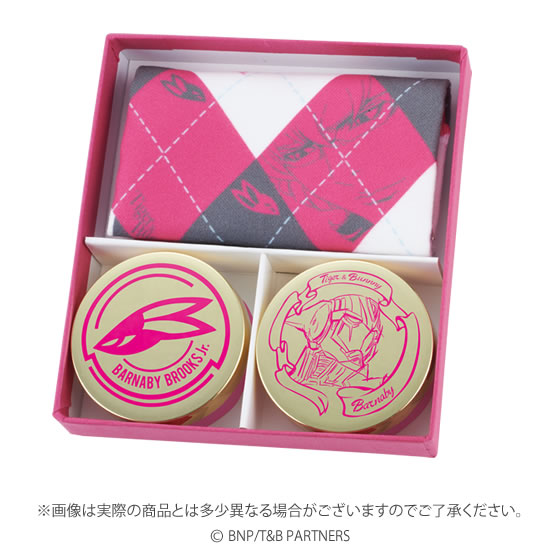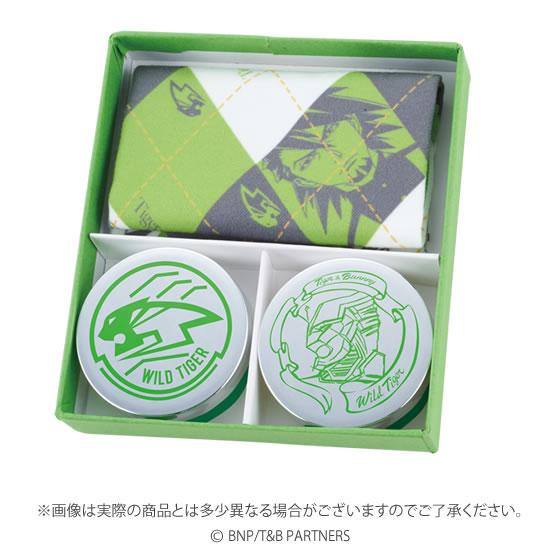 This superhero anime might be an odd thing to base makeup on, but it's certainly popular, and these two well-loved characters make interesting themes for perfume! Each set comes with a lip balm, perfume, and colored hand towel! Kotetsu smells like "Herby Citrus" and Barnaby smells like "Cool Citrus"!
---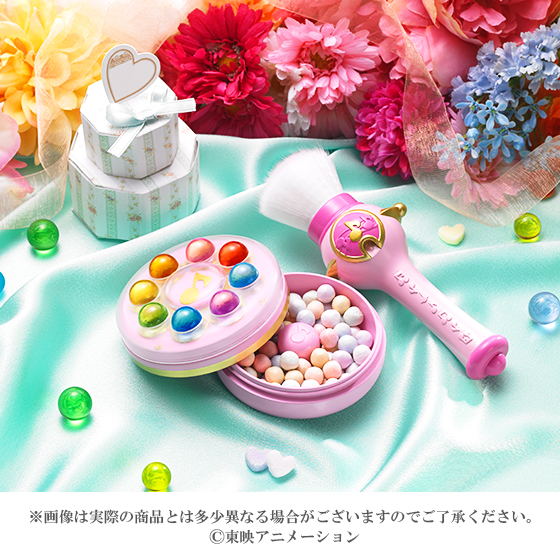 Face powder that comes in multi-colored balls is a trend in the makeup world, because it allows you to adjust for any differences in tone on your face. From dark undereye circles to redness, this powder can hide it all! In addition, you'll truly feel like a magical girl with this magical wand-like brush that is a tribute to magical girl classic Ojamajo Doremi (Magical Doremi)!
---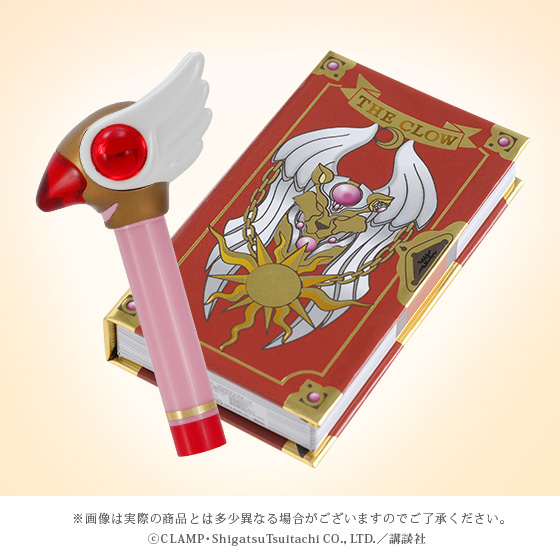 This adorable duo is inspired by popular CLAMP series Cardcaptor Sakura! Bandai sure is fond of their magical girls! Not that I blame them-the idea of owning a mini Clow Rod and Clow Book is so tempting! Hopefully the cards don't get freed when you try to do your makeup...