---
Anime memes: Sit back, relax, and get ready to laugh!
---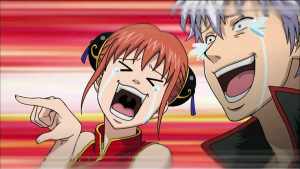 Ah, memes. The quickest way to bring a smile to your face while browsing the internet. Their photos and added quotes are frequently very relatable and hilarious to stumble upon, which is why so many of them are produced every single year. And by many, we mean thousands. Even if you haven't seen all of the anime that are present on the list, the mere fact that you are part of the anime community is enough for you to understand the gist of the jokes. They are free for anyone to make and laugh at, but as is the case with most creative expressions, there is always a top list of the best ones of the year.


---
Here is our choice for 20 of the best anime memes!
---
Getting rid of unwanted company
---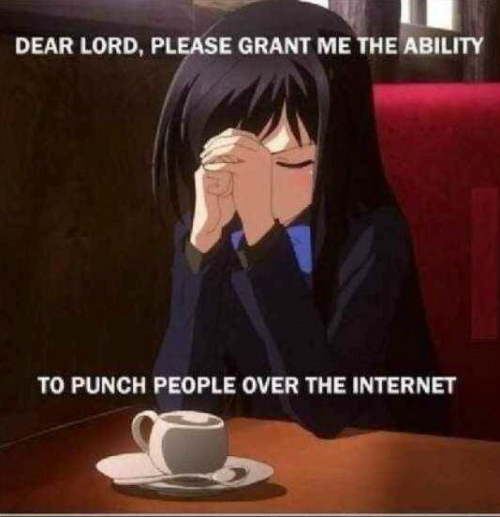 (Source)
Accel World's Kuroyukihime speaks for many of us who understand that sometimes words just don't work over the Internet. Way too many people feel that they have the right to hurt others online with their comments, so it would certainly come useful if at times a kawaii fist could knock some sense into them.


---
It's a serious story, I swear!
---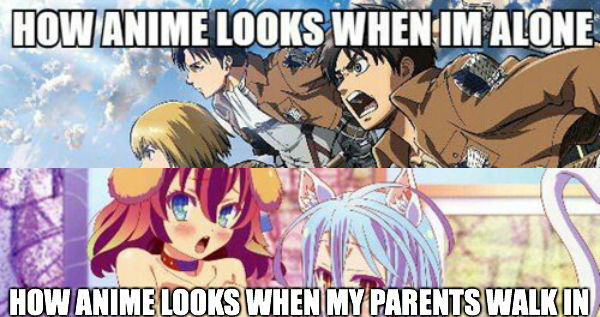 (Source)
If you've seen Shingeki no Kyojin then you know how dark and creepy the story is. However, there are moments when people walk in on your watching anime at the worst possible moment! This meme shows the awkward moments when your anime just happens to have an ecchi scene!


---
Get some perspective!
---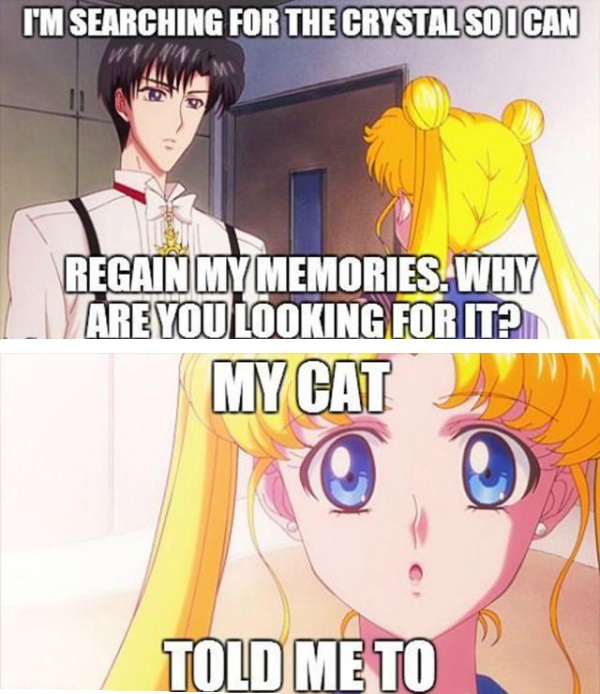 (Source)
The Bishoujo Senshi Sailor Moon Crystal series has been magical, in its own way, but leave it to Usagi Tsukino, the cat whisperer, to spend time and power on a very vague idea. As this meme points out, it really is hilarious that she would go on such a risky mission because of a few words from a cute cat. But it's ok Usagi-chan, we know you got there in the end.


---
Getting rid of bad clouds
---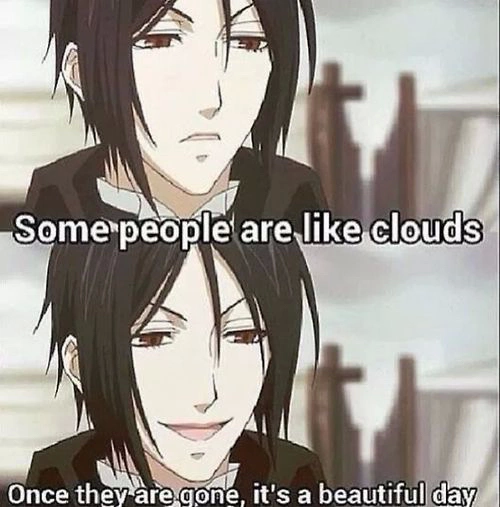 (Source)
Leave it to Kuroshitsuji to speak words of wisdom in dark times. When there are negative people around you who want to suck your energy away, think of Sebastian Michaelis and whoosh them away! Seriously, do it. Life will be easier.


---
Once you're hooked...
---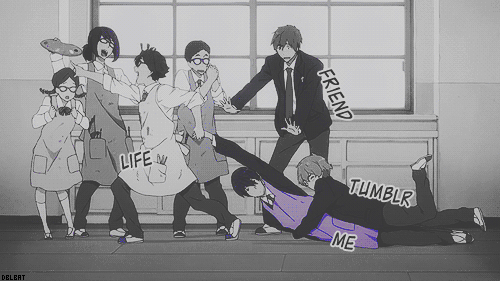 (Source)
When you're hooked on a certain anime, or anime in general, it becomes exceptionally difficult to get back to your normal daily routine and get stuff done after you've finished a binge. Free! was one of the most popular anime of 2015, so what better way to show how stressful it is to balance between real life and the 2D one than this GIF?


---
Creepy confessions
---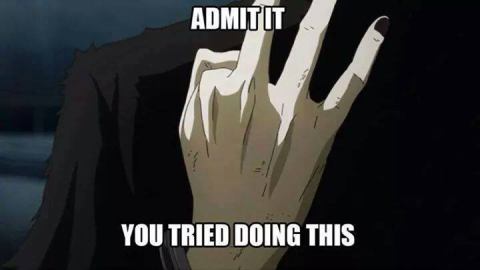 (Source)
It's tempting to copy the Tokyo Ghoul style cracking of your own bones in times of rage, but although it may look 'cool' on some levels, try not to do this, because it's not actually good for you. Still, it does look like you are about to do some serious damage.


---
All According to Plan
---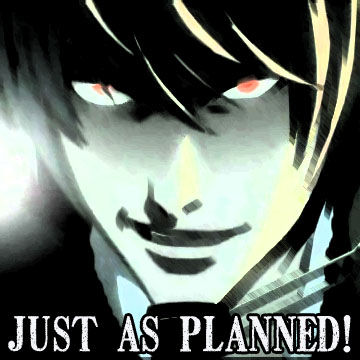 (Source)
Nothing happens by accident when it comes to Death Note. Even when unexpected twists happen, ni the end, it's all according to plan! This meme comes from the infamous silly fansubs "just according to keikaku" (note: keikaku means plan).


---
Nyooooooo!
---
(Source)
On a lighter note, when your favourite snack is suddenly gone, no other Pokemon can explain the despair as well as Pikachu!


---
Seriously, why?
---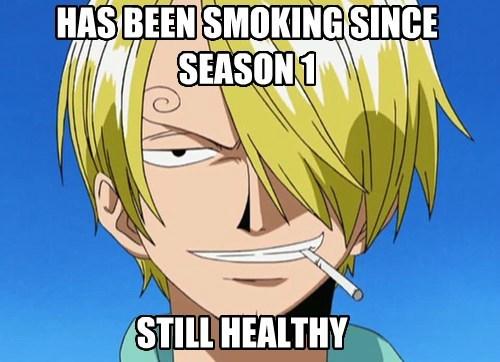 (Source)
Cigarettes are often used to represent badass characters, but c'mon, make it realistic and have him cough a little!


---
One word to rule them all.
---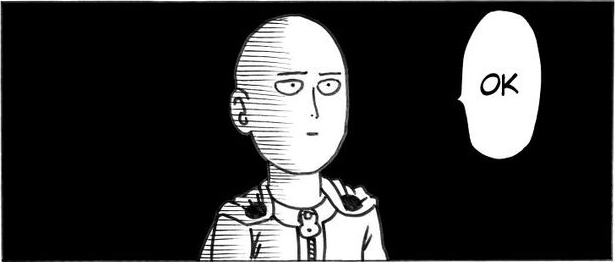 (Source)
One Punch Man is such good meme fodder. No other face explains "I am so done with this" better than One Punch Man, Saitama.


---
"Can you not?!"
---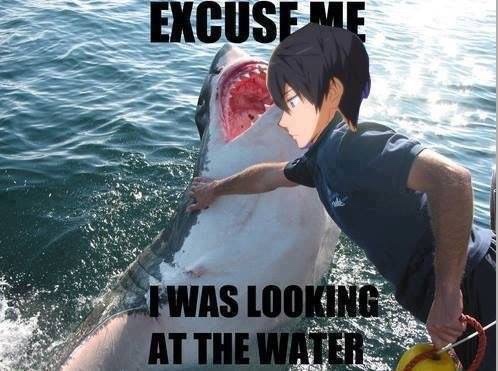 (Source)
Free!'s Haruka Nanase: "Can you move? You're blocking the beauty of the ocean."


---
Naughty.
---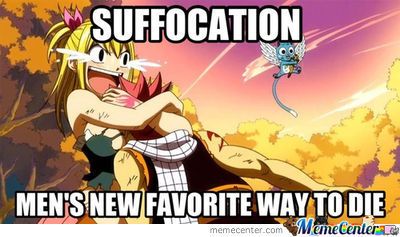 (Source)
Well, certainly not the worst way to go in Fairy Tail. Anime memes often point out the excellent plot in shounen.


---
Me IRL
---
(Source)
This meme is all of us: a day in the life of a passionate anime fan, as portrayed by Lucky☆Star's Konata Izumi.


---
The phrase that wouldn't go away.
---
(Source)
Cardcaptor Sakura is very cute, and she is the most frequent portrait accompanying this phrase. The "Senpai noticed me!" meme may well be the most used anime phrase ever.


---
Noooo!
---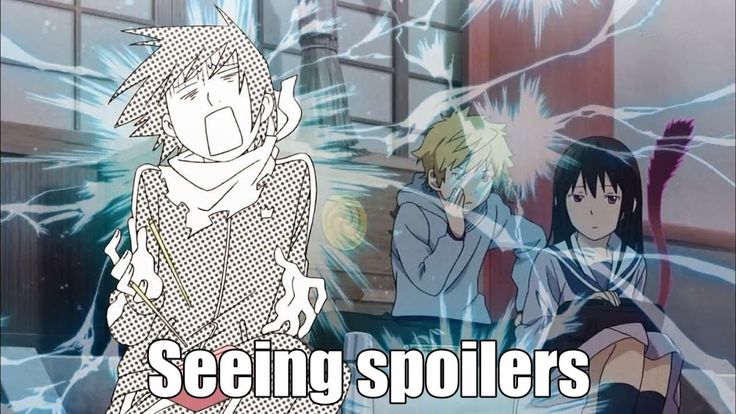 (Source)
This meme speaks the truth: Never. EVER. reveal spoilers! It shocks fans just as much as it shocks Noragami's Yato!!!


---
Ugh.
---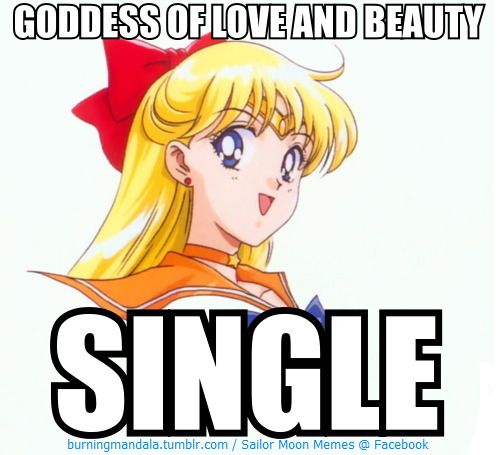 (Source)
The irony of life as presented by Bishoujo Senshi Sailor Moon's Minako Aino.


---
This is why we look forward to holidays.
---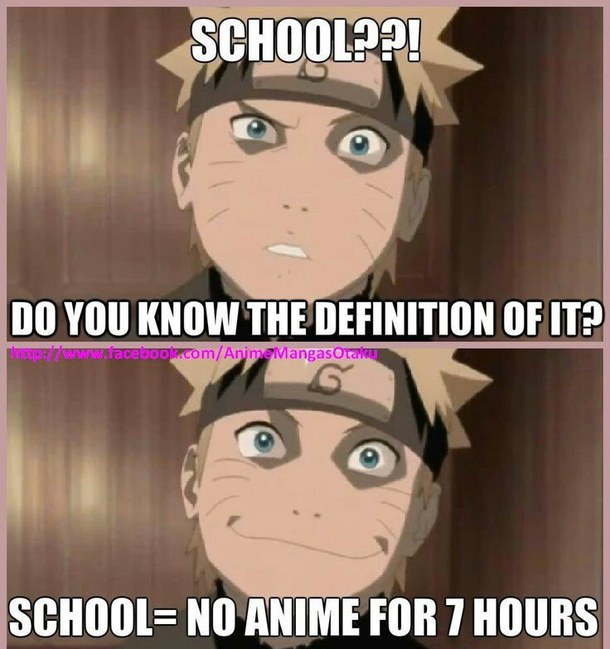 (Source)
Tell it how it is, Naruto!!!


---
Push it to the limits!
---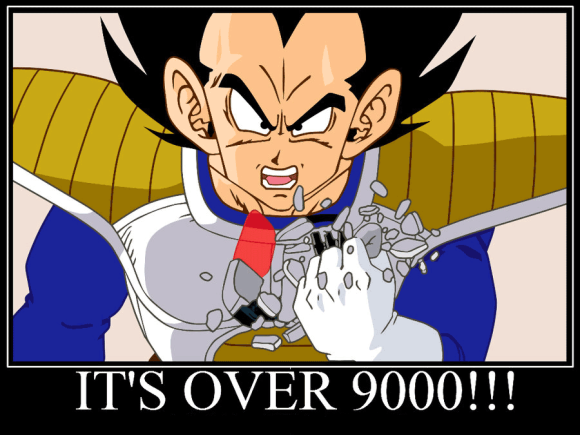 (Source)
This Dragon Ball Z meme never gets old! It's one of the best ways to express high tension.


---
Get deeper.
---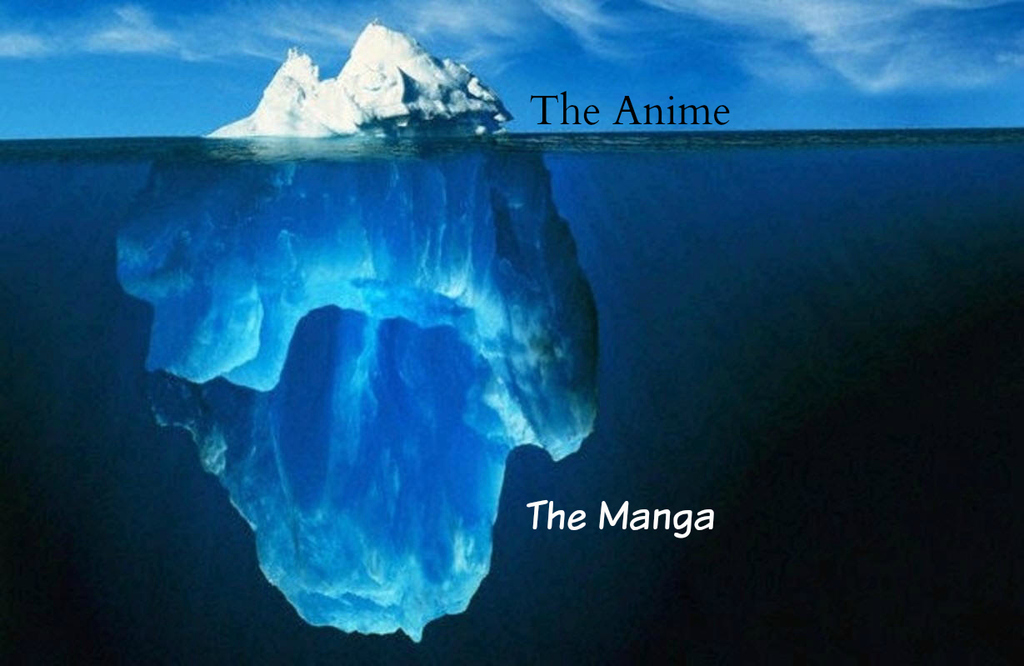 (Source)
There's always so much more and yet so little time in the anime!


---
And as a final goodbye and wishing you a wonderful New Year!
---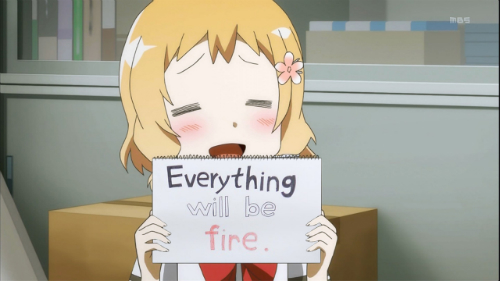 (Source)
A slightly misspelled show of support from Yuuki Yuuna wa Yuusha de Aru's Itsuki Inubouzaki!
Have a wonderful 2016!