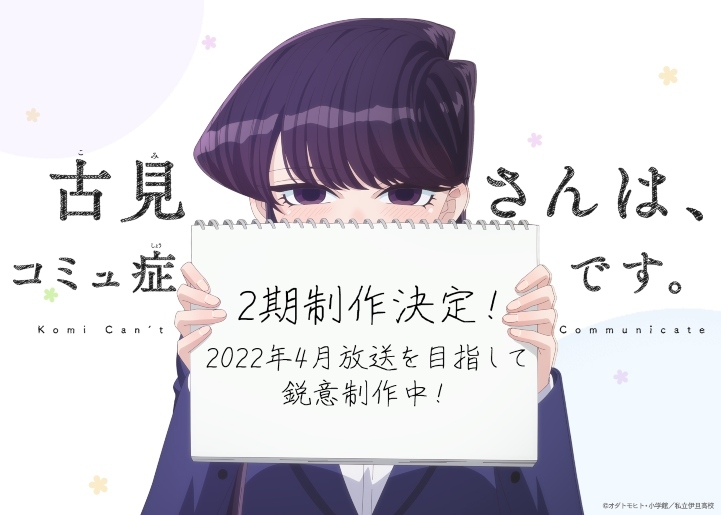 The 12th and final episode of the
Komi-san wa, Comyushou desu.
(
Komi Can't Communicate
) anime series ended with a second season announcement on Thursday. The official website revealed a commemorative visual (pictured above) and an announcement video. The new season will begin airing in April 2022.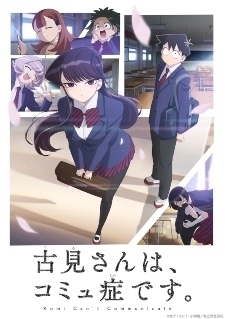 The television anime began airing on October 7, with Netflix simulcasting it weekly outside Japan beginning October 21. Tencent Video streamed the anime in Mainland China.
Kazuki Kawagoe
(
Koisuru Asteroid
episode director) helmed the series at animation studio
OLM
, with chief director
Ayumu Watanabe
(
Koi wa Ameagari no You ni
).
Deko Akao
(Hitomi Mieno) (
Arakawa Under the Bridge
) handled the series composition and
Atsuko Nakajima
(
Sakamoto Desu ga?
) designed the characters.
Komi-san wa, Comyushou desu.
adapts
Tomohito Oda
's
school comedy manga
, which he originally published as a
one-shot
in
Weekly Shounen Sunday
in September 2015. The magazine began serializing the manga the following May. Shogakukan published the 23rd volume on October 18, with the 24th volume scheduled for a January 18 release.
Komi-san wa, Comyushou desu.
has a cumulative 6 million copies of its volumes in circulation.
VIZ Media licensed the manga in English in November 2018 and
published
the 16th volume on December 14. The 17th volume will go on sale on February 8.
Synopsis
Hitohito Tadano is an ordinary boy who heads into his first day of high school with a clear plan: to avoid trouble and do his best to blend in with others. Unfortunately, he fails right away when he takes the seat beside the school's madonna—Shouko Komi. His peers now recognize him as someone to eliminate for a chance to sit next to the most beautiful girl in class.
Gorgeous and graceful with long, dark hair, Komi is universally adored and immensely popular despite her mysterious persona. However, unbeknownst to everyone, she has crippling anxiety and a communication disorder which prevents her from wholeheartedly socializing with her classmates.
When left alone in the classroom, a chain of events forces Komi to interact with Tadano through writing on the blackboard, as if in a one-way conversation. Being the first person to realize she cannot communicate properly, Tadano picks up the chalk and begins to write as well. He eventually discovers that Komi's goal is to make one hundred friends during her time in high school. To this end, he decides to lend her a helping hand, thus also becoming her first-ever friend. [Written by MAL Rewrite]
Announcement
Official site:
http://komisan-official.com/
Official Twitter: @
comisanvote
Source:
animate Times
Komi-san wa, Comyushou desu. Season 2
on MAL

RSS Feed