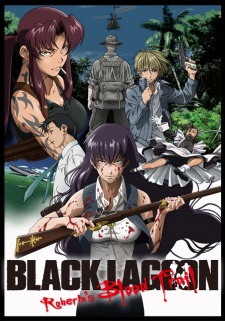 According to Monthly Sunday GX August issue, "
Black Lagoon 3
" was announced to be released as an OVA (or OVA series) in 2010. The original staff and the cast produce the OVA.
Black Lagoon
first and second season will be released in Blu-ray. The extra manga chapters published at the end of the comic books will be animated and included in the Blu-ray as specials.
The volume 9 of the
manga
will be released on October 19th. The rest of the "El Baile de la muerte" chapters will be published in one volume.
Sources:
Scan of Sunday GX 1
Scan 2
Story by [profile=rickyrock]rickyrock[/profile] and dtshyk
Updated on March 19th
According to Monthly Sunday GX April issue, the five-volume OVA series titled "BLACK LAGOON Roberta's Blood Trail" will be released from July 17th.
Source:
Scan of GX

RSS Feed