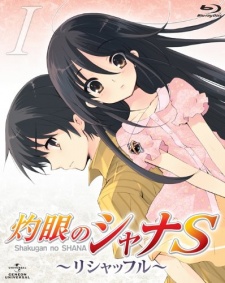 According to the cover of Dengeki Magazine vol. 8, new anime of "
Shakugan no Shana
" was announced.
The cover note says "Shana Project Restarted!! Shakugan no Shana Anime Surges Toward New Development!!". The actual content of the magazine remains unknown. More details will be revealed in a few days.
Source:
Cover of Dengeki Magazine
Update
Dengeki Magazine doesn't have any concrete information. The detail of the new Shana anime will be announced in Dengeki no Kanzume to be released on July 10th.
Dengeki Online officially announced a new anime project of Shana.
Source:
Dengeki Online
Update
According to Newtype Magazine August issue, the new Shana anime is an OVA series titled "Shakugan no Shana S". The first volume will be released in DVD and Blu-ray on October 23rd. As an extra, new anime of "Shakugan no Shana-tan" will be included.
Synopsis:
Due to the effect of Friagne's treasure device, the personalities of Shana and Yuuji are swapped. They try to overcome the situation secretly, but...
Source:
Scan of Newtype
Update
A guide book of Shakugan no Shana II was announced to be released on October 19th. An extra short anime "Shakugan no Shana-tan Revenge" will be bundled with the book along with a trailer of Shana S OVA series.
Source:
Amazon

RSS Feed