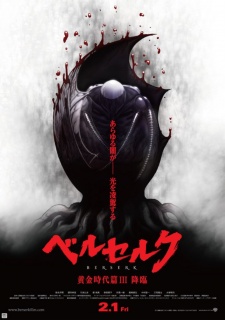 According to Eirin (Film Classification and Rating Committee of Japan),
Berserk Ougon Jidaihen III: Kourin
was rated as R18+ (equivalent to US NC-17). The reason for the rating was "Due to the extremely provocative sexual descriptions".
Source:
Eirin
Update Nov 17
According to Gigazine, the production committee of Berserk movie will modify the descriptions and resubmit the anime to Eirin. The rating will likely be changed to R15+.
Trailer of Berserk Part III
Source:
Gigazine

RSS Feed