---
The Opening: Oath Sign
---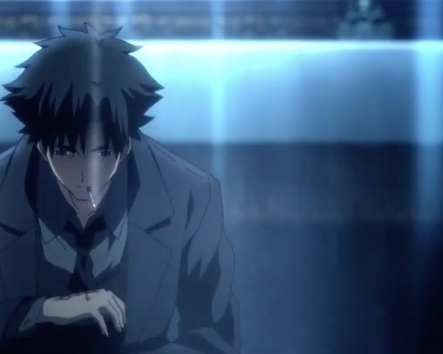 The opening of Fate/Zero, Oath Sign by LiSA, addresses the themes of morality and justice that are explored throughout the anime. The opening lyrics pose the question, "How many times must I reach my hand out to this repeating world for the fleeting tears to soften my black heart?" accompanied by images of Irisviel von Einzbern and Saber under the same suspension bridge in the daylight. This is followed by scenes of the main protagonist and antagonist, Kiritsugu Emiya and Kirei Kotomine. This idea of softening and healing a "black heart" is one explored throughout the show, especially for the mage Kiritsugu (pictured left) as he struggles to reconcile his violent actions with his pacifist ideals and dreams.
The next sequence shows the remaining five mages with the people most important to them, whether those be servants or family members or both, with the lyrics "I'd stand guard beside you forever and ever." Although each of the masters has a different wish for the omnipotent Holy Grail, they all want to protect the people they care about.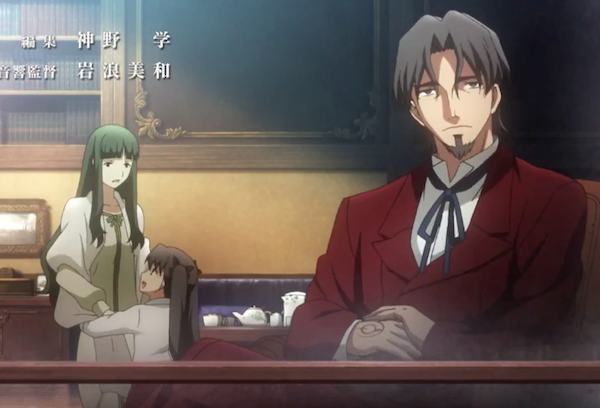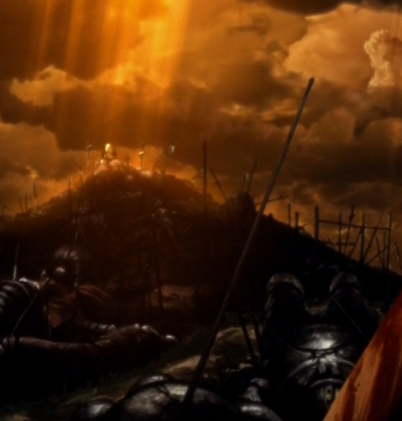 The image then switches to Saber, standing in a field of blue light in her modern outfit, which is suddenly and replaced in a flash of light by her brilliant blue armor. Then, a flashback to Saber in her days as the British King Arthur of legend: she kneels on a ruined battlefield, surrounded by the bodies of her comrades in arms (see right), before returning to her current state as the formidable servant raising Excalibur. This reflects her tendency to draw her motivation from her tragic past, an idea thoroughly explored throughout the show.
The penultimate sequence again features the different masters and servants, this time in various combat and action scenes as opposed to the mostly-still cuts mentioned above. The lyrics this time proclaim, "I've held up the light and erased my hesitation. What I wanted to give you is in the future... The distant ideals gently heal these legs that've stepped forward." This again highlights the idea that ends justify the means, as we see these characters engage in violent actions for what are essentially noble ideals.
The final sequence just flashes images of each of the masters and their servants once more, with the final lyrics, "I'll shoulder these tainted miracles." Despite the lofty goals and ideals that these characters strive for, they are willing to adopt whatever means necessary to attain their dreams. On the final chord, the camera pans downward from the sky, passes the bridge (below), and resubmerges into the river from whence the opening began.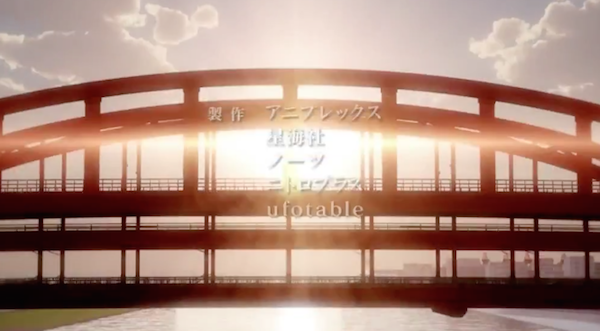 ---
Enjoy the complex ideas of morality and justice, both in the opening and in the episodes of Fate/Zero!