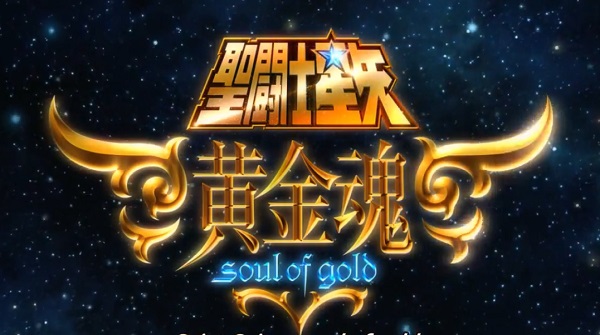 ---
---
Saint Seiya: Soul of Gold Opening, Soldier's Dream
The opening of Saint Seiya: Soul of Gold, "Soldier's Dream" by Root Five, gave a definitive and unique opening to the anime series. The song and the animation captures the true meaning and the beauty of the narrative. Moreover, unlike many other anime opening themes, the opening of Saint Seiya: Soul of Gold includes some interesting sound effects along with the music, making it more entertaining.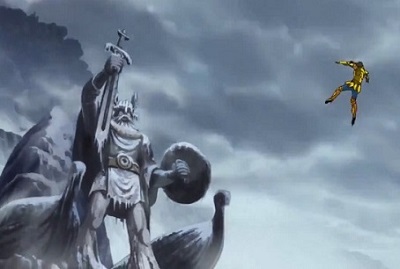 The song begins with Leo Aiolia, along with his fellow "Gold Saints" running towards the Wailing Wall to destroy it in the ending of the previous series, (Saint Seiya: The Hades Chapter - Inferno). After destroying the Wailing Wall they begin a new chapter in their lives as Gold Saints when they were mysteriously revived in Asgard (left). This scene is then followed by the images of the Gold Saints as the main characters in the story with the lyrics,
"Far up in the sky
A sparkle of life shines your way". This emphasizes one of the ways they were mysteriously brought back to life in Asgard.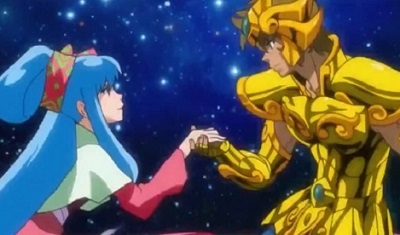 The next sequence shows a romantic connection between Lyfia and Aiolia (right), followed by a battle between Aiolia and one of the "Seven Asgardian God Warriors", Frodi Gullinbursti, and the image of the Seven Asgardian God Warriors controlled by the false representative of Odin, Andreas Rize, (below) combined with the lyrics,
"Shone by fate
The legend of the stars, a soldier dream
Let out your burning cosmo
For victory you shall embrace tomorrow". This emphasizes that Lyfia and Aiolia are fated to meet each other for the fulfillment of a certain mystery that is yet to be unveiled in the series, and the inevitable battle between the Gold Saints of Athena
and Rize's dark forces.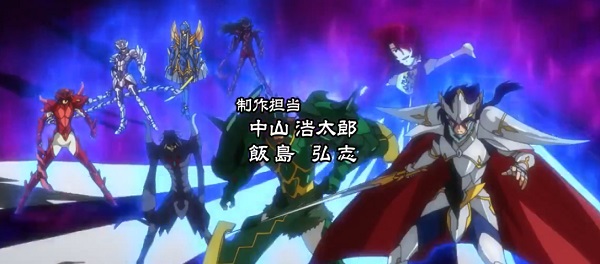 Then, suddenly, an image of Athena began to appear where she spills her blood for her beloved Gold Saints transforming their Gold Cloths into a more striking and much powerful ones (below), thus showing a more powerful cosmo burning within them fueled by their faith and love for their dearest Goddess Athena and their desire to help the people and the land of Asgard.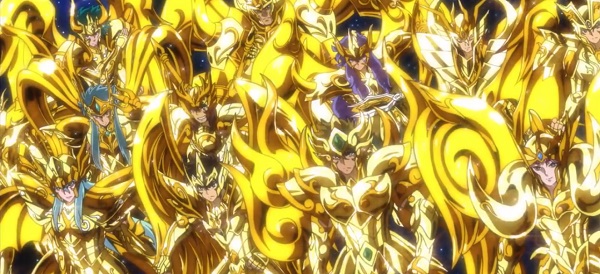 Finally, the opening of Saint Seiya: Soul of Gold ends with the Gold Saints uniting their powers to destroy the cursed tree of Yggdrasil (below) that threatens the peace in the land of Asgard. The final words of Saint Seiya: Soul of Gold's opening are "For you are the chosen one", which unveils the great part of the mystery of the Gold Saints being chosen to defend and save Asgard from its unprecedented doom.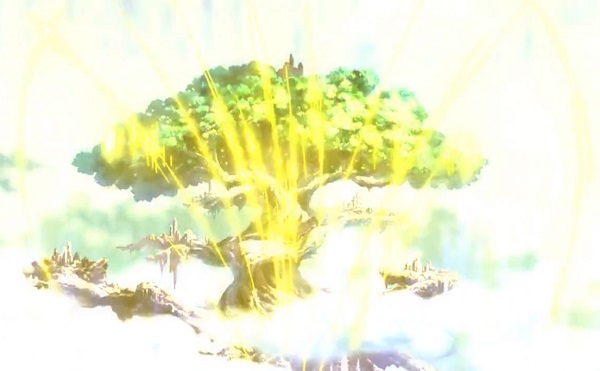 ---
Though the lyrics in the opening of Saint Seiya: Soul of Gold talk more about Saint Seiya, visually it is evident that the song pertains to the mighty Gold Saints of Athena. Their valiance, faith, and desire to preserve peace and justice are something to watch out for in the series. Feel your cosmo rising as you watch both the opening and the episodes of Saint Seiya: Soul of Gold!