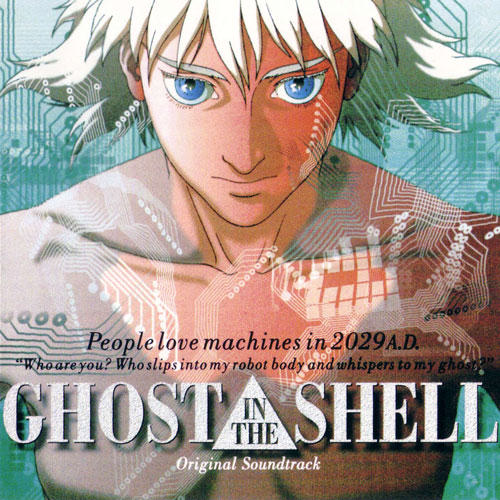 The original soundtrack (OST) of Mamoru Oshii's seminal 1995 film Ghost in the Shell is hauntingly beautiful. Composed by Kenji Kawai, Mamoru Oshii's longtime collaborator, the music conveys both a sense of tradition and a futurist outlook, which perfectly complements the film's profound musings on the nature of humanity in an increasingly machine-oriented world. The first, and most famous, track on the OST, "Making of Cyborg", encapsulates this duality.


---
Making of Cyborg
---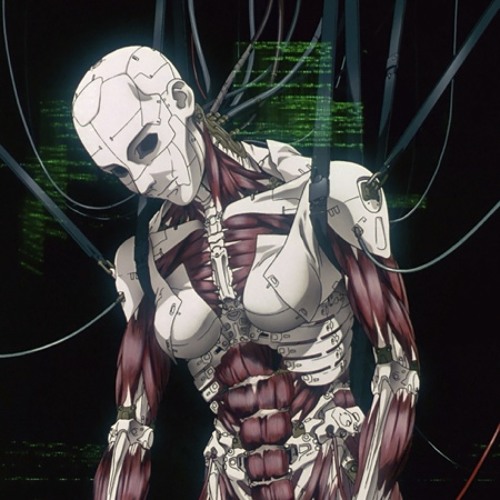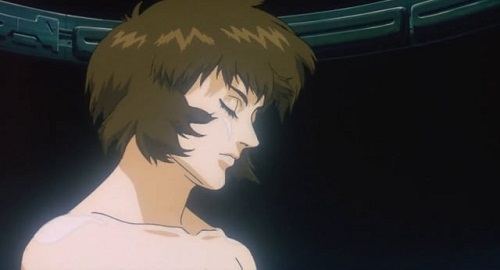 This track, which plays during the opening credits of the film, features chanting in the ancient Japanese language of Yamato, as well as Bulgarian folk harmonies, primitive drumming, bells, gongs, and other instrumentation. The choir is actually singing a traditional wedding song. The combination of these chill-inducing vocals, with the rhythmic instrumentation, creates a hypnotic effect, so that the accompanying images gain a heightened meaning.
Throughout the sequence, Major Motoko Kusanagi's cybernetic body is being assembled—the "making of cyborg" to which the song's title refers. The song's roots in ancient folk music are juxtaposed against the highly sterilized, mechanical "birth" of a cyborg, so that the music highlights both the differences and similarities between a cyborg's assembly and a natural human birth. Truly a masterful accomplishment, this track is a spellbinding introduction to the dilemma at the heart of Ghost in the Shell.


---
Somber Sounds
---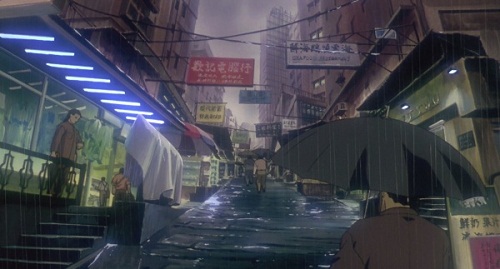 The rest of the tracks on the OST—"Ghosthack", "Puppetmaster", "Virtual Crime", "Ghost City", "Access", "Nightstalker", "Floating Museum", "Ghostdive", and "Reincarnation"—extend, and enrich, the lush soundscape of the first track. In fact, "Ghost City" and "Reincarnation" feature the same Japanese chants as "Making of Cyborg".
On other tracks such as "Ghosthack" and "Virtual Crime", there are no vocals. Instead, synthesized sounds combine with ancient instrumentation to create a mysterious, suspenseful atmosphere.
"Floating Museum" and "Nightstalker" are mournful and poignant, evoking a future society where humanity itself is in question. The shamisen of "Nightstalker" is especially beautiful, and especially melancholy.
"See You Everyday", the bonus track included at the end of the OST, is an oddly chipper addition to the otherwise moody soundtrack. Featuring Cantonese vocals by Fang Ka Wing, it seems out-of-place.


---
Despite the bizarre bonus track, Kenji Kawai's soundtrack for Ghost in the Shell is just as classic as the film itself. As a standalone product, it merits a listen; as an accompaniment to the stunning visuals and ideas of the film, it is unparalleled.
Kenji Kawai's music truly enhances the film's exploration of the shifting boundary between man and machine. A mix between ancient folk harmonies and modern synthesized sounds, the soundtrack is a reminder that humans—while embracing technology in the present and future—have a past full of treasured cultures and traditions, which can never be replicated.