---
Harajuku
---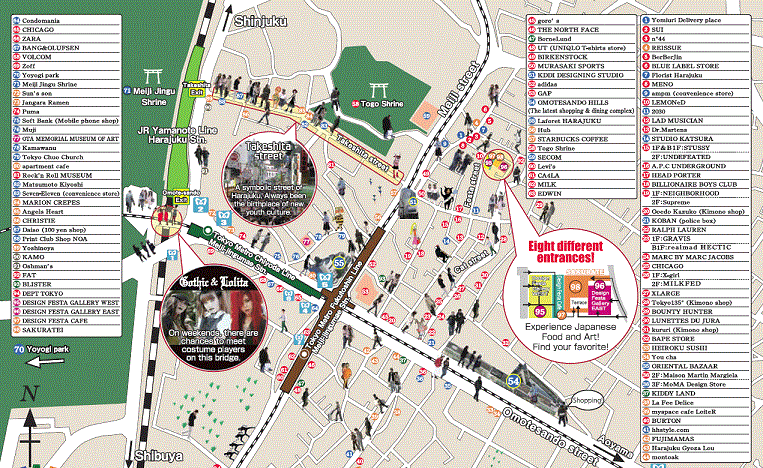 View full sized image here
"Harajuku is the common name given to a geographic area spreading from Harajuku Station to Omotesando, corresponding on official maps of Shibuya ward as Jingūmae 1 chōme to 4 chōme. In popular reference Harajuku also encompasses many smaller backstreets such as Takeshita Street and Cat Street spreading between Sendagaya in the north to Shibuya in the south." (wikipedia)
Harajuku is a popular shopping spot for various crowds, attracting anyone from middle schoolers in Takeshita Street to upper middle class folks in Omotesando. Let's start our virtual tour of Harajuku!
[Note: Teensy spoiler warning. There are screenshots of different episodes in here. You have been warned.]


---
Takeshita Street
---
Entrance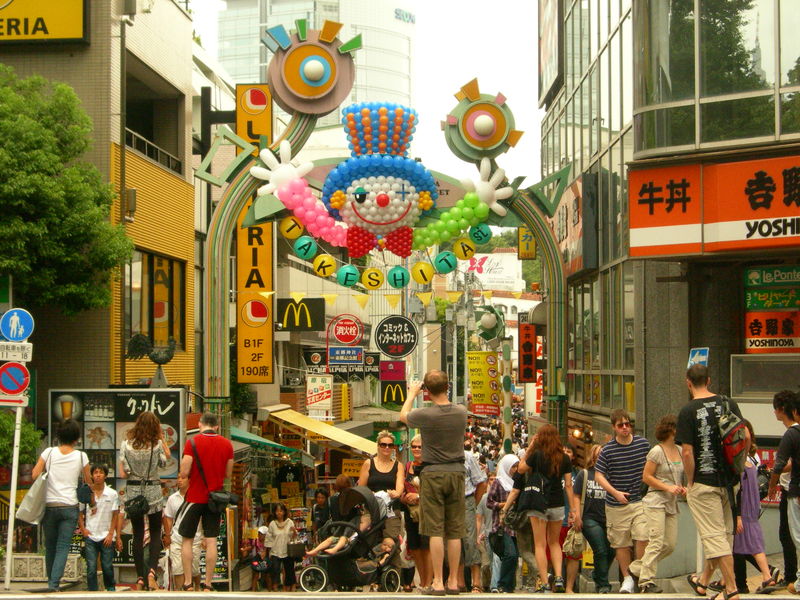 source
Upon exiting Harajuku Station on the Yamanote Line, you'll see a large metal arch, which denotes the entrance to Takeshita Doori. Takeshita Street is perhaps the most famous street in Harajuku, and is more or less constantly teeming with both locals and tourists. Times like summer break are especially bad- you can expect to be carried along by the crowd moving in the direction away from Harajuku Station.
Takeshita Street is popular with teenagers as well as young women in their twenties. This is because many of Takeshita Street's shops specialize in affordable fashion in the latest styles. You'll often see groups of girls wearing matching outfits or accessories (such as flower crowns), eager to show off their street clothes after five or six days straight of school uniform wear.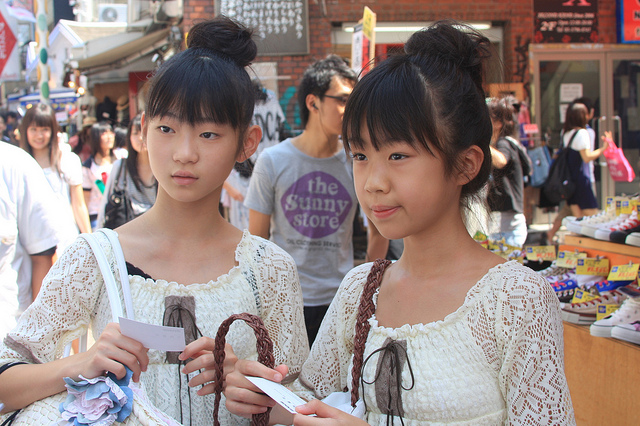 source
Unlike in America, where wearing the exact same thing is often faux pas, matching outfits is quite common. As you can see, there's nothing over the top or "fringe" about these kids' style. While Harajuku has gained the reputation for being a bit of an area with "crazy" fashion, the reality is that most people dress in pretty mainstream, standard clothes.
That is not to say that fringe fashion is dead, however. The further into Takeshita Street you walk, the more bright, unusual shops you'll see. Tucked in side alleys and at the end of Takeshita Street are stores selling punk, goth, and even Takarazuka styled costumes, which are known for being fabulously glitzy. One of my personal favorite stores is a "recycle shop" named Closet Child that sells second hand brand name lolita clothing of all subsects (sweet, gothic, casual).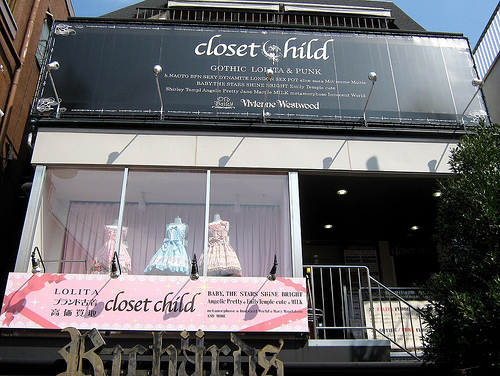 source
You'll also be able to see the occasional lolita stroll the streets. While it doesn't attract stares, girls who dress lolita in Harajuku are still the minority.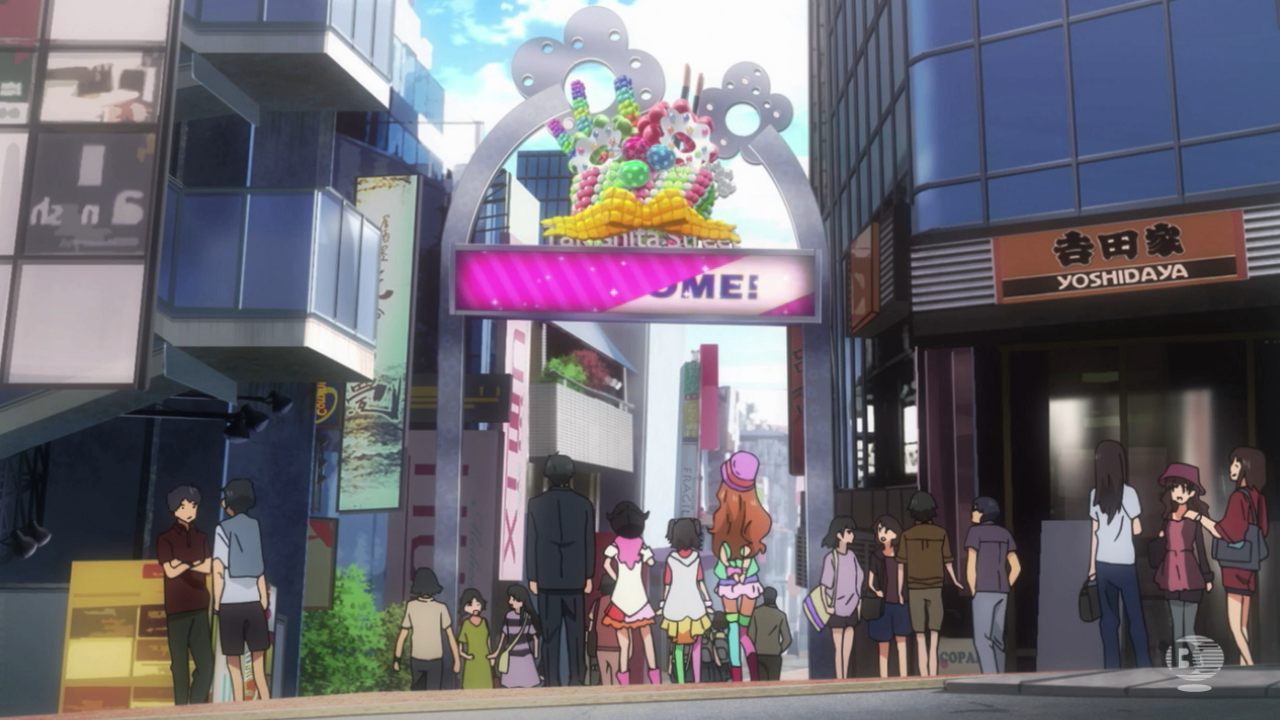 You can also see "Yoshidaya" (Yoshinoya, a Japanese-style fast food joint) in the real picture of Takeshita Street above! The three wannabe idols in the screenshot above are between the ages of 11 and 17, which makes them the perfect demographic for Takeshita Street.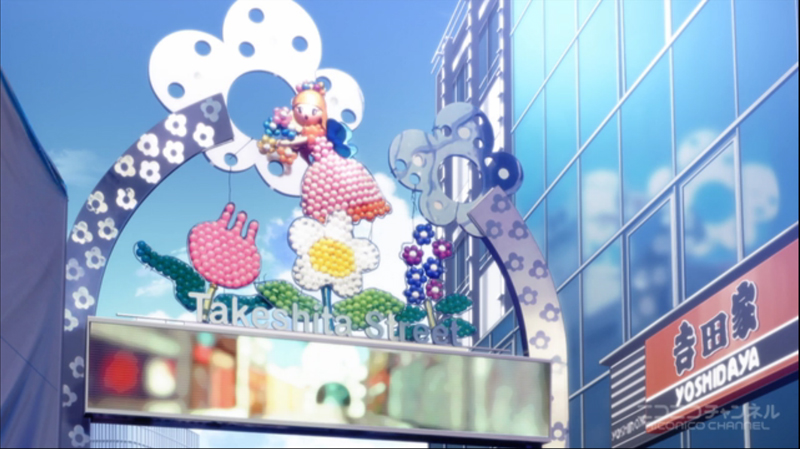 Most anime featuring idols tell the tales of young female idols, but this show about the ikemen (cute guys) of "Shounen Hollywood" breaks the mold. Most of this anime is set in Harajuku. Even the title picture is a view of Harajuku station from a pedestrian overpass!
As you can see, the balloon art on display is frequently changed.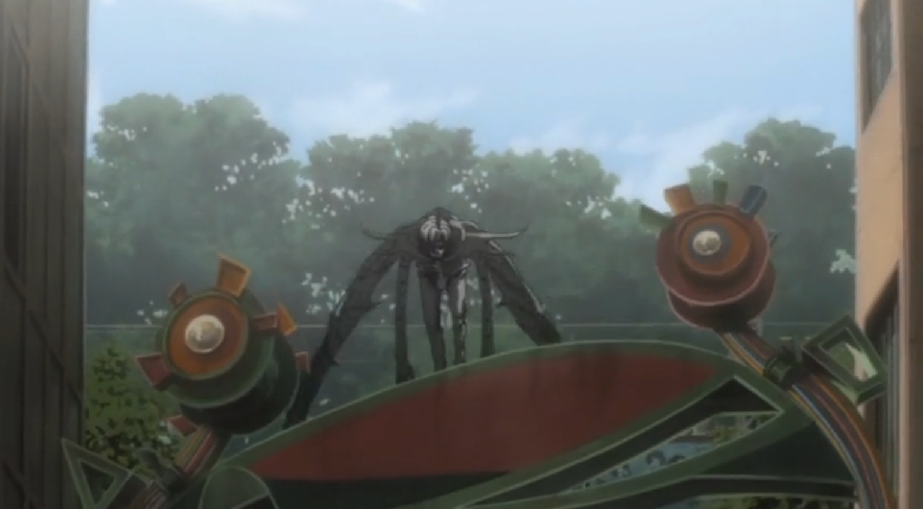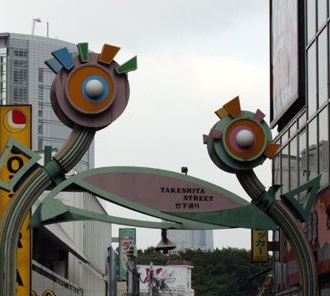 That's right, not even beloved psychological thriller Death Note is safe from this teenage hangout spot. At the very end of Episode 11, Rem can be seen flying over Takeshita Street, identifiable by first the metal arch and then "Sale" signs with mannequins clad in lolita styles. This arch is an older iteration to the silver flower arch you see in other pictures.


---
Crepes
When residents of Japan think of Harajuku, not only cute fashion comes to mind. Takeshita Street is home to several long-standing crepe stands, the most famous of which are Marion Crepes and Angel Heart. But why are crepes so popular? Probably because they are easy to eat on the go, easy for store owners to make upon-order, and deliciously sweet! While savory flavors such as tuna or cheese do exist, the most popular ones are no doubt the banana or strawberry variants.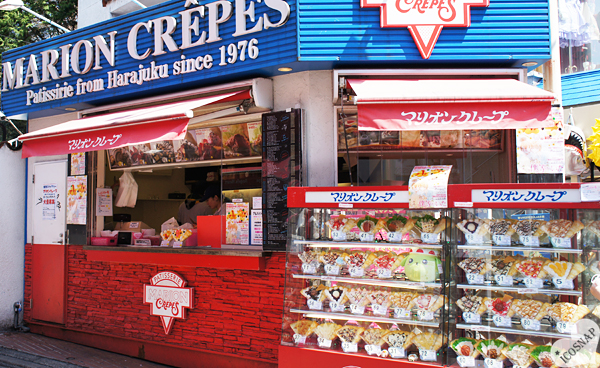 source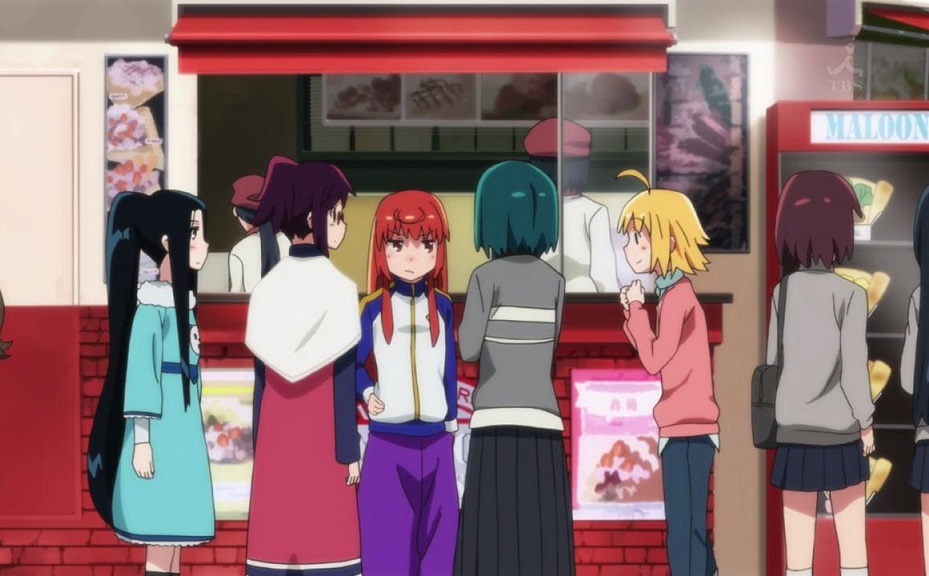 Episode 5 of this slice of life shows the girls in front of Marion Crepes.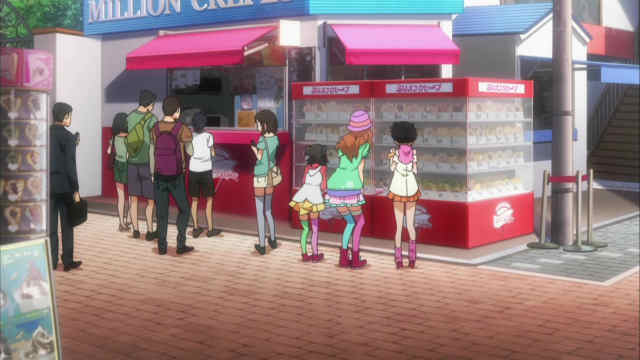 A trip to Harajuku isn't complete without a crepe!
Just to show how long this stand's been around, it's also referenced in the 1996 shoujo anime Mizuiro Jidai. While the storefront has gone through major changes, the name of the store has remained unchanged.


---
Shops in the Harajuku/Omotesando Area
---
If you go out the other exit from Harajuku Station, you'll find yourself on a wide street lined with fancier, pricier shops, as well as many cafes. This area is Omotesando, the gathering spot for the older crowd in Harajuku.


---
Garrett Popcorn Shop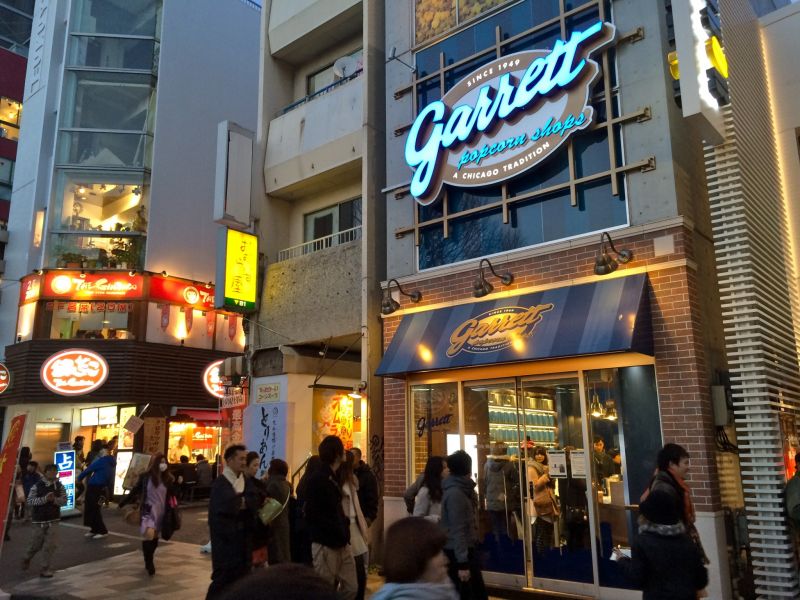 source
You're guaranteed to pass by this store if you walk from Harajuku Station to the main Omotesando street. The intoxicating, almost overpowering smell of butter, caramel, and popped corn constantly waft from this storefront. Whether intentional or not, it's a pretty effective marketing method, as Garrett is always busy selling different flavors of freshly popped gourmet popcorn!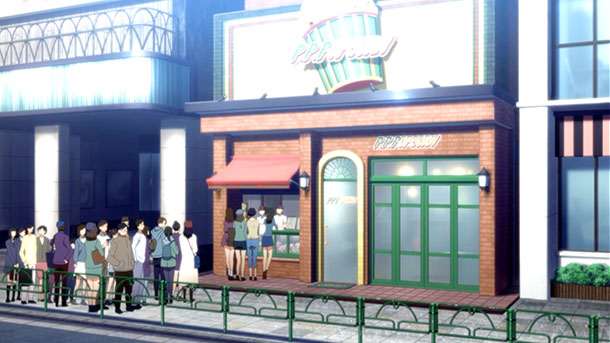 ---
Laforet Harajuku (Vivienne Westwood)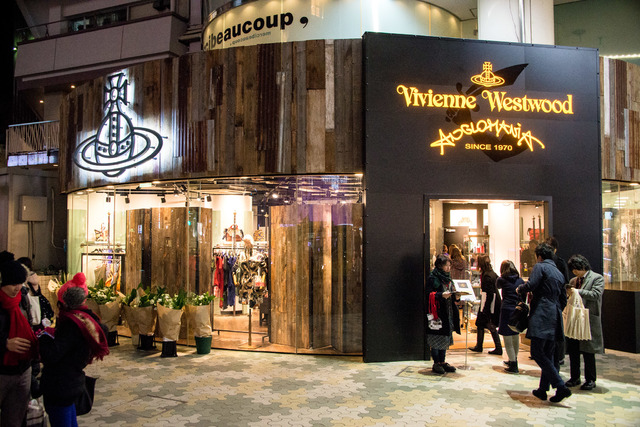 source
Laforet is department store in Harajuku, on Omotesandou Street. It's located a short walk down Omotesando Street, and is well known for its sales and trendy exterior. At this time, the featured store was for Vivienne Westwood, influential punk fashion designer.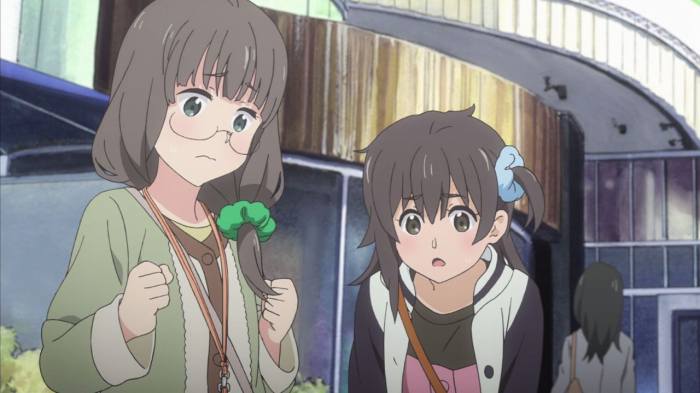 The sequel to Selector Infected WIXOSS, this show is about cute girls that play a card game named WIXOSS. You can see the wood paneling for Vivienne Westwood's shop in the background.


---
Omotesando Hills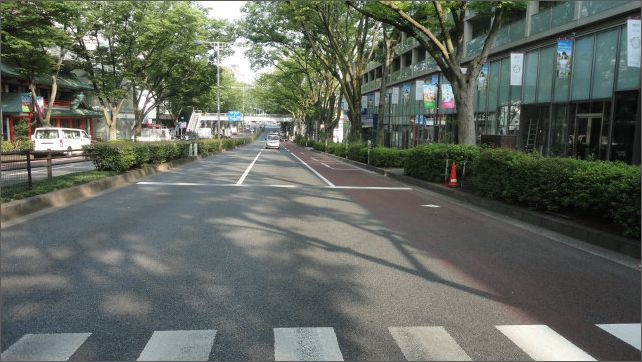 source
Another large shopping complex featuring international luxury brands. This complex is a little further down Omotesando.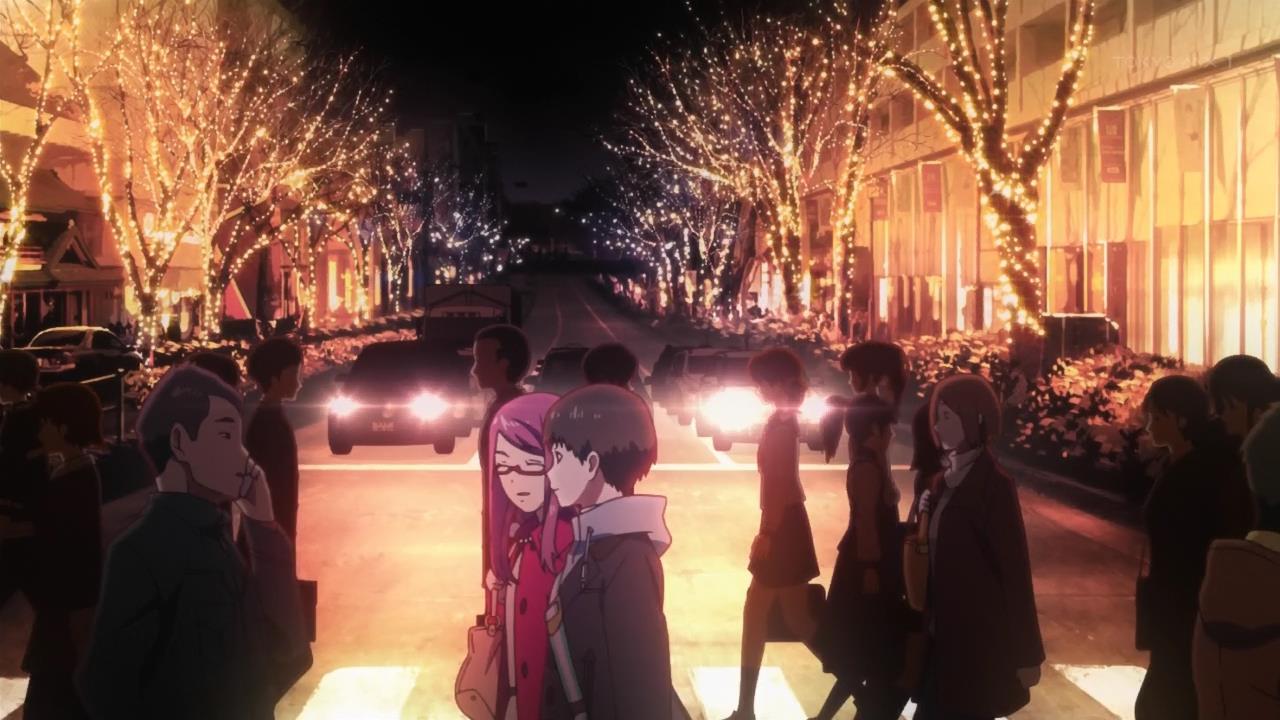 Tokyo Ghoul opens on Kaneki Ken, a young college age man, going on a date with a pretty girl named Rize. Part of their date takes them on a stroll through Omotesando, passing by the real life locations of shops such as Emporio Armani.


---
Shibuya Ward Chuo Library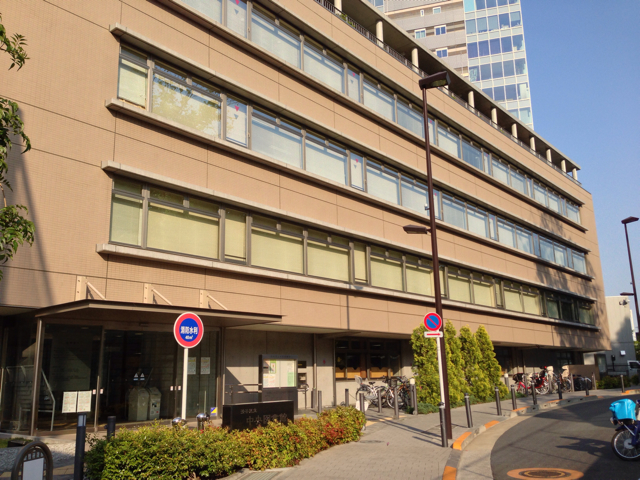 source
Located a little ways in the opposite direction of Harajuku Station is the central library for the Shibuya area, which includes Harajuku and Omotesando. This library has five floors, and contains both Japanese as well as foreign books.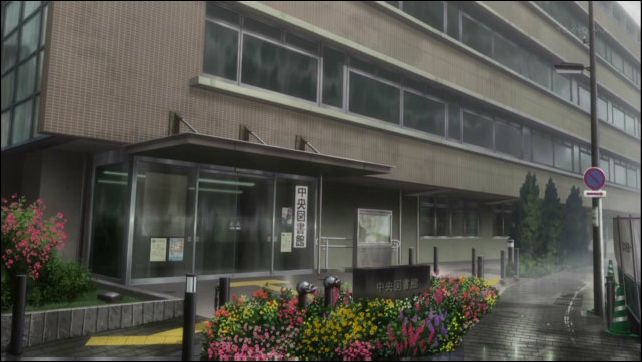 The first episode of this comedy shows the devil (yes, the devil) wandering around modern day Tokyo.


---
As you can see, the Harajuku and Omotesando areas contain shops that are sure to attract anyone interested in fashion, from younger crowds with pocket money to spend, to older shoppers with their own income. Besides fashion, different snacks can be found anywhere! Hopefully you can pay your own visit to these places sometime!