---
Akihabara: the City of Anime
---
Akihabara (秋葉原) is a district in the Chiyoda ward of Tokyo, Japan. The name Akihabara is a shortening of Akibagahara (秋葉が原, "autumn leaf field"), which ultimately comes from Akiba (アキバ), named after a fire-controlling deity for a firefighting shrine built after the area was destroyed by a fire in 1869.
Akihabara gained the nickname Akihabara Electric Town (秋葉原電気街 Akihabara Denki Gai) shortly after World War II for being a major shopping center for household electronic goods and the post-war black market. Nowadays, Akihabara is considered by many to be an otaku cultural center and a shopping district for video games, anime, manga, and computer goods. Icons from popular anime and manga are displayed prominently on the shops in the area, and numerous maid cafés are found throughout the district. (wikipedia)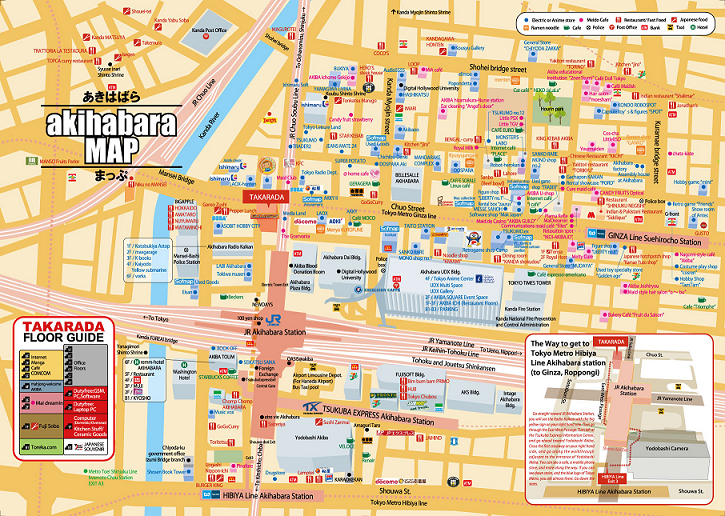 View the full size map here
A surprisingly small area, Electric Town is any anime fan's mecca, with streets lined with gachapon, discounted figures, and other goods galore.


---
---
The CROSSFIELD are two large, shiny buildings very close to Akihabara's JR station. It's quite a visual landmark, and thus makes its way into many newer anime featuring Akiba.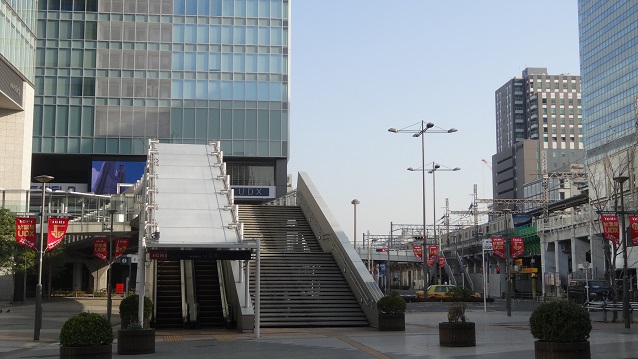 The UDX building often has advertisements for currently airing anime or popular idol/anime songs playing on the large screens.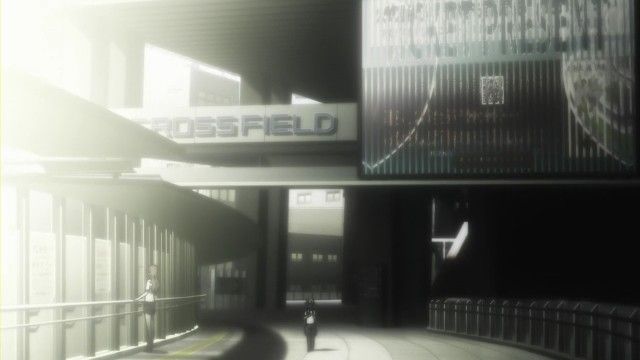 Part of the Science Adventure series by Nitroplus, Steins;Gate is a story about a group of scientists on the run set in Akihabara.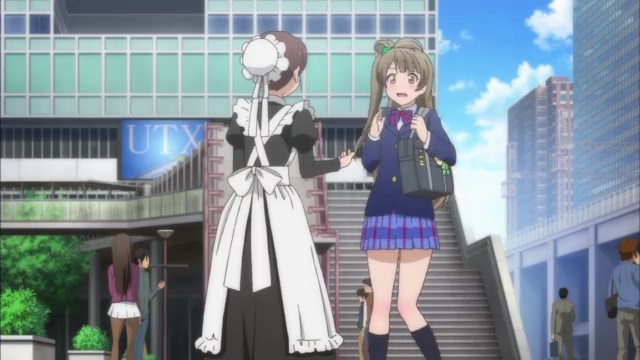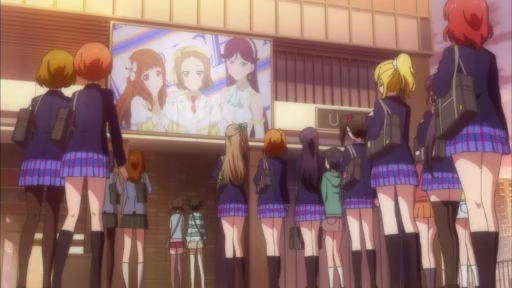 Quite a few scenes take place on the above-ground walkway to UDX in Love Live, a popular mobile game and anime franchise. The game features nine female high school students from Otonokizaka Academy, and their quest to become the top school idol group in an alternate universe where each school has a representative idol group. Kind of like a soccer team, but for cute girls that sing and dance.
If it's idol related, then it's got to be Akihabara! Akihabara in real life is a thriving stage for actual underground idols. You can often see them performing at places such as Twin Box or Akiba Drug&Cafe (Drugstore drugs, silly!) Many are quite popular, actually. You may see people queuing up hours before a performance starts, just for a chance to interact with their favorite idols!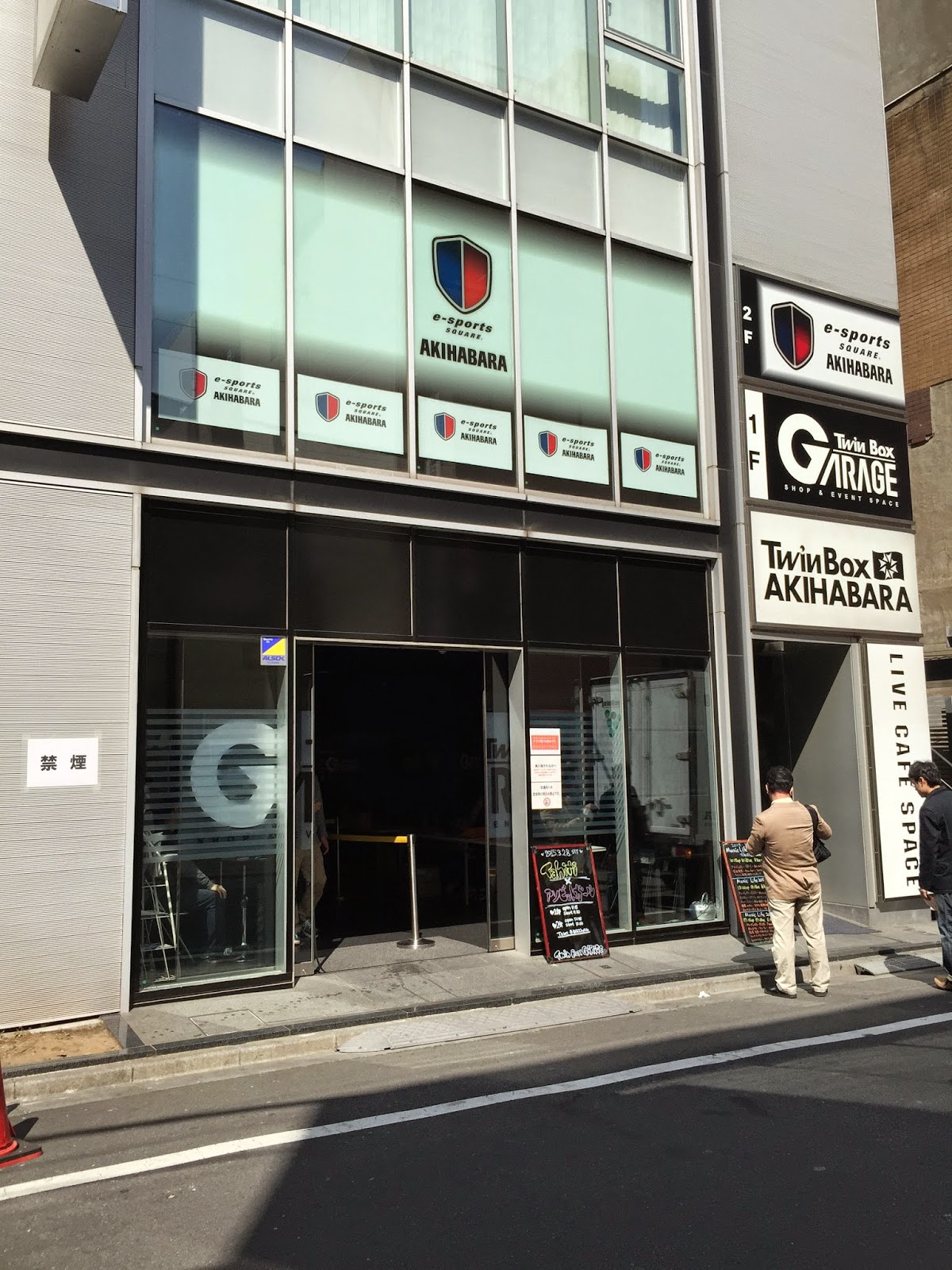 As an added bonus, the floor above Twin Box is a competitive PC gaming dedicated netcafe, boasting games such as League of Legends, CS:GO, DoTA2, and Hearthstone! Shameless plug- it's kind of my favorite place.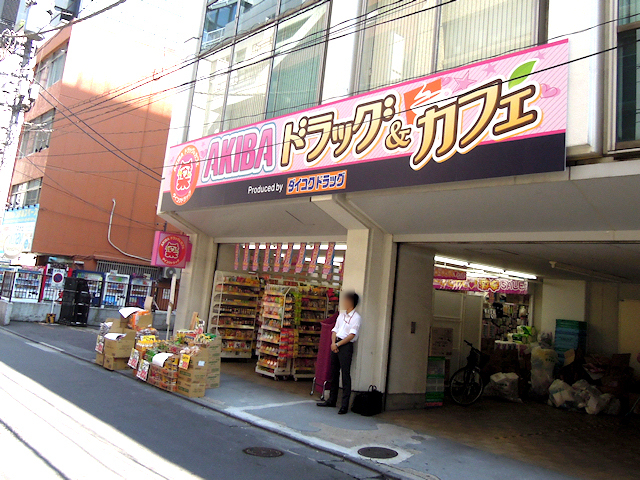 Located directly opposite Twin Box on the same street, Akiba Drug and Cafe functions as both a regular drugstore and a performance area for wannabe idols!
As far fetched as school idols may seem to viewers abroad, it's actually not so far from the truth.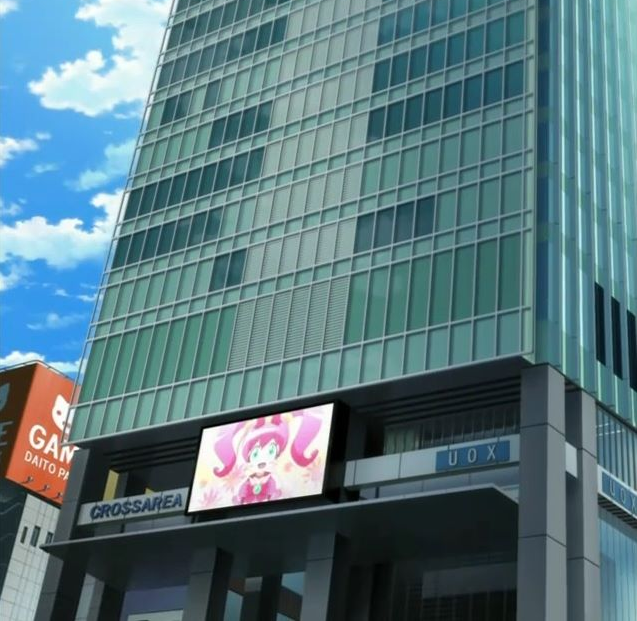 There's No Way my Little Sister Can Be This Cute is a show that follows the trend of having really long titles. Little sister Kirino is a huge closeted nerd, so it's kind of a given that she would love Akihabara. Here's a view of "Cross Area's UOX" from OreImo! To the left you can see a giant billboard marking Taito Game Station, a chain of multi-story arcades filled with anything from UFO catchers to Card/Arcade game hybrids.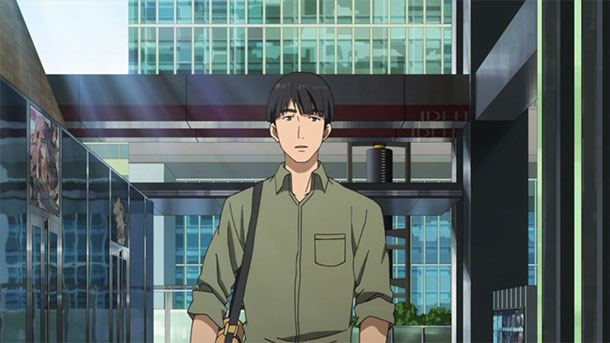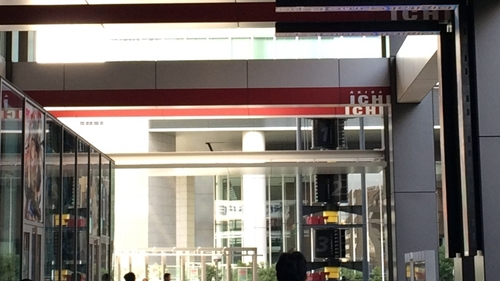 It only makes sense for a show about the anime industry to contain scenes set in Akihabara. This is a different view of UDX's event hall area.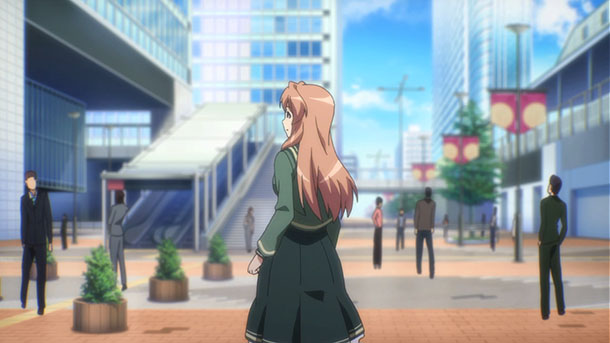 Rail Wars! is a show about a fictional, non-privatized railway company. As it takes viewers on a journey around Tokyo, you'll be able to see scenes from many different stations!


---
Cure Maid Cafe
---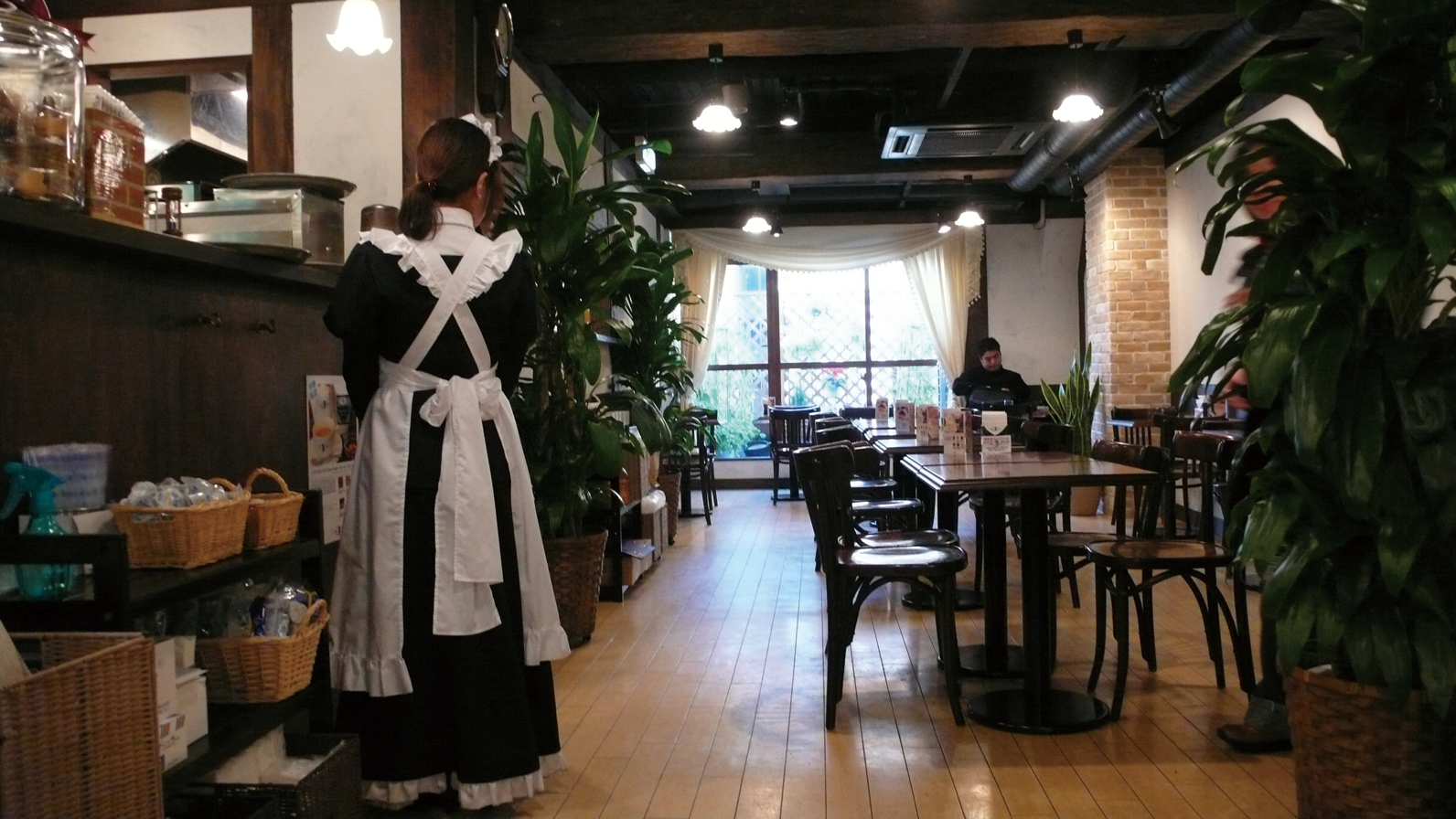 Akihabara is no stranger to maid cafes. You're pretty much guaranteed to see one or two on every street, not to mention the waitresses who come out to pass out flyers or invite you to their cafe. Still popular enough to garner attention from more than one anime series, Cure Maid Cafe is proud to call itself the first permanent maid cafe in Akihabara. Cure has theme nights based off various anime as well as professional musicians (female, of course) that perform flute, harp, violin, etc dressed in long skirted maid costumes! Unlike many maid cafes, their food and drinks are not just for novelty- they're comparable to classy restaurant fare. Definitely worth a visit.
If you're wondering why the long skirted uniform looks so familiar, it's probably because you've seen it on Minami Kotori, the school idol group's representative part-time maid.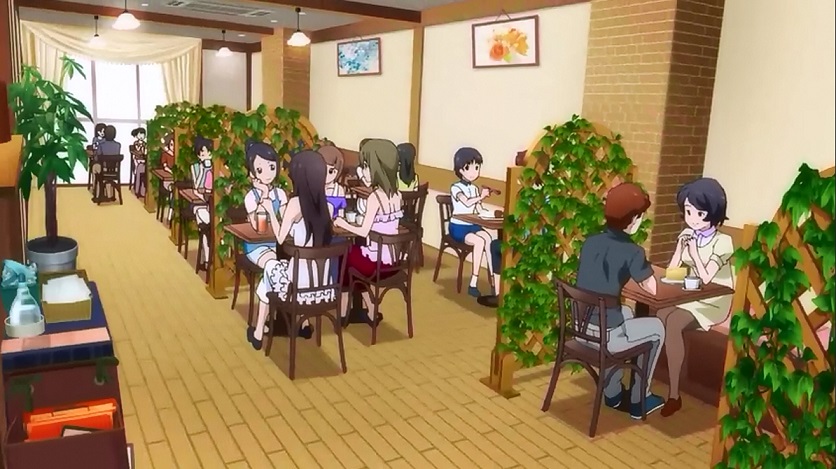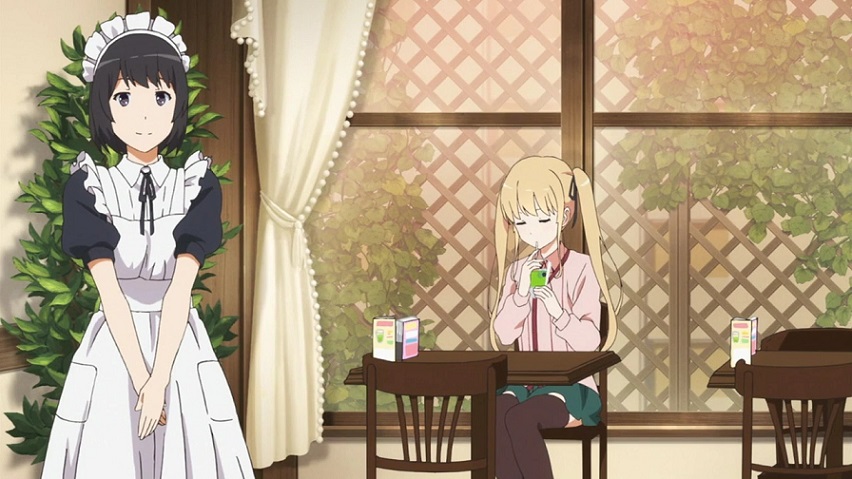 Also known as Saekano: How to Raise a Boring Girlfriend, this harem comedy revolves around the doujin light novel group consisting of the male protagonists and some cute girls. They visit Akihabara in Episode 12.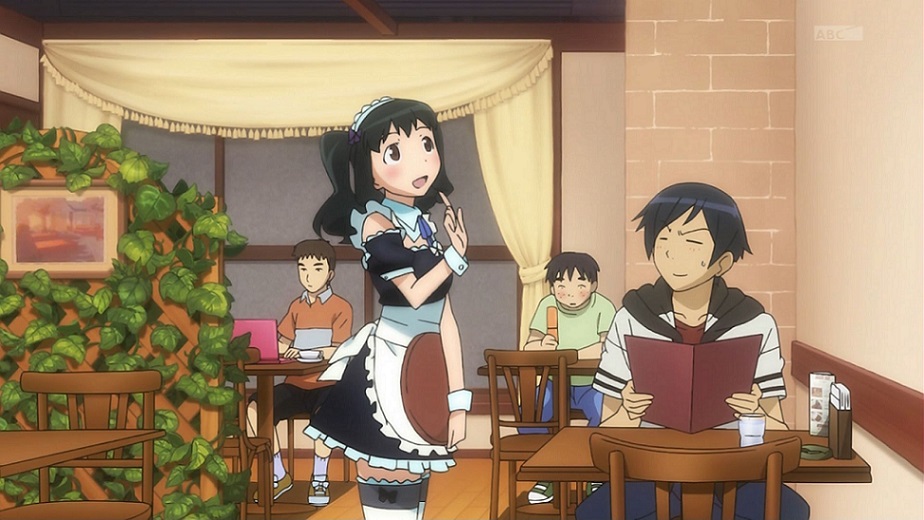 Although he doesn't exactly look excited to be here, the vine-laced trellis decor is indicative of Cure.


---
Akihabara Street View
---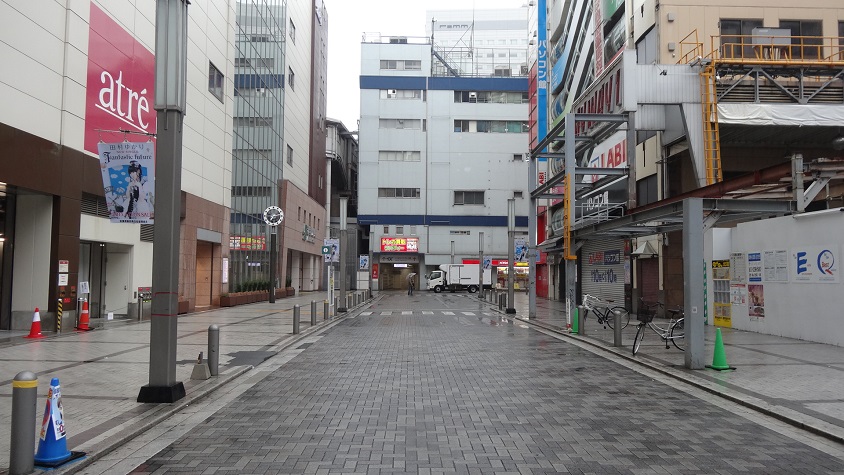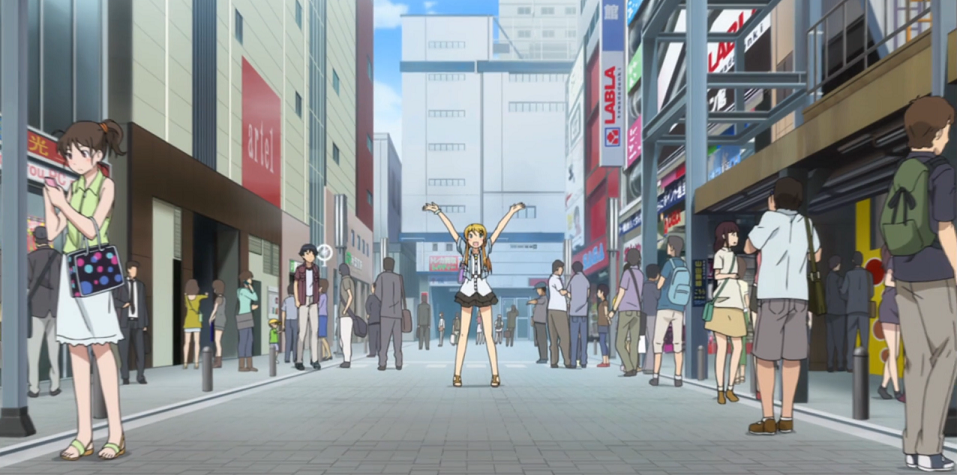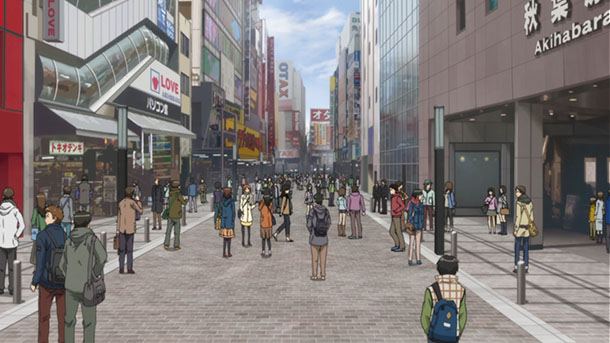 Genshiken is an anime revolving around the lives of the niche culture club of Chuo University. Members are often seen going to Akihabara for various goods, such as the latest game or anime release.


---
Famous Stores
---
Sofmap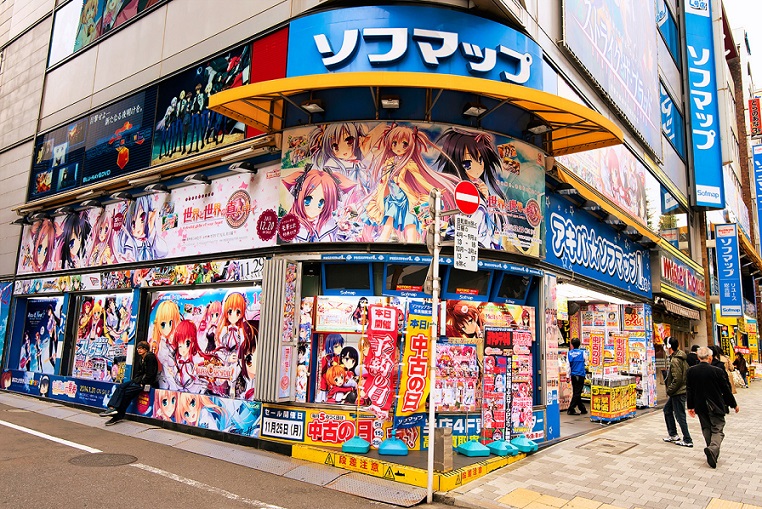 Sofmap is an electronics, game, and anime store chain located across Japan.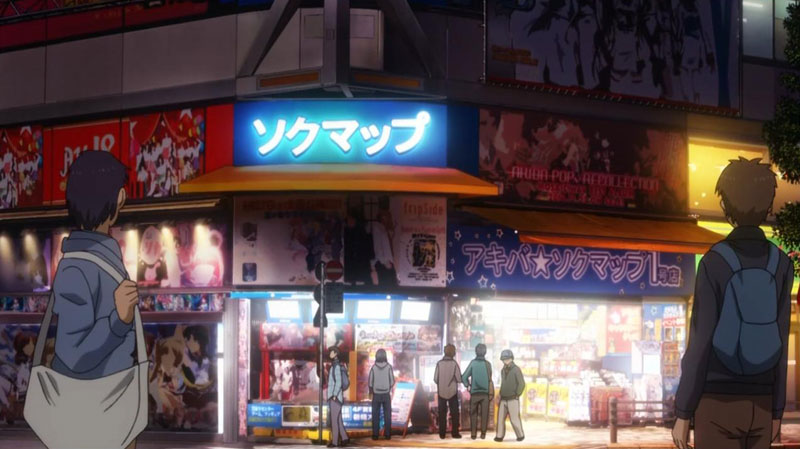 Set in a universe where people can enter an alternate reality/game where they are represented by avatars, Accel World blurs the line between the digital world and the real one. Main character Arita is quite the nerd, so it goes without saying he would be familiar with Electric Town.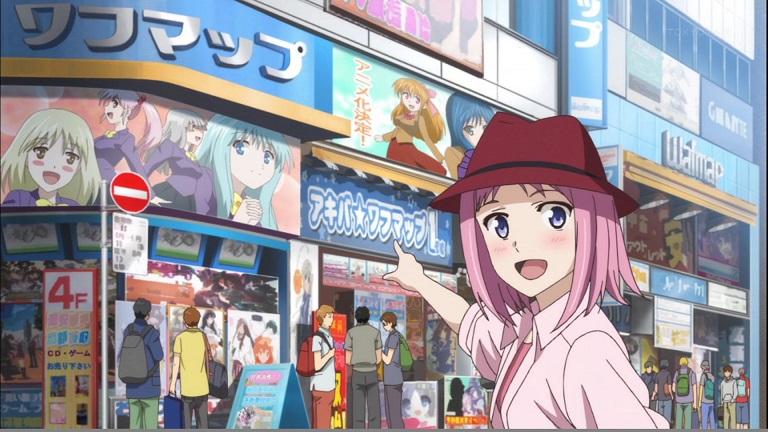 Also known as Brynhildr in the Darkness, this show is a mystery sci-fi about people with special abilities. In this episode, some of the characters pay a visit to Akihabara in order to get some computer parts.


---
Gamers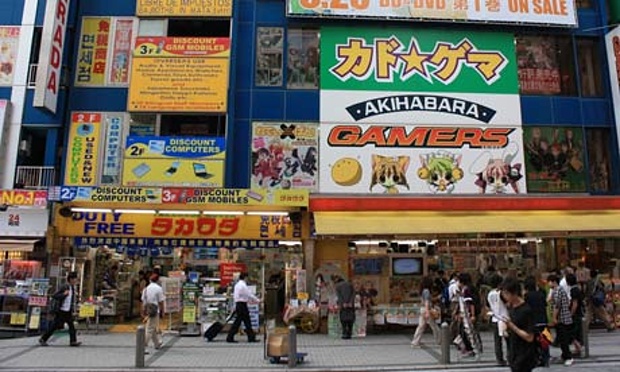 Another famous anime/manga/game variety store.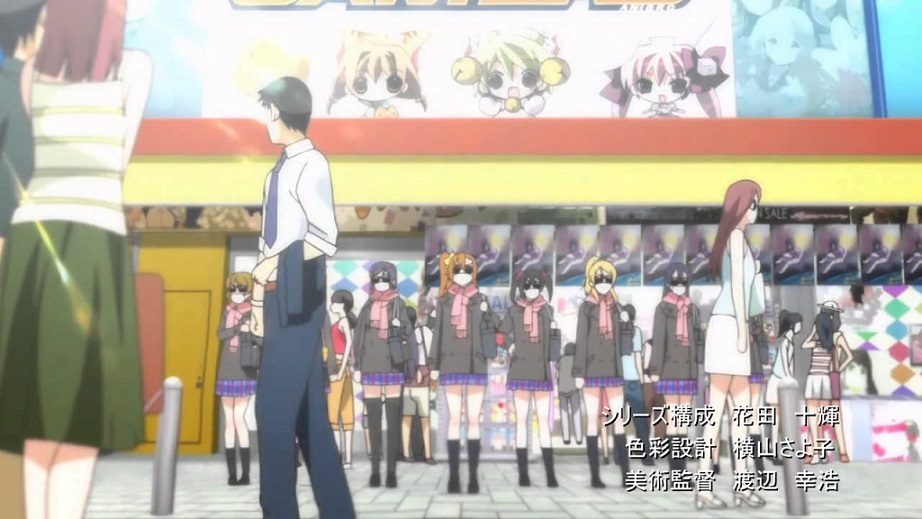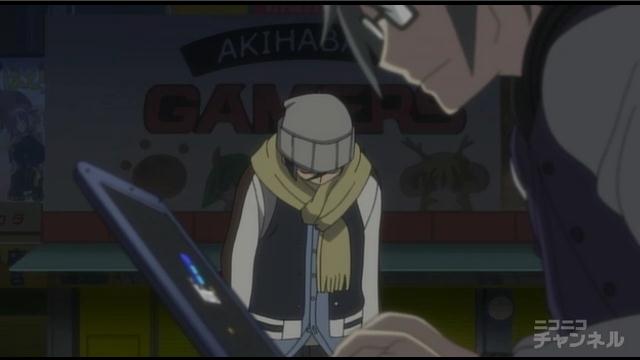 It's a bit dark, but the background contains the Gamers mascots!


---
Don Quijote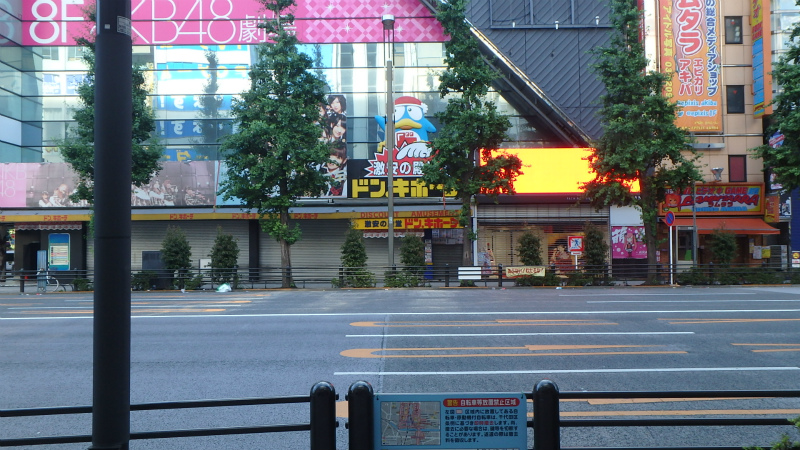 Basically the Wal-Mart of Japan, Don Quijote, or "Donki", is named after the titular hapless main character of Don Quixote and sells just about anything at a low price. This Don Quijote in particular is famous for being the birthplace of Japan's super idol group AKB48. As seen in the picture, the 8th floor of the store is actually AKB48's famous theater. You can even buy your own AKB48 costume here!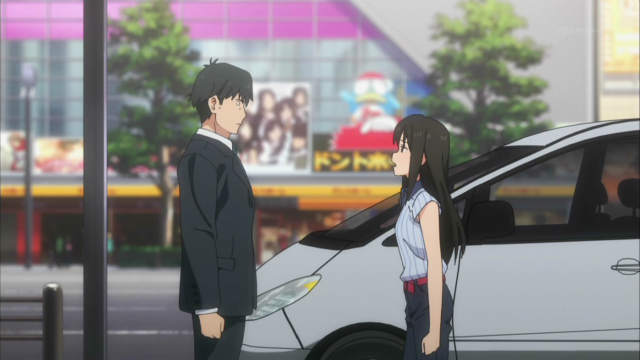 ---
Hobby Tengoku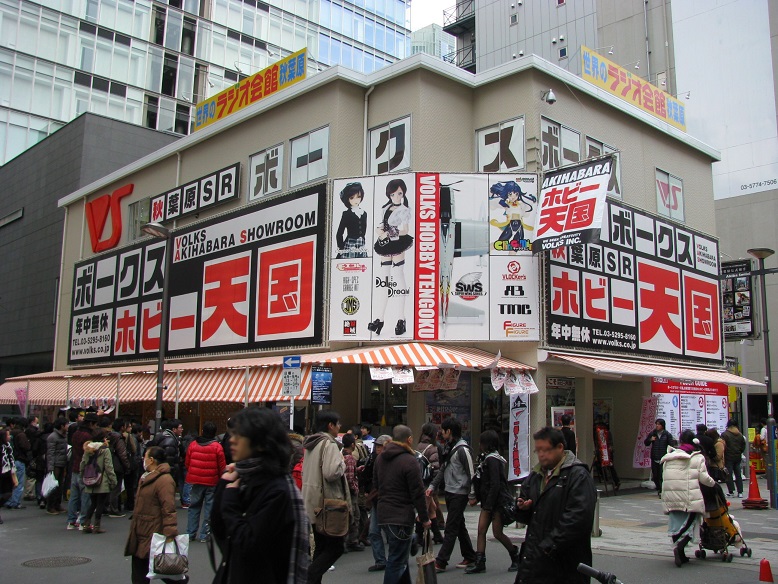 As well as anime and game fans, Akihabara also caters to more niche hobbyists, such as doll lovers. Not your ordinary Barbies, Japanese dolls from companies such as Volks are well known for their beauty and quality. Hobby Tengoku (Heaven) is a Volks doll store as well as showroom.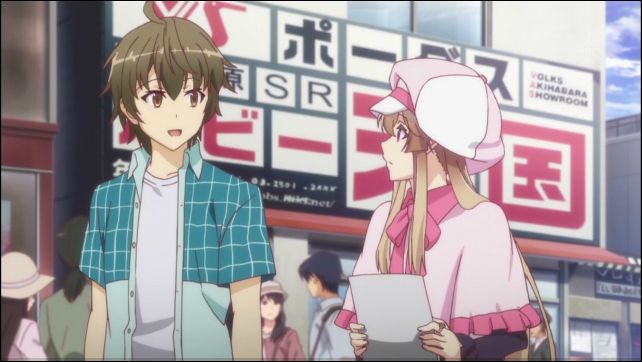 The story of an otaku with deep knowledge of Akihabara's subcultures becoming a cultural ambassador to a strange land full of magic and fairy tale creatures, Outbreak Company is an entertaining look into Japan's otaku culture and its impact on society.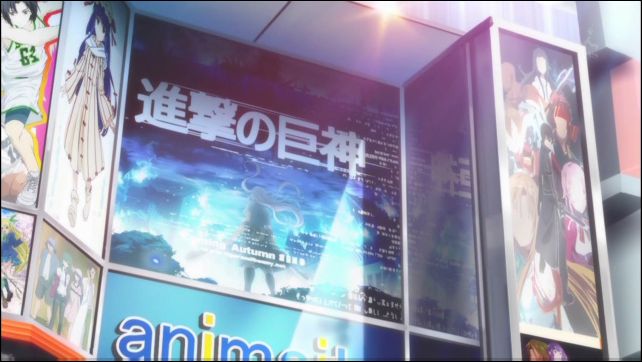 As a bonus, this screenshot from Outbreak Company references Shingeki no Kyojin.


---
Miscellaneous
Hot Dog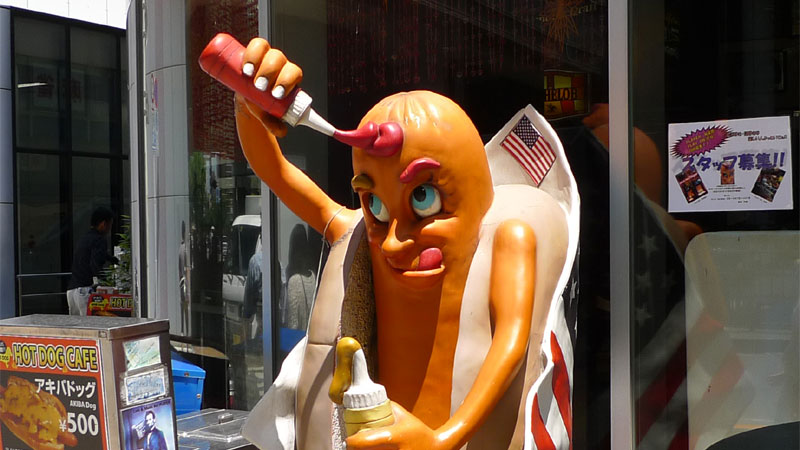 This slightly creepy anthropomorphized hot dog encourages passersby near the Chuo exit of Akihabara Station to imbibe his delicious friends.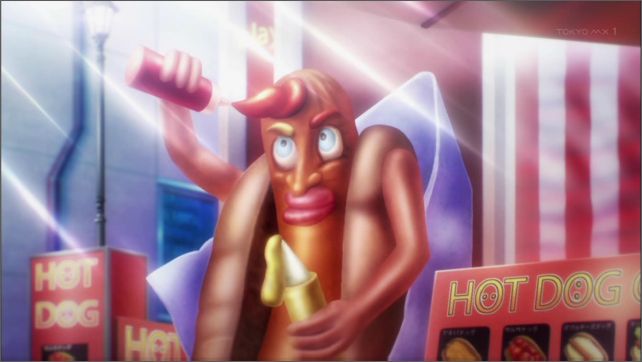 Bet when you saw this guy in the anime you thought it was made up for the show. Nope, he exists.


---
There you have it- snapshots of some of the many iconic locations around Akihabara Station. If you have any specific locations you'd like me to research, let me know.
(If it's in Tokyo I might even be able to pay a visit myself!)