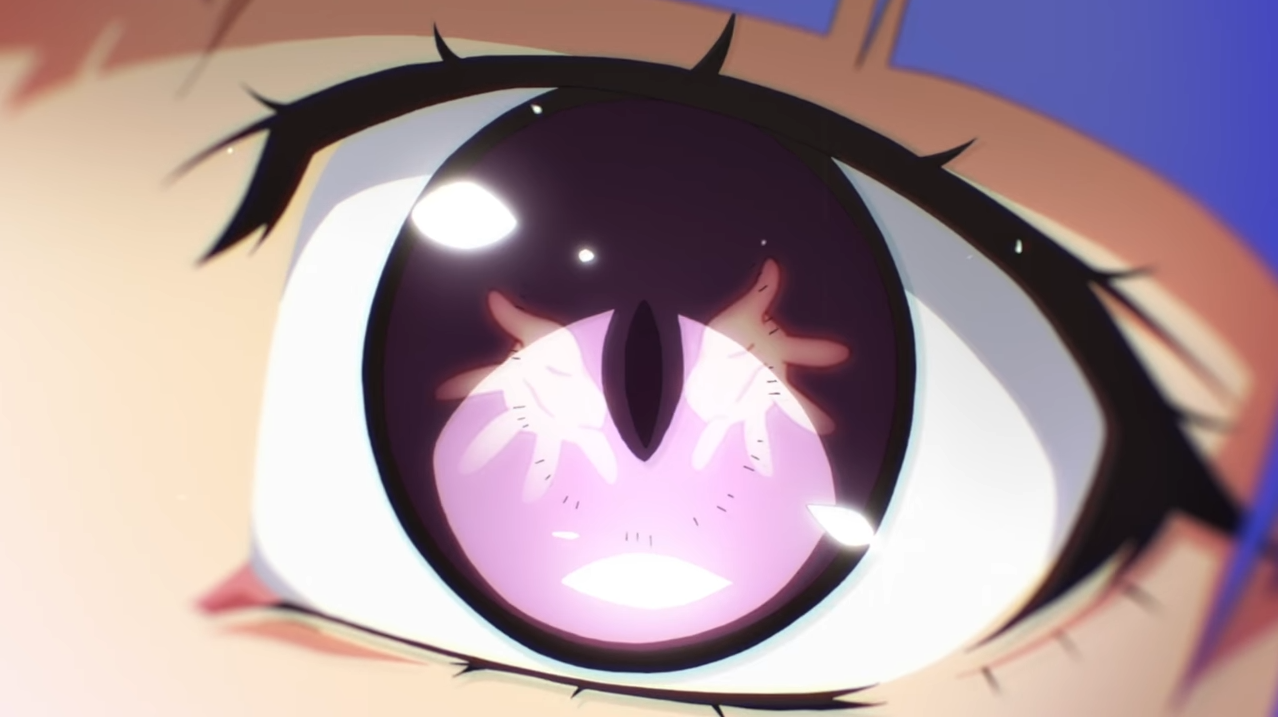 My recent debrief on Sword Art Online: Progressive came attached with the phrase "Here's a quick guide on what to expect and what has fans so excited," having been spurred by the many confused comments I saw on social media even though I was also new to the topic. Now, I find myself in a very similar place but so, so much further out of my depth.
If you're an active visitor of the seasonal page, you might have noticed that one of our most popular Fall 2020 anime is no longer titled Higurashi no Naku Koro ni (2020) but Higurashi no Naku Koro ni Gou (業 = "karma"), following an explosive revelation just last night. There's yet to be a solid consensus, but in short, it turns out the series is actually a stealth "pre-sequel," not a run-of-the-mill remake as first thought—we're still deciding exactly how to label it! This topic blew up so much that "Higurashi" was even trending on Twitter, so there's a deluge of disparate takes flying around.
So to help clear things up for new viewers, old fans, and those on the outside, I'll be attempting to answer three key questions:
What happened?
What does this mean for viewers, new and old?
Why is it a big deal for fans?

There'll be spoilers here and there, but I will refrain from mentioning future events as much as possible.
---
What happened?
At the stroke of midnight in Japan last night, just as the broadcast of episode 2 concluded, Funimation premiered an exclusive visual and staggering title change for the "new" Higurashi series: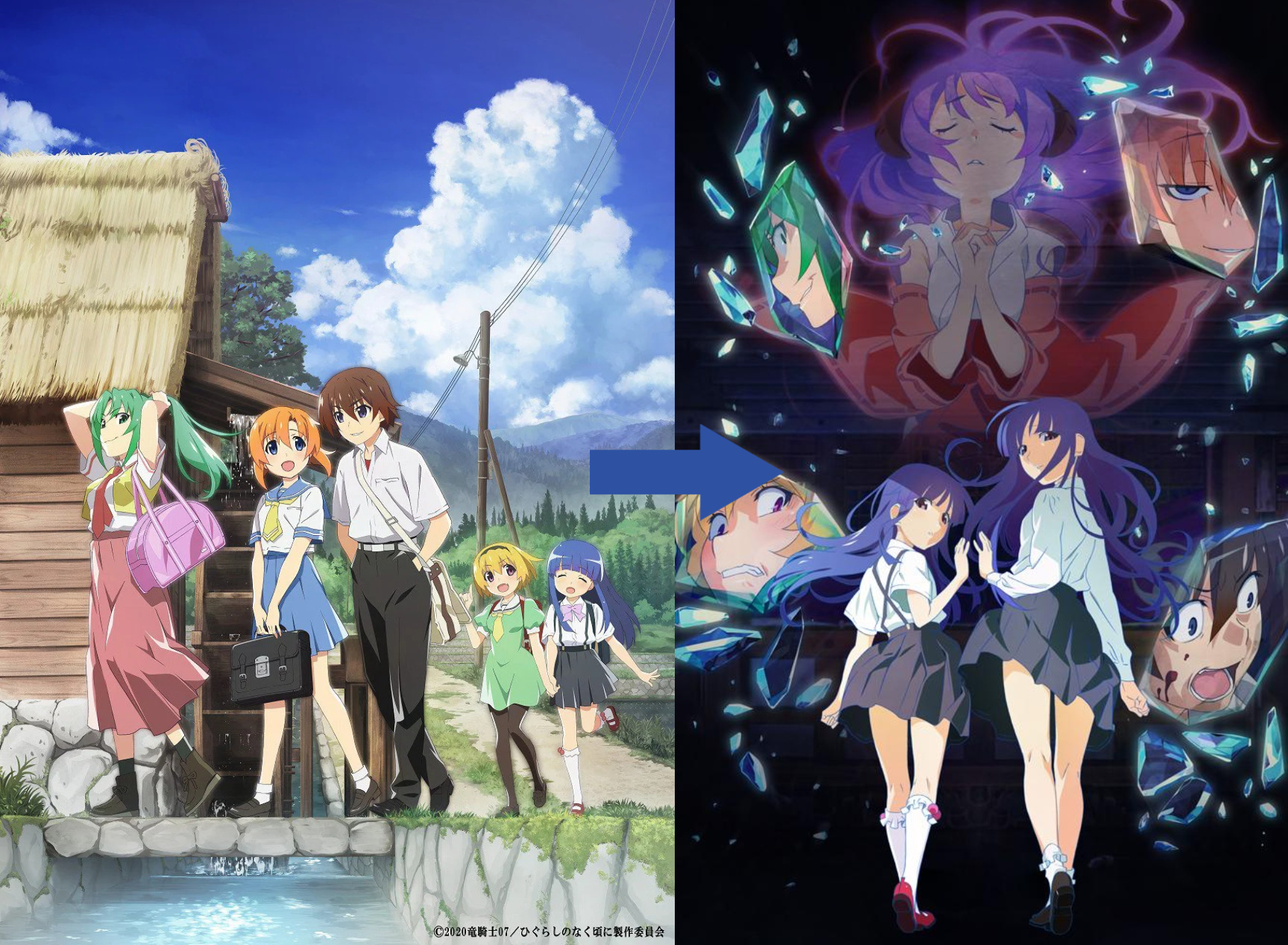 Your confusion is just, since it was purposely advertised as a remake until the ball dropped in episode 2 with the appearance of Hanyuu and the older version of Rika, who don't appear until the second season of the original anime adaptation. When They Cry (WTC) fans are familiar with original creator Ryukishi07's brand of trolling, but even they were taken aback.
To new viewers, the opening scene implies a mysterious time loop scenario that sends Rika back to June 1983; for old viewers, the implication is that it takes place after Higurashi no Naku Koro ni Rei, and it calls the ending of that series into question. It puts new viewers at a disadvantage and spoils a big part of Rei, but it doesn't immediately disqualify them.
---
What does this mean for viewers, new and old?
In an interview with Ryukishi07 and director Keiichirou Kawaguchi posted just three days ago, they asserted that this series would, in fact, be accessible to newcomers, despite all the references only old fans understand.
Kawaguchi: "Even if you've played the game or seen the original anime, I believe the new series will still be enjoyable. And if it's someone learning about Higurashi for the first time, I think they'll enjoy it, as well. There are some tricks and this is being created with a wide audience in mind, so I think you can basically experience it at any point."
https://www.youtube.com/watch?v=aAULN-RqQRw
So if you're a new viewer to the franchise, can you watch this adaptation? Yes, but it's arguably not the ideal method of consumption, from what we know so far. It's a little confusing, but the series is still grounded in the beginning and it attempts to explain what it can along the way. However, if you want to experience the full intrigue that is the hallmark of this cryptic franchise, then it's best to make your way through the original Higurashi no Naku Koro ni first.
But to get an even deeper experience, you have to be familiar with Umineko.
---
Why is it a big deal for fans?
This is where I go into shakier and more spoiler-y territory, so proceed at your own risk.
The full extent of this warped adaptation is yet to be seen, but the opening theme (which fittingly ends with the line "The true nature of everything") teases something potentially monumental. Fans have pointed out possible and explicit references to much-beloved spin-offs Umineko and even Ciconia (though this one is far more of a stretch), which all take place in the same When They Cry universe:

Considering most fans' disdain for the anime adaptation of Umineko no Naku Koro ni, their excitement for a potential revival is justified. Hanyuu's presence plays a key part in that regard, but I won't spoil in case you decide to continue from here, whatever your level of knowledge is.
Much of this is speculation based on circumstantial evidence, but this is what When They Cry is all about. Fans lamented the lack of the innocent pretence that the original anime once touted, but wild theorising and fervent discussion are now at the centre of the discourse once more. Even as someone who's only watched the first season, this whole event has seriously made me want to check out the rest of When They Cry.
So to that effect, Higurashi no Naku Koro ni Gou is for new and old fans alike, but it's still a problematic scenario that can only grow deeper and more unpredictable as the show goes on. But that's exactly how it should be.
---
A big thank you to René Kayser and Red Bard for helping me out on this one. Be sure to check out René's wonderfully insightful piece on Umineko here if you want to learn more!