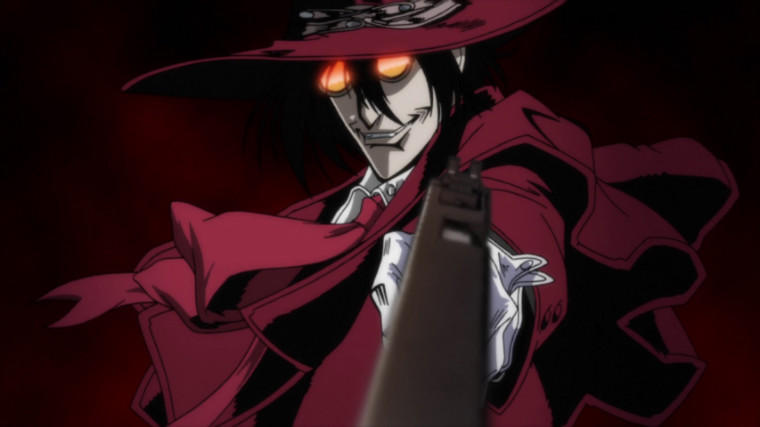 Screenshot from Hellsing. Gonzo.
When you see a character, you no doubt have an image of what their voice sounds like. Some anime get this spot-on, like the deliciously smooth voice acting of Jouji Nakata as Alucard in Hellsing (pictured above). Some play with the idea and attach ridiculous voices to characters for comedic effect, like when the gigantic Pica from One Piece opens his mouth and a tiny squeaky voice comes out.

There are times, though, when the voice unintentionally doesn't match the character, and the result is… grating. We've listed a few instances below, in no particular order, of cases where we feel the voice is completely unfitting for the character it's attached to. Note that we aren't making any comment on the quality of the voice acting -- even the best voice actor can't make a mismatched character sound right.
---
---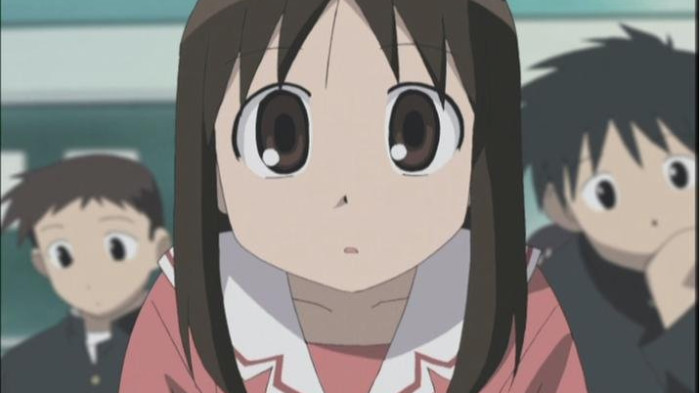 Screenshot from Azumanga Daioh. J.C. Staff.
Before Ayumu "Osaka" Kasuga transfers into the class, her classmates have some reservations about her. After all, she's coming from Osaka, a region that's known for loud residents who speak with a rough Kansai dialect. So when the real Osaka turns out to be soft-spoken and sweet, it's a complete shock. The Japanese voice actress nails the essence of Osaka: an air-headed girl who not only speaks in formal Japanese, but loves words and silly puns.

In English it's harder to show the difference between dialects because they tend to be more subtle than in Japanese, so the English dub relied on accents to drive the point home instead. To set this up, imagine someone from New York (perhaps even from Harlem or the Bronx) coming into your classroom... and breaking out into the thickest southern accent possible. This is the English Osaka. Gone is the sweet Osaka, replaced by a y'all be good now y'hurr? It isn't just the wrong sound for Osaka -- it completely misses the point.
Azumanga Daioh Osaka English dubbed


---
---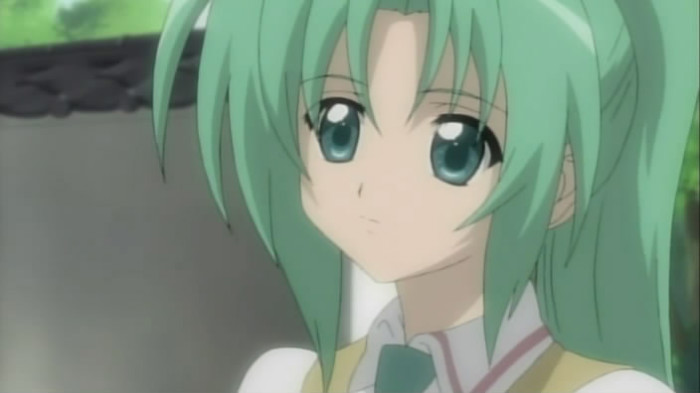 Screenshot from Higurashi no Naku Koro ni. Studio Deen.


Higurashi is often praised for its excellent voice acting, but the seiyuus can't pull the entire show by themselves. In Mion's case, Satsuki Yukino does her best psychopath impression, but the animation isn't up to par with her acting. The result is expressions and mouth movements that don't always match the voice, tone, or even the words being said.
Higurashi no naku koro ni mion


---
---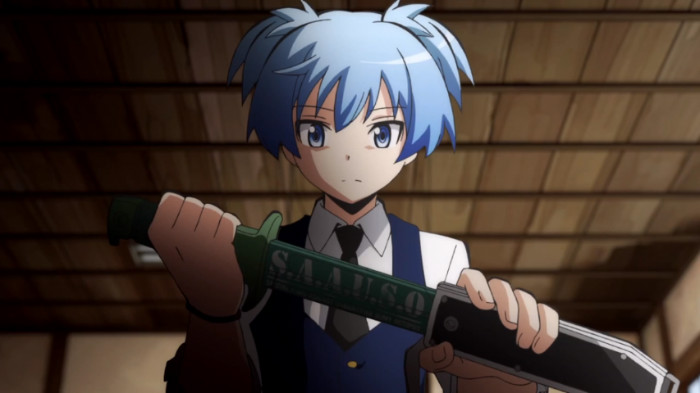 Screenshot from Ansatsu Kyoushitsu. Lerche.
Nagisa is supposed to be a bit androgynous (there's a reason he's the one chosen to pass as a girl at one point), and he's meant to sound unassuming. For this reason, he's voiced by a woman. It's not unusual for a boy or even a young man to be voiced by a female seiyuu, and for some Nagisa's voice might be fitting, but we find it distracting to constantly have to remind ourselves we're not watching a 10 year old girl.


Nagisa Assassination classroom
---
---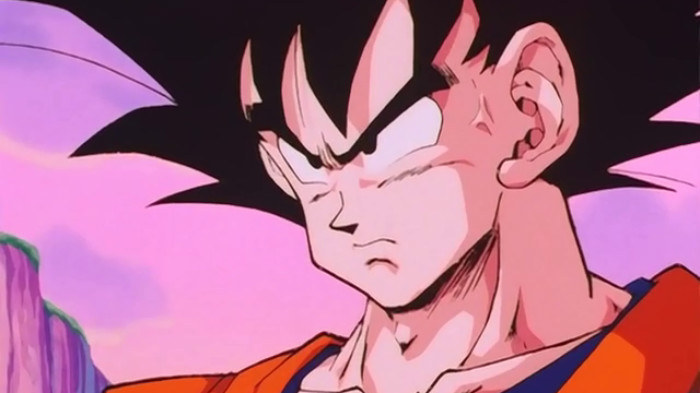 Screenshot from Dragon Ball Z. Toei Animation.
Of course we had to include this classic here. If you grew up watching the Dragon Ball series in its English dub, you probably have an image of Goku with a gruff voice that fits his power and stature. In Japanese, he is voiced by this lovely lady. Nozawa voiced young Goku in Dragon Ball and did a great job with him, so she was kept on as the voice of adult Goku, creating perhaps one of the most mismatched anime voices ever.


---
---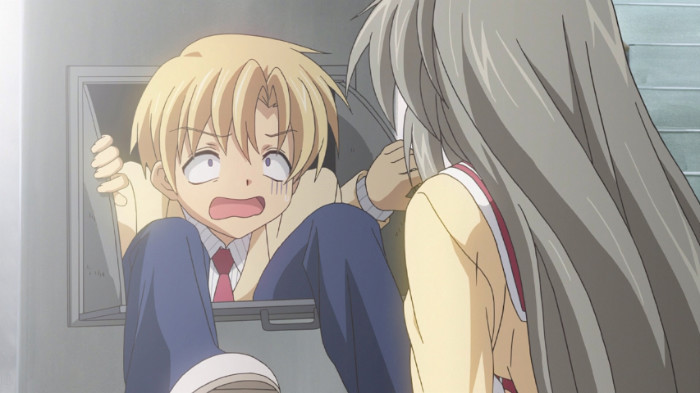 Screenshot from Clannad. Kyoto Animation.
While Japanese Sunohara is a bit of a whiner, the English dub makes him sound too young to fit his character. His role as the silly jokester gets downgraded to a brat with the immature-sounding voice. Many who praise the dub list Sunohara as an exception, for his 10-year-old prepubescent voice that doesn't quite sound right coming out of his mouth.


---
---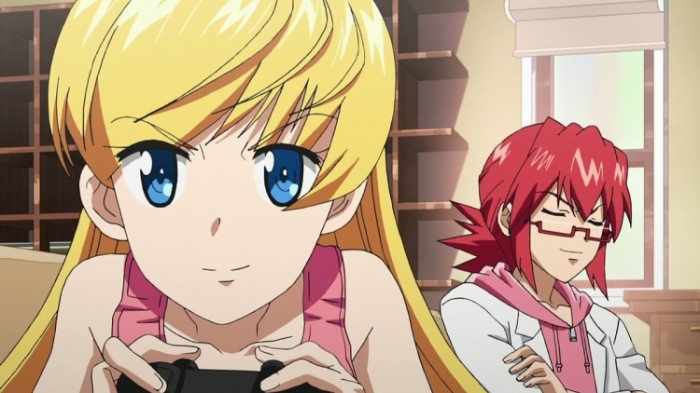 Screenshot from Denpa Kyoushi. A-1 Pictures.
Suzune is supposed to be the overbearing older sister, so you'd expect a mature but still young voice for her. The voice she has instead is old-fashioned and much older than expected. This might be because her voice actress is AKB48's Rena Matsui, who made her debut on this character. Matsui's unique voice would be better-suited elsewhere, and feels out of place among the other voices, who are better fits for their characters.


Denpa Kyoushi (Ultimate Otaku Teacher)


---
Tooru and other dragon forms
---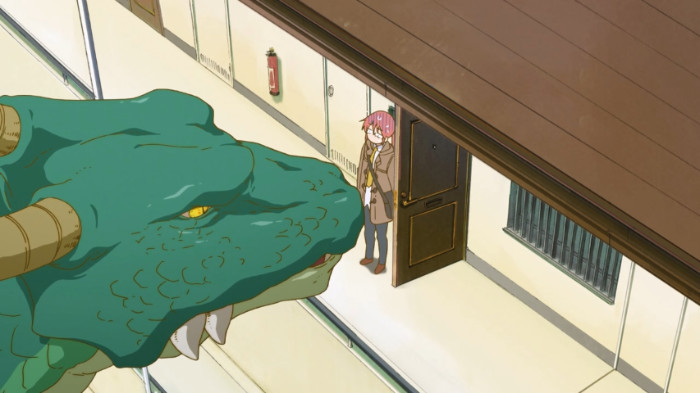 Screenshot from Kobayashi-san Chi no Maid Dragon. Kyoto Animation.
Adorable Tooru has a fittingly adorable little-girl voice, which she keeps when she turns into her dragon form. This leads to a two-story dragon speaking with a cute girl's voice, a disconnect that might have been intentional. Tooru and her dragon friends all sound adorable as giant dragons -- it's not a bad sound, but it's definitely out of place on them.