The Best DBZ AMVs, Ranked
---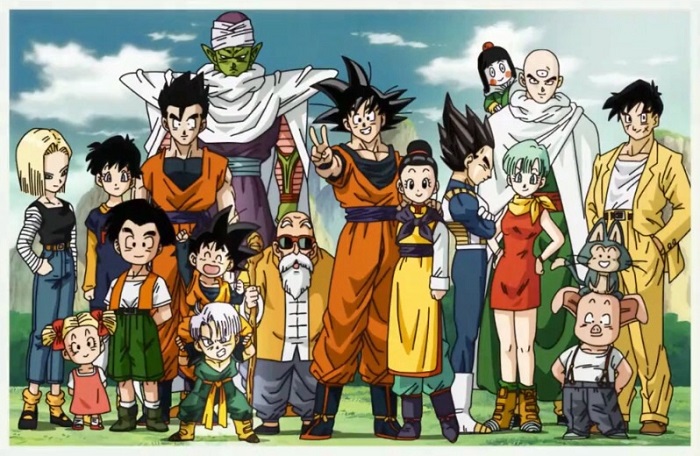 We admit that nostalgia can be one hell of a bitch. At least half of the AMVs on this list were made pre-2002 (and, for the most part, thoroughly enjoyed pre-2002). But the sheer power of nostalgia is one of the main reasons why the "Dragon Ball" universe has continued to echo throughout the ages, still resonating with fans -- now adults -- who grew up watching "Dragon Ball Z" on Cartoon Network's Toonami.

It's our nostalgic tendencies that brought about the creation of "Dragon Ball GT" (though many fans utterly refuse to view it as canon), "Dragon Ball Kai" and the long-awaited "officialized" version of the fan-generated "Dragon Ball AF" phenomenon, "Dragon Ball Super."

Because of the undying passion of fans worldwide, we've had the chance to thoroughly enjoy DBZ AMVs that honor the franchise and pay tribute to the characters we fell in love with years and years ago ...
---
10. Indestructible
---
https://www.youtube.com/watch?v=14TAP9zfZJg

Song: Indestructible / Disturbed | Maker: JV1 | Awards: None
This is a perfect example of a straight up DBZ music video and a pretty fair representation of the show as a whole. The video is jam-packed with fight scenes, leaving little breathing room or any kind of respite for the viewer. This particular style of editing seems to be the current trend of modern DBZ AMVs: insane editing and rapid succession of clips (some might argue a little too quick). While this might jar some viewers, this technique pairs well with vocalist David Draiman's unique style of singing/rapping, especially in the song "Indestructible."
"Indestructible" is a tribute, through and through, to the main protagonist of every saga in the "Dragon Ball" universe, Gokuu. Since Gokuu is known for being, well, indestructible (minus his multiple deaths), it's easy to appreciate how well the song's content (with lyrics like "I'm a master of war" and "I'm indestructible") works with the video's theme.
It should also be noted that editor JV1 went out of his way to introduce Gokuu's awesomeness by utilizing the song's overly long intro in a unique way. He did this by incorporating his own voice, edited with Sony Vegas, to add a certain "doomsday" appeal to his words. During this time, JV1 explains Gokuu's back story and how he became regarded by foes as an indestructible force ... and then all hell lets lose.


---
9. Who We Are
---
https://www.youtube.com/watch?v=GLDUNJrTmzE

Song: Who We Are / Red | Maker: Smac | Awards: None
This is yet another example of how well a song can fit with the overall theme of a video. In this case, editor Smac took it a step further beyond's JV1's effort by taking full advantage of the song's more diverse dynamic offering.
Smac took the blatantly obvious fact that the characters in "Dragon Ball" are warriors and turned it into something more meaningful. Smac didn't just shove all of the things that make these characters who they are in our faces over and over again, but instead, played with the ever-fluctuating dynamics of the song. For example, since the track's opening is rather calm, during this time, the editor incorporated longer scenes with no cuts, all separated by belated fade-outs. It's only when the guitars come driving home that we're met with the in-your-face action we know and love in "Dragon Ball Z," complete with fast cuts, going back and forth, back and forth.
The verses have a more mournful quality to them, too, which again, Smac didn't let go to waste. Containing such poignant lines as "We were the broken-hearted/We were the scars that wouldn't fade away," Smac decided to run with it by incorporating scenes where these warriors are dealing with the many anguishes of battle. The most perfectly rendered moment is when Piccolo closes his eyes in defeat right when lead singer Michael Barnes sings "fade away," as Gohan is left alone, crying out to the sky in utter despair.


---
8. It's My Life
---
https://www.youtube.com/watch?v=r9HwLYnebTk&feature=youtu.be&hd=1


Song: It's My Life / Bon Jovi | Maker: aaronAMV | Awards: None
Sometimes it's all about just how epic a song is. You might not like Bon Jovi ... for whatever reason ... but you've gotta admit that he knows how to rock. "It's My Life" isn't just one hell of an anthem. It includes various little embellishments that are just begging to be played with in video-editing land. And aaronAMV did just that. This, my friends, is a superbly edited masterpiece.
The main message of "It's My Life" works perfectly with the theme of the video. It's all about living life to the fullest, a carpe diem cry if ever we heard one: "It's my life/It's now or never/I ain't gonna live forever/I just want to live while I'm alive." And for the characters of "Dragon Ball," to live is to fight. And that's what the video celebrates. The opening line in the second verse just accentuates this: "This is for the ones who stood their ground." This video, in addition to all of its awesomeness, is a tribute to the ones who stood their ground and fought the good fight.
The combination of featuring a kickass song, taking full advantage of every little detail and incorporating a message that works on so many levels, puts this music video firmly in 8th place.


---
7. Are You There?
---
https://www.youtube.com/watch?v=5fO8F4re8NA

Song: Are You There? / Oleander | Maker: aaronAMV | Awards: None
It's extremely difficult not to like DBZ AMVs that revolve around an episode, saga or (in this case) film that just kick major butt. Movie 12: Fukkatsu no Fusion!! Gokuu to Vegeta is one hell of a film (and arguably in the top three of the many, many titles out there).
It not only features one of the greatest villains in "Dragon Ball" history, but a DBZ villain who displays the most stunning change (a rarity in "Dragon Ball") in the shortest amount of time: Janemba. Starting out as a Pokemon-like, giant, marshmallow baby before literally "imploding" into a psychotic, intensely badass, sword-wielding, physical-realm-defying demon thing, Janemba deserves more credit where credit is due. And it's due right now. We're glad there's a music video revolving around him.
What makes this music video stand out is that it's essentially an abridged version of the entire film (therefore making it a perfect way to relive Movie 12 without dealing with a lot of the filler) because the story is told chronologically, all to the tune of "Are You There?" by Oleander. Even though the lyrics don't match up necessarily with what's happening on screen, the way aaronAMV put it together makes it feel as though the song was made with the main plot of Movie 12 in mind. They just perfectly meld into a wonderfully told story with stellar editing, putting this DBZ music video at number 7.


---
6. Gohan's Young Heart
---
https://www.youtube.com/watch?v=9QZ9nGmYzxE

Song: Young Heart / We Are The Ocean | Maker: DBZ33Q | Awards: None
This DBZ33Q guy is one hell of a video editor. Part of the "new wave" of DBZ AMVs, this video follows in the footsteps of its predecessors by featuring insanely quick edits, a style we're starting to see more and more of these days as video editing tools become more advanced. That being said, the techniques used in "Gohan's Young Heart" are crazy top-notch and just feel as though they have been done by a professional.
As the title suggests, this anime music video centers on Gohan. And like most tributes, the best ones generally match up exceedingly well with whatever song was chosen. And that's exactly the case here.
In the song, the vocalist of We Are The Ocean is speaking to his parents, hoping beyond all hope that he's met their expectations. Heck, the first line of the song is "Do you see yourself in me? Have I made you proud?" Already an emotional subject, it becomes all the more profound as we watch Gohan struggling throughout the video to be just like his father, Gokuu.
What's more, the video starts with scenes from the first episode of "Dragon Ball Z" when Gohan was just a whiny kid, running around and getting into all kinds of shenanigans. This then leads to a scene from the Cell saga right before Gohan proves himself. At this particular moment, Gohan appears to be extremely downcast as Gokuu looks at his son lovingly. On its own, that jump from the first episode to the Cell saga is a stunning juxtaposition. But there's more. All this is soon followed by scenes showing Gohan crying out and literally standing in the shadow of his intensely overbearing trainer, Piccolo.
And this is all under a minute.
It's an emotional journey.


---
5. Hands Up!
---
https://www.youtube.com/watch?v=asruVUwBBA0

Song: Dynamite / Taio Cruz | Maker: Drabaz | Awards: Finalist at the ConnectiCon FMV Contest 2012; Winner for Best Dance/Fun at AnimeNext 2012; Winner for Best Action as voted by the audience at FanimeCon 2012; Honorable Mention: Just Fun at Otafest 2012; Winner for Best Upbeat at Anime Boston 2012; Winner at Tekkoshocon X 2012 for Best Upbeat and Audience Favorite!; Winner at CNU Con 2012 for Upbeat/Fun!; Winner at Kawaii-Kon 2012 for Fan Favorite at the VAST Contest!; Winner at Katsucon 2012 for Upbeat/Dance category and Viewers Choice!
Now this one. This one is pure humor. It's humor at its best. But it also resonates on another level with this particular writer because it was witnessed first-hand at Anime Boston in 2012. "Hands Up!" was pretty popular with the crowd right when the video started, even before the real "Oh my God, this is hilarious" part happened. Everyone was laughing all the way through and then cheered at the end.
Without giving anything away, what makes this one of the funniest and one of the most well-orchestrated DBZ AMVs of all time is how editor Drabaz utilized a particular well-known line in the song by pairing it with an immensely famous attack in the "Dragon Ball" universe. It doesn't help that when this music video was originally shown, "Dynamite" was still on the radio, making it even funnier and more enjoyable for those watching it at the convention.
Plus, the timing throughout the video is perfect. While completely goofy, it's the pure genius of it all and the great editing skills of Drabaz that put this one at number 5.


---
4. Goku & Krillin
---
https://www.youtube.com/watch?v=swPMwc2Glwo

Song: See You Again / Wiz Khalifa feat. Charlie Puth | Maker: DBZ33Q | Awards: None
What makes this video so important is that many people have not only attempted to create numerous DBZ AMVs about the immensely deep (what's considered deep in "Dragon Ball") relationship between Gokuu and Kuririn, but have tried to do so using this very song. What's more, editor DBZ33Q didn't even use the entire song. The video is just a little over a minute long. But that's all you need. The fact that this video ranks so high on this list (and beats the other "See You Again" versions) should tell you just how remarkable and effective those 60+ seconds are.
What makes this rendition stand out from the rest is that it's strangely the only version that includes highly crucial scenes from "Dragon Ball GT." This is incredibly relevant, no matter how much you might despise "GT," simply because of how the series ends or, to be more direct, what happens to Gokuu and where it leaves Kuririn. When paired with the crushingly poignant words and emotional strain of Charlie Puth's voice as he sings "When I see you again," everything about this video makes it so devastatingly sad.
What adds to this bittersweet feeling is that the relationship between Gokuu and Kuririn is by far the longest one depicted in the franchise; it lasts from the very beginning of "Dragon Ball" and goes all the way up through "Dragon Ball GT" (and that's not even including "Dragon Ball Super"). Yes, many of the characters are highly two-dimensional as are their relationships, but, from the perspective of those who grew up watching them, they were right on target. It's impossible to feel nothing for these characters -- especially Gokuu and Kuririn.
The way DBZ33Q edited the video also makes it seem as though everything we're seeing is actually Muten-Roshi's memories of Gokuu and Kuririn's early days, portrayed through the use of grainy images and old-reel-like footage. So, it's not only Kuririn thinking about his pal Gokuu, but Muten-Roshi remembering when his students were young. Damn.


---
3. Vegeta x Bulma
---
https://www.youtube.com/watch?v=Y65iYDsdB2k

Song: I'm Gonna Be (500 Miles) / Sleeping At Last | Maker: Reda1417 | Awards: None
In any list concerning the top DBZ AMVs, there absolutely needs to be at least one depicting the highly enigmatic and complex relationship between Vegeta and Bulma. There are many DBZ AMVs celebrating them out there, and this is by far the most effective of the bunch.
How is it so effective? Maybe it's the fact that this touching cover of an already well-known song adds an extra layer of emotion to the video. Or maybe it's due to editor Reda1417's rather ingenious idea of including one of the most awkward clips of Bulma and Vegeta right at the beginning before they were a thang. Regardless, it just pulls at your heart strings.
The clip in question shows a rather awkward moment when Bulma says to Vegeta that he's "kinda cute," to which Vegeta is left completely flabbergasted and befuddled. His eyes are wide open in disbelief and a bead of sweat can be seen dripping down the side of his shaking face as he exclaims, "What! I'm not kind of ... Shut up!" While humorous, this scene just proves how all things in life, especially love, are unpredictable. The viewer is also reminded of just how random and odd their marriage and overall relationship felt to many fans.
The emotion alone is what puts this video in the top three.


---
2. Vegeta's Pride
---
https://www.youtube.com/watch?v=HmusdXiU9fM&fmt=18

Song: Adam's Song / blink-182 | Maker: DannyPoo of DBZ Warriors | Awards: None
This one has a huge nostalgic appeal. Insanely huge. Like ginormous. This video was created by DBZ Warriors, a website of DBZ AMVs that originally made their offerings available through RealPlayer. Yes, RealPlayer. Remember that? You had to download it and wait for the damn thing to load even though you'd downloaded the video already. Oh my God. The memories. Not a day goes by when a fan watches an anime music video without wondering what it would be like to see that RealPlayer setup instead of the familiar YouTube layout.
Nostalgia about DBZ Warriors aside, this particular video was made in honor of Vegeta. He is, by far, the most complex character in the "Dragon Ball Z" universe. He's also the most tragic. What defined Vegeta for years was his overall lust for power and his "I'm a Saiyan Prince!" complex. Basically, this guy wanted nothing more than to not only be the strongest Saiyan warrior, but the strongest fighter in the universe. But he never gets this. With every passing episode, Vegeta slowly comes to the realization that he, a Saiyan Prince, will forever be forced to fight in the shadows of a mere low level named Gokuu, who Vegeta calls by his Saiyan name, Kakarot.
Vegeta's growth as a character in a seemingly static universe basically makes him the very backbone of a series that desperately needs any form of development. And this music video is a "celebration" of Vegeta's pride, which is the very part of Vegeta that makes him such a dynamic character.
For those familiar with Adam's Song by blink-182, you might be a little confused as to how a song about suicide might have anything to do with Vegeta. However, when you go to the root of suicide -- which is essentially depression -- this set up starts to make sense and will soon begin punching you in the face.
The fact that the song features an incredibly elegiac sound (especially the piano part in the bridge) only adds to the overall feeling of despair that drip from every orifice of the video. Take the line "I never thought I'd die alone" for example. Planet Vegeta was destroyed when Vegeta was young. After a couple of battles, the only full-blooded Saiyans still alive were ostensibly him and his rival. Vegeta had no family. No friends. All he had for quite some time were enemies. If he did die, he would've died alone. That's intense.
In addition to all this, editor DannyPoo also created an extra emotional layer to the video by creating the illusion of Vegeta "thinking back" on all of his failures. He accomplished this by cutting back and forth from a well-known scene that shows Vegeta standing alone in the rain, lost in contemplation. And as Vegeta "thinks back," we can see the memories of all the battles he's lost (or the ones where he just got the crap beaten out of him).
What brings the video together is that DannyPoo used a collection of fights that all unfold throughout the course of the video rather deciding to go with just a random collection of fight scenes, adding to the intensity of each and every one of Vegeta's failures. It's been giving goosebumps to this writer since 1999 and continues to do so even to this day.
All this and the fact that blink-182 is the best band in the world put "Vegeta's Pride" at number two.


---
1. Fathers and Sons
---
https://www.youtube.com/watch?v=fWr1Z0yUZ7A

Song: Still Fighting It / Ben Folds | Maker: ladeakarma | Awards: None
This anime music video hits you on so many levels that it feels as though every character from the "Dragon Ball" universe is pummeling you repeatedly until the video ends. And then you're still left having to deal with the pain from punches and kicks on your own. This is by far one of the most touching DBZ AMVs of all time.
As the title of the video suggests, the story revolves around fathers and sons. And as the title of the song suggests, it has to do with some form of fighting (guess which type editor ladeakarma went with?). The combination of these two themes is incredibly deep and makes for an overall great story that just wrenches tear after tear from your eyes.
In the first verse, the video focuses on Gohan and Gokuu. In the second, Trunks and Vegeta. Then, after delving into scenes surrounding Gokuu and Goten, editor ladeakarma masterfully extends the discourse to go beyond the relationship between each father and son -- as is the case when you grow up -- by exploring the relationships between the two families.
When it comes to the song itself, "Still Fighting It" is about a father coming to terms with the fact that one day, his son will grow up. The lines "The years go on and/We're still fighting it/We're still fighting it" are, of course, a reference to the ongoing fight against growing up. But in the video, ladeakarma interprets this to mean they're still literally battling for their lives even after all of these years. So when Ben Folds sings "And you're so much like me/I'm sorry" and we're shown the famous scene when Gokuu's spirit helps Gohan defeat Cell, it feels as though Gokuu is apologizing to Gohan for that fact that he turned him into a fighter. Wow.
With the combination of these themes -- growing up and not being able to break away from it all -- gaining momentum throughout the video, the editor brings it all together in one masterful final scene, one that really exemplifies the epitome of each father's failure in an expertly insightful way. It's just remarkable. There's no way this video can't be number one.