---
© FUSE, Taiki Kawakami / Kodansha Ltd.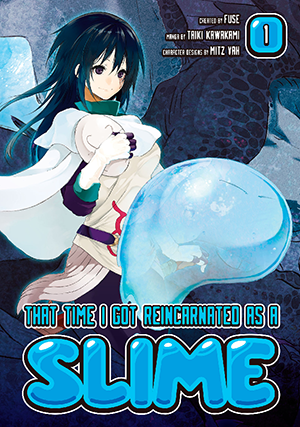 Synopsis: It is just another ordinary day for Satoru Mikami. The sun is shining brightly on the streets of Tokyo, and he is in the midst of a discussion with his colleagues when suddenly he gets stabbed by a passing robber. The average 37-year-old corporate worker is now at death's door, and he has only one regret—dying a virgin. Fading out, he is startled by a mysterious AI-like voice reciting commands.
Satoru abruptly wakes up in the middle of a strange cave, but something odd has happened: he is now a goop of slime! Thanks to his new body, he has acquired the skill to absorb anything and obtain its appearance and abilities. While testing out his newfound powers and exploring the cave, he stumbles upon a massive dragon named Veldora, who has been sealed away for the past three hundred years. After quickly befriending the beast, Satoru decides to help him escape; in exchange, Satoru is bestowed a new name: "Rimuru Tempest."
Wishing to avoid a life like his boring and mundane past, Rimuru is about to set out on a grand quest that will change his own destiny and the fate of his new world.
Recommendation: Originally based off a light novel series, That Time I Got Reincarnated As A Slime is another fun read, as can be guessed from its title. An isekai story, a regular Japanese man unfortunately suffers an early death, and is reincarnated as a slime monster named Rimuru Tempest in another world. While normally slime monsters aren't very strong, he was lucky enough to accidentally acquire some very powerful skills as he reincarnated. More importantly, the way he uses those powerful skills is unique—he never attacks first and thinks later. In fact, almost every one of his actions is done out of kindness in one form or another (even if sometimes there's a selfish motive behind it,it's never harmful). Basically, he is working his way throughout a foreign world and literally changing everything for the better through the power of camaraderie and friendship. The art nicely compliments the plot, the characters are a lot of fun to learn about, and the plot is well-paced with just enough humor between the serious moments to keep it light. Every chapter leaves you wondering what shenanigans the characters will get into next and what clever solution will be discovered.
Read a preview now
Shop now at Amazon.com
---
© Akane Shimizu / Kodansha Ltd.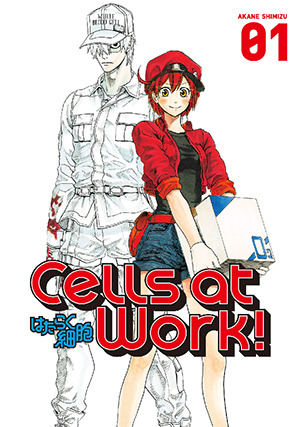 Synopsis: Within the human body there is said to be approximately 60 million cells. White blood cells, red blood cells, platelets, macrophages, memory cells, killer T cells, natural killer cells, B cells, mast cells and many more!*
All these different cells work tirelessly within the body, never resting for a moment, at any time willing to resist invading foreign entities like germs and viruses to the bitter end!
From Akane Shimizu, winner of Shounen Sirius' Rookie of the Year Award, comes an informative tale about anthropomorphised cells!
Recommendation: Who said science can't be fun? Cells at Work is both educational and funny, with a lot of details on how cells specialize and work to understand their actions, but not so much that it takes over the story and becomes pure dry teaching. The art work has clean lines and conveys expressions well, and the characters are all quite distinct, despite personifying literal cells. There is a lot of humor among the technical information, but there's also a lot of drama in the body fighting bacteria and viruses. It's not the first time unusual objects have been personified, but it's written very well and succeeds at teaching (I now have a better understanding of how allergies work and why pollen is so dangerous). This series definitely has something for everyone, from otaku to biologists.
Read a preview now
Shop now at Amazon.com
---
Kuragehime (Princess Jellyfish)
© Akiko Higashimura / Kodansha Ltd.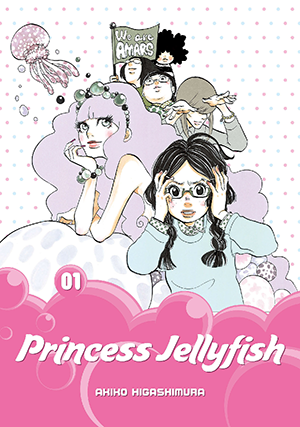 Synopsis: The story centers around Tsukimi Kurashita, a huge fan of jellyfish (kurage, a wordplay on the "kura/mi" and "tsuki/ge" in her name) and a girl who moves to Tokyo to become an illustrator. She moves into "Amamizukan," an apartment complex that is full of fujoshi (diehard female otaku) with a no-men-allowed rule. However, one day, Tsukimi invites a stylishly fashionable woman to stay at her room at Amamizukan—only to discover that the guest is not who "she" seems to be.
Recommendation: Jumping back almost a decade ago, Princess Jellyfish is a coming of age story that still feels endlessly relatable. The two protagonists are diametric opposites: Tsukimi is an otaku obsessed with jellyfish who can't handle going out in public will, while Kuranosuke is the illegitimate crossdressing son of a politician out to annoy his father. However, whether they realize or acknowledge it or not, these two are both just floating through life without a purpose—until they cross paths and circumstances lead them to fighting to save Tsukimi's home from being redeveloped. Watching them grow and learn in skills and as people is both painful and satisfying. This series was deservedly nominated for an Eisner award in 2017 and won a Kodansha Manga Award in 2010, with its stunning art and gorgeous clothing designs, a diverse, quirky yet relatable cast, and its uniquely captivating plotline.
Read a preview now
Shop now at Amazon.com
---
© Makoto Isshiki / Kodansha Ltd.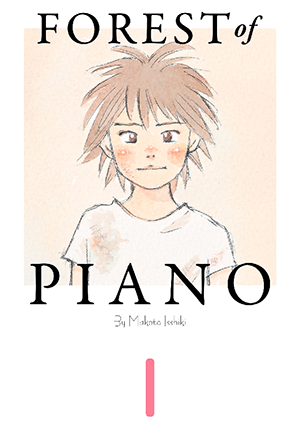 Synopsis: In the middle of a forest rests an abandoned piano. If one were to walk by, they may hear music coming from it, and sitting at the chair is a young boy: Kai Ichinose. He lives with his young, single mother—who works as a prostitute—and he is somewhat of a troublemaker at school when it comes to defending transfer student Shuuhei Amamiya from class bullies.
Shuuhei comes from a family of distinguished pianists, so he is expected to follow in their footsteps. He practices rigorously every day to live up to his parents' expectations. Meanwhile, Kai—with help from his teacher, a former pianist legend—wants to not only reach Shuuhei's level of success, but also wants to become the best pianist from Japan. This rivalry between the two friends will not only raise their talents to new levels, but it will also inspire other rising pianists from all over the world.
Recommendation: Going even further back to over a decade ago, Forest of Piano is a timeless story with fully developed characters, clean distinct art that is not so much simplistic as focused on what's important to the story, and has interesting plotline. Firmly not fantasy, this story shows a realistic depictions of schools and kids, doesn't shy away from realistic cruelty of people while still showing that there can be good even in the bad. Definitely a recommendation to music lovers, fans of Nodame Cantabile, and fans of heartwarming stories, Forest of Piano is endlessly captivating and leaves the reader wanting more.
Read a preview now
Shop now at Amazon.com
---
© Yuki Suetsugu / Kodansha Ltd.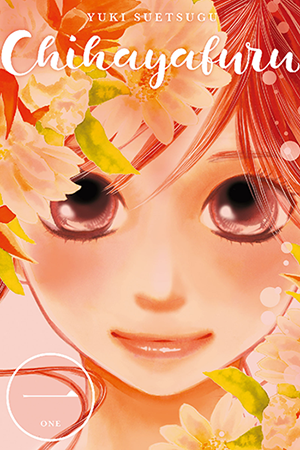 Synopsis: Chihaya is a girl in the sixth grade, still not old enough to even know the meaning of the word zeal. But one day, she meets Arata, a transfer student from rural Fukui prefecture. Though docile and quiet, he has an unexpected skill: his ability to play competitive karuta, a traditional Japanese card game.
Chihaya is struck by his obsession with the game, along with his ability to pick out the right card and swipe it away before any of his opponents. However, Arata is transfixed by her as well, all because of her unbelievable natural talent for the game. Don't miss this story of adolescent lives and emotions playing out in the most dramatic of ways!
Recommendation: It's easy to understand why Chihayafuru is currently streaming its 3rd season on Crunchyroll. Featuring some truly beautiful art, the style is quintessentially shojo, from huge eyes surrounded by lush eyelashes to pretty boys and wispy lines everywhere, but pretty art does not a good series make if the characters and plot line are boring. Luckily, this is not the case at all with Chihayafuru, as the author proves she can craft engaging characters and draw you into the story. The protagonist, Chihaya, is so charming and earnest that you can't help but root for from the get-go, even if she's a bit naive at first. The other two lead characters, Taichi and Arata, are also fully developed with backstories and families that tie into their motivations and actions. While the overall plotline is a staple in manga (wanting to be the best, finding yourself through your passion, friendships can survive distance, etc.), readers can't help but want to read more of this new take on it and cheer Chihaya on in her quest to be the best karuta player in the world. Last but certainly not least, some serious respect must be shown to the translators, as they did a wonderful job with not only the Hyakunin Isshu (classical Japanese poems) on the karuta cards, but also with Arata's country-side dialect, neither of which is easy to translate well.
Read a preview now
Shop now at Amazon.com
---